CPJ celebrates World Press Freedom Day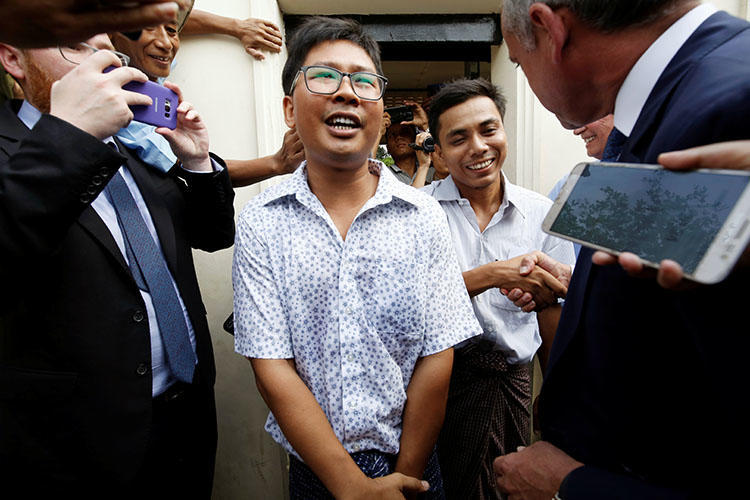 Thank you to all of you who donated to CPJ on World Press Freedom Day! We certainly couldn't do it without you. Your support has helped CPJ win convictions in journalist murders and the release of hundreds of journalists worldwide, including, just today, the two Reuters journalists who have been jailed in Myanmar since December 2017.
To mark World Press Freedom Day on May 3, CPJ participated in a host of public events around the world, authored opinion pieces, made media appearances, released a package of infographics and videos, and launched a Facebook fundraiser.
The flurry of activity included celebrating the introduction of the 2019 World Press Freedom Day resolution in both the U.S. Senate and House reaffirming the importance of a free and independent press to a healthy democracy and reasserting press freedom as policy priority of the U.S. government. CPJ worked closely with congressional staff on the resolution language, which cites CPJ data in describing growing threats to journalists around the world.
World Press Freedom Day was a high-octane day for CPJ on social media this year. Our main Twitter account alone received more than 1.3 million impressions, making it the biggest day for us on the platform since CPJ's 2018 International Press Freedom Awards in November. Our video got more than 400,000 views on just Twitter, becoming the most-viewed video produced by CPJ in recent years.
Today is the 26th #WorldPressFreedomDay.

We remember that at least 1,340 journalists have been killed for their work worldwide since 1992.

And hundreds of journalists are jailed across the world simply for doing their job.#WPFD2019 #PressFreedompic.twitter.com/ntopW1bbSc

— Committee to Protect Journalists (@pressfreedom) May 3, 2019
The video was a simple slideshow featuring the faces of the journalists on our 10 Most Urgent list for May, an initiative of the One Free Press Coalition. "It resonated with users throughout the world because, one, these journalists are jailed simply for doing their job reporting the news; two, the medium we used to tell their stories, video, is powerful on social; and three, our partners amplified the message," said Ahmed Zidan, CPJ's digital manager.
CPJ's World Press Freedom Day activities sought to bring attention to challenges journalists face around the world and their right to work safely and without fear of reprisal. CPJ participated in UNESCO's official event in Addis Ababa, another UNESCO event in New York on misinformation and elections, and a forum in Mexico hosted by the Mexico City Human Rights Commission.
CPJ Executive Director Joel Simon wrote an op-ed for the Columbia Journalism Review asserting the importance of defending the rights of journalists with whom we may disagree or even those who have behaved unethically to protect the broader principle of a free press. CPJ's Sub-Saharan Africa representative, Muthoki Mumo, had an op-ed in Inter Press Service, and European Union Representative and Advocacy Manager Tom Gibson had one in the EU Observer.
Online, CPJ launched a set of infographics on social media platforms, and Advocacy Director Courtney Radsch co-hosted a Reddit "Ask Me Anything" event to remember fallen and imprisoned colleagues. And we launched a Facebook fundraiser–please share our cause with your networks!
---
CPJ welcomes a spring burst of Egypt, Saudi prison releases. But the outlook remains grim.
Spring brought a burst of prison releases in Egypt and Saudi Arabia. But the outlook remains grim for press freedom.
Egypt on April 6 released jailed journalist Hisham Jaafar after three and a half years in pretrial detention in a maximum-security prison. The founder and director of the Mada Foundation for Media Development, an organization that provided media training and support for local journalists, had been charged with belonging to the banned Muslim Brotherhood. He is among many journalists who have been swept up in a government crackdown framed as a fight against terrorism.
Jaafar's release followed the March releases of Mahmoud Abou Zeid, the photojournalist known as Shawkan who won CPJ's 2016 International Press Freedom Award, and journalist Alaa Abdelfattah. Both served full five-year sentences.
However, the conditions of all three releases mean none of the men are truly free. Jaafar must report to a police station every Friday and Saturday evening for a few hours, where he may be held overnight–the same terms imposed on blogger Wael Abbas. Worse, Shawkan and Abdelfattah are required to check in every evening and, so far, have spent every night in detention.
The authoritarian regime of Egyptian President Abdel Fattah el-Sisi "continues to punish journalists even after they are released," CPJ's Middle East and North Africa Program Coordinator Sherif Mansour said. "This is a form of compounded punishment, and it is meant to keep those journalists in check."
Egypt remains one of the world's top jailers of journalists, with more than 25 behind bars as of our annual prison census in December. Many of them are held on "fake news" charges, Mansour said during a panel discussion on the Hill timed to el-Sisi's April visit to Washington, where he was embraced by President Trump.
Meanwhile, Saudi Arabia on the eve of World Press Freedom Day temporarily released Hatoon Al-Fassi after in late March releasing Eman Al Nafjan, two of four women journalists arrested in a crackdown on activists and writers focused on women's rights. Two other women's rights activists were also released. But again, while one hand giveth, the other taketh away. In April, Saudi authorities detained seven more Saudi bloggers and journalists as well as a Jordanian journalist.
---
CPJ applauds convictions for the 1999 murder of Serbian journalist Slavko Ćuruvija
Justice came almost 20 years to the day. A Belgrade court convicted four former Serbian state security officers for the April 1999 murder of Slavko Ćuruvija, the owner of the mass-circulation daily paper Dnevni Telegraf and the weekly magazine Evropljanin, and an outspoken critic of Slobodan Milosevic's regime.
CPJ had long advocated for justice for Ćuruvija. We spotlighted his case in our 2014 investigative report on breaking the cycle of impunity in the killing of journalists.
"The convictions send an encouraging message that murders of journalists will not be forgotten. Justice was a long time coming in this case, and there is still far to go until all perpetrators, including those who ordered Ćuruvija's murder, are fully prosecuted," said Elisabeth Witchel, consultant on CPJ's Global Campaign Against Impunity. Two of the former officers were convicted of instigating the murder and two of carrying it out. All received lengthy prison sentences of 20 and 30 years.
Ćuruvija's case was a focus of the Serbian Commission for the Investigation of Murders of Journalists, which was established in 2012 and comprised of journalists and government officials. The commission "played a crucial role in promoting justice by reviewing and uncovering evidence and keeping the case in a public spotlight," Witchel said.
---
CPJ accelerates election safety initiative with events in India, South Africa
CPJ ramped an initiative to systematically support journalists covering elections, who face growing safety threats, by hosting a series of meetings in India and South Africa, where campaign coverage is in full swing.
India is holding massive rolling national and provincial elections from April 11 to May 19. But as the country celebrates over 70 years of democracy, journalists have been subject to attacks, harassment, cyber bullying, and government restrictions. At least five journalists were killed in relation to their work in India in 2018, according to CPJ research.
That's why India Correspondent Kunal Majumder spent three weeks in late March and early April hosting workshops in three regions: Northeast India, Chhattisgarh, and the Telangana and Andhra Pradesh city of Hyderabad. Majumder presented and distributed a special CPJ India election safety kit in English, Hindi, and Telugu that provides information about how to mitigate digital, physical, and psychological risks.
More than 150 journalists attended the events, which were covered widely in local media. Meanwhile, links to the safety kits "went viral on WhatsApp," he said, with postings on journalist groups likely reaching some 5,000 people.
The toughest event Majumder organized was in a town called Bijapur in Chhattisgarh state, a part of the country where journalists have been caught between Maoist rebels and government forces and face constant threats and intimidation. To reach Bijapur, he took a 10-hour overnight bus from Raipur, the state capital. There, he spoke to journalists who had travelled from multiple towns in the region at a "Patrakar Bhawan," or journalist hall, beside a picture of Saraswati, the Hindu goddess of learning. There was only one fan to cool them in the more than 100-degree heat.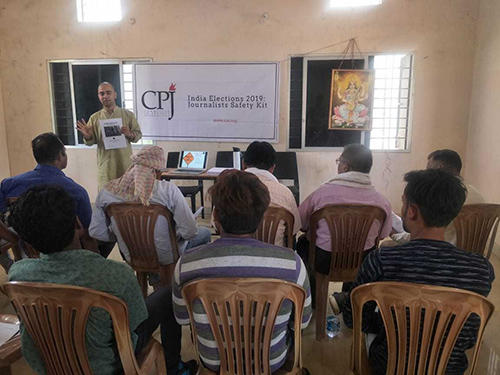 "I'm so happy I made that trip to Bijapur," he said. The journalists were moved that someone was willing to help them. "It changed my perspective," he said. "I need to travel more," to get out of the big cities and go local where important journalism is happening.
Meanwhile, in South Africa, CPJ's journalist safety specialist Colin Pereira traveled to Nelspruit, Johannesburg, and Durban to deliver safety training to journalists and provide CPJ's South Africa election toolkit ahead of May 8 general elections.
The threat landscape has grown as "certain political parties in South Africa have in the last few years begun demonising journalists and calling for direct targeting of the media," Pereira said. They're being intimidated online, doxxed, and physically assaulted, leading many to grow fearful for their safety.
As such, Pereira worked with the South African National Editors Forum on the tailored toolkit and delivered workshops in Nelspruit and Durban to its network. He also visited two of South Africa's biggest media players, the South Africa Broadcast Corporation and City Press, to enhance their staff's safety knowledge and build a relationship between frontline journalists and CPJ's Emergencies team.
"The information he gave us was incredibly useful, and it was enormously helpful. We are going to do things in a very different way from now on. Truly eye-opening and super engaging," said Nicky Gulens, the investigative editor at City Press in Johannesburg.
---
Must-reads from May
A U.S. food industry lawsuit to block an Argus Leader journalist's Freedom of Information Act request seeking government spending data on food assistance has reached the country's highest court. A Supreme Court win for the industry would strike a significant blow to press freedom and crucial accountability reporting, CPJ's Avi Asher-Schapiro writes. A loss, the Argus Leader says, "effectively eviscerates FOIA of its purpose."
CPJ's emergencies director, María Salazar Ferro, chronicles her March trip to the Colombian border to meet stranded Venezuelan journalists. They told her about the dangers they faced covering February border clashes and how extended border closures led many journalists to risk travelling paths trolled by armed groups to get back to Venezuela. "They will look through everything you have, and if they find a microphone or a camera, they will stop you and take everything. And from that point on you don't know what can happen," one journalist said.
Dramatic press freedom reforms spearheaded by Prime Minister Abiy Ahmed are transforming Ethiopia, once one of the most-censored countries in the world and worst jailers of journalists in sub-Saharan Africa, CPJ's Muthoki Mumo writes. But while journalists praise the changes, they say many challenges remain and that gains could easily be reversed unless there is legal and institutional reform as well. There has been change "because the leaders on top are willing, but neither their willingness nor their hold on power is permanent," one journalist said.
---
CPJ launches photojournalist safety initiative at World Press Photo Festival
CPJ launched a new Safety in Focus initiative for photojournalists, who are particularly vulnerable to threats. Emergencies Director María Salazar-Ferro and Scout Tufankjian, a photographer and CPJ consultant, unveiled the program at the World Press Photo Festival in Amsterdam on April 12, where they gave a talk about the risks photojournalists face, and how to mitigate them.
CPJ cosponsored the festival's first Safety Meetup with the ACOS Alliance, Free Press Unlimited, Frontline Freelance Register, and Rory Peck Trust. The meetup kicked off with a workshop led by CPJ's safety technologist, Ela Stapley, on how to mitigate the risks posed by social media platforms, which many photographers use to share their work. Then, Stapley and other safety experts provided free one-on-one, personalized digital-security consultations to photojournalists and documentary photographers in attendance.
---
CPJ in the news
"Sri Lankans Accuse Him of Wartime Atrocities. California May Decide," The New York Times
"Can journalists report freely in Tanzania?" Al Jazeera English
"The U.S. Now Ranks As A 'Problematic' Place For Journalists," WABE
"Chinese photographer Lu Guang's detention raises alarm," DW
"The Indictment of Julian Assange is a Threat to Press Freedom," The New Yorker
"Under Trump, more leaks — and more leak investigations," NBC News
"The unsolved assassination of a journalist," Columbia Journalism Review
"Christiane Amanpour Warns Against Using 'Fake News' as Weapon Against Journalists," Variety
"They Bear Witness. They Report. They're Threatened, Jailed, or Worse," Fortune
"#WhereIsAzory: Still no trace of Tanzanian journalist missing for 500 days," Daily Maverick
"AfricaLink on Air – 04 April 2019," Deutsche Welle
"Egypt blocks campaign site opposing constitutional changes – monitor," Reuters
"Singapore Joins the 'Fake News' Parade," Asia Sentinel
"A Top Progressive Consulting Firm Is Doing PR for an Israeli Spy Company," The Intercept
Rana Ayyub on global list of journalists under threat," Firstpost
---