CPJ joins event at U.S. Capitol marking 100 days since Khashoggi murder
The Committee to Protect Journalists spoke alongside policymakers and press freedom advocates at a bipartisan event at the U.S. Capitol on January 10, hosted by Representatives Adam Schiff (D-CA) and Steven Chabot (R-OH), and Senator Mark Warner (D-VA). The event marked 100 days since the murder of Saudi journalist and Washington Post columnist Jamal Khashoggi. (Click here to watch a video of the event.)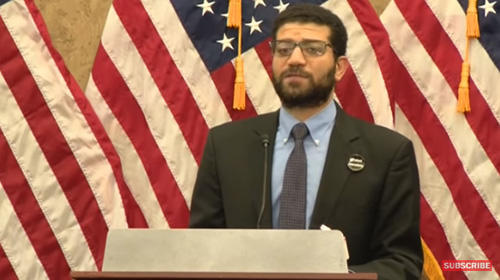 CPJ's poster, which highlighted the names of journalists killed all over the world in 2018, was featured at the event, where representatives Schiff, Chabot, and Jackie Speier (D-CA) spoke, each citing CPJ in their remarks. Chabot pointed to CPJ's data on killed and imprisoned journalists and said, "Such numbers should shock the conscience of the world that thirsts for and needs to have full access to the truth."
CPJ's Middle East and North Africa program coordinator, Sherif Mansour, spoke about the threats that journalists face in the region. "I want to use this day to send a signal–not just about those who were killed," he said, "and not just those who were imprisoned inside Saudi–which, to our count, are 16–but those who are killed by air strikes by the U.S. government-backed and the Saudi-led coalition in Yemen. … As we honor the 100 day memory for Khashoggi, we want to make sure that those killings are not supported morally, logistically, or materially by the U.S. government."
Frederick J. Ryan, publisher of The Washington Post, also made remarks, saying, "Americans rely on independent journalists around the world–especially those working in closed societies where facts are hard to come by–to cut through the propaganda and bring us the truth."
---
Protect your digital accounts from hackers
In January, CPJ's Emergencies Response Team published safety advisories detailing ways for journalists and human rights defenders to protect their digital accounts following reports by research groups that said phishing attacks had increased.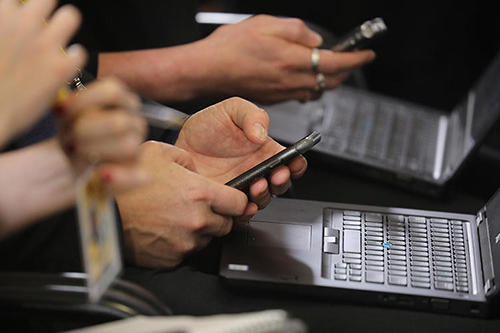 For some practical steps on ways to stay vigilant and protect your digital accounts, click here. This safety advisory details options–including using security keys instead of push notifications and knowing the domain name of the service you use–for you to minimize the risks you face.
CPJ also published a safety note alongside the advisory, which instructs readers to secure their digital accounts by using security keys instead of two-factor authentication, which hackers are targeting. A security key is a hardware device that you can plug into your computer or connect to wirelessly from your phone. Read more about using it here.
If you have received a suspicious message and believe you may have been targeted in a phishing attempt, please forward the message to [email protected]. This information will be handled confidentially.
For more information on digital security, click here to read the digital safety information included in CPJ's Resource Center.
---
2Lives Steven Joel Sotloff Memorial Foundation offers security training to freelance journalists
This month, the 2Lives Steven Joel Sotloff Memorial Foundation announced the establishment of a security training scholarship program to help freelance journalists working in high-risk environments.
The program will offer Hostile Environments and Emergency First-Aid Training (HEFAT) to qualified freelance journalists in Miami from June 4 through June 7. The curriculum–which is taught by Global Journalist Security, a firm that provides consulting and training services to journalists and others–will cover risk assessments and planning, emergency first aid, kidnapping risk reduction, personal safety, and other safety issues. In-kind support for the course is being offered through the University of Miami's School of Communication. To learn more about the training, watch this video.
The foundation commemorates the tragic loss of Steven Sotloff, a U.S. journalist who was abducted in Syria in 2013 and murdered by the Islamic State in September 2014. The foundation–which was established by Art and Shirley Sotloff, the journalist's parents–provides safety training to freelance journalists all over the world and has established scholarships for journalism students in the U.S.
"If we're able to make a difference in one journalist's life," Art Sotloff told CPJ, "that's well worth it."
The 2Lives scholarship program will provide three days of training, ground transportation to and from the training, and lodging and meals. All trainees must cover their own airfare. For information on how to apply to the program, send an email of interest to [email protected] by April 5. A completed application, including a cover letter, resume, sample stories, and a letter of recommendation, is due by April 19.
---
Must-reads from January
In a letter to the president and vice president of Nicaragua, CPJ and local and international independent journalists and news outlets expressed alarm over the escalation in aggression against media outlets and journalists covering the civil unrest in the country. "A free and independent media is vital to the functioning of a healthy democratic society," the signatories said.
Nigerian security services detained two staff from the Daily Trust offices in January, just over a month before a national election is scheduled to take place. CPJ condemned the detentions, which authorities said were in connection with a report that they said undermined national security, and said the attack "signals a dearth of respect for press freedom."
Following a mission CPJ undertook to Poland last year, CPJ's Attila Mong highlighted new measures the Polish government is taking to muzzle critical voices before a European Parliament vote in May and national elections in the fall. "They are now putting a plastic bag on our head to choke us," one journalist told CPJ.
---
CPJ Executive Director Joel Simon publishes book on hostage negotiations
In 2012, during the Syrian conflict, Westerners began to disappear in Syria, kidnapped by individuals seeking high ransoms. The United States and the United Kingdom, who argued that paying the ransoms would fuel terrorism and make the kidnapping of their citizens more attractive, refused to pay, while other governments–of Spain, France, and Italy, for instance–paid the ransoms and eventually welcomed their citizens home.
It was the hostages from the United States and the United Kingdom who were killed–and those images disseminated on social media.
As the longtime executive director of CPJ, Joel Simon has worked on dozens of hostage cases. In his new book, released in January, We Want to Negotiate: The Secret World of Kidnapping, Hostages and Ransom, he explores both sides of the fundamental question: Should governments pay ransom to terrorists?
Want to hear Simon speak about the book? You can see him at any of the events listed here:
Kepler's Literary Foundation, Menlo Park, CA, January 29: The foundation's journalist in residence, Angie Coiro, hosts Simon for a conversation about his book as part of the "This is Now" news and culture conversation series. See more details here.
World Affairs Council of San Francisco, January 30: A limited number of books will be available for purchase at this event, where Simon will speak. The conversation will be moderated by Markos Kounalakis, a visiting fellow at the Hoover Institution. See more details here.
ALOUD at the Central Library, Los Angeles, January 31: Hear Simon in conversation with Sewell Chan, deputy managing editor at the Los Angeles Times, and Federico Motka, an Italian aid worker who spent a year as a hostage of ISIS in Syria. See more details here.
Columbia University, New York, February 5: Simon will join Kyle Pope, editor-in-chief and publisher of the Columbia Journalism Review, and Janine di Giovanni a former Edward R. Murrow Fellow at the Council on Foreign Relations, onstage to discuss his findings. See more details here.
Chicago Council on Global Affairs, February 6: Simon will speak about his book with Clarence Page, editorial board member of the Chicago Tribune and a CPJ board member. Copies of the book will be available for purchase. See more details here.
---
Times Square: Year of the Journalist
On New Year's Eve, you may have seen some familiar faces onstage in Times Square.
The Times Square Alliance and Countdown Entertainment, co-organizers of the New Year's Eve event in Times Square, honored CPJ as the official charity. "This year," said Tim Tompkins, president of the Alliance, "we're celebrating the free press and journalism and those who work to protect, preserve, and practice it."
Among those joining CPJ Executive Director Joel Simon onstage were journalists Karen Attiah, an editor at The Washington Post; Lester Holt, anchor at NBC; Jon Scott, anchor at FOX News; Karen Amanda Toulon, editor at Bloomberg; Rebecca Blumenstein, editor at The New York Times; Alisyn Camerota, co-anchor at CNN New Day; Vladimir Duthiers, a correspondent at CBS News; Edward Felsenthal, editor-in-chief of TIME; Matt Murray, editor-in-chief of The Wall Street Journal; Martha Raddatz, correspondent and anchor at ABC News; and Maria Ressa, Philippine journalist and editor and founder of the website Rappler. The journalists, as the night's special guests, pushed the crystal button that began the 60-second countdown to the New Year.
"We were honored to represent the journalists who bring us the news each day," CPJ's Simon said after the event. "What a great start to 2019!"
---
CPJ in the news
"Cuomo wants to make it a felony to assault journalists," New York Post
"Journalism is dangerous work," The Nation
"Demands grow to release CIA assessment of Khashoggi murder," The Washington Post
"Why the US ending cooperation with UN human rights probes matters," New Statesman
"Reuters journalists lose appeal of 7-year sentence in Myanmar," New York Post
"A jailed blogger in Azerbaijan is on a hunger strike to fight bogus charges. He must be freed," The Washington Post
"Opposition and democracy activists criticize election coverage in Bangladesh," Voice of America
"Opposition crushed, Hasina to rule over Bangladesh unchallenged," Al Jazeera
"Nigerian military frees editor held over Boko Haram article," Reuters