CPJ, Reuters, Amal Clooney address press freedom violations at the U.N.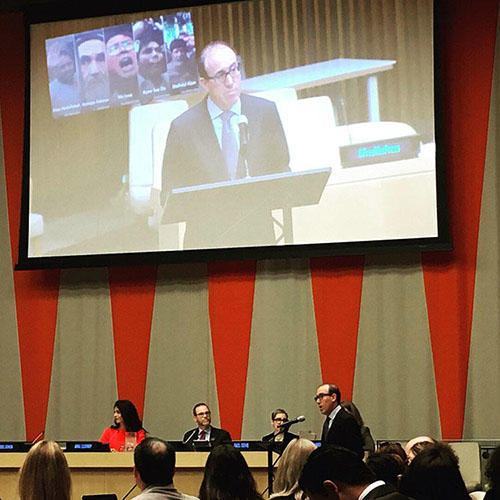 CPJ Executive Director Joel Simon addressed a panel event, entitled "Press Behind Bars," at the 73rd session of the United Nations General Assembly in New York on September 28. The event–which also featured human rights lawyer Amal Clooney and Stephen Adler, president of Reuters and a CPJ board member–highlighted press freedom violations and the imprisonment of journalists around the world, specifically in Bangladesh, Egypt, Kyrgyzstan, and Myanmar.
"[Myanmar journalists Wa Lone and Kyaw Soe Oo]'s unjust imprisonment not only violates their own individual rights, it violates the rights of everyone in this room and even around the world," Simon told the audience, referring to the two Reuters journalists who were convicted on retaliatory charges in early September and sentenced to seven years in prison. "The list of journalists jailed around the world is long. In fact, it's never been longer."
Clooney, who represents Wa Lone and Kyaw Soe Oo, also spoke at the event. "Their conviction and draconian seven-year sentence are a travesty of justice," she said.
Click here to watch a video of the event.
---
Pakistani press is under pressure, CPJ report finds
A special report that CPJ published in September found that while journalist murders have decreased, the Pakistani media are under pressure as the country's powerful military quietly but effectively encourages self-censorship.
The report, "Acts of Intimidation: In Pakistan, journalists' fear and censorship grow even as fatal violence declines," is accompanied by a short documentary film. A panel event at the Wilson Center in Washington, D.C., on September 12 to discuss the report's findings featured CPJ Asia Program Coordinator Steven Butler; Michael Kugelman, deputy director of the Wilson Center's Asia program; Farahnaz Ispahani, a global fellow at the center; Madiha Afzal, adjunct assistant professor of global policy at John Hopkins SAIS and nonresident fellow at the Brookings Institution; and Anwar Iqbal, Washington correspondent for the Pakistani paper Dawn.
The report, based on Butler's interviews with journalists during CPJ's mission to Pakistan earlier this year, found that measures to stomp out terrorism in the country have gone hand-in-hand with increased pressure on the media. The military restricts reporting by barring access, encourages self-censorship through direct and indirect acts of intimidation, and even allegedly instigates violence against reporters. Journalists who push back or are overly critical of authorities are attacked, threatened, or arrested.
According to CPJ research, fewer journalists were killed in retaliation for their work in Pakistan in recent years; however, impunity remains an issue, with the military, intelligence, or military-linked and political groups the suspected source of fire in half of the 22 journalist murders in the past decade.
"The report and the documentary provide a graphic and disturbingly personal look at the intense pressure Pakistan's journalists face," Butler said. "And it explains how they got there."
CPJ is planning a mission to Pakistan in early 2019 to encourage the new government to move forward on the recommendations in the report aimed at bolstering press freedom and journalist safety.
---
CPJ's new Safety Kit promotes journalist safety
In September, CPJ released a Safety Kit for journalists, part of the Emergencies Response Team's work to help improve awareness of journalist safety and journalists' preparedness for assignments.
The Safety Kit features accessible and easy-to-share Safety Notes, including on how to prepare risk assessments and how to cover dangerous assignments, as well as information and tools on digital and psychological safety. The kit also includes a Resource Center, which helps journalists prepare for or confront emergency situations and provides information on buying insurance or renting personal protective equipment.
The kit features a series of first aid videos to enhance medical preparedness for journalists. The short videos, which can be downloaded, are a supplement to training and provide basic first aid knowledge for journalists encountering serious injuries in places where access to professional medical personnel is limited or unavailable.
---
Must-reads in September
CPJ Middle East and North Africa Research Associate Justin Shilad wrote about Saudi Arabia, one of the world's most heavily censored countries. Under Crown Prince Mohammed bin Salman, authorities have wielded mechanisms to silence journalists and directed a crackdown on dissidents under the guise of fighting corruption and extremism.
In September, CPJ wrote to Annika Ben David, Sweden's ambassador-at-large for human rights, as part of a coalition of groups, asking the Swedish government to reconsider its position on EU export controls of dual use technology to third countries. Read the full letter here.
CPJ's digital manager, Ahmed Zidan, examined how the Snapchat app removed the channel for Al-Jazeera upon request from the governments of Bahrain, Saudi Arabia, and the United Arab Emirates. Now, users in those countries are offered a list of stores and restaurants that bear a similar name to the broadcaster.
---
Join CPJ at a panel event in Los Angeles!
The Hollywood Foreign Press Association and USC Annenberg School for Communications and Journalism are hosting a panel event, "Safeguarding the Truth: Press freedom and the fight for accountability," on Wednesday, October 10, in Los Angeles.
The panelists include CPJ Executive Director Joel Simon; Sheila Coronel, director of the Stabile Center for Investigative Journalism at Columbia Journalism School and a CPJ board member; Ramzi Malouki, West Coast bureau chief of CNEWS France; investigative journalist Bastian Obermayer, and Marina Walker Guevara, deputy director of the International Consortium of Investigative Journalists. Gordon Stables, director of the USC Annenberg School of Journalism, will moderate the event.
There will be a reception before and after the panel discussion, which you can also follow online using the hashtag #HFPATruth. To RSVP or read more about the event, click here: annenberg.usc.edu/hfpa
---
CPJ in the news
"Amal Clooney calls for immediate pardons for two Reuters reporters jailed in Myanmar," The Independent
"Arresting journalists only makes democracy more fragile," The Washington Post
"Is the press still free? Panel ponders journalism in the age of Trump," Morristown Green
"Haley slams Myanmar for jailing journalists. Trump called for the same thing just last year.," ThinkProgress
"Freedom of press on the decline in Pakistan: Committee to Protect Journalists," Dawn
"'Environment of fear' undermines Pakistan's electoral process, CPJ warns," Radio Free Europe/Radio Liberty
"Rights group criticizes sentences given to Iranian journalists," Voice of America
---