Four years to the day that Ahmed Rilwan Abdulla was last seen by his family, President Abdulla Yameen Abdulla Gayoom declared the Maldives journalist dead.
Responding to accusations that he obstructed an investigation into Rilwan's disappearance, Yameen said during a campaign speech today, "The journalist, Ahmed Rilwan, is dead. No doubt about it. It is a sad affair." Yameen later apologized for his comments, which he said the media misconstrued, and said he hoped that the journalist would be found, according to news reports.
Rilwan, who reported for the outlet Minivan News, now the Maldives Independent, was critical of local politicians and Islamist extremists. Before he went missing in 2014, Rilwan, who was known to his Twitter followers as "Moyameehaa," published a report about how local journalists had received death threats warning them against reporting on criminal gangs.
The president's comments on Rilwan were startling. In the four years since Rilwan's abduction, the government has been tightlipped about his case. For two years, it denied any link between the journalist's disappearance and an abduction reported outside his building. The president previously refused to meet Rilwan's family despite repeated requests, a colleague of the journalist told CPJ at the time.
But a statement today from jailed ex-vice president Ahmed Adeeb, alleging that the president stopped the Cabinet from investigating Rilwan's disappearance, prompted Yameen to break his silence.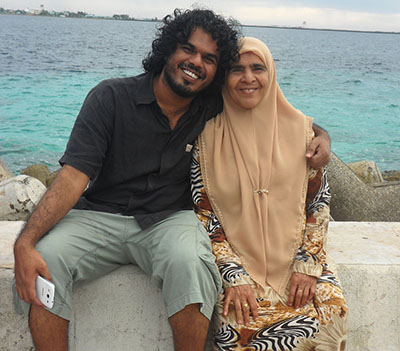 It's not the first time the government has faced allegations of obstructing the investigation. An Al-Jazeera documentary in 2016 alleged that Yameen texted former Home Minister Umar Naseer not to be "overwhelmed" by the investigation into Rilwan's abduction. The government dismissed the documentary in a statement as being "defamatory and biased."
Last week, CPJ documented how a Maldives criminal court acquitted two men of abducting Rilwan. The judge called the police and prosecution negligent, careless, and said they had failed to conduct a thorough investigation. A CPJ letter to the president in 2015 raised concerns by Rilwan's colleagues that the police investigation was inadequate. Little has changed in 2018, with no new suspects identified, no leads, and still no justice.
Yameen's comments raise the question of whether the president knows something about the disappearance that has not been revealed publicly in the police investigation or subsequent trial. If so, that is information that should be shared immediately with Rilwan's family.
The President's Office did not immediately respond to CPJ's email requesting comment.
Today, Rilwan's family announced that they planned to sue the police for negligence, saying last week's verdict showed "at minimum state complicity and, at worst, active involvement in Rilwan's abduction and disappearance," according to Maldives Independent.
If Yameen is remorseful about his comments and truly hopes Rilwan will be found, he should immediately heed calls to launch an independent investigation into the disappearance.