Today is #GivingTuesday!
Please include CPJ in your plans for #GivingTuesday. For more on how CPJ upholds press freedom around the world, visit our website at cpj.org.
---
Campaign to #FreeShawkan trends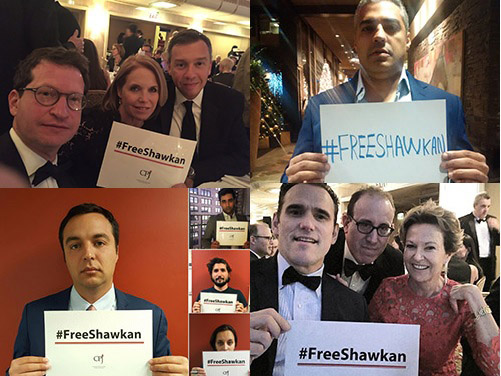 People joined together from all over the world this month to call on Egyptian authorities to release a journalist from prison. Mahmoud Abou Zeid, also known as Shawkan, has been behind bars since August 2013.
Shawkan was honored with CPJ's 2016 International Press Freedom Award on November 22. We asked our guests at the annual dinner to take photos of themselves holding a sign saying #FreeShawkan to show their support of the journalist. That night, #FreeShawkan was the third trending hashtag on Twitter in the U.S.
You can add your voice to the many, many others who have already done so. Take a photo of yourself holding a #FreeShawkan sign and post it to Twitter or Instagram with the hashtag.
Thank you for your support!
---
CPJ awardees featured in U.S. and global media
In addition to Shawkan, CPJ honored Malini Subramaniam from India, Can Dündar from Turkey, and Óscar Martínez from El Salvador. The awardees participated in a panel discussion at Columbia University and were widely featured in U.S. and international media. Dündar spoke with Christiane Amanpour, chief international correspondent and anchor at CNN, who was honored with CPJ's 2016 Burton Benjamin Memorial Award. The Associated Press reported on the 2016 dinner and The New York Times published articles about the awardees, including one on Shawkan.
The honorees visited The Washington Post, which cited them in an editorial published November 26. In the editorial, "Mr. Trump, let journalists do their job," the Post observed that these international journalists "share a conviction that is as essential to Americans as everyone else: Democracy cannot function unless citizens can be informed, through fair news coverage and not propaganda, of the activities of their rulers."
The editorial mentioned how CPJ is concerned about the incoming administration's commitment to upholding press freedom both in the U.S. and around the world. On November 17, CPJ wrote a letter to Vice-President-elect Mike Pence, in which we asked for a meeting to discuss our concerns and recommendations to the administration for guaranteeing First Amendment values.
CPJ is following up with Pence and hopes to confirm a meeting.
---
Amanpour's call for protection of journalism goes global
During the U.S. presidential election campaign and since its conclusion, the climate for journalists has deteriorated. President-elect Trump has obstructed major news organizations, attacked reporters by name, and contributed to a threatening climate for journalists covering the election.
So when Amanpour spoke about press freedom in the U.S. in her acceptance speech for CPJ's 2016 Burton Benjamin Memorial Award, her remarks were widely reported.
Amanpour opened her speech by saying, "I never in a million years thought I would be up here on stage appealing for the freedom and safety of American journalists at home." She continued, "I will fight as a journalist–as we all must–to defend and protect the unique value system that makes these United States–and with which it seeks to influence the world …
"Now, more than ever, we need to commit to real reporting across a real nation, a real world in which journalism and democracy are in mortal peril."
---
Ecuador nullifies arrest order of journalist
An Ecuadoran court on November 21 granted a writ of habeas corpus to a journalist who faced charges of distributing emails sent by public officials.
The charges relate to an October 2013 article Fernando Villavicencio wrote with another journalist for the Ecuadoran news website Plan V, that criticized the government's legal battle with U.S. company Chevron. Alexandra Jaramillo, communications director at the attorney general's office, told CPJ the article contained confidential information and excerpts from emails sent by the attorney general to the president.
CPJ published an alert about Villavicencio's case, which was translated into Spanish and Portuguese, and spoke with his lawyer. Carlos Lauría, CPJ's program director and senior Americas program coordinator, met with the Ecuadoran ambassador to the United States and told him how, with Villavicencio's arrest, Ecuador's image would be tarnished in the international community.
"We are pleased that the arrest order for Fernando Villavicencio has been nullified, but we maintain he never should have been imprisoned for reporting news in the public interest on charges that violate international standards of free expression," said CPJ's Lauría.
For more of CPJ's coverage of Ecuador, click here.
---
Egypt pardons two jailed journalists
In mid-November, Egyptian President Abdel-Fattah el-Sisi pardoned 82 individuals, including Mohamed Ali Salah and Islam al-Behery, two journalists who CPJ determined were imprisoned in reprisal for their work.
Salah, a trainee photojournalist for the opposition news website El-Shaab el-Jadeed, was arrested in December 2013 while covering student protests at a university in Cairo. He was sentenced in February 2014 to five years in prison on charges of illegal protests and inciting violence. At least 22 others were convicted in the same trial. His sentence was amended the next month to three years in prison. Salah was included in CPJ's mid-2015 special census of journalists imprisoned in Egypt, and in CPJ's annual 2015 prison census.
TV host al-Behery was sentenced to five years in prison in May 2015 on charges of defaming Islam. The sentence was reduced that December to a year's term. The journalist was accused of showing "contempt of religion" in statements made on his show. CPJ called for his immediate release from prison.
"We welcome President Abdel-Fattah el-Sisi's pardon of Mohamed Ali Salah and Islam al-Behery, and their release from prison," said Sherif Mansour, CPJ's Middle East and North Africa program coordinator. "The Egyptian government should take the next step and release all remaining journalists who are behind bars in the country simply for doing their jobs."
CPJ continues to document the deteriorating climate for press freedom in Egypt, including through a series of blogs published this month that documents the worsening environment for journalists in the country. In 2015, Egypt was second only to China as the world's worst jailer of journalists. CPJ is releasing its 2016 annual census next month.
---
CPJ in the news
Mr. Trump, let journalists do their job
Under President Trump, will the press still be free?
Donald Trump has brought the fight for press freedom home
Amid Rakhine violence, rights monitors voice concern about Myanmar's freedom of speech
Turkey's free press withers as Erdogan jails 120 journalists
Egypt sentences journalist union head to two years' jail
CPJ accuses Ethiopia of intensifying press crackdown
Mauritania blogger's looming death-penalty decision sparks new appeals
---
Join us in defending brave journalists worldwide!