Newly installed Philippine President Rodrigo Duterte has sent mixed messages on his commitment to upholding press freedom and combating impunity in media murders, a mix of hope and fear that has broadly defined the first months of his leadership. Uncertainty about Duterte's stance on the media's watchdog role comes against the backdrop of a "war on drugs" campaign that has resulted in the killing by police and vigilante groups of hundreds of drug suspects.
In May, Duterte sparked an uproar when he appeared to endorse the killing of "corrupt" journalists. The remarks, in which the veteran politician said that "most" slain reporters had "done something" to deserve their fates, came in response to a reporter's question about how he would address the country's high number of unsolved media murders. When journalists and press groups, including CPJ, condemned his remarks, Duterte responded by saying he would "boycott" the media for the entirety of his six-year term, according to news reports.
In an apparent about turn, Duterte issued a landmark freedom of information order on July 24 that, if fully implemented, promises journalists unprecedented access to central government records. Successive bills that aimed to impose greater transparency in government had languished in Congress for more than three decades, news reports said. The executive order will not cover the legislature, judiciary or local governments, and will make yet-to-be-determined exceptions for national security related requests, reports said.
Prior to the announcement, Duterte's government pledged to create a "super body" task force dedicated to solving media murder cases, according to local reports. CPJ research shows 77 journalists have been killed for their reporting in the Philippines since 1992, and the country is fourth on CPJ's impunity index which tracks places where journalists are murdered and their killers go free. Presidential Communications Secretary Martin Andanar told reporters that he will lead the new multiagency body, which he said was created in response to calls for justice in unsolved media murder cases. He said the body would aim to determine the motives behind attacks and hold regular meetings to discuss the media's concerns. Andanar also said the task force would help to provide state assistance to the families of victims.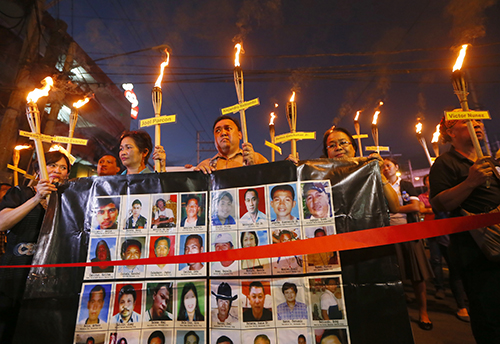 While journalists and press groups have welcomed Duterte's recent moves, others say they remain cautious about his government's intentions. In a statement released by the National Union of Journalists of the Philippines, Ryan Rosauro, secretary general of the local press group, said that Duterte's comment on justified media killings had, in effect, declared an "open season to silence the media." Rosauro, a reporter with the Philippine Daily Inquirer, said he believes Duterte's conflicting signals and rough rhetoric mask an opportunity to advocate for press freedom-promoting change and reset government-media relations.
"[The mixed messages] show the need to further engage him on issues relating to press freedom in particular and human rights in general," said Rosauro in email correspondence with CPJ. "If you have tracked well his views about the news media, he has relented on several of his hardline stances, which can be taken to indicate he has taken these back, albeit not through a formal public apology." Rosauro said that the National Union of Journalists of the Philippines plans to engage implementing agencies to advocate limiting the number of exceptions allowed under the new freedom of information order.
So far, however, there is arguably greater cause for concern than collaboration. Secretary Andanar echoed Duterte's remarks about corrupt journalists when he told journalists on July 11 that the new task force would also investigate whether those killed were "crusaders or just extortionists." In a nationally televised press briefing on June 2, days after his initial outburst, Duterte categorized journalists into three groups: "crusaders" who exposed official corruption; "mouthpieces" of vested interest groups; and "low lives" who unfairly attack public officials who refuse to grant them favors, the Daily Inquirer reported.
Other top officials have claimed in press interviews that some journalists are involved in the illegal drug trade, accusations that have had a chilling effect among reporters who fear they could be targeted for critically covering the government's controversial drug war. Philippine National Police Director General Ronald dela Rosa was quoted in a television interview in mid-July saying that some media personnel are "users, dealers or protectors of drug lords," according to a National Union of Journalists of the Philippines statement that recounted his comments. No reporters have yet been named publicly, according to press groups.
But threats are emerging to reporters. On July 26, IBC TV 13 reporter Rena Manubag Dago-on said she was harassed and censored by drug enforcement agents while covering an anti-drug operation in Iloilo City on the central island of Panay. News reports said that agents confiscated Dago-on's mobile phone and deleted photos she had taken of an apprehended drug suspect. The drug enforcement agency said the reporter was stopped because she did not identify herself as press, the Inquirer reported. Dago-on told the news site that she identified herself as a reporter and alleged that an anti-drug agent accused her of being an accomplice to the suspect, the reports said. The National Union of Journalists characterized Dago-on's treatment as "unwarranted and intolerable," and joined with other local groups in calling for an investigation into the incident.
Others face more shadowy risks. Cong Corrales, associate editor of the Mindanao Gold Star Daily, said that an anonymous user has repeatedly posted comments on his paper's online edition that accuse him and other columnists of being in league with drug lords. Corrales told CPJ that most of his paper's editorials have called for a stop to the drug war killings and for suspects to instead be tried in court. One of his recent columns noted that drug busts under previous governments seldom ended in killings, raising questions about official claims that the 20 or so suspects killed so far in Cagayan de Oro City area had truly resisted arrest.
"[The anonymous poster] thinks because we are calling for a stop to the killings it is tantamount to saying we support criminals and drug lords," Corrales told CPJ in a phone interview. Corrales said that as a precaution, he and other columnists at the paper frequently change their routes from home to office to avoid possible attacks. "He knows who we are, he says we are dirty journalists, the same language used by President Duterte…Many groups have already killed in the name of the war on drugs. What if one of the assassins out there believes him?"
[Reporting from Bangkok]