CPJ Newsletter: June edition
Khadija Ismayilova thanks CPJ, says she will fight for her cause
Khadija's first photo after jail pic.twitter.com/sj358k5WdU

— Khadija Ismayilova (@Khadija_Ismayil) May 25, 2016
CPJ Europe and Central Asia Senior Research Associate Muzaffar Suleymanov spoke to investigative journalist Khadija Ismayilova a few hours after her release from prison on May 25.
Ismayilova, who was behind bars since December 2014, told Suleymanov she was ready to fight for her cause and that she was bringing her case before the European Court of Human Rights. She also thanked CPJ, especially Nina Ognianova, CPJ's ECA program coordinator, for fighting on her behalf.
Click here to watch a video of Ismayilova walking out of prison.
Ismayilova was sentenced to seven and a half years in prison in September on trumped-up charges of illegal business, tax evasion, abuse of power, and embezzlement. She has been repeatedly harassed in recent years, including facing smear campaigns in the media, arbitrary travel bans, and prosecution on fabricated charges.
"We have advocated for years on Khadija's behalf, including after her arrest in 2014, so her release from prison was welcome news," CPJ's Suleymanov said. "But while this was a crucial first step in the right direction, Azerbaijani authorities should drop all of the charges against Ismayilova and stop silencing critical reporters."
CPJ contributed to the global campaign calling for Ismayilova's freedom. We published alerts, statements, blogs, and letters, urging authorities to grant her immediate release. Ismayilova was featured in a campaign, "Press Uncuffed," launched in 2015 by CPJ and journalism students at the University of Maryland that highlights cases of imprisoned journalists around the world. Sport for Rights, a coalition of international press freedom groups including CPJ, also called for her unconditional release. A few weeks before Ismayilova was freed from prison, she was awarded the UNESCO/Guillermo Cano World Press Freedom Prize.
Christiane Amanpour, CNN's chief international correspondent and a senior advisor on CPJ's board, also worked behind the scenes to secure Ismayilova's release.
"As a board member of CPJ, IWMF, and a recently named UNESCO Goodwill Ambassador for Freedom of Speech and the Safety of Journalists, I consider getting unjustly jailed journalists freed a top priority," Amanpour told CPJ. "I was determined to use all and any leverage I had to lobby publicly, and negotiate behind the scenes, to get Khadija released. She, too, was very thankful for all the efforts by our activist/advocate community as she told me shortly after walking out of prison in Azerbaijan.
"This is a positive and welcome development by the Azeri authorities, and shows journalism advocacy can work," Amanpour said. "However, Khadija's ordeal is not over yet. Now she has to get the two remaining trumped-up charges against her dropped."
During the interview with Ismayilova on May 26, Amanpour asked her if she would stop conducting journalism. "Or will you keep doing investigative work and the kind of work that you're known for?" she asked.
"Absolutely. … I will do my job as I've been doing–even more," Ismayilova told her. "I wouldn't agree to stop my job in return for freedom."
Journalist released from prison in Nigeria
On April 29, police arrested Jacob Onjewu Dickson, a reporter for the Nigerian news website Authentic News Daily, after inviting him to a police station to discuss a report he published.
"We found out about Jacob's arrest 20 minutes after it happened because Nigerian journalists started tweeting at us," Kerry Paterson, CPJ's Africa senior research associate, said. "So we researched it and wrote an alert on his case."
Two days earlier, Dickson had written a story that cited witnesses as saying that youths had thrown rocks at a state governor. The journalist was charged with incitement.
"But then we discovered something else that was really interesting," Paterson said.
The same day that Dickson was arrested, Alhaji Lai Mohammed, Nigerian minister of culture and information, spoke on behalf of President Muhammadu Buhari at a meeting of the Federation of African Journalists hosted by the National Union of Journalists in Abuja.
Mohammed stressed the importance of a free press and boasted that "not a single journalist is being detained or harassed in our country today," according to press reports.
In our alert on Dickson's case, CPJ's deputy executive director, Robert Mahoney, pointed out that President Buhari should "not let state officials make a mockery of his laudable commitments to press freedom even as he utters them." Mahoney also called on Nigerian police to release Dickson "without delay."
Dickson was released from prison early on May 5.
"We were thrilled at the news that Jacob had been released," Paterson said. "We were also heartened to see how quickly other journalists in Nigeria rallied around him, demanding that the government respect the very commitment to press freedom it kept promising."
"Part of what makes working at CPJ so great is seeing journalists standing up for their own," Paterson said.
CPJ installs SecureDrop on website to ensure safer communications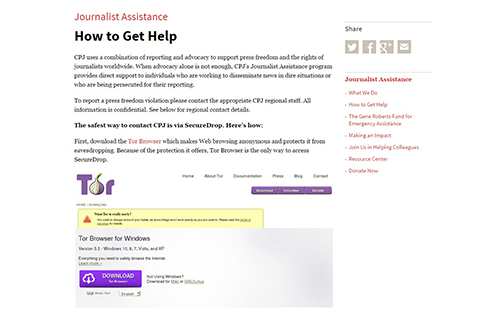 "Journalists in distress–those who are being followed, harassed or intimidated, or those who are forced to flee or go into hiding–are most vulnerable to continued surveillance as they attempt to seek help," said María Salazar-Ferro, CPJ's Journalist Assistance program coordinator.
So in order to ensure safer communications online with at-risk journalists around the world, CPJ on May 12 formally launched SecureDrop under the leadership of Tom Lowenthal, CPJ's staff technologist and resident expert in operational security and surveillance self-defense.
SecureDrop is an open-source, encrypted submission system for news organizations that provides robust protections against network-based surveillance. Journalists can use SecureDrop to submit messages and files to CPJ without revealing their identity, location, or the contents of their messages to potential attackers. A CPJ staff member checks the system daily.
The first case to come to CPJ's Journalist Assistance program through SecureDrop was that of an Iraqi journalist, on whose behalf an individual in the U.S. submitted information to CPJ.
To submit information to CPJ via SecureDrop, journalists should download the latest version of the Tor browser, then use it to visit CPJ's SecureDrop address at 2x2hb5ykeu4qlxqe.onion.
CPJ throws "Jeopardy!" viewing party
On May 17, CPJ hosted a viewing party for guests to watch as Lara Logan, CBS News journalist and CPJ board member, competed in "Jeopardy!" Power Players Week. Logan competed against Michael Steele, former chair of the Republican National Committee, and Anderson Cooper, anchor of the CNN news show "Anderson Cooper 360°."
Logan chose CPJ as the charity of her choice–and she won the game!
"There was no question in my mind," Logan told the crowd. "There are many worthy causes out there, but if we don't stand up for each other as journalists, who's going to stand up for us?"
Afteward, Logan told the guests about how she joined CPJ in 2008 after helping to raise funds for Jehad Ali, an Iraqi journalist whom she befriended while reporting in Iraq.
"CPJ did everything," Logan said. "They took over everything. They got him here, they raised the funds for it, and they gave Jehad back his life. He's still working in Iraq as a journalist today. And that wasn't because of me. That was because of CPJ."
Click here to see more photos of CPJ's "Jeopardy!" party.
Groundswell of support for CPJ following ECOSOC vote
On May 26, the NGO Committee of the United Nations denied CPJ consultative status with the Economic Social Council, or ECOSOC, four years after our first application.
Without such status, CPJ is unable to access U.N. bodies and processes, notably the Human Rights Council in Geneva, where accredited NGOs can deliver a counter-narrative to states. Six members, including Greece, Israel, and Uruguay, voted in favor of CPJ's application. Ten, including Pakistan, China, and South Africa, voted against CPJ.
The support for CPJ that followed in the following days was heartwarming. The day of the vote, the hashtags #pressfreedom and #NGOCommittee trended on Twitter.
Samantha Power, U.S. ambassador to the United Nations, said the NGO Committee that voted against CPJ "acts more and more like an anti-NGO committee" and called the move "outrageous."
François Delattre, France's ambassador to the United Nations, called the vote "deeply disappointing and disturbing." The vote, he said, "can only be understood as a reprisal against this NGO." Delattre added that France would vote in ECOSOC to reverse the decision against CPJ.
A spokesman for Zeid Ra'ad al-Hussein, the UN High Commissioner for human rights, said the vote was "unwise, unfair, and arbitrary, and flies in the face of other initiatives by UN member states to offer better protection to journalists worldwide." CPJ, he said, "is a key and respected voice on the issues of protecting journalists and press freedom, and the statistics it provides on killings, attacks, and imprisonment of journalists around the world are widely viewed as among the most reliable in existence."
UN Secretary-General Ban Ki-moon said he was "deeply disappointed" by the decision to deny CPJ's ECOSOC status. "Journalists already are facing undue restrictions on their work in many, many parts of the world and organizations that are dedicated to protecting journalists shouldn't face restrictions at the United Nations."
The U.S.-based watchdog organization Freedom House also issued a statement: "Denying consultative status at the United Nations to CPJ is a travesty," said Robert Herman, vice president for emergency assistance programs and multilateral initiatives. "It's shameful that democratic nations that are members of the NGO Committee, including South Africa and India, joined China, Russia, Cuba, and Iran in voting against or abstaining on CPJ's application."
The day after the vote, the South African government published a statement saying the country regrets the "misunderstanding and wrong message that the lack of explanation of our vote … could have portrayed."
In the statement, South Africa said it had no objection to CPJ being granted observer status by ECOSOC and supports "freedom of expression and the role that journalists play in democracy and free societies." South Africa, the statement said, "will during the main session of ECOSOC support the application by CPJ with a yes vote and appeal to all ECOSOC [m]embers to do the same."
Media hits
RFE/RL journalist Ismayilova released from custody
US act aimed at curbing impunity for murderers of journalists
Por qué se deben tomar en serio los insultos de Trump contra periodistas
Kazakhstan jails online editor for 'spreading false information'
Another blow against Turkish journalism
Tehran court jails three Iranian journalists for spreading propaganda
CPJ launches secure digital platform to submit reports of attacks against journalists and press freedom
For women journalists, violence is not restricted to conflict, it is part of daily life
Press Freedom Day: Journalists keep working despite threats
Media monitors report decline in global press freedom
Join us in defending brave journalists worldwide!