Late in 2015, the Japanese government asked David Kaye, the U.N. special rapporteur on the right to freedom of opinion and expression, to reschedule a visit planned for December. At the time, some news outlets speculated that the administration of Prime Minister Shinzo Abe, under criticism for rising threats to free expression, was trying to avoid U.N. scrutiny.
If that was the plan, it did not succeed.
Last month, at the conclusion of his eventual visit, Kaye issued a harsh statement about the state of media independence in Japan, citing "a weak system of legal protection, persistent government exploitation of a media lacking in professional solidarity, and the recent adoption of the Specially Designated Secrets Act." He said he identified these challenges through a series of interviews with members of the media and government.
"Numerous journalists, many agreeing to meet with me only on condition of anonymity to protect their livelihoods, highlighted the pressure to avoid sensitive areas of public interest," Kaye told a news conference in Tokyo on April 19. "Many claimed to have been sidelined or silenced following indirect pressure from leading politicians."
CPJ's interviews with Japanese journalists and media experts in recent months have yielded similar complaints.
"Since the formation of the Abe administration, the control over the media and information has been significantly strengthened," Yasuhiko Tajima, a professor of media law at Sophia University in Tokyo, told CPJ.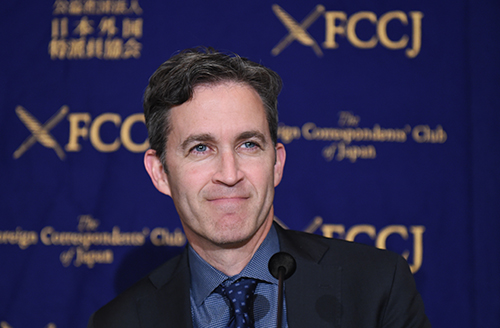 Tajima raised the issue of the Specially Designated Secrets Act, under which journalists who work with government whistleblowers could face up to five years in prison. Although no one has been prosecuted under the law since it came into effect in December 2014, experts have said its very existence could encourage self-censorship. According to Kaye, the act "goes further than necessary in protecting information from disclosure, putting in peril the public's right to know in areas of immense public interest, such as nuclear power, national security, and disaster preparedness."
In February, Japan's communications minister, Sanae Takaichi, threatened to suspend TV and radio stations that ignored broadcast regulations that require impartiality. In response, six prominent journalists released a statement condemning her comments as "tantamount to a war between the political power and the media." At his press conference, Kaye suggested the conflict was symptomatic of a broader dispute over who has authority over the press, and urged the government "to get itself out of the media-regulation business."
Some government pressure on journalists is more subtle. Makoto Watanabe, a former reporter for Asahi Shimbun, Japan's second-largest daily newspaper, told CPJ, "Most of the time, it is difficult to pinpoint how exactly the Abe administration exerts pressure on the media. It may be due to his mastery of behind-the-scenes pressuring, but the reason that he is able to exert pressure has a lot to do with Japanese society increasingly moving to the right."
One veteran Japanese journalist, who asked not to be named for fear of professional reprisal, said, "It's not like Abe would make a phone call to NHK's executives demanding some journalist be fired." He added, "More often, when Abe is with journalists in informal settings, he would make an off-hand remark revealing his displeasure with a certain NHK program or anchor. The journalists who are present will relay the information to the management at NHK and it goes from there."
Neither the public broadcaster NHK nor the prime minister's office responded to CPJ's emailed request for comment.
"Self-censorship is pervasive at NHK," the journalist, who is familiar with the public broadcaster, added. He cited an example of how a news executive turned down a proposed story related to the 2011 Fukushima nuclear disaster. The story idea had been approved by a supervisor and an editor, the journalist said, but in an apparent move to avoid a political clash, an executive turned the story down by using the phrase "you understand." At NHK, "you understand" is a term used to reject a proposal without voicing the reason why, according to the journalist with whom CPJ spoke. "The phrase has become a meme at NHK now," the journalist said.
Watanabe, who runs an investigative journalism program at Waseda University in Tokyo, noted that in 2014, the Asahi Shimbun retracted a news report on Fukushima after criticism, including from the Abe government, for alleged inaccuracies. Watanabe said he believes the article was accurate and was retracted because Asahi Shimbun could not withstand pressure from the right-wing media and the Abe government. According to the Foreign Correspondents Club of Japan website, several journalists and lawyers agree.
The Asahi Shimbun did not respond to CPJ's emailed request for comment.
One Asahi Shimbun journalist, who asked not to be identified for fear of professional reprisal and who also believed in the integrity of the Fukushima story, told CPJ the reporters on the story were demoted to non-journalistic roles. "The Asahi leadership effectively threw its journalists under the bus because it couldn't stand up to the government and the right-wing media," said the journalist. "Journalists in Japan have entered a dangerous situation."
Kaye emphasized that the press is vulnerable in large part because it lacks solidarity, singling out the "kisha" club system that excludes freelance and online journalists. "If journalists in Japan had professional media-wide institutions of independence, solidarity and self-regulation, they would likely be able to resist with ease attempts at government influence. But they don't," he said.
Chitose Sato, the former Beijing bureau chief of Hokkaido Shimbun, told CPJ that journalists need to do more to protect their rights. "The prospect of press freedom in Japan is in our own hands–the hands of journalists and news organizations. Japan still has a constitution that guarantees press freedom. Journalists of major media outlets still have their own channels of voicing their opinions. What we need now is action," Sato said.