CPJ Newsletter: April edition
Four imprisoned journalists freed in Azerbaijan
The president of Azerbaijan in March issued a decree pardoning 148 people, including three imprisoned journalists–Hilal Mamedov, Tofiq Yaqublu, and Parviz Hashimli.
Mamedov, editor of a newspaper that covers the Talysh ethnic minority group in Azerbaijan, was imprisoned in 2012 on charges of drug possession. Yaqublu, a columnist for an opposition daily, was arrested in 2013 and sentenced to five years in prison on charges of organizing mass disorder. Hashimli, editor of an independent news website, was jailed in 2013 and sentenced to eight years in prison on charges of weapons possession. CPJ determined that the three journalists were imprisoned on retaliatory charges.
A fourth journalist was released from jail in a separate case. Rauf Mirkadyrov, the Turkey correspondent for an independent Azerbaijani daily, was arrested in April 2014 and sentenced in December 2015 to six years in prison on espionage charges. In March, the Baku Court of Appeals changed the term to a suspended five-year sentence. Mirkadyrov was set free after the court ruling.
CPJ has long called for authorities in Azerbaijan to release all journalists imprisoned in relation to their work. In February, CPJ called on the European Union to prioritize press freedom in talks with Azerbaijan. In the run-up to the Baku games in June 2015, CPJ joined other rights groups to urge the European Olympic Committee to insist that Azerbaijan release journalists and activists ahead of the Games. Azerbaijan was holding eight journalists in jail in late 2015, according to CPJ's annual prison census conducted on December 1.
Second conviction in 2000 attack on Colombian journalist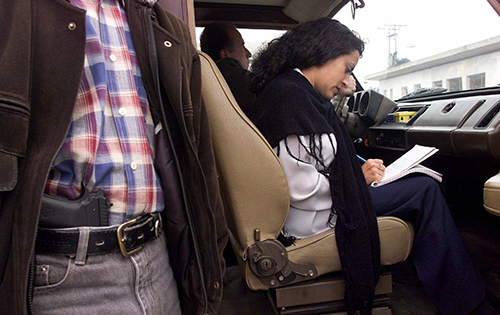 CPJ reported in the last edition of Impact about the landmark conviction in the kidnapping and torture of a Colombian journalist. In March, a court convicted a second individual in the case.
In May 2000, Jineth Bedoya Lima was reporting on paramilitary death squads for a daily newspaper when she was kidnapped outside a prison in Bogotá. The assailants beat and raped her. "During the assault, the men told her in graphic detail about all the other journalists who they planned to kill," CPJ wrote in 2000.
In February, a Colombian court convicted a former paramilitary fighter in the kidnapping and torture of Bedoya. The fighter, Alejandro Cárdenas Orozco, was sentenced to 11 years in prison and ordered to pay a fine of around US$17,500. Then, in March, a court convicted Mario Jaimes Mejía, a former paramilitary fighter, in connection with the attack and sentenced him to 28 years in prison. "After a 15-year battle against impunity, this second sentence is another significant step forward in Jineth Bedoya Lima's fight for justice," CPJ said
For nearly 16 years, CPJ has called on authorities to hold Bedoya's attackers accountable. We advocated for justice in the case by publishing alerts, blogs, letters, and a 2011 special report, "The Silencing Crime: Sexual violence and journalists."
In May, CPJ and the Colombian group Fundación para la Libertad de Prensa (Foundation for a Free Press, or FLIP) met with Colombian President Juan Manuel Santos to discuss press freedom, including impunity in journalist murders. CPJ and FLIP expressed a desire to see progress in the 2002 murder of journalist Orlando Sierra Hernández and the attack against Bedoya. Santos told the delegation that he would prioritize the issue of impunity. The next month, a court sentenced the mastermind of Sierra's murder to 36 years in prison.
Journalist acquitted of posting on social media in Oman
A court in the United Arab Emirates on March 14 acquitted Omani blogger Muawiya al-Rawahi on charges of establishing and managing social media pages that could "disturb public order" and "intend to ridicule and damage the reputation of the country," The Associated Press reported.
Al-Rawahi was detained in February 2015 while attempting to enter the United Arab Emirates by car from Oman. He was charged under the cybercrimes law in connection with posts he wrote on his blog, YouTube channel, and Twitter account, in which he discussed atheism and other sensitive topics, including criticism of Omani Sultan Qaboos bin Said.
In July 2014, Alrawahi published a post criticizing Omani authorities for detaining teachers and activists. He disappeared after being summoned by intelligence officials. A photo appeared on Twitter weeks later that showed him at the psychiatric department of a local university, with his legs shackled. He was released the next month.
Al-rawahi was included in CPJ's annual prison census, which was conducted in December 2015.
Journalists face terror charges in Turkey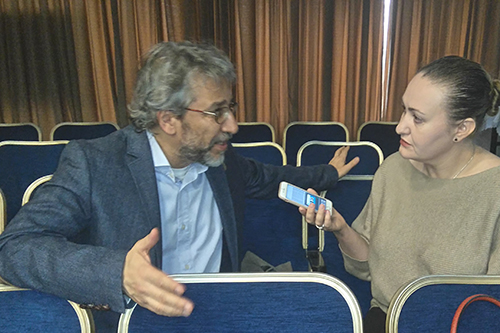 CPJ was part of a coalition of regional and international press freedom groups in March that has called for the charges to be dropped against Can Dündar and Erdem Gül, editor and Ankara bureau chief for the daily newspaper Cumhuriyet. The journalists are charged with exposing state secrets, espionage, and aiding a terrorist group. If convicted, they could face life in prison.
Dündar and Gül were arrested in November 2015 and spent 92 days in pre-trial detention before being freed in February. To read more about their case, click here.
The journalists' trial began in an Istanbul court on March 25. Representatives from CPJ and other free speech groups attended the first session. The judge granted prosecutors' request to hold the rest of the trial behind closed doors, on the grounds that state secrets would be discussed, despite defense lawyers arguing that this would contravene the journalists' right to a fair trial. The judge also granted the prosecution's request to add Erdoğan and the Turkish National Intelligence agency as complainants in the case. Defense lawyers had argued that Erdoğan had demonstrated his personal hostility to the journalists, and that his involvement, as president, could be seen as meddling in the judicial process. The trial was postponed until April 1.
Hundreds of supporters greeted the journalists as they arrived at the courtroom. "We are here to defend journalism," Dundar told reporters. "We will defend journalism and the right of the public to be told the truth."
In response to the recent spike in media freedom violations in Turkey, CPJ launched the "Turkey Crackdown Chronicle," a real-time diary of attacks on journalists and other press freedom abuses. The chronicle is updated daily and features an interactive timeline, giving an overview of developments in Turkey's press freedom climate over the past two years.
Turkey is ranked among the worst jailers of journalists worldwide. Fourteen journalists were jailed in Turkey in late 2015, according to CPJ's most recent prison census. Since then, seven Kurdish journalists have been arrested.
Book talk with Anne Garrels, CPJ board member
Please join the Harriman Institute, the Columbia Journalism School, and CPJ for a conversation with author Anne Garrels, former NPR Moscow bureau chief, and Bill Keller, editor-in-chief of the Marshall Project and former Moscow bureau chief of The New York Times.
Garrels's book, Putin Country, which was published on March 15, is based on more than two decades of her reporting in Russia–in particular, her frequent and lengthy visits to Chelyabinsk, a gritty, military-industrial center a thousand miles east of Moscow. Her stories from Chelyabinsk, in the Russian heartland, help illuminate the aftershocks of the collapse of the Soviet Union and the rise of Vladimir Putin.
The event is taking place on April 6 at 12 p.m. at the Marshall D. Shulman Seminar Room, 1219 International Affairs Building, at 420 West 118th Street.
#CPJturns35
A group of U.S. correspondents founded CPJ 35 years ago after they just could not ignore the plight of their colleagues in other countries who reported the news at great risk. On April 3, 1981, the journalists formally incorporated our organization.
Today, CPJ is recognized as a leader in the global press freedom movement. We are distinguished by the high quality of our reporting, a reputation for political independence, and decades of experience. Our staff, which has grown widely over the years, includes regional experts who report daily on press freedom violations. We also have a network of international correspondents and representatives, based all over the world, who provide updates, organize visits by CPJ delegations, and coordinate with our local partners.
In the past 35 years, despite facing unprecedented challenges, CPJ has fought hard to protect journalists and promote press freedom. You can read more about our work on our website.
Thank you for all you have done to support us these many years. We know we couldn't have done it without you. Please join us in celebrating CPJ by using the hashtag #CPJturns35 on Facebook and Twitter.
Media Hits
Somalia: Six sentenced over journalist's killing
Jia Jia, missing Chinese journalist, detained by police, his lawyer says
Turkish journalists on trial for Syria arms smuggling
Indian journalist arrested over social media post
Singapore extends crackdown on Internet journalism
Honduran journalist sentenced to 10 years for defamation
Protests in Vietnam as prominent blogger goes on trial
Turkish court takes journalists' espionage trial behind closed doors
Join us in defending brave journalists worldwide!