"Our hope is that President Obama will meet journalists working for the alternative media, not just to cover his visit, but to start a dialogue," said Elaine Díaz Rodríguez, director of Periodismo de Barrio (Neighborhood Journalism) a website focusing on climate change and the impact of natural disasters on local communities. Díaz, who last year became the first Cuban journalist to receive a Nieman fellowship at Harvard University, said such an encounter with Obama would validate journalism in the island nation. "It won't resolve our problems, but it will boost our legitimacy and reduce our vulnerabilities," she told CPJ on the phone from Havana.
When Obama arrives in Cuba next week for an historic visit–the first by a sitting U.S. president since 1928–he will find a media landscape that has greatly developed over the past decade. While the emergence of the independent Cuban blogosphere can be traced to early 2007, when the first few blogs were written under pseudonyms, in the past five years the field has experienced a dramatic change, CPJ has found. Press freedom advocates and Cuban journalists with whom CPJ spoke, point to Yoani Sánchez, the 40-year-old founder of Generación Y, as a pioneer in this blogging community.
The Cuban government, while preserving a restrictive legal framework that bans independent journalism, has also urged citizens to be more critical. In a December 2010 speech before the legislature, President Raúl Castro said: "Do not fear discrepancies and differences of opinions, which will always be more desirable to false unanimity based on simulation and opportunism. It is a right that others should not deprive anyone [of]."
However, rights groups, including the non-governmental rights group Cuban Commission for Human Rights and National Reconciliation, have complained that harassment, including the temporary detention of dissidents, continues to be the norm, according to reports. Cuba has disregarded such allegations.
For Díaz, a former professor at the University of Havana, the idea of a journalism start-up was born at Harvard University after a class on news and participatory media by Global Voices co-founder Ethan Zuckerman. "I wanted something small that wouldn't be seen as a threat by the state media," Díaz said. She was aware that the venture would operate in a legal limbo because the Cuban constitution doesn't allow the existence of privately owned media. The print and broadcast media are wholly controlled by the one-party Communist state and, by law, it must be "in accordance with the goals of the socialist society," according to CPJ research.
Launched in October 2015, Periodismo de Barrio has four reporters and a few contributors in the provinces. The site is devoted to issues such as housing, water supply, and communities affected by natural disasters. Some reports have a critical viewpoint directed at local-government level, Díaz said. She explained that local authorities have accepted criticism, adding, "We don't offer solutions but we propose a debate. Local governments are looking at us as an ally, even when we report on sensitive issues." A story last month about dozens of properties in central Havana that are at risk of collapse was well-received by authorities, Díaz said.
Ted Henken, president of the non-profit research group Association for the Study of the Cuban Economy and associate professor of black and Latino studies at Baruch College in New York, told CPJ the Cuban blogosphere today is well-developed and diverse, as Cuban journalists find reliable ways to get online. "Some of them have realized that a blog is like an op-ed and does not use the whole range of journalistic techniques and possibilities," he said.
Henken, who has written extensively about the evolution of the Cuban blogosphere, said that a larger group of journalists was producing more professional reporting in a digital format. He cited 14ymedio (Fourteen and-a-half), La Joven Cuba (The Young Cuba), On Cuba, and Periodismo de Barrio as some of the best examples of this trend.
Perhaps the most prominent critical outlet, launched by Sánchez in May 2014, is 14ymedio, named for 14th-floor Havana apartment where it is produced together with the "y" of Sánchez's famous blog, Generación Y. It has over a dozen reporters based in Cuba, providing coverage of national and international politics, society, economics, sports, science, and technology. It also includes in-depth reporting and editorials.
Sánchez and her team have been blocked since day one, with access to the site denied in Cuba, CPJ research shows. By using USB drives, DVDs and CDs, email and mobile phones, 14ymedio has bypassed these restrictions to get its material to a wider audience. The website is widely viewed as a leading source of independent reporting and critical commentary, but CPJ has documented how Sánchez and her team were discredited in the Cuban state media as a "cybermercenaries." Its reporters have sometimes been harassed–the Inter-American Press Association reported how the office has come under surveillance and how men identifying themselves as government agents barred a managing editor from leaving to cover a human rights event–but they have not faced serious restrictions.
Another emerging blog is La Joven Cuba, which was launched in 2011 by Harold Cárdenas, a 30-year-old professor of philosophy at the University of Matanzas, and his campus colleagues Roberto Peralo and Osmany Sánchez Roque. Cárdenas said the blog deals with one of the most controversial issues in today's Cuba: politics and its leaders. "And we do not practice self-censorship," Cárdenas told CPJ during a telephone interview.
But La Joven Cuba is considered to have a pro-revolution agenda. "We are nationalistic: protecting our nation is our main goal," Cárdenas said. He described the blog as a platform for political participation, but supportive of the socialist ideals. "We are a critical voice from the left, and this has facilitated access to state institutions." Cárdenas added that while some officials understand the bloggers' position, others don't. Within the blogosphere, Cárdenas said, La Joven Cuba has seized a space of dialogue with the Cuban state.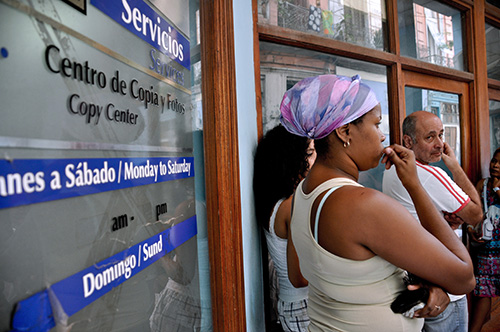 Cárdenas and Díaz agree that Internet access is a necessity for Cubans. And both have become advocates for greater access. "Cubans should be our main audience, but the majority don't have access," Cárdenas said. He believes that one of the reasons is the lack of infrastructure due to the trade embargo. But there is also a prejudice that it would be used against the state by international critics, a reasonable feeling after so many years of hostility with the U.S., Cárdenas said.
With 25.7 percent of the population using the Internet, according to UN data, Cuba has one of the lowest connectivity rates in the Western hemisphere. But that figure includes only people who can only log on to a government-controlled Intranet.
In January, Cuba announced a pilot project to bring broadband Internet to two neighborhoods in the capital, The Associated Press reported. Access to broadband in Cuba began only in 2015, with the opening of dozens of public WiFi spots that cost USD$2 an hour– about a tenth of the average monthly salary in Cuba–to use. Citizens can also access the Web through government-run Internet cafés, where an hour of connection can cost between $6 and $10, a prohibitive amount of money.
Funding for privately run ventures is also an obstacle to Cuba's press. Díaz, who has a code of ethics for her site, said that Periodismo de Barrio receives funds from non-governmental organizations that support international journalism. "No one can question our independence or launch a campaign to discredit us. We are absolutely transparent, we published the grants that we receive, and describe precisely for what purposes they were used," she said. Díaz added that the site does not accept funds from the U.S. government or U.S.-sponsored institutions, but has received a grant from a Swedish foundation.
Cárdenas said that La Joven Cuba is a non-profit financed by him and his colleagues. He said they are careful not to receive any funds for their political activism. "The only thing that we have accepted are nougat from Alicante that were a gift from a reader in Spain," he said.
Both bloggers told CPJ they have made an effort to distance themselves from more critical journalists–including the 14ymeidio reporters who are considered by the government to be part of Cuba's dissident community. Díaz and Cárdenas emphasized the achievements of the Cuban socialist system in healthcare and education, for example, and did not openly criticize the political system or the Communist party. Both said they did not feel represented by the dissident community. "Dissidents do not have internal influence internally in Cuba, only outside of the country," said Cárdenas.
Some of the so-called dissidents are equally wary of the Cuban bloggers. Miriam Celaya, a blogger at 14ymedio and author of the Sin EVAsión (Without Evasion) blog, has been critical of Cárdenas and the Cuban official blogosphere. "He could be defined as a 'Taliban-light,' equivalent to a believer convinced of the superiority of the Cuban system, disguised as a critic," Celaya wrote in a critical column published on the Miami-based website Cubanet. "He is reasonably disapproving, moves within government institutions (so he's controllable) and knows exactly where the line that cannot be crossed is," she said of Cárdenas in her column titled "The New York Times, a branch of Granma."
According to Díaz, almost 3,000 blogs make up the country's blogosphere including some run by Cubans living in exile in Europe and the U.S. Other well-known platforms and bloggers include Havana Times, an independent outlet featuring posts from many bloggers and independent activists; La Chiringa de Cuba, founded by Carlos Alberto Pérez after he left the Ministry of Communications last August; Alejandro Rodríguez, whose work is published on his blog and by the BBC's Voces desde Cuba; and Roberto de Jesús García, an independent journalist and the head of Hablemos Press (Let's Talk Press).
Díaz hopes Obama's visit will initiate a period where free expression issues can be more openly discussed. "We need a different media system that can allow us to open private media, non-profit, and other models. We cannot continue to operate in a legal limbo," she said. 14ymedios' Celaya is less optimistic about Obama's ability to produce such a change. "To grant the new position of the White House the ability to open democratic spaces of expression within Cuba in that short period of time is wrong, irrational, and even disrespectful," she wrote on March 9.
The thaw in U.S.-Cuba relations and the rise of digital media in the island, said Henken, gives the Cuban government an opportunity to demonstrate that it can tolerate constructive critics and learn from them. He added, "Up to now, the government has tolerated them in different degrees and different ways. What is new at this time is that authorities are not throwing people in jail."
[EDITOR'S NOTE: The sixteenth paragraph has been updated to reflect that Periodismo de Barrio has received a grant from a Swedish foundation.]