Over the past year, CPJ has documented anti-press violations all over the world, cases of journalists killed, imprisoned, abducted, or threatened in relation to their work. You can see all of our coverage at our website, www.cpj.org.
But here at CPJ Impact we also highlight those times when CPJ has stepped in and advocated for journalists under threat. This year, we made some vital gains in our fight to protect journalists and press freedom.
We know we couldn't have done this without your support. Please continue to join us in our important work.
CPJ helps win release of 31 imprisoned journalists
This year, our advocacy helped win the release of at least 31 imprisoned journalists. Some of them, like Vietnamese blogger Ta Phong Tan, have spent years behind bars, and some, like Syrian press freedom advocate Mazen Darwish, were reportedly tortured in prison.
Check out our slideshow on journalists released from prison in 2015.
Record level of convictions in journalist murders
Our advocacy paid off this year with convictions in the murders of at least five journalists, many of whom have been emblematic cases for our organization. For years, CPJ has called for justice in the murder of Nepalese journalist Uma Singh, who covered human rights and politics. Singh died in January 2009 with injuries sustained in an attack by as many as 15 people with knives. In April, a court sentenced the mastermind of her murder to life in prison.
CPJ research shows that almost 90 percent of journalist murders over time are unsolved, so we still have a long way to go.
No journalists jailed in the Americas
No journalist was in jail in the Americas for work-related reasons on December 1, when CPJ conducted its annual prison census, the second time this has happened since our organization began compiling annual prison surveys in 1990.
Clear principles for freedom of expression adopted by the Inter-American human rights system and sustained campaigns to eliminate defamation laws by international press freedom groups have contributed to this decline in journalist imprisonments in the region, according to CPJ research and experts. Cuba, which in the early 2000s was one of the world's leading jailers of journalists, has abandoned its policy of lengthy incarcerations of independent journalists and bloggers.
But the Americas stand in stark contrast to much of the rest of the world. In CPJ's most recent prison census, 28 countries worldwide were holding nearly 200 journalists in relation to their work, more than half of them held on anti-state allegations.
Award-winning campaign raises awareness for imprisoned journalists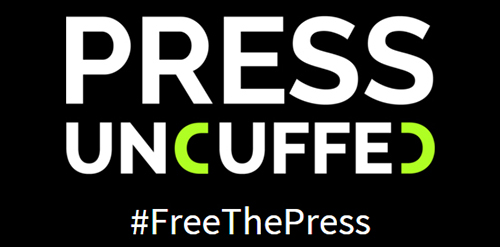 In March, CPJ partnered with students at the University of Maryland's Philip Merrill College of Journalism and Knight chair and Pulitzer Prize-winning Washington Post reporter Dana Priest to launch the "Press Uncuffed" campaign. The campaign, which features CPJ data, aims to raise awareness about journalists imprisoned around the world in relation to their work. According to CPJ's most recent prison census, at least 199 journalists were behind bars.
The students raised enough funds to create bracelets emblazoned with the names of the journalists. The campaign won the "Do Good Challenge" prize, which is sponsored by University of Maryland's School of Public Policy.
Already, six journalists featured in the campaign have been released. Click here to read the profiles of the featured journalists or here to purchase a bracelet.
Special report on Peru has long-term impact
In October, we learned that Daniel Urresti Elera, a former interior minister and army general in Peru, had withdrawn his nomination for a 2016 presidential bid. In April, Urresti had told CPJ, "In the army, my dream was to become a general. As a politician, my dream is to become president."
The news came a little more than a month after CPJ released a special report on the fact that Urresti is on trial for the 1988 murder of war correspondent Hugo Bustíos Saavedra. In February 2015, Urresti was formally charged with Bustíos' murder. If convicted, he could face up to 25 years in prison.
In a letter to President Ollanta Humala in October, Urresti wrote that he was withdrawing his candidacy so he could focus on the trial, according to news reports. He said the trial was estimated to last until March 2016, at which point he would have little time to prepare his campaign.
"The Bustíos killing is our most important case," Ricardo Uceda, executive director of the Lima-based Institute for Press and Society, told CPJ. "The fact that Urresti is on trial for it shows that the judicial system can work," he said.
Colombian court convicts mastermind of journalist murder
In June, a Colombian court sentenced the mastermind of the 2002 murder of Orlando Sierra Hernández, a historic victory for local journalists and groups, including CPJ, who have lobbied for justice for years. Sierra, a deputy editor and columnist, was shot three times in the head in front of his daughter while walking to work on January 30, 2002. He died two days later.
The verdict came the month after CPJ met with Colombian President Juan Manuel Santos to discuss the high level of impunity in journalist murders. CPJ and the Colombian press freedom group Fundación para la Libertad de Prensa (Foundation for a Free Press, or FLIP) met with Santos in the national palace known as Casa de Nariño in Colombia.
In the meeting, the delegation specifically expressed a desire to see progress in Sierra's murder, as well as the 2000 attack against reporter Jineth Bedoya; the attack against editor Ricardo Calderón in 2013; and the threats made in 2013 against investigative reporter Gonzalo Guillén.
Santos told us, "I am the person who is most interested in those cases being solved." The president pledged to CPJ that combating impunity in attacks against the press would be a priority of his administration. "I have been a press freedom advocate for more than 40 years," Santos said, "and I care deeply about the issue."
We here at CPJ couldn't have done this without your support. Please consider making an end-of-year gift so we can continue defending the rights of journalists and press freedom around the world.