"First they asked if my parents had any guns or drugs in the apartment, then they showed my picture to my mother and asked her to identify me," Anna Andriyevskaya said. The Crimean journalist, who is living in exile in Kiev, was describing a raid on her parents' home by Russian FSB agents. "Any other mother would have probably suffered a heart attack if police asked them to ID their children," she said.
Andriyevskaya was among the reporters and rights activists I met during a visit to Kiev in June to hear about conditions for the press in Crimea, Ukraine's southernmost peninsula that was annexed illegally by Russia in March 2014. The trip was a follow up to CPJ's July 2014 fact-finding mission.
A year ago, journalists who reported on the annexation faced detention, assaults, or had equipment confiscated by pro-Russia authorities and units that Russian President Vladimir Putin described as Crimean self-defense forces, research by CPJ and the Kiev-based press freedom group Institute of Mass Information shows. Several newsrooms were raided and Ukrainian broadcasters and cable operators have been forced out of the region; Ukrainian TV channels have been taken off air and Russian channels have reported on a series of stories branded dubious by international observers, including reports claiming Ukrainian soldiers had crucified a three-year-old boy and were being offered land and two slaves for taking part in the conflict.
Andriyevskaya told me that the FSB raided her family's apartment on March 13 because of an article she wrote in November for the Center for Investigative Journalism, an independent Crimean news agency being run in exile from Kiev. In a search warrant agents showed to Andriyevskaya's family, the journalist was accused of making calls to separatism. Under Article 280.1, which Andriyevskaya said was added to the Russian criminal code shortly after Crimea's annexation, those convicted of making calls to separatism through the media can be jailed for up to five years.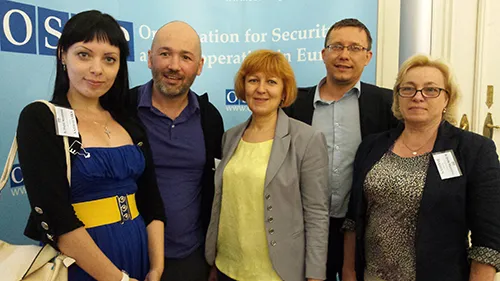 CPJ condemned the raid in March and in April we publicly called on Putin to reverse repressive measures brought against reporters in Crimea. But to no avail. Soon after my return to New York, Andriyevskaya told me that the FSB continues to harass her family. She said agents questioned her father on her whereabouts and played a recording of one of their phone calls that had been tapped. Andriyevskaya added that her father was fired, without explanation, from the regional municipal company where he worked. She said she believes it was in connection to her journalism and added that since the raid her parents have had trouble sleeping.
Andriyevskaya's case is emblematic of the repression faced by critics and their families. The Kremlin claims the region's fate was decided by a popular vote–one that was inconsistent with the Ukrainian constitution, international law, and treaties Russia signed with Ukraine. Russia is now using established and new press laws and its security services to crack down on dissenters. Andriyevskaya is one of them. She made no calls to separatism in her article, CPJ review shows, but she did describe Crimea as "occupied," a view that is in line with international law and U.N. Resolution 68/262.
Andriyevskaya told me that Russian authorities–from the regional judges and prosecutors who approved the raid, to FSB agents who continue to harass her family–showed that they can and will act against anyone who dares disagree with the Kremlin. Andriyevskaya pointed out that by targeting her, Russia is seeking to prosecute another country's citizens who are writing for foreign news outlets. She kept her Ukrainian citizenship after residents were told in March 2014 they would automatically become Russian unless authorities were informed within a month that they wanted to retain Ukrainian citizenship or be "stateless."
Raids, repressive laws, and regulation
While some journalists have remained in Crimea and continue working under the radar or for pro-Russian outlets, many have fled. Andriyevskaya said she left in May 2014 after receiving anonymous threats on social networks, and realizing Article 280.1 restricted her ability to work. In September, Elizaveta Bogutskaya, a contributor to Krym.Realii, a Crimean service of the U.S. government-funded Radio Free Europe/Radio Liberty, also left after her house was raided. About a dozen masked, armed police agents came to her house in Simferopol, confiscated reporting equipment, and interrogated Bogutskaya over a report on a May 2014 protest rally, according to reports. Torn from their families and concerned for the security of relatives who stayed behind, many of the Crimean reporters living in exile no longer use bylines on articles, Andriyevskaya said.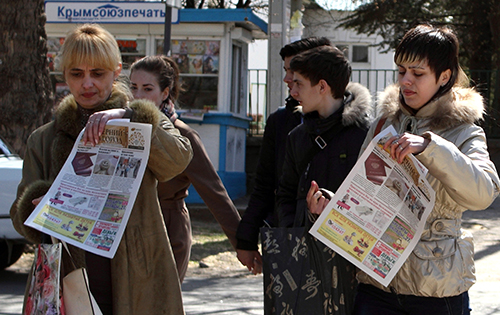 As well as journalists and bloggers fleeing Crimea, outlets including the Center for Investigative Journalism, news agency Qırım Haber Agentliği (QHA), independent broadcaster Chernomorskaya Teleradiokompaniya (Black Sea TV), radio Assol, news websites Sobytiya Kryma and Grazhdanskaya Oborona, and media outlet IPC Sevastopol, have also moved. Most recently, Lenur Islyamov, owner of the independent television channel ATR, announced that the world's only independent Crimean Tatar broadcaster is to move to Kiev due to pressure from regional authorities.
"I left Crimea not on my own will, but because after a third attack on me I realized that I was not sure I'd survive a fourth attempt," Tatyana Rikhtun, chief editor of Grazhdanskaya Oborona and director at IPC Sevastopol, told journalists in Kiev in March. "On a Web-based forum in Sevastopol there was a list of Ukrainian journalists with their names, addresses, and relatives' details published. Threats are ongoing to this day." In March 2014, a pro-Russian journalist published a video report, titled "There's no place for dishonest reporters in Sevastopol," which showed Rikhtun's media center being raided by authorities. It was shown on the YouTube page of Sevastopol-based news website ComPressInfo.
A summary of the repressive conditions, raids, and moves to block outlets documented by CPJ in the past year can be viewed in this StoryMap.

Spokesmen for QHA and ATR said they were muzzled by the Russian state media regulator Roskomnadzor, which denied their applications for registration. Roskomnadzor ordered all of the region's news outlets to obtain registration under Russian laws by April 1. Under Russian media law, unregistered news outlets may be subject to prosecution under criminal or administrative laws.
After being told by Roskomnadzor that its application had not been reviewed due to minor technical mistakes, ATR hired a Moscow-based media consulting company to re-file the application, executive director Elzara Islyamova told CPJ. The broadcaster filed four more applications: each time the regulator claimed there were mistakes, such as a wrong application fee or error in the bank account number. On April 1, ATR stopped broadcasting for fear of prosecution, Islyamova said. Crimean authorities accused the broadcaster in public statements and interviews of intentionally making errors to politicize the issue.
Crimean Tatar broadcasters forced out
From more than a dozen news outlets that produced content in the Crimean Tatar language before the annexation, only two–a municipal newspaper and a children's magazine–succeeded in obtaining registration, news reports said. In its correspondence with CPJ in April, the regulator cited privacy laws and refused to say why ATR, QHA, and other outlets had their registration blocked. The agency claimed it had registered 23 news outlets that produce content in the Crimean Tatar language, though it declined to name the outlets. CPJ has been unable to independently verify its claims.
As a result an ethnic minority of about 232,000 in a population of about 2.3 million, according to a Russian census in October, has only limited access to news in its native language, and the journalists who worked for the outlets are being stripped of their right to practice journalism and have lost their income.
Gayana Yuksel, QHA founder and director, told me in Kiev that Roskomnadzor organized seminars on how to apply for registration, giving her the impression that authorities wanted the press to continue. But in April 2014, Yuksel said, Russian prosecutors issued a warning to QHA over an article on a rally organized by Crimean Tatars in Moscow. Then she was summoned by the counter-extremism police unit and given orders to delete all articles–including those published prior to Crimea's annexation–about Ukrainian nationalist groups and individuals deemed extremist in Russia. In August 2014, her husband Ismet Yuksel, an activist and QHA staff member, was banned from re-entering Crimea for five years after he traveled to his native Turkey via Kiev. According to Ukranian reports, the FSB ordered the ban but said the reason for it had been classified. Then, in October, Roskomnadzor denied QHA registration, citing technical reasons: staff had apparently put the month and date in numbers instead of words.
Unable to continue working in Crimea, Yuksel moved her news agency to Kiev earlier this year, but she told me that did not stop the FSB from summoning her in mid-April over a November 2014 article that it claimed contained extremist content.
Crimean radio stations faced a similar fate. According to the Center for Investigative Journalism, on December 15, just days before two-week holiday, Roskomnadzor suddenly announced that bidding for radio frequencies would begin on February 25, 2015. Requirements set by the regulator included stations being registered as Russian by January 29. In a public protest letter sent to Roskomnadzor in December, station managers asked for an extension. Roskomnadzor ignored the request and frequencies were awarded to radio stations that, according to many reporters living in exile, are affiliated or sympathetic to Russian authorities in Crimea. At least six independent broadcasters including Radio Assol, which has been broadcasting in Crimea for 15 years, were forced off air, reports said.
Those in exile said they have become wary of some of the journalists who remained in Crimea and started working for pro-Russia outlets, after critical reporters were vilified in news reports. Independent journalists are facing other challenges too, they said. On June 19, QHA reported that pro-government news agency KrymInform had barred ATR journalists from attending press conferences at its premises. According to QHA, Maksim Nikolayenko, chief editor of KrymInform, issued the ban via a post on his personal Facebook page; he also wrote that journalists would be allowed to enter only if they obtain accreditation from the Russian foreign ministry. Accreditation is mandatory for any international journalist or news organization wishing to enter the region, reporters told me in Kiev.
Witnessing the raids, detention, and imprisonment of regional journalists and political leaders has left many residents, especially Crimean Tatars, too scared to talk to the press, the journalists I met said. "Approaching a Crimean resident for an interview is close to impossible," one Crimean Tatar journalist, who asked not to be named for fear of reprisal, told me. "Often times you need to go through those residents on the ground who personally know and trust you, and hope that they succeed in arranging it." If a reporter tries to approach residents on the street, they need to be prepared to be either questioned by the potential interviewees or stopped and, at a minimum detained, for interrogation by the police or activists with Crimean self-defense groups, the same journalist told me.
One of the more absurd cases of harassment happened while I was in Kiev. According to reports, Russian border guards stopped a woman traveling from Ukraine to Crimea under suspicion that she was a journalist. The guards took apart her car, apparently hoping to find hidden reporting equipment, but did not reassemble it again, according to Ukrainska Pravda. The news website published pictures of the stripped car and cited the account of a Crimea lawyer who said he helped the woman.
Another obstacle is the lack of Ukrainian or international news bureaus in Crimea, which many of the journalists in exile say would help ease repression. Although international reporters and rights groups visited the region at the peak of the crisis and the anniversary of Crimea's annexation, no international media organization has yet opened a bureau there, they said. One explanation could be restrictive legislation that Russian authorities have introduced since Putin returned to office in May 2012. CPJ research identified at least six legal provisions that restrict reporting in Russia. Another reason is that international journalists need press accreditation from the Russian foreign ministry before entering Crimea. Russia has refused to grant access to monitors from the Organization for Security and Co-operation in Europe, the Vienna-based human rights and security watchdog, according to reports.
Press freedom under attack
One group with a presence on the ground is the joint Russian-Ukrainian Crimean Human Rights Field Mission, a volunteer project that has been documenting and reporting on human rights and press freedom abuses. Olga Skripnik, the group's representative in Kiev, told me that rights groups in Crimea continue to face threats, attacks, harassment, and vilification by pro-government media, and that the mission's website experienced distributed denial-of-service attacks. Skripnik said that the group has difficulty accessing meetings and securing interviews with residents. And, like many of their colleagues in Russia, the Crimean Human Rights Field Mission faces restrictive laws imposed by the Kremlin. In July, a proposal to include the group on a list of "undesirable organizations," which would bar them from Russian territory and make it criminal for Russians to work for them, was supported unanimously in the Russian parliament, reports said.
Ukrainian authorities often fail to publicly condemn repression in Crimea, some of the exiled journalists told me. In Andriyevskaya's case, she said that the only response from the government was a tweet by the Ukrainian foreign minister Pavel Klimkin, who said Russia should stop stifling press freedom in Crimea. The journalists said that even though President Petro Poroshenko and his cabinet make statements critical of Russian action in Crimea, their reaction rarely leads to specific action.
Ukrainian authorities have also been criticized for imposing restrictions that officials justify as an attempt to withstand Russian aggression. Separate legal provisions–based on Ukrainian law on the special economic zone in Crimea and travel regulations–virtually bar those in Crimea from using the Ukrainian banking system, according to reports. Declared as non-residents under the economic zone law, Crimean journalists and residents alike–including those who decide to move to mainland Ukraine–must overcome bureaucratic hurdles before opening a bank account, activists told me in Kiev. Rights activists also criticized travel restrictions, saying that the regulation contained confusing provisions and required foreigners and stateless people to obtain a permit from migration authorities.
The journalists and rights groups I met in Kiev agreed that the situation in Crimea is creating fear among journalists and residents alike.
"Journalists and journalism are under attack in Crimea now," Andriyevskaya told me. "This has to stop. When critical journalists are silenced to the last one it will mark the end of independent journalism in the region, and my fellow Crimeans will be left face-to-face with lawlessness and Russian propaganda. The world must not let this happen."
[CPJ's 2015 Google Fellow Lydia Tomkiw compiled the StoryMap and sidebar for this post]