Now that the initial wave of revulsion at the beheading of two young journalists has passed, the international media is wringing its hands and asking how it can spare others the heartbreak of the families of U.S. journalists James Foley and Steven Sotloff.
In talking with freelance and staff journalists, and editors, it's clear that the murders have rekindled the debate about safety and responsibility in the news business.
It's time for reporters, particularly freelancers, and the editors who commission them, to be honest about risk. And it's also time for those news organizations that for financial and liability reasons want a strictly arm's-length relationship with stringers to recognize they have a duty of care toward those they send or encourage to go to the front lines.
These are just two of the many issues re-emerging in the debate. The scale of the news coverage of the militant group that now calls itself Islamic State (IS), and the revelation of the identities of more hostages held by the jihadists, have also ripped away the veil of secrecy over the payment of ransom for many European captive journalists, and started a discussion about the efficacy of news blackouts for journalist kidnappings.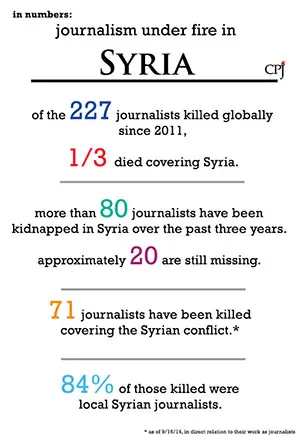 That journalists are seen as targets in a war zone is not a new phenomenon. Local and foreign correspondents were among the first detainees of the victorious Khmer Rouge in Cambodia in 1975. Western journalists, and even those who sought to free them, were held hostage for years during Lebanon's civil war in the 1980s, and dozens of reporters in Latin America have been grabbed by paramilitaries or drug cartels.
But the sheer scale of the problem since the Arab uprisings is unprecedented, according to CPJ data.Of the 227 journalists killed globally since 2011, one third died covering Syria.
And what is really disturbing is the number of journalists taken captive: more than 80 in Syria over the past three years, with some 20 still missing, presumed kidnapped. Most are Syrians who responded to the upheaval in their country by becoming news-gatherers or working for the international reporters who have smuggled themselves across the border from southeast Turkey.
One reason for the rise is cheap technology and communications. Aspiring foreign correspondents can gather and file news with a smart phone and Internet connection, bypassing many of the traditional corporate gatekeepers to the airwaves and printing presses.
Seasoned reporters were taken aback by the numbers of young journalists that pitched up in Benghazi during the Libyan uprising and proceeded to cover a fast-moving conflict with little equipment or training.
Many of the newcomers learned quickly, some the hard way, how to stay safe and protect the fixers, drivers, and translators upon whom they depended, but the conflict pointed up the chasm between news media staffers and freelancers in terms of resources, training, and financial and psychological support.
From Libya some freelancers moved on to Syria, which took risk to a whole new level. Besides air raids, shelling, and snipers, reporters have to contend with Islamist and criminal gangs who actively seek them out for kidnap to extort employers, families or governments for financial or political gain.
Many freelancers, including those with the requisite hostile environment training and insurance, say it is just too dangerous for them to consider returning to the insurgent-held areas of Syria for the foreseeable future.
The result of this is a lack of reporting from a vast swath of Syria and Iraq under IS control, where only a handful of extremely brave local journalists venture to document the fighting and atrocities.
Those few foreigners still inside Syria are likely to be freelancers, many mainstream media organizations being extremely wary about sending staffers clandestinely across the Turkish border for the time being. So many journalists seem to have been betrayed by someone in the long chain of smugglers, fixers and drivers needed to get them across the frontier. Some reporters were snatched within minutes of crossing.
"Once you are kidnapped in Syria it's a completely black hole you're never going to come out of," Nicole Tung, a freelance photographer who worked with Foley, said.
That is, unless you come from one of those Western countries that pays ransom. Media reports have pointed to ransoms paid by west European countries, while the U.S. and U.K. do not pay ransom. Freed European journalists report having been held in the same room as the Americans who were killed.
Janine di Giovanni, who has been covering conflict for multiple outlets since the Balkan war, agreed that journalists were being increasingly targeted, especially for kidnap.
"The fact that we are now walking ATMs … has changed the whole dimension of it," she said.
The question of how to cover conflict without getting killed or captured is not new. Editors and reporters wrestled with it throughout the Iraq war. It's just that the outlook in Syria appears even bleaker. The question now for many journalists and editors is how to cover Syria without getting killed or captured.
There are no easy answers but the fact that safety is top of most people's agenda is already progress. Just a generation ago reporters' safety was barely discussed. But since the Balkan conflict many major international news organizations have hired security consultants and given staff hostile environment and first aid training; safety equipment such as helmets and Kevlar vests; insurance; and psychological support to deal with post-deployment trauma. At the same time however, many cash-strapped news outlets have shrunk their foreign bureau network and turned to retained stringers and ad hoc freelancers to plug the gap.
This has left freelancers, both local and foreign, particularly vulnerable. Some news organizations, in order to discourage freelancers from taking risks, have refused to take text or pictures "on spec", that is, work they have not themselves commissioned. Reporters complain, however, that there are still editors who shirk their responsibility by saying "we can't send you there but if when you come back you have some interesting material we'll take a look."
So the onus is still on freelancers to look out for themselves, especially in Syria.
"Freelancers need to take these threats more seriously than ever. It is not going to get easier," said Elisabet Cantenys, head of programs for the Rory Peck Trust, a London-based freelancer support group.
"You cannot expect because I've done the safety training I will be safe. No, you still need to have your equipment, you still need to have your act together with a risk assessment and communications plan, and have a proof of life," she said, referring to a set of questions journalists should leave with friends or family, and which only they could answer, in case they are kidnapped.
Even with all these precautions freelancers still take risks others might shun.
"Freelancers sometimes make poor decisions. It has happened to me as well," said Anjan Sundaram, a former freelancer and author of Stringer, a book about his time covering conflict in the Democratic Republic of Congo.
"I have chased a story that I shouldn't have partly because I was in a mindset of desperation, of hunger for every last story that I could find. Correspondents know that they don't need to go and chase that last story. They will still get their paycheck," Sundaram said. Even if news organizations do provide training and support, they are not always staffed and structured internally to run reporters in the field.
"News organizations are not set up to support stringers effectively. The same editors who are responsible for sourcing information, sourcing stories, editing copy and putting them on the wires are also responsible, on an ad hoc basis, for stringers' personal safety, decision-making, calculation of risk and opportunity, and providing support," he said. "I don't think it's reasonable to be able to expect them to handle all these different things at the same time."
In addition to the training and equipping of journalists, di Giovanni thinks a more radical solution is called for, at least in the Syrian theater.
"The freelancers I am concerned about are the freelancers who are really out there and off the grid… who have a string of people they work for, you know, but aren't in constant contact with their editors, aren't getting backing, have to buy their own flak jackets, have to rent their own satellite phone, don't have anyone looking after them," she said.
She floated the idea of news organizations, Internet companies, and foundations that fund media development banding together to support a security adviser who would be based near the Syrian border, and could act as a resource for freelancers intending to cross.
"This is a dream but what I would like to see is a full-time security adviser who could work with freelancers, give them advice on areas if they were going to go anywhere, give them trackers or some kind of device available for rent or borrowing," she said.
She goes even further, suggesting the establishment of a "preventative press center'" that would issue accreditation to those freelancers who could prove they were on assignment for a bona fide news outlet.
"I think that this will annoy a lot of people, but I think that it is imperative that we have some kind of accreditation system because… this is where it makes it dangerous for real journalists when you can have anyone crossing the border now," she said.
"The accusation that we get often that you're a spy won't be as easy to toss around if people have been accredited, and they have been vetted in some way. All you need is a letter from a major organization … even if a journalist was self-funded it would make them stop and think, and get some assignments before they go," she said. "You could even make it stricter, that they have to have to have evidence of their hostile environment training and or insurance."
Freelancers who can't afford to employ a security adviser may welcome access to free, reliable information on the ground, although from a safety point of view they may be reluctant to share detailed plans about their intended movements and contacts with a press center.
Accreditation is also, as di Giovanni acknowledged, a controversial idea. The question of who is and is not a journalist, and who can and cannot enter a conflict zone is fraught with serious press freedom implications, and is probably unenforceable.
Whether or not these ideas win backing from journalists and funders, the fact that they are being raised underscores the need for the entire media industry to do something to protect reporters and open up conflict zones to coverage.
Last December, 13 international news organizations wrote to the Free Syrian Army to demand protection. The initiative did not get very far given the splintering of Syrian insurgent groups, but it was a start. Journalists have discussed other ways of mitigating risks. Organizations that send staff on expensive hostile environment and first aid courses could set aside one or two places on each batch for freelancers free of charge. News outlets could also consider setting up pools to share footage and information, thereby minimizing the numbers of news teams deployed in a combat zone. This system worked for a time in the Bosnian war.
As for freelancers, they are also helping themselves. Tung is working with others on setting up the Frontline Freelance Register, a union-like organization that aims to support members with everything from safety information to expected wordage rates. Freelancers are also connected through several closed Facebook groups and listservs, and numerous media development agencies and a number of journalism schools offer advice and support (see a list of resources at the end of this article).
It is difficult to gauge how many freelancers are covering conflict but Vaughan Smith, who founded London's Frontline Club, is quoted as estimating they number around 500.
There is no one-stop-shop for freelancers or journalists generally providing peer-reviewed information on security training, medical and kidnap and ransom insurance, safety equipment, and best practice, or updated assessments on conditions in any given conflict zone where journalists are deployed. But the situation is getting better. Groups are providing bursaries for freelancers to attend training or for those seeking psychological help after the trauma of war reporting. After the 2011 deaths of veteran photographers Tim Hetherington and Chris Hondros in Misrata, Libya, friends set up a free training program in battlefield first aid known as RISC (Reporters Instructed in Saving Colleagues). Such knowledge might have helped colleagues save Hetherington, who bled out from a shrapnel wound.
One of the casualties of the IS onslaught on journalists is truth.
"There's no reporting coming out of Syria expect for those who are lucky enough to get a visa and be on the regime side," said di Giovanni.
Yet President Barack Obama's announcement this month of a bombing campaign against IS means that reporters will be tempted to go back to do what they do best — cover the news. That's when freelancers have to weigh the risks and ask themselves this question, said Tung: "Is your life worth $200 a day?"
Security and risk assessment resources are increasing. Here are some:
CPJ has a security guide. It will be updating the digital security sections of this guide before the end of 2014. Our guide has links to other resources here.
Freelance assistance from the Rory Peck Trust where you can find security and risk templates.
Insurance information is offered by Reporters Without Borders.
First aid training is provided by RISC
Other resources include:
The Frontline Freelance Register
International News Safety Institute
And for trauma support, The Dart Center.