Journalists in Hong Kong and Taiwan
Battle Beijing's Influence
By a CPJ Contributor
"Self-censorship–it's like the plague, a cancerous growth, multiplying on a daily basis," former journalist and current Hong Kong legislator Claudia Mo said. "In Hong Kong, media organizations are mostly owned by tycoons with business interests in China. They don't want to lose advertising revenue from Chinese companies and they don't want to anger the central government."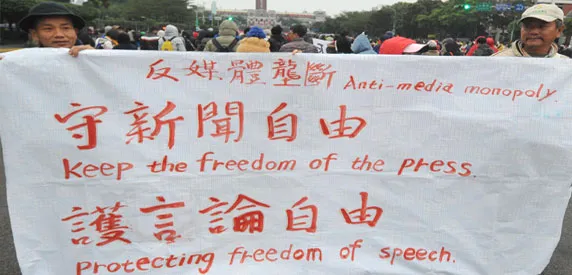 That should not be surprising. More than half of Hong Kong media owners have accepted appointments to the main political assemblies of China–the National People's Congress (NPC) and the Chinese People's Political Consultative Conference (CPPCC). Recent appointments to one of the two assemblies include Charles Ho of the Sing Tao news group, Richard Li of Now TV and the Hong Kong Economic Journal, and Peter Woo of i-Cable television. Journalists and academics say they are concerned that the city's media leaders are being absorbed into China's political elite.
Adding to concerns in the territory is a series of physical attacks on journalists, as well as steps taken by the local legislature that would hamper reporting.
Meanwhile, in Taiwan, many media owners have close business ties to Beijing, which they are loath to jeopardize by drawing disfavor on the mainland. The Taiwanese press is also vulnerable to financial intervention in the form of advertising by Chinese interests–including some ads disguised as news, journalists say.
In other languages
• 中文

The state of media freedom in Hong Kong and Taiwan is significant in part because news outlets in both places have in the past provided comprehensive, independent coverage of China, filling a gap left by the tightly restricted mainland press. Any rise in interference, including self-censorship, would imperil the ability of the Hong Kong and Taiwanese press to play a watchdog role.
When Hong Kong returned to Chinese control from British rule in 1997, the territory was granted a high degree of autonomy to manage its domestic affairs under a "one country, two systems" framework. Socialism as practiced by the People's Republic of China would not be extended to Hong Kong for at least 50 years, and the rights of its residents–including freedom of speech, freedom of the press, and freedom of assembly–were to be protected under the Basic Law, worked out between London and Beijing. The Basic Law was to be essentially Hong Kong's constitution.
Nearly 17 years on, Hong Kong's media freedom is at a low point. A public opinion survey by the University of Hong Kong in 2013 found that more than half of the public believes the local press practices self-censorship. The United Nations has signaled concern, urging the Hong Kong government in a March 2013 meeting of the U.N. Human Rights Committee to "take vigorous measures to repeal any unreasonable direct or indirect restrictions on freedom of expression, in particular for the media and academia, to take effective steps including investigation of attacks on journalists, and to implement the right of access to information by public bodies."
According to a survey of journalists by the Hong Kong Journalists Association (HKJA) in 2012, the most pervasive problems facing Hong Kong media are self-censorship and a rising number of physical attacks and threats against journalists. Of the survey's 663 respondents, nearly 40 percent said they or their supervisors had recently played down information unfavorable to China's central government, advertisers, media owners, or the local government. The HKJA has been tracking censorship trends in Hong Kong since 1968.
Compounding the issue of self-censorship, the central government has sometimes put direct pressure on Hong Kong media. In the past, Beijing had relied on discreet ways to carry messages to Hong Kong media owners, such as asking middlemen to speak with newspaper editors. It was rare to hear of Chinese officials contacting editors and journalists directly, said Shirley Yam, HKJA's vice-chairwoman. "Now the gloves are off," she said in an interview.
Yam and legislator Claudia Mo both told CPJ they believe that Beijing's meddling in media coverage of Hong Kong's 2012 election for chief executive was a turning point. During the campaign to elect Hong Kong's current leader, Leung Chun-ying, the propaganda chief of China's representative agency in Hong Kong, the Liaison Office, called the owner of the daily Hong Kong Economic Journal to complain about the newspaper's critical coverage of Leung, according to news reports. "That's something that we have never heard of before, and people were shocked," Yam said. Although the daily's owner, Richard Li, is not outwardly pro-Beijing, his father, Li Ka-shing, is one of the most influential businessmen in China and one of the richest men in Asia. Both father and son are members of the CPPCC.
Three reporters at the Journal told CPJ that since the Liaison Office's phone call, they were being ordered by their supervisors to write fewer critical reports about Hong Kong's leader and to back up any negative statements about Leung or his government–even in opinion pieces–with substantive supporting evidence. Journal executive editor Tim Chan did not respond to CPJ's emailed request for comment.
One reporter at the Journal said journalists in Hong Kong are getting used to self-censorship and heavy pressure from Beijing. "There is really no such thing as 'independent-minded' media or media that aims for neutrality in Hong Kong anymore," he told CPJ. "It's not that journalists are giving up on their ethics. Often, self-censorship happens when journalists realize that editors won't accept certain kinds of 'sensitive' story ideas and they learn where the lines are drawn. China's influence is just too powerful. You either accept the status quo or you quit." Like most of the journalists who spoke with CPJ, the reporter requested anonymity, citing risk of professional repercussions.
Also during the 2012 election campaign, the pro-Beijing Sing Pao newspaper twisted an opinion piece by commentator Johnny Lau so much that it ended up saying the opposite of what he had intended. Lau had lambasted both Leung and his leading opponent, Henry Tang, but his editors "changed my column in 11 places, making me seem like a supporter of Leung when I had clearly written that I supported neither candidate," Lau told CPJ. The chief editor of Sing Pao initially apologized, but one month later discontinued Lau's column after he wrote about the death of a prominent Chinese democracy advocate.
"It is obvious that self-censorship in Hong Kong has gotten much worse across all forms of media since the handover," said Lau, who has worked as an editor and commentator in Hong Kong for more than 40 years. "Beijing influences media in effective ways, such as by threatening to pull advertising, harming the business interests of media owners in China, and tightening the release of information."
The founder of Next Media Limited, Jimmy Lai, said his publications have endured a boycott by China-based advertisers since 2003. Next publishes the critical, widely circulated Chinese-language Apple Daily as well as newsmagazines in Hong Kong and Taiwan. "China is a huge market, so if you please China as a media owner you think you will get benefits in the world's largest market," Lai told CPJ via email. "The funny thing is that I really can't think of one pro-China media owner in Hong Kong who has really benefited by trying to please China. They think they can play a game with the Communists, but that is not how it works. Once they get you, they own you."
Lai said that Next, the largest publicly listed media company in Hong Kong, has been able to live without the advertising, "but it kills any media start-up that is not willing to toe the pro-China line," he said.
In recent years, the majority of Hong Kong news media have fallen into opposing camps of pro- or anti-Beijing. Much of the Chinese-language press depends on lurid crime and celebrity coverage to boost sales. Others focus solely on business news. For English media, which serve the local English-speaking population as well as international readers, the South China Morning Post and The Standard used to compete fiercely as the leading newspapers. Now, only a handful of international media maintain bureaus in Hong Kong to cover the city, while The Standard was cut down to a slim, free daily in 2007. This left the Post with a virtual monopoly on English media covering Hong Kong.
In broadcast, meanwhile, Beijing exerts an even stronger influence because the high cost of news operations is prohibitive to independent media, according to Lau. The government also tightly controls broadcast licenses, and can reject applications without providing a reason.
A journalist at Television Broadcasts Limited (TVB), which was until recently one of only two free-to-air television broadcasters in Hong Kong, told CPJ that it is difficult for staff at TVB to challenge signs that the station's managers voluntarily censor coverage. "Our station has received complaints from the public in the past for appearing to be pro-government, but it is hard to prove that there is actual censorship," she said. "For example, if a documentary on a sensitive political issue is pulled, the managers won't be so blunt about their reasoning. They may tell producers that their work was biased because they did not seek views of pro-Beijing loyalists."
John Berthelson, the editor of the independent news website Asia Sentinel, which monitors press freedom issues in Hong Kong with the help of anonymous tips from journalists, told CPJ that Hong Kong journalists want foreign observers to understand that "freedom of the press in the city is obviously in danger at a time when it is really important. Hong Kong is at a critical juncture. Its relations with the mainland are fraught. There seems to be significant antagonism to the mainland among Hong Kong citizens and Leung," he said, and the central government "would like to see things quiet down."
Nowhere have issues of self-censorship been more pointed than at the South China Morning Post, which has had a series of chief editors since Rupert Murdoch's News Corporation sold it to Chinese-Malaysian tycoon Robert Kuok in 1993. Kuok has a controlling interest in Shangri-La luxury hotels and other large holdings in China. One of Asia's richest people, Kuok was selected as one of Beijing's advisers on Hong Kong's future in the run-up to the 1997 handover. He has been accused by Hong Kong media commentators of being pro-establishment and of forcing the departures of a string of Post editors and reporters critical of Beijing, accusations he has denied. But, for example, in 2000 he publicly denounced former China editor Willy Lam for "exaggeration and fabrication." Lam resigned soon after and now teaches Chinese studies at the Chinese University of Hong Kong. Lam told CPJ that Kuok made early investments in China and has personal relationships with some top leaders, including former Premier Zhu Rongji. "Of course he didn't want me to write anything that would embarrass China," Lam said.
Under Wang Xiangwei, who was appointed in January 2012 and is the first mainland-born chief editor, the newspaper has again courted controversy. Tensions played out in dramatic fashion in June 2012 when senior copy editor Alex Price questioned why Wang had reduced a prominent breaking story on the death of Tiananmen dissident Li Wangyang to a news brief in the back pages. "It looks an awful lot like self-censorship," Price wrote in an email. Wang replied: "I don't have to explain to you anything. I made the decision and I stand by it. If you don't like it, you know what to do," according to leaked emails published in the press.
Subsequently, 25,000 people took to Hong Kong's streets to demand a thorough investigation into Li Wangyang's death, which had been ruled a suicide. Most Hong Kong newspapers featured his death on their front pages, and the Post followed suit with several strong articles and commentaries, some of which were written by Wang. But it wasn't enough to deflect accusations from the wider public and international media about self-censorship. Pro-democracy activists burned newspapers outside the Post's office, and editorial staff members signed a petition voicing concern about the paper's credibility. Twenty-three former Post journalists wrote an open letter to a Post executive, stating, "The constant changes in the editorship of the Post suggest that either the owners do not know what they want, or they want something that no credible senior journalists will provide." Price told CPJ that he wrote the email to Wang knowing he would likely lose his job as a consequence. Three months later the Post declined to renew his contract.
In an emailed response to staff concerns, which Wang also sent to the Asia Sentinel, Wang addressed his exchange with Price, saying: "This matter should have been resolved in a much more constructive way." He added: "I want to make it absolutely clear that I did not try to downplay the Li Wangyang story. … Although I chose not to prioritize coverage on the first day it broke until more facts and details surrounding the circumstances of this case could be established, we subsequently splashed no less than three front pages, two leaders, plus several other prominent positions including two articles by myself."
Paul Mooney, who was an award-winning, Beijing-based contributor to the Post for 20 years, said, "The problem is that people on the outside can't tell what's being censored on the inside." He told CPJ, "What outsiders can't see is what is being ignored, spiked or rewritten in order to play down" critical stories. Mooney built his career on investigative and human rights reporting but during the last nine months of his employment, he had only two news stories in the newspaper, and one of them was about pandas. "I don't believe the China editors rejected all my story ideas. I think [Wang] Xiangwei told them not to take anything from me," he said. The Post discontinued his employment contract in May 2012.
Meanwhile, the HKJA has recorded several violent attacks on journalists, which were once rare in Hong Kong. One attack targeted Next Media on June 30, 2013, when three masked men threatened distribution workers with knives and burned 26,000 copies of Apple Daily, according to news reports.
Earlier the same month, in an attack relating to another media company, iSun Affairs publisher Chen Ping was beaten by a group of unidentified baton-wielding men. The Hong Kong-based magazine is known for outspoken reporting on sensitive mainland issues.
Next's owner Lai is blunt regarding who he believes is behind the attacks. "The Hong Kong police have tried to solve these attacks and they do send a number of patrols by our home and businesses. But Hong Kong can't chase people into China, and that is where these attacks come from," he told CPJ. "Don't worry," he added, "they don't bother me."
The attacks came against a backdrop of restrictive legal measures. The Hong Kong government has proposed or passed laws that threaten to undermine the nuts and bolts of newsgathering–and has failed to pass laws that would broaden public access to information. Journalists in the city have long called for a freedom of information law and an archiving of information law. Hong Kong does have access rules, but because the government is not required to keep old records and can refuse to disclose any information it deems sensitive, the rules are meaningless, according to Doreen Weisenhaus, associate professor of media law and ethics at the University of Hong Kong and the author of the book, Hong Kong Media Law: A Guide for Journalists and Media Professionals. Government officials can simply tell journalists that records have been destroyed or that certain information cannot be disclosed, without providing a reason, she said.
Provisions of the city's privacy law that went into effect in April 2013 could subject journalists to five years in jail or fines up to 1 million Hong Kong dollars (US$129,000) if they reveal information that "causes psychological harm" or "causes loss." The law also gives targets of investigative reporting the right to "request to access personal data" collected by journalists. Journalists may mount a defense that they "reasonably believed" they were reporting in the public interest, but that aspect of the law is vague and undefined. When asked to clarify the definition of public interest, Privacy Commissioner for Personal Data Allan Chiang told CPJ "it is up to judges to review complaints on a case-by-case basis."
City legislators also proposed to introduce a bill to outlaw stalking, which if implemented, could be used as a tool to block journalists from waiting in public spaces to pursue interviews. "With the proposed law, journalists can be seen as a nuisance. If they go to a spot, the target of their news story can call the police and the journalists would be shooed away," Weisenhaus said. "Hong Kong has clung onto a lot of old laws inherited from the U.K., from court reporting restrictions to contempt of court, defamation and so forth," while other former colonies have moved on.
In Taiwan, journalists say they experience pressure from China in ways both similar and different than their Hong Kong colleagues. Most reporters CPJ interviewed in Taiwan also requested anonymity because of concerns over job security.
As in Hong Kong, most Taiwanese media are backed by individuals who own an array of businesses. News outlets in Taiwan have long been divided along clear political lines. Some are in open support of the Kuomintang (KMT), which favors greater integration with China. Others back the Democratic Progressive Party (DPP), which is staunchly pro-independence.
Journalists say that media owners on both sides are undermining the country's freewheeling press in order to protect their expanding business interests on the mainland. Broadcast outlets in particular have come under fire recently as pro-China tycoons have sought to monopolize the airwaves. But unlike in Hong Kong, broadcast media are no longer subject to licensing and programming reviews by the government.
"Like in Hong Kong, the tycoon bosses of Taiwan media are increasingly pushing their media companies to flatter Beijing because they do business with China," said Chen Hsiao-yi, chairwoman of the Association of Taiwan Journalists and a reporter at the Chinese language Liberty Times for 16 years. "Taiwan media are also becoming more and more reliant on Chinese advertising. They are self-censoring for mostly financial and not political reasons," she told CPJ.
Michael Cole, deputy news editor of the Taipei Times, a pro-independence English- language newspaper, told CPJ: "As a rule of thumb, news media that stay away from criticizing China will attract more advertisement revenue. Over time, this can gradually elbow out news organizations that are critical of China."
A journalist at Taiwan's Central News Agency, the official state news agency, which is 50 percent owned by the Taiwanese government, said interference comes from the local government as well. "We are not a mouthpiece, but no matter which party is in power the government will have some sort of influence on us," she told CPJ. "Some politically sensitive stories require a final clearance from our editor-in-chief before we can publish them."
A reporter at the China Post, another English-language newspaper, told CPJ, "Many of my [fellow journalists] complain that their bosses would often receive calls from higher ranking Taiwanese government officials, persuading them not to write or print something."
Journalists also warn that Beijing could be circumventing Taiwan government regulations meant to prevent the mainland from influencing local media. Under legally binding guidelines set in 1993, Chinese news companies require Taiwanese government permission to enter Taiwan's market. In April 2011, the China Post, which is historically supportive of the Kuomintang, reprinted seven articles originally published in official Chinese state media. The Post did not mention the origin of the pieces. The newspaper responded to criticism that it circumvented the 1993 guidelines by saying that the content had come from the Asia News Network, a content-sharing partnership with headquarters in Bangkok. China Daily, a Chinese government-owned English newspaper, is a member of the network.
Journalists are also concerned about growing investment in Taiwan media coming from Hong Kong. The city is exempt from regulations barring China from investing in local media. The onus falls on Taiwan's regulators to monitor investments and news products coming from Hong Kong and elsewhere to ensure there are no mainland China influences.
"Whether or not the regulators are successfully doing this is highly questionable," said Cole of the Taipei Times. "The government in Taiwan conveniently looks the other way when influential individuals engage in dealings with China. There have been many confirmed cases of a newspaper accepting cash from Beijing to run disguised advertising and one-sided articles in favor of China. And although regulators caught on, asking a multibillionaire media owner to pay a fine isn't exactly an effective means of deterrence."
Cole was referring to tycoon Tsai Eng-meng, who purchased the China Times Group, a Taiwanese media conglomerate, in 2008. Tsai made his fortune selling snack foods and beverages, operating more than 100 manufacturing plants in China. Forbes listed him as Taiwan's richest man in 2013.
The group's flagship newspaper, the China Times, has been repeatedly fined by regulators for disguising advertising purchased by Beijing as news reports, and is regularly criticized for one-sided reporting in favor of China. The problem of "embedded marketing" came to public attention in late 2010 when veteran China Times reporter Dennis Huang resigned in protest, leading to a public campaign to end the practice. In 2011, Taiwan lawmakers amended legislation to prohibit Taiwanese government agencies from using public funds for "paid news," but the amendment did not apply to foreign governments, meaning that the legislation did nothing to strengthen safeguards against interference from Beijing. Taiwan's main media regulatory body, the National Communications Commission, did not respond to CPJ's requests for comment.
The China Times was again hit with controversy in 2012 when an undercover investigation by the Association of Taiwan Journalists discovered that the paper had been paid by a press officer in China to cover a visit by Su Shulin, governor of Fujian Province, according to strict guidelines laid down by the mainland.
One journalist said Tsai stands out for his close ties with Beijing and the "wacky" examples of "extreme self-censorship" in the China Times. "I honestly don't think that Tsai will succeed in manipulating Taiwanese opinions," said the journalist, who works at China Post. "Taiwanese people are not that stupid. They won't be brainwashed by his reports." (The China Post, an English newspaper, is neither related to nor a direct competitor to the China Times.)
Early in 2013, Tsai made moves to take control of the country's largest newspaper, Next Media's Apple Daily. More than 100,000 protesters rallied to oppose the purchase, and popular outrage effectively derailed the plan.
But Tsai continues to expand his media empire. In July 2012, after an 18-month deliberation, regulators gave approval for his company, Want Want Holdings, to purchase the cable-television operator China Network Systems, one of Taiwan's largest cable television providers. Critics expressed alarm at the decision. The Taipei Times wrote in a February 2013 editorial that the purchase has "effectively granted control over about one-third of the nation's media market, including 23 percent of all cable subscribers," to Tsai.
Given Beijing's goal of unification with Taiwan, many commentators have argued that Beijing has upheld the "one country, two systems" framework in Hong Kong in part to demonstrate to Taiwan that it would enjoy a level of freedom upon unification. Lin Cho-shui, a former DPP legislator, wrote in the Taipei Times in 2012 that Beijing's plan has backfired. He cited the reception in Hong Kong of Hu Jintao, then China's president, in July 2012 as an example of Hong Kong dissatisfaction with Chinese rule. "Just as Hu was making his speech, someone in the hall shouted demands for the vindication of the protagonists from the 1989 Tiananmen Square democracy uprising and an end to one-party rule in China, while crowds of people protested outside the venue. In the evening there was a protest which 100,000 people joined," Lin wrote. People in Hong Kong have long called on Beijing to reassess its condemnation of the 1989 protests in Tiananmen Square, which culminated in the June 4 military crackdown that killed as many as several thousand civilians.
During Hu's visit, Hong Kong journalists also showed that they would fight for press freedom and freedom of expression in the territory. Hu was touring a cruise ship terminal when an Apple Daily reporter shouted a question to him. "President Hu, have you heard that Hong Kong people hope to reverse the verdict of June 4?" reporter Hon Yiu-ting asked. "Have you heard?" Hon was immediately detained by security officers and held for 15 minutes, but other reporters continued to shout questions at Hu, and then surrounded a police officer to demand why their colleague had been detained.
With the mainstream media increasingly compromised, some journalists in Hong Kong and Taiwan are pinning hope on the development of independent online news outlets. Unlike on the mainland, government censors do not control expression on the Internet in Hong Kong or Taiwan. Lin Yuting, a former reporter at Taiwan's China Post, said that before he left the newspaper in 2012, he saw more influence in the form of advertorials by Chinese companies and a weekly lifestyle insert provided by mainland Chinese media. "At the same time, I've seen a refreshing growth of online forums and activism websites in Taiwan," he told CPJ.
Lam, the professor and former South China Morning Post China editor, agrees that online media can provide an alternative to mainstream media organizations, which are bound to become more heavily censored. "Beijing must be quite happy. At this point in Hong Kong at least, Beijing has already gotten what they wanted. All the mainstream media are self-censoring. Only Next Media is holding out," he said. "But the situation is not that bleak because of the emergence of online media outlets."
In a sign that the public is prepared to pressure the government to improve media freedom in Hong Kong, tens of thousands of protesters demonstrated for weeks in the autumn of 2013, after the government rejected a free-to-air television license for the Hong Kong Television Network. HKTV is a startup that promised to broadcast critical programming. The government's refusal to provide reasons for the license rejection raised suspicions that the influence of Beijing was behind the decision. Protesters waved banners and shared messages over social media, demanding that they wanted "a fair system, not a black box system" or a "monopolistic" system. Others expressed fear that the closed-door licensing process foreshadows what is in store for the city's future elections.
Hong Kong will elect its next leader in 2017 in what Beijing had promised would be the first election conducted by universal suffrage, in which each citizen will have a vote. But already, Beijing has ruled out open nominations for chief executive candidates, meaning the candidates will be selected instead by a committee stacked with Beijing supporters.
"Tensions will continue to build up, and it is critical that journalism in Hong Kong remains robust in the run-up to the 2017 election–and international media needs to pay close attention, too," said Sham Yee-lan, chairwoman of the Hong Kong Journalists Association. "Otherwise, how can the public know what they're up against?"
The author chooses not to be identified to avoid professional repercussions.