Afghan Journalists Steadfast
As International Withdrawal Approaches
By Bob Dietz
Local journalists in Afghanistan face mounting threats in 2014 as the country braces for a withdrawal of foreign troops, rapidly diminishing international aid, and a contentious presidential election. Yet many local reporters are upbeat, their optimism reflecting a sense of determination to build on the progress that has been achieved.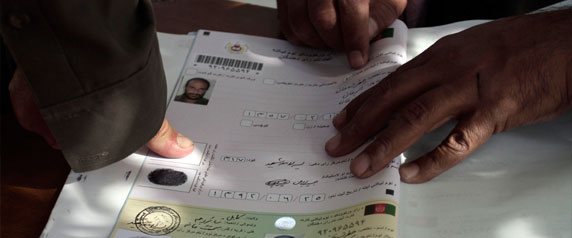 Reporting news in Afghanistan requires navigating not only officials in government, the military, and the security apparatus, but also traditional regional and ethnic power brokers who seek a return to power; illegal, armed groups, including local militias; and vigilantes and criminal gangs supporting themselves through extortion, kidnapping, and trafficking in weapons and drugs. Just about all players on the country's political stage are responsible for attacks and harassment of journalists–from the villages and regional centers to Kabul, the capital.
In other languages
• دری

Most of the factions and armies carry out daily attacks against one another across the country, with civilians targeted in terrorist attacks or caught in crossfire or drone strikes. There is relative stability in the major cities, but many of the roads linking them are shooting galleries for insurgents and bountiful hunting grounds for kidnappers and hijackers.
There is no single insurgency in Afghanistan. In the background, regional political leaders–Afghans readily refer to them as "warlords"–are maneuvering for power, stockpiling weapons and building up war chests. Ethnically aligned groups in the north and west are re-arming with help from neighboring countries. To the south and east, some factions of the Taliban seem prepared to talk peace, but others continue to battle. For years the Taliban have been divided into Afghan and Pakistani groups, often at odds, and, within each, factions with varying loyalties.
"When I speak with diplomats, they agree that it is impossible to predict what will come next in Afghanistan," said Ahmed Rashid, one of the region's best known and widely read correspondents and a member of the board of directors of the Committee to Protect Journalists.
How dire a situation journalists face may hinge mostly on the scheduled presidential election on April 5, 2014, to replace Hamid Karzai, who is serving his second and last term as president. Many of the candidates are the warlords Afghans speak so openly about. If all goes as planned, the voting will bring Afghanistan's first transition from one elected leader to another.
While the NATO countries focus on what roles the International Security Assistance Force (ISAF) will play after 2014, Afghanistan's chances for survival as a democracy of any sort will be determined more by the electoral process than by troop numbers. Success will depend on whether the election is perceived as legitimate and whether the next president will have the skills to rule with the conciliatory political savvy necessary to stave off open conflict.
The predictions range from tentative stability after the voting to a quick return to the all-out civil war that followed the collapse of the communist Najibullah-regime in 1992.
"Almost everyone who has gained something in the last 10 years is worried about losing it," Lotfullah Najafizada, head of current affairs at Tolo TV, the country's largest independent broadcaster, told CPJ in Kabul.
As an Afghan who refused to flee his homeland, Najafizada has a vested interest in peace. "This society has grown enough not to see all these gains vanish overnight," Najafizada said. "Some gains are irreversible. Post-2014, violence could get worse, but even if we saw the return of the Taliban it would not be a repeat of the dark regime. Media and press freedom would not go back to point zero."
Point zero was pre-9/11 Afghanistan, under Taliban rule, a country with one government radio station, Voice of Sharia, used mainly to broadcast official edicts and religious pronouncements. There was no television, no independent media. For years, Afghans relied on shortwave radio broadcasts or bootlegged satellite feeds to tune in to a wide range of foreign broadcasters including the BBC and Voice of America for information.
A decade later, the Center for International Media Assistance at the National Endowment for Democracy could report on "an explosion of news" taking place in Afghanistan.
It counted 175 FM radio stations, 75 TV channels, four news agencies, and hundreds of publications, including seven daily newspapers, Internet cafes in major cities and mobile phones in the hands of about half the population of 29 million people.
"Afghanistan's main cities are close to media saturation–Kabul has 30 TV channels and 42 radio stations, and the smaller cities have 10 to 25 TV channels and approximately 20 radio stations each," the report said.
Now, local journalists are gauging an anticipated drawdown by their own employers. Some Afghan publications and broadcasters almost certainly face cuts in aid programs, while international news organizations are expected to reduce staffing and expenditures just as they did when U.S. troops withdrew from Iraq.
CPJ commissioned a telephone survey of 15 Afghan journalists in five of the country's main cities–Kabul, Kandahar, Mazr-i-Sharif, Herat, and Jalalabad–to determine how they viewed the future. We promised anonymity in exchange for frankness about the media outlook in their country. Their evaluations were mixed, but we found a surprisingly positive outlook, especially on the part of men. Some of the respondents worked only for Afghan media; others had a mix of foreign and local employers.
In Kandahar, the Taliban heartland, where despite shrinking numbers journalists enjoy a considerable degree of professional organization and group identity, a TV reporter told us that, though Taliban threats are a problem, in the end "we will have a smooth transition." He said the withdrawal of foreign troops and reduction in aid from international donors might have an economic impact on all businesses, but that his local television channel was likely to remain in operation.
Over all, the number of journalists in the area has gone down, the TV reporter said, "especially people working for international media." But, he added, "I am personally optimistic for 2014."
In neighboring Zabul province, a reporter for an Afghan news agency said the government is a bigger problem for journalists than the Taliban, a view echoed by many others. The reporter said he was once detained in 2011 for reporting on government officials seeking bribes from civilians.
"I was first threatened and later detained by some of the officials close to the person I wrote about," the reporter told us. "I should admit that the Taliban so far have not threatened us because of our journalistic work but rather they are very quick in responding to our questions and inquiries when something happens. However, they do emphasize that they want us to write about their side of the story."
Far to the north, in relatively stable Balkh province, the woman who heads a radio station there said she and her predominantly female staff faced a range of problems, but troop withdrawals were not high on her list. "The big problem in our media is the lack of training in professional journalism and finding good jobs," she said.
"Over all it is difficult to be a journalist in Afghanistan, but being a female journalist in Afghanistan is even more dangerous," she said. "Women are constantly harassed and threatened by officials, unknown people, and some family members, so it makes it difficult for girls to work in the field of media–even though it is very important that we have female reporters to reflect the many challenges that Afghan women face in this country."
War or no war, women journalists in Afghanistan add another level of concern and complexity when it comes to safety. In an interview with CPJ in Kabul in July 2013, Shaffiqa Habibi, director of the Afghan Women Journalist Union, estimated that of 2,300 women journalists, about 300 had stopped working recently because of concerns for their personal security.
In addition to direct threats from religious militants, many women face intense family pressure to stop working. Family elders want the women to reduce their public profile either because they feel such prominence is unseemly or because they fear repercussions for the broader family or from militants. Habibi said the trend is accelerating.
In general, few of the journalists CPJ surveyed seemed on the verge of quitting their profession because of the looming political and military transition, even if the country grows more violent. Battle-hardened, they do not appear ready to cut and run.
In 2012, Afghanistan was the world's greatest source of refugees, with some 2.6 million, according to the latest figures available from the United Nations High Commissioner for Refugees (UNHCR), the U.N. refugee agency, down from slightly more than three million in 2011. But CPJ has seen no corresponding uptick in Afghan journalists leaving the country. In recent years, the number of such cases received by CPJ's Journalist Assistance program, often but not always including requests for asylum, remains below 10 per year.
Should post-election events reach crisis proportions, some local reporters may make plans to leave their towns for the relative safety of Kabul, which, with an estimated population of more than three million, is large enough to keep people discreetly out of view.
Others, particularly Afghan journalists working for international media, may cross the border into Pakistan or other neighboring countries, while some may seek to leave the region entirely. Many foreign employers, but by no means all, accept some level of responsibility for helping move local employees under threat.
In three to six months, dangerous situations in most countries have usually ameliorated enough to allow people to return home, CPJ research shows. And although it might seem an ideal solution, seeking asylum is a difficult and often painful path for endangered journalists.
CPJ urges journalists at risk to find sanctuary in their own country if at all possible. The organization has seen many talented men and women leave their countries to escape dangerous situations and flounder. Their expertise, so priceless in their own society, is often not valued elsewhere. And worse, back home their country is deprived of their intellectual resources, a brain drain that developing societies, including Afghanistan, can ill afford.
In peace, as in war, what is obvious is that without local journalists, media companies would be hard pressed to gather news. In 2010, CPJ predicted: "We can expect to see ground-level news gathering handed off to trusted local Afghan reporters, those who have proven to have the skill, reliability, and the bravery to go where foreign news agencies will no longer be willing to risk their foreign staff reporters' safety." To a large extent that has become true. While the 2014 endgame might bring about a temporary influx of outside media, it will be mostly Afghan reporters in the field covering the news in the long run.
Livia Rurarz-Huygens contributed reporting to this essay.
Bob Dietz, coordinator of CPJ's Asia Program, has reported across the continent for news outlets such as CNN and Asiaweek. He has led numerous CPJ missions, including ones to Afghanistan, Pakistan, the Philippines, and Sri Lanka.