Oil, Money, and Secrecy in East Africa
By Tom Rhodes
Officials in East Africa are gushing with anticipation over potential oil revenue: A new production agreement has been reached in South Sudan; fresh discoveries have been made and drilling deals signed in Kenya and Uganda. But if the potential for economic growth is great, so is the capacity for corruption and environmental degradation if journalists are not allowed to report on contract details and resource allocation. And each of the East African nations has notable blemishes on its press freedom record, including government-sponsored violence in Kenya and Uganda, and suppression of in-depth reporting in South Sudan.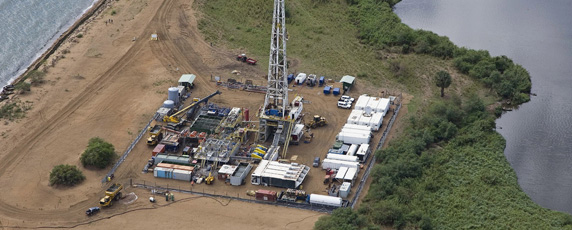 Oil accounts for almost all of South Sudan's government income, and although the country has wrangled with Sudan over who owns the oil and how much each side should pay to transport it, Africa's newest country has a wealth of untapped reserves, the World Bank says. In Uganda, estimated reserves of 3.5 billion barrels have the potential to double the country's economy, and in Kenya new reserves have been discovered in the northern county of Turkana and near the Ethiopian border.
Whether all this oil will benefit the average citizen depends largely on whether extraction deals are handled in an open, transparent manner. A comparison between Brazil and Nigeria is instructive. The South American country provides monthly updates on oil production on a state website. Brazil became the seventh-largest economy in the world with the help of oil output, with 2011 per capita income of $12,594, according to World Bank statistics. In Nigeria, five decades of oil output have been mired in secrecy and conflict. Although the country's oil exports are comparable to those of Brazil, its per capita income is just $1,452.
So far, the authorities in Kenya, Uganda, and South Sudan have released occasional press releases and basic information on government websites about drilling locations and production expectations. But there are few specifics on how much private companies and governments are investing in the oil projects, how revenues will be shared, and what tax rates are applied. "Detailed information about contracts and compensation is not readily available to journalists. It takes a lot of effort to obtain such information," said Ugandan journalist Joe Nam, who reports on oil drilling and contributes to the daily New Vision. "In most cases it is not available at all unless it is leaked by a source in confidence."
Journalists in Uganda and South Sudan have some legal recourse to obtain information on oil production, but the authorities in both countries often skirt access-to-information rules. While Uganda's 2005 Access to Information Act theoretically covers documents between the government and private companies, oil contracts typically have special provisions whereby both parties must consent before information is given to a third party, according to Gilbert Sendugwa, coordinator of the Africa Freedom of Information Centre in Uganda. The secrecy clauses prevent even parliament from getting key information, according to Dickens Kamugisha, chief executive of the Africa Institute for Energy Governance, a Kampala-based think tank that advocates for transparent energy policies.
The Information Act did not help reporters Angelo Izama and Charles Mwanguhya, of Uganda's leading independent Daily Monitor, who sued for access to oil contracts on the grounds of public interest in February 2010. Chief Magistrate Deo Ssejjemba ruled that the petitioners had not proved the public benefit of disclosing the information, according to the journalists and news reports. Two other access-to-information cases filed by journalists and civil society organizations have been pending before the High Court of Uganda for four years, Kamugisha said.
Since few Ugandan authorities comply with requests under the access law, few journalists bother to use it. Sendugwa noted that all government ministers are required to report how they implement the information act. "We decided to test the law and sent an information request to parliament in November 2010 asking for the ministers' reports on their implementation of the Access to Information Act," he said. "To this date, none have complied."
Similarly, the Ugandan lands ministry is required by the Land Acquisitions Act to establish a policy for compensating those affected by oil development, but this has never been done, according to Kamugisha. "As a result, the citizens must continue to rely on the discretionary powers of government to determine compensation," he said. Uganda's 2012 Oil and Gas Revenue Management Policy contains a small section on transparency, saying that "all parties involved in the management of oil and gas revenues shall observe the highest standards of transparency," but it does not specify how this should be undertaken. Journalists place little faith in three petroleum bills proposed in parliament in 2012. None of the three bills–the Petroleum Resource Bill, Value Addition Bill, and Revenue Management Bill–contained clauses specifying access to oil contracts, according to reporter Edward Ssekika of the Observer newspaper. The anti-corruption research organization Global Witness also analyzed the bills and concluded that all three lack guarantees on contract and financial transparency.
In South Sudan, Minister of Petroleum and Mining Stephen Dhieu Dau says the nation's Petroleum Act ensures that members of the public "are able to know where our resources come from, how they are handled, and where the revenues go." Though the act offers broad assurances that oil information is public, a provision allows the ministry to determine whether or not a particular oil contract is published, said Dana Wilkins, a campaigner for Global Witness. No contract had been made public as of late 2012.
South Sudan gained independence from Sudan in July 2011, acquiring two-thirds of the former Sudan's oil, but Khartoum retained the processing and export facilities. Drilling in South Sudan came to a standstill in January 2012 after a dispute over how much South Sudan should pay Sudan in transit fees. The two countries reached agreement in September 2012 to end the gridlock on production and transportation, but the pact falls short of providing public access to financial data, according to Global Witness. "Sudan and South Sudan's citizens are the ultimate owners of their countries' natural resources," Wilkins said in a statement. "Yet they have been totally cut out of this new oil deal, with no way to verify the amount of oil and money that will be transferred between their governments." South Sudanese journalist Richard Ruati said he is not surprised by the lack of transparency in the latest agreement, since the press has been kept in the dark all along. "So far, no proper press conference has been organized to brief both the national and international media on regards to oil deals or contracts," he said. "But it seems there are already oil companies in the oil fields drilling clandestinely." South Sudan does not have a freedom of information law.
In Kenya, where oil exploration is at an earlier stage, there is also no freedom of information law, but journalists hope the country's robust new constitution, adopted in August 2010, will ensure that yet-to-be-signed oil contracts will be open to the public. "It's too early to tell yet, but luckily the new constitution does not allow executives much room to do secret contracts," said Charles Onyango-Obbo, an executive editor at the Kenyan Nation Media Group. The constitution says that transactions involving the grants of rights or concessions for exploitation of any natural resource must be subject to parliamentary ratification, according to business journalist Cathy Mputhia. The document also states that agreements related to natural resources must be published by 2015.
Prospective oil contracts were presented in parliament in June 2012, and the government plans to put information on oil deals on an online open data platform. "We are seeking to get the data," said the Kenyan Information Ministry's permanent secretary, Bitange Ndemo. "Most departments have not quite understood the new constitutional dispensation but we are determined to get the information and upload it." So far, journalists have had incident-free access to report on communities near oil drilling sites in Turkana, northern Kenya, according to William Oloo Janak, chairman of the Kenyan Correspondents Association. "But when oil production starts, that's when potential problems for journalists and Kenyans at large may begin in terms of secrecy and possible environmental concerns," Janak said. In the past, journalists have been harassed or arrested for reporting on opposition to major development projects, most recently when freelance photographer Abdalla Bargash had his notes and memory card confiscated in March 2012 as he tried to cover local community members on Lamu Island opposed to a port project that includes an oil pipeline.
Ugandan and Southern Sudanese journalists say that attempts to interview residents near oil drilling sites in those countries are often blocked by local officials. The Observer's Ssekika, who lives near one of the sites in Buliisa, western Uganda, said he has not attempted to interview locals about oil drilling since December 2011, when he was told he needed clearance from the district internal security officer, who in turn said the journalist would be allowed to work only with a police escort. After Ssekika declined an escort, the security officer told him he needed clearance from the mining ministry in Kampala to conduct interviews with local residents. "Personally, I have worked with journalists who I guide to the oil region, but they get arrested and deported from the oil districts to Kampala," said Kamugisha of the Africa Institute for Energy Governance. "The crime they commit is trying to ask the local people their challenges."
Obtaining information from local officials and residents of oil-producing regions of South Sudan is equally challenging. "I have tried asking officials in Unity state about the required funds for compensating locals, but none give me clear information," said freelance journalist Bonifacio Taban Kuich, who is based in the oil-rich state bordering Sudan. "Most people here, especially those in areas of oil production, do not have the slightest clue about oil income in South Sudan."
Officials and oil companies in Uganda try to control the message by providing organized tours of oil drilling facilities. The Ministry of Energy and Mineral Development's 2011 communication strategy paper recommends two media tours of the Albertine Graben oil-drilling area each year. "Sure, it's easy to go to oil areas for oil company-organized events," Ssekika said. "You can talk to district officials, etc. But when you go alone with your own view, that's a different story."
Oil companies, which benefit from minimizing costs and expediting production, may see few benefits to transparency. Taimour Lay, a journalist who covers oil production, said companies have pushed East African authorities to sign agreements without public debate, claiming they need quick approval to drill or they will work elsewhere in the oil-rich region. "When China National Offshore Oil Corporation [CNOOC] struck a deal with Tullow Oil to develop Uganda's fields, it warned [President Yoweri] Museveni that there wasn't time to wait for parliamentary debates over the issue–pausing now could mean Uganda losing its winning lottery ticket to Kenya," Lay wrote on the African Arguments news website. Tullow's communications manager in Kampala, Cathy Adengo, disputed that depiction. "Tullow did not push the Ugandan authorities into doing anything, considering we had a two-year wait to ratify the deal with CNOOC," Adengo said.
While offering general endorsements of transparency, oil companies typically defer actual requests for contract and other information to governments. "I have tried to communicate with them but they instead refer me to local government officials," said Kuich, the South Sudanese freelance journalist. Levi Obonyo, former chairman of Kenya's independent Media Council, says bluntly that oil companies hide behind governments to avoid public scrutiny. "Unfortunately, with regard to oil companies, the demand for accessing information has been directed at the government and public sector rather than the private sector," Obonyo said. "Too often we tend to treat the private enterprise as an untouchable."
Adengo of Tullow Oil told CPJ that it is up to the Ugandan government to determine whether a contract should be published, although the company "would welcome publication of all our contracts with all governments." The French oil giant Total, which bought one-third interest in Tullow's Uganda oil exploration sites in February 2012, supports transparency in oil revenues, but the decision ultimately lies with the government, said Ahlem Friga-Noy, manager of public affairs and external communication. "Publishing the oil contract is a decision which pertains to the government and not to the company," she said. "Total is ready to publish the contract if the Ugandan authorities decide to do so."
Oil companies have sometimes paid a price for being opaque and running roughshod over local communities. In 2009, the Dutch oil giant Shell reached a $15.5 million settlement in a lawsuit filed in the United States over human rights violations in the Niger Delta. The company was accused of financing militias that used deadly force against local residents protesting Shell's presence. The company has faced further lawsuits over pollution in the Delta and alleged ties to the Nigerian military, according to Reuters. "Imagine, it took a court case launched in America before activities of oil companies were discovered," said Omoyele Sowore, publisher of the anti-corruption website Sahara Reporters and a former Niger Delta resident. The legal disputes resulted in an estimated loss of one million barrels of oil a day for the Nigerian government and private companies, according to Nigerian writer Orikinla Osinachi.
Secrecy and corruption have marked more than 50 years of oil production in Nigeria, obscuring and likely limiting the financial gains to citizens and leading to significant environmental degradation. Oil revenues count for 80 percent of the national budget, yet the government is unable to determine the amount of oil extracted from its territory, according to Alex Awiti, an ecologist at Aga Khan University in Nairobi. A 2011 study by the U.N. Environment Programme found widespread hydrocarbon pollution in soil, air, and water of the Delta, and said local drinking water is contaminated with 900 times the World Health Organization guideline for benzene, a carcinogen. Yet Nigeria still uses state security as a pretext to keep information on oil deals secret, Sowore said.
Nigeria's situation is not unique. Although Angola is the second-largest oil producer in Africa with an annual GDP of $101 billion and per capita income of nearly $9,000, more than two-thirds of its 8 million people live under the $2-a-day poverty line, according to the World Bank and news reports. These statistics, said Awiti, are rooted in the lack of transparency in Angola's oil production–leading to corruption, millions of dollars being stashed abroad, and revenue sequestered in a secret "parallel budget." In 2012, the International Monetary Fund attributed a $32 billion gap in Angola's state funds from 2007 to 2010 to "quasi-fiscal operations by the state-owned oil company."
Already, allegations of corruption in oil dealings have arisen in Kenya, Uganda, and South Sudan. In October 2011, Ugandan Member of Parliament Gerald Karuhanga accused three officials–Prime Minister Amama Mbabazi, former Foreign Affairs Minister Sam Kutesa, and former Energy Minister Hilary Onek–of receiving billions of shillings in bribes from Tullow Oil Uganda. All three individuals and Tullow Oil deny wrongdoing. A commission of inquiry was set up to investigate the allegations but had not reached any conclusions by late 2012, according to local reports.
In Kenya, two MPs in Turkana County want an inquiry into allegations that a small firm owned by a cabinet minister made a fortune trading in oil prospecting licenses. They told parliament that shady deals might have fleeced the country and Turkana County of more than 3 billion shillings (about US$35 million), according to news reports. "We demand to know all the companies involved, how much money the government made, and how land and rights were mortgaged," Turkana MP Josephat Nanok was quoted as saying in local media.
Lack of transparency in oil deals means that even allegations of graft can be frustratingly obscure. South Sudanese President Salva Kiir accused government officials in June of stealing $4 billion from government coffers, but he did not name any individuals or provide details. If true, the stolen funds would equate to more than 30 percent of oil revenue received by the government since 2005, particularly egregious given that oil accounts for nearly all national income. Also in South Sudan, the authorities are legally bound to ensure that a percentage of oil profits are used to develop communities in the drilling areas but, as freelancer Kuich said, "I have yet to see development within the communities in the oil areas even though it belongs to them."
Local communities in Upper Nile, Warrap, and Unity states in South Sudan have not benefited from the oil wealth in their backyards because the authorities have kept them in the dark concerning output, says Jok Madut Jok, executive director of the Sudd Institute, a policy research center. "The communities do not have an idea about the scale of production, the price of the barrel, the national net proceeds, and how they are distributed, and therefore are unable to hold the government to its responsibilities to use some of that money for the benefit of communities directly affected by oil production," Jok said. Instead, he said, many have suffered. "For example, the fencing-off of the territories previously used for grazing, future investment in farming over this land, pollution of their drinking water sources, and the displacement of people are all things that happen without any consultation with these communities," he said.
With oil output still in early stages in East Africa, the region has time to learn from other oil-producing countries. Chad has drilled oil since 2003, with the contracts kept secret. "The fact is Chadians do not know how many barrels are actually produced and where the money goes," said former N'Djaména Hebdo journalist Augustin Zusanne, who now works for the United Nations. Without such information, residents can hardly press for more development. "Even the oil-producing region, Doba, does not benefit from oil revenues. The population of this area lives in poverty," said Eric Topona, a journalist with the state broadcaster. However, things might improve, as Chad is now a candidate for membership in the Extractive Industries Transparency Initiative (EITI), an international forum that seeks openness by ensuring that oil payments are published annually. Government officials, oil companies, and civil society organizations oversee the process.
Kiir announced in December 2011 that South Sudan would join the initiative; a proposed Petroleum Revenue Management Bill would also require the finance ministry to report oil revenues on a quarterly basis and have independent audits of production costs and revenue expenditures. In its 2008 Oil and Gas Policy, Uganda said it would apply for membership in the EITI, but it did not say when and nothing has been implemented, according to news reports. "The way the EITI section is drafted clearly shows a government that is not sincere or ready to implement–it's so vague," Kamugisha of the Africa Institute for Energy Governance said in describing the Ugandan policy. Kenya has made no commitment to join the Initiative. Eddie Rich, deputy head of the EITI secretariat, confirmed that South Sudan and Uganda have made public commitments to implement the initiative and said "international partners are working with those governments to progress toward official applications." None of the African countries working with EITI are disclosing information on compensation to local people affected by oil production, Rich said.
There are a few other reasons to hope governments will become less secretive. Yusuf Bukenya-Matovu, communications director for Uganda's Energy Ministry, said his department is "working very closely with the Ministry of Water and Environment and the Uganda Wildlife Authority to ensure environmental protection while oil and gas extraction activities are going on." An environmental impact assessment of the oil-rich Albertine Graben region was also expected to be made public soon, although local journalists said they were skeptical this would happen on schedule.
Global Witness's Wilkins says these measures are still a long way from matching transparency models such as Brazil's, where monthly oil production statistics are published on a state website and transparency is considered by many to be stronger than in the United States. But East Africa does not have to look overseas for mentors: Ghana, Liberia, and even the Democratic Republic of Congo publish oil contracts. "It took years, but contracts are now in the public domain," said Ghanaian development economist Charles Abugre, who vigorously campaigned for publication. Now Abugre and other individuals from Ghana are meeting with civil society leaders in Turkana to help them contend with the new oil discoveries in their remote region of Kenya. "In Turkana, they do not really understand contracts or the transparency obligations so they don't know how far to push," he told CPJ.
Coming late to the discovery of oil reserves may provide East Africa with the advantage of hindsight. "There must be a reason why God made us wait to discover oil," said Ndemo, the Kenyan Information Ministry official. "Perhaps he wanted us to learn from other parts of the world while at the same time working on an appropriate legal and institutional framework."
Tom Rhodes is CPJ's East Africa consultant, based in Nairobi. Rhodes was a founder of the Juba Post, southern Sudan's first independent newspaper. He was the author of the 2012 CPJ report "Murder in Remote Kenya Reverberates Across Nation, World."