A unified front is crucial when facing a crisis in press freedom like that in the violent state of Sinaloa in Mexico, Colombian journalist and CPJ board member María Teresa Ronderos said this week. She was speaking to a packed room of print, radio, and television reporters; members of civil society groups; state legislators; union leaders; human rights activists; and even ordinary citizens, who had gathered for a discussion on the press in one of Mexico's most dangerous cities, Culiacán.
The occasion on Tuesday was the ninth anniversary celebration of the weekly Ríodoce, one of the few publications in Sinaloa that covers in-depth the narcotraffickers who operate in the region, as well as the launch of CPJ's annual report, Attacks on the Press. More than 120 people gathered at the Hotel San Marcos, in downtown Culiacán, which is the base of the Sinaloa cartel, one of the most powerful drug trafficking organizations.
A video showcasing the dangers for local journalists who report on drug trafficking and organized crime, using statistics compiled by CPJ, was introduced by Alejandro Sicairos, Ríodoce's deputy director. It included the most recent Sinaloa murder case: that of Humberto Millán Salazar, a reporter shot to death in this city in August 2011. Millán was the host of a show on Radio Fórmula, and ran and wrote a column for the news website A Discusión. His killing, as most crimes against the press here, remains unsolved. Impunity and lack of political will to investigate crimes against the press only aggravates the already steep challenges that journalists face while covering organized crime and corruption, Sicairos noted.
Solidarity with journalists working under these conditions — not only in Culiacán and Sinaloa but throughout the region, where the press works without safety guarantees in extremely dangerous areas – is the reason why CPJ decided to launch our report in Sinaloa, I told the crowd. I reiterated that the problem of violence has gone way beyond the press and is affecting the fundamental rights of all Mexicans, undermining democratic stability. The federal government, I added, must take responsibility for a national crisis that is endangering democracy.
Mike O'Connor, CPJ's Mexico representative, noted that as organized crime takes over more and more territory, incapacitating the local press in the process and denying citizens their right to be informed. The Mexican people are becoming more and more misinformed about vital issues that impact their daily lives, O'Connor said, adding that the government of President Felipe Calderon has failed to implement effective reforms to address violence against the press.
Meanwhile, criminal elements have embraced a new high-tech capability which CPJ sees being used all across the world to silence the press, said CPJ's Internet advocacy coordinator, Danny O'Brien, noting the devastating denial of service attack against Ríodoce in November. "I know from experience that Ríodoce's voice is heard around the world. But if its website is silenced, there is no Ríodoce to read in the United States or Venezuela, or in Spain. And that is as damaging as stopping the presses right here in Culiacán," O'Brien said.
Ronderos, drawing on her experiences in Colombia, offered a message of hope and some practical recommendations for minimizing risk and fear and for combating impunity. She urged journalists to protect their lives and those of their colleagues. No story is worth the life of a reporter, she said. Journalists should develop strategies for protection; pinpoint someone who knows how to react in emergencies; and seek psychological support to handle fear and cope with the trauma of daily witnessing victims of violence. Journalists must build alliances with reliable people, even if that just means with each other, Ronderos said. They must denounce every threat and press authorities to fight impunity, and in the case of murdered journalists, investigate and push for justice.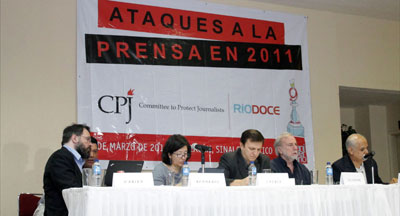 Emphasizing the importance of the media, journalists groups, and civil society forming a unified front, Ronderos said they must press the message that the current violence is totally unacceptable. "Journalists are not claiming privileges, Ronderos said. If the press cannot do its work, she added, entire cities "will turn the lights off," fundamental rights will be waived and criminal organizations prevail.
And what can ordinary people do to support the work of the media in the context of violence? This key question came from a citizen after our presentation. In unanimous response, we said that citizens in Sinaloa must be fully aware that local journalists are risking their lives to provide them with information that will allow them to make decisions on many of the critical issues affecting their lives. They must urge authorities to promote a climate in which journalists can do their jobs without fear of reprisal, we said.
Tuesday's event followed a day of meetings between the CPJ delegation, human rights activists, radio and television journalists, and the two largest dailies in the area, El Debate and Noroeste. We also met with Sinaloa State Prosecutor Marco Antonio Higuera Gomez, who tried to assure us that his office is working hard to solve crimes against journalists — but had nothing to show in terms of successful prosecutions, a common pattern in most Mexican states. The chief prosecutor said that violence has lessened recently and that the state has an average of 120 murders per month, down from 200 in 2010. But Higuera acknowledged that infiltration from organized crime is a concern. In fact, he admitted that on many occasions he doesn't tell his own security detail where they are going until the last minute.
(Reporting from Culiacán, Sinaloa, Mexico)