Amid Change, China Holds Fast
To Information Control
By Madeline Earp
As popular uprisings unfolded across the Middle East and North Africa, Chinese Communist Party leaders prepared for a 2012 leadership handoff by fiercely suppressing homegrown protests. Online opposition was their greatest concern. China's individual Internet users passed 500 million in 2011, according to the state-affiliated China Internet Network Information Center. Activists had long used digital tools to criticize the government; in 2011, citizens embraced them to protest a series of public safety scandals, particularly the government's response to a high-speed rail crash in July. Criticism that began on social media sites facilitated some unusually aggressive press coverage.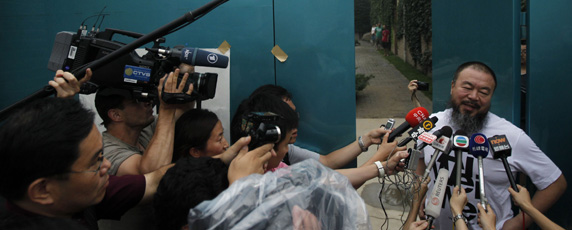 "You can draw a parallel with the Occupy Wall Street movement," Zhang Ping, a columnist forced from his job in January for outspoken analysis of political and media issues, told CPJ. "Often online protesters have no clear goal, no organization, ideology, or financial support. They resort to methods that are frowned upon in regular society in order to seek justice they can't find through regular channels. This generation of young Chinese people didn't occupy Tiananmen, but they are occupying the Internet."
Despite the growth of Internet tools such as Twitter-like microblogs that gained attention inside and outside China, there are few tangible results of this activism. Indeed, the expansion of public debate may create an illusion of increased political participation. Though analysts expect some loosening of information control in the long term, it seems likely that censorship will only tighten in the coming year, given an anticipated clampdown on microblog providers and legal revisions under way to facilitate the secret detention of activists.
"While things at the moment are very repressive, I think we are going to see an era of big sociopolitical change in China, sooner after the leadership change than we might expect, because this follows the logic of China's overall development," Kerry Brown, who heads the Asia program at the British think tank Chatham House, told CPJ.
In 2011, censorship was strengthened around sensitive domestic or global events. Images of Egypt's pro-democracy demonstrators beamed around the world from Tahrir Square were blocked in China. The association with student-led Tiananmen Square protests in 1989, which leaders violently suppressed and subsequently banned from public discourse, was only part of the danger foreseen by propaganda officials. Soon, there were unsigned calls for political demonstrations, dubbed "the Jasmine revolution," on Chinese-language websites.
The goals of this revolution were modest: Protesters indistinguishable from pedestrians would stroll through city centers around China on a series of Sundays, demanding reform rather than regime change. Yet Communist leaders were reminded of Liu Xiaobo's Charter 08, an online political petition with widespread support among intellectuals. In China, the Charter prompted Liu's 11-year imprisonment on antistate charges; abroad, it garnered him the Nobel Peace Prize in 2010.
Foreign journalists looking to cover protests in Beijing and elsewhere found a few dozen dissenters outnumbered by security agents. Demonstrations remained discreet–one man laid a jasmine flower outside a Beijing McDonald's on February 20, according to The New York Times–but security officials manhandled and detained several international reporters for a few hours each, threatening to revoke their accreditation. A Bloomberg journalist who was punched and kicked by men in plainclothes required hospital treatment.
Some abusive Twitter messages accused foreign reporters of "stirring things up." (Twitter is blocked in China, but is heavily used by activists through proxy networks overseas.) Other online commentators mocked the authorities' exaggerated response, which confirmed the threat of unrest even as officials publicly denied it. Regulations forbidding foreign journalists to report without permission near protests appeared on a city website. One tall Western journalist was told to leave a protest for "obstructing traffic," The Atlantic reported.
Meanwhile, the government began a pre-emptive crackdown on known government critics. Dozens of online writers, lawyers, and activists were detained, harassed, or disappeared. Security agents detained at least two individuals, Liang Haiyi in northern Heilongjiang province and Hua Chunhui in eastern Jiangsu, for reposting details about the rallies on social networks. Other reprisals were handed down for comments on unrelated, though sensitive, issues, including political reform and media control. At least four professional journalists in the comparatively freewheeling media environment of southern Guangdong province were "side-shuffled" or given "leave," euphemisms for dismissal, which colleagues used to avoid further injunctions.
The detentions of prominent activists Ran Yunfei and Ai Weiwei resulted in extrajudicial punishment rather than criminal charges, a development that came to characterize the crackdown. Security officials placed Ran, a prominent Sichuan-based online commentator, in custody on February 20, and indicted him in March on charges of inciting subversion of state power. CPJ has documented several cases in which writers, including Liu Xiaobo, were convicted on that charge in relation to critical articles. The criticisms on Ran's blog left him vulnerable. "It's not that I want to … criticize government and society day after day," he said. "If this were a regular democracy, I would not have that kind of zeal. But I was born in calamity-stricken China." In August, he was released under residential surveillance. Authorities either lacked evidence to prosecute, or considered the threat of re-arrest an adequate deterrent. Other detentions concluding in residential surveillance, also translated as house arrest or soft detention, included those of writer Yang Hengjun and lawyer and blogger Xu Zhiyong.
The punishment of Ai followed a similar arc. Ai documented social injustice in his work and online writing, noting the names of children killed as shoddy school buildings collapsed amid solid government offices during the 2008 Sichuan earthquake. Many believed his renown at home and overseas would protect him. But on April 3, he disappeared at the Beijing airport while preparing to board a flight to Hong Kong, and police raided his home, confiscating computers. A handful of supporters also vanished, including freelance journalist Wen Tao, who was quietly released later in the year. Ai was held incommunicado for nearly three months.
Unlike Ran, Ai was never formally detained or charged, although state media said he had confessed to tax evasion. A May 20 report from the official Xinhua News Agency said Ai was under residential surveillance, but he was not at his home. Neither was he in a jail or a detention center, his wife told foreign journalists. Police seemed to have reinterpreted house arrest, which can be imposed for six months without charge, to mean arrest at a location of their choosing. Ai later told reporters he had been watched around the clock, including during bathroom breaks. He remained under observation after release.
CPJ decried this treatment, which contravened domestic as well as international law, and encouraged the United States and the European Parliament to do the same. China's indirect response came in August. A National People's Congress committee announced draft revisions to China's criminal code that would legalize the practice of "residential" surveillance outside the suspect's home, without access to family members and lawyers, in antistate crimes. The changes are expected to be adopted in 2012, according to a research note prepared by Flora Sapio of the Centre of Advance Studies on Contemporary China in Italy, and Annabel Egan of the Irish Center for Human Rights' EU-China Human Rights Network. The approval process for covert detentions would be "significantly less stringent than those which currently apply to detention," the note said.
China human rights analyst Joshua Rosenzweig told CPJ that there is not yet enough data to establish a definite trend of surveillance over criminal prosecutions–and pointed out that abuse of residential surveillance has occurred in China for decades. But he agreed that "police appear to have been using 'non-residential' residential surveillance more often recently." It represented, he argued, a more flexible measure: "Enforced disappearance is more a means of intimidation, a punishment in itself. If the intimidation doesn't succeed (and there's actually a case, however flimsy, that can be pursued) then the police have the option, after six months, of forwarding the case for prosecution."
The development is also an answer to Internet activists adept at documenting surveillance. Shanghai-based dissident and writer Feng Zhenghu updated Twitter followers about his security detail. Supporters helped formerly jailed lawyer and activist Chen Guangcheng and his wife broadcast video of their enforced home isolation in February, despite severed Internet and phone access. "Since the rise of the Web, blogs, and Twitter … we have got our voice," Chen told viewers. "It is almost impossible to block all the information."
The propaganda department's battle to block information met its biggest challenge of the year in July, when one of China's long-awaited new bullet trains rear-ended another near Wenzhou in southeastern Zhejiang province, killing at least 40 people. Leaders had touted the train as a "miracle" of development. The word was to haunt the subsequent coverage, as the usual propaganda regulations on covering disasters were sent to news outlets: Don't cast blame, laud the government's response, and emphasize miracles.
Meanwhile, a flood of firsthand accounts of the crash hit the Internet. Official explanations–a lightning strike, signal failure–were retracted or contradicted. Online photographs showed authorities burying the wreckage instead of investigating it for flaws, fueling rumors of a Ministry of Railways cover-up. In a week reminiscent of the days after the 2008 Sichuan earthquake, many editors broke rules to get reporters on the scene. Readers called compliant news outlets to account: Internet commentators were furious that state mouthpiece People's Daily and three other newspapers ran coverage of a military ceremony on front pages the day after the accident, according to the Hong Kong-based EastSouthWestNorth blog.
Journalists chased Ministry of Railways spokesman Wang Yongping and demanded a press conference. A propaganda "miracle," in the form of a 2-year-old rescued after survival was declared impossible, became a focal point of the encounter. Online accounts said a rescue worker defied orders in order to save her, casting the official search in a less flattering light. Asked for comment, Wang could only repeat that her discovery was miraculous. "It was not a miracle," one reporter yelled back. Defending the burial of the train, Wang inadvertently undermined the official explanation, that it facilitated the rescue effort, by saying: "Whether you believe it or not, I believe it." The words became an instant meme that Internet users shared in jokes, cartoons, and even a music video. They sealed his fate: Wang was reassigned to a position in Poland, although he retained his rank.
As they had after the Sichuan earthquake, propaganda authorities intensified regulations and censorship, but not before some strongly worded criticisms were made public. A Southern Metropolis Daily analysis carried the headline, "Some Freaking Miracle!!!" The Beijing-based Economic Observer ran an eight-page special report after the second round of regulations. Even the People's Daily cautioned against development at the expense of safety, employing the phrase "blood-smeared GDP." Government broadcaster CCTV suspended "24 Hours" news producer Wang Qinglei after his July 26 show not only covered Wenzhou, but referenced other scandals subject to censorship, like the Sanlu company's sale of milk made protein-rich with a chemical contaminant in 2008. "Can we drink a glass of milk that's safe?" the program asked, according to a Shanghaiist blog translation. "Can we stay in an apartment that will not fall?" Wang was equally outspoken on his microblog.
Public safety prompted other online clashes. In August, microblog sites deleted images and suspended some accounts for revealing the scale of demonstrations in Dalian, Liaoning province, over a storm-damaged chemical plant. China media analyst Jeremy Goldkorn listed 11 major local media stories involving food adulterated with dangerous substances in 2011, including watermelons exploding from growth hormones, pork chemically treated to pass as beef, and waste oil resold to restaurants for cooking. A Ministry of Health threat to blacklist reporters spreading "wrong information" about food in June caused an outcry. "Food won't be safe unless journalists are," the Economic Observer wrote. In September, while investigating the use of recycled oil for consumption, Luoyang TV journalist Li Xiang asked his microblog followers why safety inspectors had failed to find the gangs reportedly running the scam in Henan province. The following week, he was stabbed to death while walking home from karaoke. CPJ is still investigating the motive; police treated the death as a robbery, but other microblog users said he had been targeted for his reporting.
In response to online dissent, local governments promised systemic change but rarely delivered. After Wenzhou, three Shanghai railway officials were dismissed, but victims accused the government of delaying its promised investigation. Public trust was further undermined in September, when city subway operators said a signal failure had caused a crash that injured nearly 300 passengers. Foreign journalists reported that the Dalian chemical plant was still operating in October, two months after local authorities responded to protests with a pledge to shut it down.
The edgiest debates over these scandals could usually be found on the Sina microblog, Weibo. Twitter, initially popular for the same reason, was blocked in 2009. Other local copycats have been shut down or controlled with licenses contingent on monitoring and censorship. With 200 million users, Sina is a huge commercial player, resilient to pressure. But as Weibo was increasingly credited with propelling stories from the fringe into the mainstream, information officials began to reassert control. In August, Beijing's Communist Party Secretary Liu Qi visited company headquarters, and Sina suspended two accounts for alleged rumor-mongering the following week. In October, the Communist Party Central Committee issued a directive stating, "We should strengthen the guidance and management of tools such as social networking and instant messaging applications," according to international news reports. Earlier that month, state media, citing the State Internet Information Office, said one person had been held for 15 days and another detained for "spreading rumors" online. It was not clear which sites the individuals had used. "There's still plenty of edgy stuff on Weibo," media analyst Goldkorn told CPJ by email in October. "But rumors of a real name registration system and clampdowns are continuing." Sina declined media interviews, and a Sina spokesman did not respond to CPJ's emailed request for comment.
During the year, outgoing Premier Wen Jiabao, a proponent of political reform, was among the few establishment figures who said that allowing public criticism would strengthen, not weaken, the party. "We must establish the conditions under which [people] can criticize and supervise the government," he told reporters at the National People's Congress in March, according to a translation by the China Media Project.
Future leaders may yet choose to follow in Wen's footsteps. As Internet penetration grows, Chinese leaders increasingly find themselves accountable to an online citizenry accustomed to access, engagement, and disputation. "Wen Jiabao's sentiments are right," Chatham House's Brown said. "I think history will see him having the last laugh, because the next leadership will be much more authentically reformist."
Yet with sensitive political appointments likely in 2012, there is little hope for short-term improvement. The Chinese Communist Party holds its National Congress to announce major directives and party appointments every five years. In 2012, President Hu Jintao is expected to hand off to Xi Jinping, the Politburo Standing Committee's current No. 6. His appointment as head of state by delegates of the annual March legislative session, the National People's Congress, would follow in 2013. Analysts have identified the present No. 7, Li Keqiang, as Premier Wen Jiabao's likely replacement.
The standing committee's remaining seven incumbents all reach the traditional retirement age of 68 this year, opening the door to a generational overhaul. Yet the nine youngest of the existing 24-member Politburo, who are best placed to enter the top tier, are, like Xi and Li, likely to secure promotion by emphasizing traditional party values, including information control.
Madeline Earp, senior research associate for CPJ's Asia program, is the author of the 2010 CPJ special report, "In China, a debate on press rights." She has studied Mandarin in China and Taiwan, and graduated with a master's degree in East Asian studies from Harvard.