The Calculus of Risk:
Awardees Work Despite Perils
By Kristin Jones
Natalya Radina had been in a Minsk jail for several weeks when the guards escorted her from her cell and offered her a deal. She had been sleeping on the bare wood floor of a room without a toilet, alone and without any contact with the outside world. For the first week, her head hurt from a beating administered during her arrest. Blood seeped from her ears.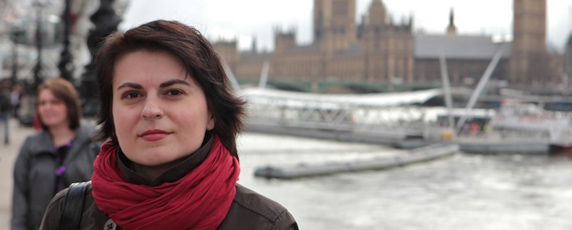 The jail was run by the Belarusian security service, known as the KGB, and Radina was accused of organizing mass disorder through Charter 97, a pro-opposition news website she edited. She faced five years in prison, the guards told her. They made oblique threats to her "health as a woman."
Then they offered her a way out. Tell us about Andrei Sannikov, they said.
It was January 2011. In the past month, hundreds of people had landed in detention facilities like this one. They were protesters who called foul on a December 2010 election that gave authoritarian leader Aleksandr Lukashenko 80 percent of the vote. They were journalists like Radina, whose website provided one of the few sources of independent information in the country. And they were opposition candidates like Sannikov, who had campaigned against the president and was a co-founder of Charter 97.
The offer, and what led up to it, was surely intended to break Radina, to extract from her what was needed. It did the opposite. "It was a very difficult decision," she said. "But I realized I cannot live with the thought that I am a traitor. I just made the decision that I'm not going to betray my friends, and I'm not going to betray my supporters."
"I felt more peaceful about the realization that I could stay in jail for five years," she said. "I realized I was stronger than" the jailers.
Radina was one of four journalists worldwide who were honored with CPJ's International Press Freedom Award in 2011. The three others are from Mexico, Bahrain, and Pakistan, and their experiences as journalists in far-flung corners of the globe are varied. But they share this: When men came to destroy the printing press, throw grenades at the office, or abduct, torture, interrogate, or threaten them, they resisted. They kept doing what they do.
It is a mystery that baffles the logic of oppression: When journalists are faced with the threat of imprisonment, violent attack, or worse, why do they keep reporting the news? A journalist, unlike a soldier, can walk away from a dangerous job without being court-martialed. A reporter in trouble can request a less risky assignment, or just quit. Many do. When life, freedom, or health is at stake, this is in many ways the most reasonable decision. But some stay.
Each of the 2011 awardees gave different reasons for doing what they do. But all of them said they felt an obligation, for reasons that were often as much personal as political. In negotiating a brutal calculus of risk, they considered their families, their countries, their heroes. Two of them described feeling at the lowest moments as if they were facing a test of character. One described his work as an act of hope. For all of them, it came down to the fundamentals of their beliefs.
Video: Pakistani Journalist Umar Cheema Speaks Up
It's hard to imagine a more turbulent place than Pakistan, where Umar Cheema began reporting the news a decade ago. The nation has played host to churning territorial disputes, Islamist militants, the U.S. war on terror, the fallout from a military coup, the assassination of a former prime minister, and devastating natural disasters.
"Pakistan has been in crisis for a decade now, and Pakistani society is being reordered from this crisis," said Cheema, who reports for The News, an English-language daily. The media has an essential role, he believes, in determining the results of his nation's upheaval. For his part, he has covered corruption in national politics, military affairs, and the vast and tangled net cast by intelligence agencies.
Since 2001, 37 journalists have been killed in Pakistan for their work, according to CPJ research. Most of them covered politics or war. Most of them were murdered, like Daniel Pearl, who was kidnapped by militants in Karachi in 2002; Hayatullah Khan, who disappeared in 2005 after reporting an apparent U.S. missile attack in North Waziristan; and Saleem Shahzad, an online reporter whose body was found with signs of torture south of Islamabad in May 2011. He had received threats from intelligence officials.
In September 2010, as he returned home late from dinner with friends in Islamabad, Cheema was pulled over by uniformed police. They didn't bring him to a police station, the journalist said, and they weren't really police. Instead, they tortured and abused him, shaved his head, mustache, and eyebrows, forced him into humiliating positions, and captured it on video. They also interrogated him about his reporting on the government.
Seven hours later, his captors left Cheema and his car about 100 miles (160 kilometers) from Islamabad. Don't talk, they had warned him, or we will post those videos online. You won't get away the next time. We will go after your editor, too.
As he started up the engine, Cheema had a choice to make. "I asked myself, what should I do? Can I live in this state of fear for my whole life?" he said. He thought about his family; he had a 2-year-old son, and his wife was pregnant. He also had international connections and a master's degree from the London School of Economics. He could easily leave Pakistan. Or he could stay. "I thought about the worst consequences," Cheema said. "The worst would be that I was killed."
For many, the choice would have been obvious, and it wouldn't have been the one Cheema made. He drove directly to his editor's house in Islamabad, still wearing his torn shirt and blood-soaked pants. Together they made a plan to publicize the abduction and torture immediately. He went back to work.
"I never thought I could do what I did. But sometimes, you realize you are being tested," Cheema said. "When I was heading home and I was in the process of deciding whether I should speak up or not, I was trying to put myself into the shoes of strong people, in the shoes of great people. How would they have reacted had they been in my place? Their decision would be to speak up."
His captors never identified themselves and left no trace of evidence. Cheema and other local journalists believe he was abducted by the Inter Services Intelligence Directorate (ISI), the Pakistani security agency. Now, his professional life is constrained, as is his personal life. He lives and works under what he calls a "self-imposed house arrest." He tries not to leave the house alone, and if he's not home before sunset, his family worries. Even so, there's nothing he would do differently. "One should have some reason to live," Cheema said. "I have a reason to live, and the reason is I have to speak up. I have to remain truthful. I have to say what I have to say as a journalist."
Like Cheema, Bahraini editor Mansoor al-Jamri had other, more comfortable paths he could have taken. In fact, he was happily living one of these other lives, as an engineer in London in 2001, when he received a visit from the emir of Bahrain, now its king.
The emir had an unusual request. Bahrain was embarking on a process of reform, he said, and was inviting former opponents to participate. Al-Jamri was a known critic of Bahrain's government, and a frequent guest on international news outlets such as the BBC. His father was a prominent figure in Bahrain's political opposition as well as a Shiite spiritual leader. Would al-Jamri return to Bahrain?
He jumped at it. Turning down an offer to join the cabinet, he requested the emir's permission to launch a newspaper. "I thought I would be able to influence the political process in a way that preserves my independence," al-Jamri said.
Ten years later, the editor became a victim of his own success. At its peak, the newspaper he co-founded and edited, Al-Wasat, reached an estimated readership of 45,000 in a nation with a population of only around 1.2 million. Enjoying the king's apparent blessing, the paper became a trailblazer, continually pushing the line of acceptable reporting on touchy subjects like land grabs, environmental destruction, and political opposition.
"He has shown that journalism has a role in advancing human rights," said Abdulla al-Dirazi, head of the Bahrain Human Rights Society. Most newspapers, following the example, became more professional, he said. "Ultimately, this has created enemies."
The collapse was swift and unexpected.
Swept up in the Arab Spring, protesters crowded into the center of Bahrain's capital, Manama, to demand greater freedom and equality for the country's oppressed Shiite majority. Al-Wasat covered the protests. The newspaper staff continued to report the news from home even after its printing press was destroyed on March 15, at the start of a violent government crackdown. There were arrests, disappearances, beatings to report.
On April 2, al-Jamri's friends called him and told him to turn on the television. Al-Wasat was the topic of a three-hour program on an official media channel, and it was being accused of spreading false news. That night, al-Jamri began to plan for the worst. He made arrangements with friends to take care of his children should he disappear into military custody, as others had. The next day, he and two colleagues were given a choice: Quit or the newspaper would be shut down. Al-Jamri, along with the paper's managing editor and local news director, stepped down.
The move might have saved the paper and its roughly 200 employees. It did not save al-Jamri and his colleagues from being criminally charged with spreading false news. Much worse was the fate of Karim Fakhrawi. A co-founder of the newspaper, as well as a board member and investor, Fakhrawi died in state custody on April 12 amid allegations of mistreatment.
Al-Jamri speaks with the ease and authority of a person who has spent his life in front of a camera. But when the subject turns to Fakhrawi, his voice falters and he sounds bewildered. "He was a good man, a very generous man," he said. "He gave lots of money to the poor. He was my exact age, 49 years old. I don't know why they targeted him. It's really crazy. So many people were targeted."
The editor second-guesses his choices. "On March 15, I should have taken the message," he said. "Now in hindsight, if I had stopped publishing, I had an excuse that the printing press was shut down."
Criminal charges still hang over his head. His own investigation showed that the government had planted the false reports his paper was accused of spreading; CPJ research supports this. At worst, he could face jail time; at best, he's expecting a heavy fine. But when martial law was lifted, al-Jamri returned to his role as editor-in-chief at Al-Wasat.
Why didn't he just leave? "In a way, it's a matter of dignity. I gave up my engineering profession, which was a very good one–I loved it–and came to take on a role in accordance with my goals in life, to promote democracy and human rights," al-Jamri said. "If I didn't stand up for my principles at this time, I'll always feel very low about myself, as a very cheap person," he said. "If they want me to disappear, they'll have to work harder."
Video: Matters of Life and Death for Javier Valdez Cárdenas
Repressive governments can be predictable. Radina knows what her KGB captors were after. Al-Jamri knows there is a line between what the kingdom sees as tolerable dissent and dangerous treason. Even Cheema could see the footprint of the ISI in the shadowy violence that tried to crush him.
But in Sinaloa, Mexico, where drug cartels run their trade and their battles in homes and on the streets, the rules of survival can seem unknowable.
At dawn one day in September 2009, a grenade tore through the offices of Ríodoce, a newspaper that Javier Arturo Valdez Cárdenas co-founded in 2003. Nobody was in the office at the time, and Valdez and his colleagues filed a report with the police. No investigation was conducted, and those responsible for the attack went unpunished and unidentified.
"We don't discount anybody," Valdez said. Ríodoce reports aggressively on crime and corruption in Sinaloa, a key corridor in the drug trade, where violence and lawlessness are rampant. The reach of the drug cartels there is deep and wide, and extends into police stations and politicians' offices. The assault on Ríodoce followed the pattern of other attacks on journalists in this region, CPJ research shows, where accountability is slippery and alliances are complex.
More than 40 journalists have been killed or have disappeared in Mexico since President Felipe Calderón Hinojosa took office in 2006, according to CPJ research. At least 13 were murdered in direct reprisal for their reporting on crime and corruption. Impunity is systematic; murders go uninvestigated and unpunished. With no guidelines to tell journalists what they need to do to stay alive, crippling self-censorship has become a rule.
Valdez is unwilling to be quiet. He has written books on crime and the drug trade, and its devastating impact on daily life. Just imagine growing up here, he said. "It makes me very sad that the young people are living in this environment of war," Valdez said. "They are assuming the language of war, as if these deaths are natural."
He worries about his own children whenever they don't pick up the phone. Valdez knows that the stakes of his work can be life and death–not just for him but for his sources and the people he's reporting on. Journalism under these circumstances requires an astoundingly complex set of calculations. Valdez takes into account the city, who the boss is, whether he minds publicity, which organization he works for. Sometimes, something as simple as a car accident can be loaded with invisible risk; the names of the victims might be sensitive, the license plate numbers unrepeatable.
One decision is easy, Valdez said. He's not closing up shop anytime soon. "For this to happen, it would have to be something very strong. To turn off the light and walk to the corner, to close Ríodoce, it would be the day when there's nothing more that can be done," he said. That day hasn't come yet. "It's an act of hope, no?" Valdez said. "I would like that more people reflect on what's happening, that people reading the stories can be critical. And that they change this."
Radina was released from jail in late January 2011, pending trial. A condition of her release was that she leave Minsk and relocate to the western town of Kobrin. She was ordered to keep in touch at all times with the local police; her passport was confiscated and she was barred from speaking about her case. These were conditions she found intolerable, so Radina fled to Russia, which shares an open border with Belarus.
"To be away from my country is almost unbearable to me," Radina said. "The understanding that you love your country doesn't hit you as strong until you know for a fact that you cannot go back."
In exile, she has lived the life of a fugitive. In Russia, she sensed the footsteps of the KGB at her back. From there, she flew to Amsterdam, and a friend drove her to Lithuania, where she was living at year's end.
She has just one possession of importance, she said. Friends in Belarus gave it to her before she left the country. It's small and light, and it wards off any regrets about the path she has taken.
"I have a computer. And that makes it possible to work."
She's still the editor of Charter 97.
Kristin Jones is an independent investigative reporter. In 2011, she was part of a team that won a Robert F. Kennedy Journalism Award for "Seeking Justice for Campus Rapes," a collaboration between NPR and the Center for Public Integrity. Jones was CPJ's senior Asia research associate until 2007. She was the lead author of the CPJ special report, Falling Short, which documented press freedom abuses in China ahead of the 2008 Olympic Games.