Despite Progress,
Impunity Still the Norm in Russia
By Nina Ognianova
On September 28, 2010, Aleksandr Bastrykin, Russia's top investigating official, told a visiting CPJ delegation that it was "a matter of honor" for his agency to solve a string of journalist murders committed under the country's current administration. "It is a matter of proving our professionalism," he said. Bastrykin admitted his team of investigators had made a mistake "rushing" the case of murdered Novaya Gazeta journalist Anna Politkovskaya to court two years earlier. This time, he said, detectives were doing a thorough job, gathering solid evidence that would hold up to the scrutiny of a jury trial.
Video: Impunity on Trial in Russia
The meeting demonstrated a notable shift in tone; Bastrykin was more open in his interaction with CPJ than any Russian official had ever been. His agency, the Investigative Committee of the Russian Federation, which is tasked with solving serious crimes, announced two days later that it was reopening five closed or suspended inquiries into journalist murders. The decision, a spokesman said, was prompted by the meeting with CPJ. Cautious hopes were kindled that Russian authorities were starting a new chapter–not only in tackling the murder cases but also in communicating with the public.
More than a year later, however, the rhetoric is largely unmatched by results.
Investigators won convictions in one case–the double murder in Moscow of Novaya Gazeta reporter Anastasiya Baburova and human rights lawyer Stanislav Markelov–and they made progress in solving the slaying of Politkovskaya, the highest profile of the 20 journalist murders committed since 2000. In the double murder, a jury declared two defendants guilty in April 2011 and sentenced them to lengthy prison terms. In Politkovskaya's case, authorities announced the arrest and indictment of the suspected gunman in mid-2011, then detained a retired police lieutenant colonel and charged him with helping carry out the killing.
By late year, the circle of suspects in the 2006 Politkovskaya murder was growing, but the mastermind who had sent the assassin to her doorstep remained unidentified. In the Baburova-Markelov case, investigators said the two people convicted in the 2009 murders had a number of accomplices, yet those suspects remained at large. And the death toll grew yet again in December, when an assassin gunned down Gadzhimurad Kamalov, founder of the Dagestani weekly Chernovik, which had investigated government corruption, human rights abuses, and Islamic radicalism.
Failure to prosecute the masterminds perpetuates impunity, even in cases where significant initial progress is made. The heart of the problem is a lack of political will and an apparent link between political power and criminality. "The impunity the masterminds enjoy–this is the main part of the mechanism, which breeds new murders," said Sergey Sokolov, deputy editor of Novaya Gazeta. And when impunity is the norm, journalists stay away from topics that could get them in trouble. "The most effective protection for a journalist nowadays is self-censorship," said Grigory Shvedov, editor of the online news outlet Kavkazsky Uzel (Caucasian Knot), which maintains a network of correspondents in the volatile North Caucasus region. "This is why we are seeing fewer and fewer examples of independent, investigative journalism." His agency is not relenting, but his correspondents face severe risks.
At an October 4 Council of Europe discussion on journalist protection, Sokolov was asked how those who order attacks on the press are able to evade justice. "Why aren't they held accountable?" he said. "Because, one way or another, these are people connected to power, which in turn means that they are connected to big money and criminality. Unfortunately, no one has been able to untangle this skein."
The latest Politkovskaya murder inquiry has exposed just how tangled that skein is. Two suspects in the case are former high-ranking police officers indicted on charges that they used official resources to organize the murder. One is retired Lt. Col. Dmitry Pavlyuchenkov, who was head of surveillance at Moscow's Main Internal Affairs Directorate, the city's police force, at the time of the slaying. Using their ties to criminal figures, the former police officials formed a gang to kill Politkovskaya, the investigation found. Dmitry Muratov, Novaya Gazeta's editor, said his newspaper's own investigation reached similar conclusions. "The department for which Pavlyuchenkov worked is one of the most secretive, closed police subdivisions," Muratov told the news agency RIA Novosti in September. "It is a department that carried out surveillance, determined people's whereabouts, and tapped their conversations."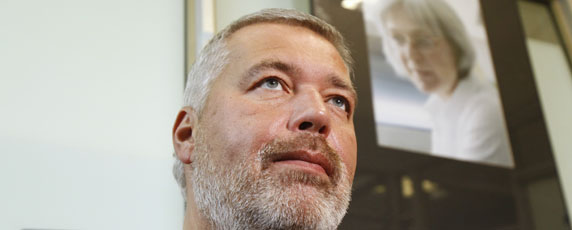 Pavlyuchenkov and his subordinates "de facto privatized the capacities of their posts and leased out, if you will, the services of their office," Muratov said. "For instance, for US$100 an hour, anyone could buy the services of this department if they had access to Pavlyuchenkov and his team." After Pavlyuchenkov was indicted, Muratov said: "We can now reveal that Pavlyuchenkov used the official cars of his police department to carry out surveillance of Anna Politkovskaya to determine her address and usual routes."
How the official Politkovskaya investigation proceeds will show whether Russian investigative authorities have truly moved toward independence or whether they are still bound by the powerful influences that stop them from exposing the truth. Muratov, if welcoming of the recent headway, remains cautious. He and his Novaya Gazeta staff have more experience than any other newsroom in Russia in seeking justice for colleagues; five journalists and a lawyer for the paper have been murdered in retaliation for their work since 2000. In each case, the paper did its own journalistic investigation. The day that authorities detained Pavlyuchenkov, officials also announced they had "information about the suspected mastermind of the crime." In response, Muratov urged vigilance. "I am uncomfortable with the quickness and lightness with which investigators started talking about the mastermind," Muratov told the local press on August 24. "I just know what such loud statements turn out to be. … I think we can expect some politically motivated actions."
As if to confirm Muratov's apprehension, the business daily Kommersant reported in September that Pavlyuchenkov had named Boris Berezovsky, an exiled Russian oligarch and a staunch Kremlin critic, as the mastermind of Politkovskaya's murder. Bastrykin's office neither confirmed nor denied that his agency was pursuing that angle. In response, Anna Kachkayeva, the Politkovskaya family lawyer, said her clients "did not need an assigned mastermind in the case."
Berezovsky's name first appeared in connection with Politkovskaya's killing when, speaking in Germany days after the murder, then-President Vladimir Putin attributed the crime to "certain persons who are hiding abroad from Russian justice [and] have long nurtured plans to sacrifice someone in order to create a wave of anti-Russian feelings and do Russia harm." (Berezovsky was convicted of embezzlement in Russia, charges he has disputed as politically motivated. Moscow has long sought his extradition from the United Kingdom, to no avail.) Colleagues and supporters of Politkovskaya have brushed off the Berezovsky theory as nonsensical. Lyudmila Alekseyeva, a veteran human rights defender and chairwoman of the Moscow Helsinki Group, told the German public broadcaster Deutsche Welle in October: "I think this is a trick of the investigators in order to distract us from the real people behind the murder. Berezovsky is no angel and I have little sympathy for him, but what we have here is speculation and conjecture and I wonder who is taking advantage of that."
Colleagues have reason to be skeptical. More than two years after another Novaya Gazeta reporter, Natalya Estemirova, was abducted in Chechnya and found murdered in Ingushetia, her killers walk free. The investigation into the July 15, 2009, killing of Estemirova, a Grozny-based journalist and human rights defender, started off on the right track only to get derailed, her colleagues at Novaya Gazeta and the human rights organization Memorial told CPJ. At a July press conference in Moscow, they presented the results of their independent investigation, which revealed numerous apparent flaws in the official inquiry.
At the time of the murder, Estemirova was investigating the possible involvement of Chechen police officers in the July 7, 2009, public execution of Rizvan Albekov in the village of Akhkinchu-Borzoi. She was the first journalist reporting on the case. The Investigative Committee initially focused on the story as the likeliest reason Estemirova was murdered, colleagues said. In their report, "Two Years After the Killing of Natalya Estemirova: Investigation on the Wrong Track," Novaya Gazeta, Memorial, and the International Federation for Human Rights found that lead investigator Igor Sobol had sought information from the local prosecutor's office about Albekov's killing and local police abuses.
But investigators inexplicably stopped pursuing the lead in early 2010. The current inquiry, the report's authors said, has focused on Alkhazur Bashayev, a rebel leader whom Chechen authorities say was killed in a 2009 special operation. Bashayev was allegedly angered by Estemirova's investigation into accusations that he and other separatists were recruiting young men in a Chechen village. But the report by Estemirova's colleagues raised dozens of questions about the official theory. How could the car allegedly used to kidnap Estemirova contain no sign of a struggle? How was the unsophisticated suspect able to falsify the police identity card that Chechen police claim to have found in the Bashayev home, along with the murder weapon? What happened to the genetic material collected from under Estemirova's fingernails that likely contained the DNA of her killers? The material, the report said, showed that Estemirova struggled with at least three attackers, one of whom was a woman. But investigators ordered only one type of DNA testing, which could neither categorically confirm nor disprove the involvement of Bashayev. In the process of testing, the report's authors said, the DNA samples were depleted, making further testing nearly impossible. It is possible, however, to compare the completed test results against other potential suspects–such as the police officers implicated in the Albekov execution. Why hasn't this been done?
The Investigative Committee did not respond in detail to the report, instead issuing a statement that said the findings "are not based on facts but are simply the subjective opinion of persons who do not possess the necessary competence, do not have information, and do not have access to all of the materials of the criminal case." The Investigative Committee did not explain what it found concerning the possible link to Estemirova's reporting on the extrajudicial killing of Chechen resident Albekov. The committee did not respond to CPJ's written request for comment on the Estemirova investigation.
CPJ spent three months in Russia in 2011, reporting on the investigations into journalist murders and other attacks on the press. Colleagues of Estemirova and individuals close to the official inquiry told CPJ that Moscow investigators are obstructed from working in Chechnya. "They know who the killers are, and they say that in private conversations. But they are simply unable to proceed," said a person tracking the investigation who spoke on the condition of anonymity because he was not authorized to discuss the case publicly. The person did not elaborate on the obstruction.
The North Caucasus is the most dangerous assignment for reporters in Russia. Politkovskaya, Estemirova, Kamalov, and another murdered journalist, Forbes Russia Editor Paul Klebnikov, were all investigating corruption and human rights abuses in the region. In two of the cases, suspicions have fallen on Chechnya's administration, specifically the republic's president, Ramzan Kadyrov. The reporting by Politkovskaya and Estemirova implicated local security and law enforcement officials in human rights abuses, as it did with the military men known as Kadyrovtsy for their devotion to the Kadyrov clan. Kadyrov had made no secret of his hostility toward both journalists and the organizations they represented–Memorial and Novaya Gazeta. In March 2008, for instance, Kadyrov summoned Estemirova for a meeting and asked her a series of questions about her family, including her teenage daughter. According to Human Rights Watch, Kadyrov told the journalist: "Yes, my arms are in blood up to my elbows. And I am not ashamed of it. I killed and will kill bad people. We are fighting the enemies of the people." Estemirova's daughter was relocated after that meeting, and the journalist herself briefly traveled away from home.
At the September 2010 meeting with the Investigative Committee, CPJ asked Bastrykin and his team whether they had questioned the Chechen president as part of the Estemirova and Politkovskaya murder inquiries. Yes, investigators said, but they had not found evidence of his involvement.
The lack of resolution in the slayings of Politkovskaya, Estemirova, and Klebnikov does not bode well for lesser-known provincial cases, such as the murders of two consecutive editors of the muckraking newspaper Tolyattinskoye Obozreniye in the industrial city of Togliatti. The handling of those cases–lower in profile and subject to local political influence–further test Russia's commitment to the rule of law.
Valery Ivanov and Aleksei Sidorov, killed 18 months apart in the early 2000s, had edited a publication unique for Togliatti, boldly exposing corruption, organized crime, and government wrongdoing in Russia's car-making capital. At the time of their killing, colleagues said, both had been investigating alleged police misappropriation of assets that had belonged to the late crime boss Dmitry Ruzlyayev. Despite witnesses to both killings, testimony from family and colleagues, a common compelling lead, and Tolyattinskoye Obozreniye articles brimming with characters who could have been angered by the paper's critical coverage, investigators did not arrest a single suspect in Ivanov's murder and tried an innocent man in 2003 in Sidorov's murder. The trial, which ended in an acquittal, revealed multiple flaws in the police investigation, including a coerced confession and disregarded evidence. Neither murder, authorities said at the time, was related to the editors' work. Ivanov, they said, was killed because of a business dispute; Sidorov in a street brawl.
Both cases were dormant until, seven years later, the federal Investigative Committee reopened them and moved them out of Togliatti to the jurisdiction of the regional Investigative Committee in Samara, a move that was supposed to shield the inquiries from powerful local interests. The news was welcomed by relatives and colleagues of Ivanov and Sidorov.
Two months after reopening the cases, the Samara Investigative Committee announced progress. Officials said evidence suggested the editors' killings were linked to two other murders in Togliatti; shortly after, the agency said it had identified a circle of five suspects. This seemed to be a long-overdue step in the right direction. But the initial publicity that stirred attention at home and abroad was followed by months of silence. In mid-year, CPJ traveled to Samara and Togliatti on a fact-finding mission, meeting investigators as well as the victims' colleagues and families. Despite the rhetoric, CPJ found, the new investigations had yielded no tangible results.
"They make a first step, some symbolic gesture, but then there is no follow-up," Yelena Ivanova, Valery Ivanov's widow, told CPJ. She said a detective with the Samara Investigative Committee met with her in October 2010 to offer assurances that her husband's killers would be brought to justice. She said she had not heard from the committee since. Vladimir Sidorov, father of slain Aleksei Sidorov, is equally skeptical of the new investigation. "The system is a corporate organism," he said, one in which an investigator's good work is often negated. "An individual cannot do anything on their own."
Meeting with CPJ in June, top officials with both the Samara and the Togliatti investigative committees said they had pursued every lead, questioned every witness, and considered all evidence in the murders of Ivanov and Sidorov. Yet no arrests had been made. As in Estemirova's killing, investigators issued an arrest warrant in the Ivanov case for a man widely believed to be dead. Russian news reports say the suspect, a reputed contract killer named Sergey Afrikyan, was killed after an assassination attempt went awry. No suspects have been named in the Sidorov case. And no mastermind has been identified in either murder.
"Authorities must do more than live by a calendar of anniversaries," Nadezhda Prusenkova, Novaya Gazeta's press secretary, told CPJ. Whenever the next journalist murder anniversary nears, she said, a spokesman issues a statement that the investigation continues and "that measures are being taken." The public is temporarily appeased until the next date that calls attention to the cases.
Statements are not enough; the families and colleagues of the victims are tired of them. A better tone has been helpful, but thus far the official promises have fallen far short of achieving justice. Without tangible results–the prosecution and conviction of all those behind violent attacks on journalists–enterprising, independent journalism in Russia has a bleak future.
Nina Ognianova, CPJ's Europe and Central Asia program coordinator, conducted a three-month fact-finding mission to Russia in 2011 as part of CPJ's Global Campaign Against Impunity and at the invitation of the Russian Union of Journalists. CPJ's Global Campaign Against Impunity is underwritten by the John S. and James L. Knight Foundation.