Calderón Fails,
And the Mexican Press Is Dying
By Mike O'Connor
On his living room couch, his two sons nearby, Jorge Medellín could barely endure the torturous thoughts coursing through his mind. He grasped his wrists, he rocked roughly on the couch, he bounded across the room and then returned to sit. He was nearly certain that he was going to be assassinated for what he had written about a Mexican Army general in the newspaper Milenio. There was nothing much to the story, really, but the general came off looking bad. Medellín, who had covered national security issues for 15 years, interpreted anonymous comments posted to his story on the paper's website as death threats. He did not believe his government would protect him. In fact, he believed that if he were killed, it would be on orders of military officers who could count on Mexico's near-complete record of failing to solve the murders of journalists.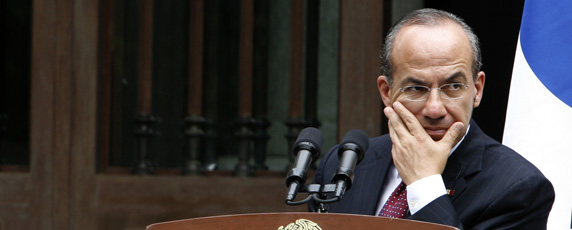 Mexican journalists take the smallest hint of a threat seriously because they know that killing a reporter is so easy to get away with. The word for this is impunity–killing with no consequences. None for the killer, at least. But the consequences for the Mexican people are that journalists are afraid to report the news.
It was this reality that made Medellín suffer so. He thought he might well leave his wife a widow and his sons fatherless for writing a story that was only mildly in-depth, but even so crossed the line of what is permitted. "What was wrong with me?" Medellín said. "Why didn't I realize what would happen? I know these people." He had already gone to his friends in the military and civilian intelligence to ask for protection. But not even his friends could be sure that federal bodyguards would not be bought off. "They tell me they can't trust their own people, because if I am killed nothing would be investigated," Medellín told CPJ that afternoon, November 1, 2010.
It was an important moment in the struggle against impunity in Mexico. Just five weeks earlier, President Felipe Calderón Hinojosa had promised CPJ, the Inter American Press Association, and the entire country that he would move assertively to protect a besieged press corps. A federal journalist protection program would be established, a new special prosecutor would bring killers to trial, and new legislation would make anti-press violence a federal crime.
But over the course of 2011, a CPJ investigation has found, Calderón and his administration have failed at nearly every turn.
The case of Jorge Medellín, who so profoundly mistrusts his government that he would rather go it alone than have federal bodyguards, illustrates the depth of the crisis. The federal government's befuddled, yearlong launch of its "Protection Mechanism" for journalists under threat, combined with the inability of an understaffed special prosecutor to gain a single conviction in a press murder, has bred deep cynicism among journalists. Many also see the president's commitment to federalization of anti-press crimes as evaporating, leaving investigations to state police forces universally seen as more corrupt than their federal counterparts. Has the president, they ask, lost the political will to tackle the problem?
Back on September 22, 2010, Calderón was unequivocal. "We categorically reject any attack against journalists because it is an assault against democratic society," Calderón told a delegation from CPJ and the Inter American Press Association. At that point, 32 journalists and media support workers had been murdered or had disappeared in Mexico since Calderón had taken office in December 2006.
In the meeting with the press groups, the president unveiled what his administration called the Protection Mechanism, a program giving immediate help to journalists under threat, from supplying something as simple as a cell phone to call a police hotline, to providing more intensive help such as bodyguards or relocation. Officials initially spoke of hundreds of people seeking protection, considering that journalists in so many parts of the country are under threat.
But by October 2011, the Mechanism had only eight cases. Five of the people on the case list told CPJ that the protection was inept, sporadic, or nonexistent. The identities of the other three were not disclosed to CPJ.
And by October 2011, Medellín had given up on the program. Because he was afraid of federal bodyguards, the program had asked the Mexico City government to help with protection. But the city's attorney general refused, saying it wasn't his job. That left the task to city police patrols–not much of a barrier to an assassination team. But even those patrols didn't come around for many days, Medellín told the Protection Mechanism committee overseeing his case. When patrols finally did start coming, they always arrived between noon and about 1 p.m., hardly a deterrent, he told the committee.
CPJ attended several of the closed-door committee meetings with a promise to keep the proceedings confidential unless Medellín gave permission to disclose them. For months, he said he was afraid to make his case public; then, in October, Medellín said he was too disgusted with the Mechanism to stay silent and granted permission, he said, so that the public would know it was a failure. The program had ensnared Medellín in hours of procedural meetings involving about a dozen bureaucrats each time, seven such sessions in which he heard many promises but was never given any real protection. It's a very good thing there was never an assassination attempt, he said.
Medellín said he doesn't know what became of the investigation into the threats against him. That wound up with the federal attorney general's organized crime unit, which he said refused to tell him what it might have found out. "If they had anything, they'd tell me," Medellín said. "So the silence is a confession of failure." Unit officials did not return CPJ's phone calls seeking comment.
The months of meetings to discuss plans that never seemed to work symbolize not only the Protection Mechanism's problems, but also the Calderón administration's overall failures. Calderón gave the job of organizing the Protection Mechanism to the Secretariat of Government, the most powerful office in his cabinet. But three other cabinet secretariats that are to contribute resources to the Mechanism have fought for power or sought to delay implementation of the program, according to three officials who have been involved in yearlong negotiations that they described as bitter and unproductive.
These officials say it is only a shell of a program, with no agreed-upon rules and only ad hoc responses to journalists' problems. It is not at all clear how the program's budget was spent–or even what was budgeted. Felipe Zamora, the undersecretary of government who was in charge of the program, insisted the first-year budget was $11 million pesos (a little less than US$1 million), although other senior officials working on the program said more than double that amount had been set aside. Zamora referred CPJ's detailed questions about expenditures to his private secretary, who did not respond to a written request for budget information. (Zamora later died in a November helicopter crash that took the lives of several government officials.) However the money was spent, there was little to show for it. Said one ranking official working on the program: "The Mechanism has no power. Half of the members want it to fail because being responsible is too much trouble. The whole thing means nothing."
Even if the program was working perfectly on the federal level, it still bases much of its budget and hope on getting states to supply resources such as bodyguards for cases within their jurisdiction. Such reliance reflects an optimism bordering on irrationality; very few reporters will trust their state police for protection. But matters are not even to that point yet–most states have not signed agreements to cooperate.
In an interview prior to his death, Undersecretary Zamora told CPJ that while implementation was taking longer than expected, the government could not afford the luxury of slacking off. "All beginnings are difficult," he said, "but we can't use that as a pretext for avoiding responsibility."
But where, critics ask, is Calderón when this program is in such trouble? Why can't he direct his own cabinet to make the program work? A spokesman for Calderón did not respond to CPJ's email and phone requests for comment.
In a bulky sweatshirt and jeans, a young journalist clinked a spoon around her cup at a restaurant on the edge of Mexico City. She stared into her coffee as if it held the answer to the difficult decision confronting her. It was February 12, 2011.
The 28-year-old and some colleagues had come upon firsthand information identifying the killers in the recent murder of a provincial journalist. But the woman told CPJ that she and the others were deathly afraid. What if the killers learned what information the journalists had? The journalists didn't trust the state police to investigate the case or keep them safe. Going to local authorities, they thought, would actually put them in far more danger. "It's all one mafia there," she said. So they made a pact to stay silent.
For some time, she thought there was no reason to tell police what she knew because, after all, there was no reason to think the killers would ever be punished. But for all the logic against it, the woman gambled. Finishing her coffee that February day, she decided to go to the special federal prosecutor for crimes against freedom of expression and tell him what she knew. (Her identity and other identifying aspects of the crime are being withheld here because the case was under investigation in late year.)
Murder is a state crime, so most journalist killings remain in the hands of corrupt or fearful state police, who have compiled a record of near-complete failure. But the federal special prosecutor can claim jurisdiction if a violation of federal law, such as use of an assault rifle, occurs during the course of the crime. The special prosecutor's office was able to take up this case because witnesses had been threatened.
The special prosecutor, Gustavo Salas Chávez, has 103 cases, almost all involving relatively minor issues such as unjustified detentions. But Salas, who was assigned only seven investigators, will be judged not on the small cases but on whether he solves any of the 11 murders and disappearances of journalists he says are in his jurisdiction. So far, he has not brought anyone to justice in those cases. Salas took over in early 2010 after ineffectual terms by two previous special prosecutors. In contrast, Salas has been a demanding boss, working his employees late into the night, bringing his investigators in on the weekends, and churning though them with firings and resignations, according to interviews with staff members. Salas declined to comment for this report, saying that his boss, Attorney General Marisela Morales, refused to let him speak to CPJ.
As it turned out, federal authorities had briefly looked into the case before the female journalist arrived at the special prosecutor's door. State police had handed them a tidy case file that depicted the victim as being caught in a love triangle and targeted by a jealous husband. The file did not include other, seemingly pertinent information. Friends of the victim, for example, said he had been engaged in a dispute with a local official whom he had continually criticized in his news coverage.
When the journalist arrived at federal offices with her own information, investigators questioned her for hours with a CPJ representative present, as she had requested. Convinced that her story was credible, investigators went to the scene of the killing. CPJ led investigators to another journalist who had information about the murder, along with witnesses to other aspects of the case. By late year, federal authorities said they were close to wrapping up their investigation, although no arrests had been made.
In the meantime, legislation making anti-press violence a federal crime, which Calderón had vowed to push forward, moved very slowly in Congress. The Chamber of Deputies passed a bill in November but many steps remained. That the proposal came in the form of a constitutional amendment complicated chances for passage; amendments require not only a two-thirds vote by both chambers of Congress but approval by a majority of the state legislatures.
Although the measure did not progress far in Congress, state officials had already geared up opposition to a plan they saw as giving too much power to the federal government, according to Manuel Clouthier, a member of the Chamber of Deputies from the National Action Party, or PAN. Many journalists working in the deadliest areas say state politicians had another, powerful motive: Keeping journalists afraid keeps the press from investigating them. Calderón could not even secure passage of a bill to increase penalties in the few instances in which anti-press attacks are already federal crimes. That effort passed in the lower house but failed in the Senate.
By law, Calderón has a single term. It ends on December 1, 2012, with the coming year's political agenda to be dominated by the campaign leading up to July's presidential election, and a steady loss of power for the lame-duck leader.
In the city of Veracruz, reporters and photographers huddled in a large coffee shop overlooking the Gulf of Mexico. It's a morning ritual: trading tips, insults, and jokes. But this morning, October 7, 2011, was different. The day before, 36 bodies were found in several places in the city and its suburbs. Phantom-like murderers were haunting Veracruz and, it seemed, members of the press corps were among the targets.
The string of killings had begun on June 20, leaving the press and public fearful of what would happen next and angry at state officials who they believed were incompetent or complicit. It wasn't that they had evidence to support those beliefs: they had no evidence of anything, actually, except for all the bodies turning up. The deputy editor of the main newspaper, Notiver, his wife, and son were all found shot to death in their home. A few weeks later, on July 26, the body of a Notiver police reporter was found, tortured and decapitated. Then, on September 21, more than 30 bodies were brazenly dumped at one of the area's busiest highway intersections during afternoon rush hour.
None of the reporters in the coffee shop knew anything more because state officials, they said, either refused to discuss the murders or issued inaccurate information. More than that, there were no police beat reporters left in town. They were the ones with the sources to get at the truth, but after the murders of Notiver deputy editor Miguel Angel López Velasco and reporter Yolanda Ordaz de la Cruz, the city's entire police beat, about 15 reporters, fled town. So the "news" was coming from government handouts and releases from the Mexican Navy, which is headquartered in the city and was taking part in the investigations. Although none of the remaining reporters believed the handouts, none was doing much digging because of the risk. The public, too, was uninformed, except for the rumors traded on Twitter and Facebook.
Understanding how things could come to this requires a bit of background. The most consistent account of how organized crime took over Veracruz starts in 2007, when the Zetas criminal gang came to town and petrified or corrupted police and local officials into letting it operate. The press was controlled in the same way, reporters agreed, although they would speak only anonymously. "When we were threatened, we knew there were no honest authorities left to protect us," one said. "We began to cover the news the way we were told by the Zetas."
The first thing that meant, reporters said, was no stories about the Zetas. So no stories about how the city was being taken over. When the journalists were murdered in 2011, it was assumed that some other criminal group moving into town had seen them as too close to the Zetas. But one photographer acknowledged, "We actually have no idea." It was the logical next step when journalists are killed with impunity: The events terrorizing the city, the most important story for its citizens, could not be covered.
Across Mexico, by the end of 2011, the toll of journalists and media workers killed or disappeared stood at 48 since Calderón took office. At least 13 of the victims were killed in direct relation to their work, CPJ research shows, nearly all after trying to cover Mexico's vast web of crime, drugs, and official corruption. No convictions had been reported in any case. Only five countries worldwide had more unsolved journalist murders on their ledgers at year's end. Just eight Mexican journalists under threat had been granted government protection in 2011, with five calling it ineffectual. The numbers, and the bodies, are adding up.
The Calderón administration took action in 2011 but made no progress, leaving journalists with no reason to believe the climate of impunity would change any time soon. The Protection Mechanism was more promise than reality, while the special prosecutor's office was badly understaffed and limping. Both efforts could have brought change, but they ended up as forgotten commitments. The idea of taking anti-press crimes away from corrupt state authorities still made sense, but the president couldn't get it through Congress. As a practical matter, Calderón's ability to effect change lessens as each day brings the election of a new president closer. It is that person in whom journalists will likely have to place their hopes.
Mike O'Connor, a Mexico City-based journalist, is CPJ's representative in Mexico. He is the co-author of the 2010 CPJ special report, Silence or Death in Mexico's Press.