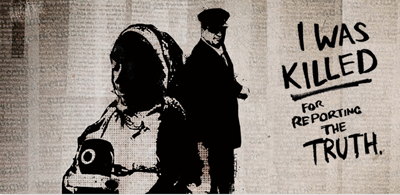 Three years ago Sunday, an unidentified assailant gunned down veteran crime reporter José Armando Rodríguez Carreón in the driveway of his home as his 8-year-old daughter watched. Amid a climate of violence and impunity in Mexico–where 10 journalists have been slain since 2008 and no killers convicted in any case–it seems unlikely that anyone will face prosecution for Rodriguez's murder. Two investigators working on the journalist's slaying were also shot to death.
In the days leading up to November 23, the first International Day to End Impunity, freedom of expression groups have been seeking justice for murders like this one. The day, organized by the International Freedom of Expression Exchange, also marks the two-year anniversary of the 2009 Maguindanao massacre in the Philippines.
Each day, starting November 1, IFEX has revealed a new, unsolved case of a journalist, writer, artist, or free expression advocate who was killed in the line of duty on that day in the past. IFEX and its members, including CPJ, ask you to take action by writing to the authorities in those countries to demand justice.
Sadly, the people named here represent only a small fraction of the more than 500 cases of journalists who have been murdered and whose killers walk free. But this is a chance to show the world that we remember and honor those who gave their lives for freedom of expression–and that those who seek to silence their critics with violence must be held to account.
Click below to learn more on each case, and check their website for daily updates.

Mohammad Ismail
Islamabad Bureau Chief, Pakistan Press International
November 1, 2006
Journalist, "El Tiempo de Durango"
Durango, Mexico
November 2, 2009
Abdul Razzak Johra
Reporter, Royal TV
Punjab, Pakistan
November 3, 2008
Laurent Bisset
Reporter, Radio Congo,
Bacongo, Democratic Republic of the Congo
November 4, 1993
Carlos Alberto Guajardo Romero
Reporter, "Expreso Matamoros"
Matamoros, Mexico
November 5, 2010
Wadallah Sarhan
Editor-in-chief, "Akhbar Al-Mosul"
Mosul, Iraq
November 2004
Ahmed Hussein al-Maliki
Local affairs editor, "Talafar al-Yawm"
Mosul, Iraq
November 7, 2005
Francisco Castro Menco
President, Fundación Cultural
Majagual, Colombia
November 8, 1997
Dilip Mohapatra
Editor, "AjiKagoj"
Bhagirathipur, India
November 9, 2004
Misael Tamayo Hernández
Editor and owner, "El Despertar de la Costa"
Ixtapa, Mexico
November 10, 2006

Johanne Sutton, Reporter, Radio France International
Pierre Billaud, Journalist, Radio Television Luxembourg
Volker Handloik, Freelance reporter, "Stern" magazine, Germany
Taloqan, Afghanistan
November 11, 2001
Gene Boyd Lumawag
Photo editor, MindaNews news service
Jolo, Philippines
November 12, 2004
José Armando Rodríguez Carreón
Reporter, "El Diario de Ciudad Juárez"
Ciudad Juárez, Mexico
November 13, 2008
Seif Yehia
Musician
Ibraheem Sadoon
Artist
Iraq
November 2007
Fadia Mohammed Abid and her driver
Journalist, "Al-Masar"
Mosul, Iraq
November 15, 2006