If you pass by Kronoberg Prison in Sweden's capital, Stockholm, you will see journalists chained to its gates. They have committed no crime. For over a week, journalists have taken turns locking themselves up in front of the prison to raise awareness of the imprisonment of three colleagues held in the Horn of Africa.
The show of solidarity is intended to highlight the cases of Dawit Isaac, a Swedish-Eritrean journalist held without charge or trial for over a decade in Eritrea, and Martin Schibbye and Johan Persson, freelancers with the Sweden-based Kontinent photo agency, who have been jailed in Ethiopia since July facing terrorism charges.
Isaac co-founded Eritrea's now-banned largest newspaper Setit but was arrested with other journalists and political dissidents in a brutal September 2001 crackdown. Schibbye and Persson were arrested in eastern Ethiopia while reporting on the activities of separatist rebels the Ethiopian government formally designated as terrorists under a sweeping anti-terrorism law. Schibbye and Persson risk up to 20 years in prison if convicted. Eritrea holds the ignominious title of Africa's leading jailer of journalists while Ethiopia takes second place.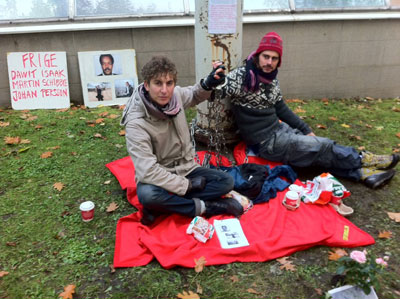 The journalist community in Sweden is highlighting the plight of these three journalists and calling on the Swedish government to do more to foster their release. "The Swedish government is yet to make a clear stand for these and all journalists' right to do their job without being thrown in jail," says one of the organizers, Johan Wirfält, editor of the Swedish magazine Rodeo. Based on public statements made by Swedish Foreign Minister Carl Bildt, many journalists within the Swedish community have started questioning the government's commitment to securing the release of the journalists, Wirfält told me.
Recent statements by Ethiopia's prime minister, Meles Zenawi, have further raised concerns that Schibbye and Persson will not receive a fair trial. In describing Schibbye and Persson as accomplices to terrorists and not journalists in an interview with Norwegian paper Aftenpostern, Zenawi brushed aside any expectation that the journalists would be granted the presumption of innocence, a fundamental right of defense.
In the same interview, Zenawi questioned why Schibbye and Persson entered Ethiopia illegally "with a terrorist organization," and concluded "If that is journalism, I don't know what terrorism is." In fact, the premier holds the answer, in his government's policy of banning independent media access to the Ogaden region where oil exploitation and allegations of human rights abuses in the midst of a low-level insurgency go uninvestigated. "Everyone knows if you want to report in a war zone and not get killed immediately, you have to be embedded with one side of the conflict — that does not mean the journalists are supporting their war, they are merely reporting the war," Wirfält said. Schibbye and Persson's journalism career is widely visible in the articles and photos published in some of Sweden's major publications, said journalist and protest organizer Sara Murillo Cortes. "All Swedes have seen photos taken by these journalists, there is so much proof that they have worked as journalists before, there is simply no discussion on that."
So, on any given day roughly 25 Swedish journalists, including well-known veterans, can be seen standing outside Kronoberg prison in chains, Cortes told me. It is not easy at 40 degrees F (5 degrees C) to remain chained outside a Swedish prison. "Socks are most important. You have to wear a lot of socks. Not that it compares to being in prison in Ethiopia or Eritrea," Wirfält said. Well-wishers, including police working at the prison, buy them cups of tea and coffee. Sweden's press is also supportive. The country's leading daily Dagens Nyheter ("Today's News") ran its main op-ed on the subject, among many others.
The group plans to keep their chains on until Schibbye and Persson's trial on Tuesday in Ethiopia's capital, Addis Ababa. "We wanted to show a physical presence, not just a Facebook campaign where you simply press a button," Cortes said. "This protest is a call for solidarity. Journalists must stand up for press freedom because what has happened to these three could happen to any of us."