New York, August 31, 2011–The Committee to Protect Journalists is alarmed by anti-press violence by supporters of Julius Malema, youth leader of South Africa's ruling African National Congress, and is relieved that the party leader has urged restraint.
Malema supporters protesting their leader's disciplinary hearing at ANC headquarters in Johannesburg on Tuesday hurled bottles, stones, and bricks at police and reporters. At least nine journalists were injured. Addressing the protesters through a loudspeaker later Tuesday, Malema said, "You cannot throw stones at journalists because journalists are just messengers," news reports said. "If you attack journalists, you will lose public sympathy." Malema stopped short of condemning or apologizing for his supporters' actions.
"We are shocked by the violent behavior of Julius Malema's supporters toward the media," said CPJ Africa Advocacy Coordinator Mohamed Keita. "We welcome his call for restraint, but he must go further and publicly condemn the violence. These were criminal acts and the police should investigate them in a thorough and timely manner and bring those responsible to justice."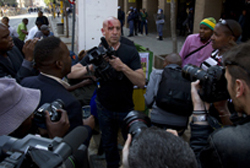 Cameraman Dudley Saunders of "Carte Blanche," an investigative television news program, suffered a head injury. Photojournalist Werner Beukes, of the South African Press Association, was hit in the back by a rock, the private daily City Press reported. Michel Bega, of the private daily The Citizen, posted on Twitter that he had been "hit on the shoulder by a rock this morning, but not injured." Journalists Boxer Ngwenya and Jennifer Bruce of the private daily The Star and Belinda Moses and Cathy Mohlahlana of private broadcaster Eyewitness News were hit by debris, news reports said. The window of an Eyewitness News broadcast van was smashed and broadcasting equipment was stolen, news reports said.
Two other broadcast journalists, Melissa du Preez of Jacaranda FM and Andrea Van Wyk of Eyewitness News, were verbally abused, shoved, and groped by rowdy Malema supporters, news reports said. "Serious threats made against journalists today," Van Wyk posted on Twitter. Jacaranda FM later reported that one of its journalists had been "physically and sexually assaulted while listening to Malema address youth league members." The station did not report further details, and CPJ could not immediately reach station managers for additional information.
In a statement, the South African National Editors Forum condemned violence targeting news media, according to news reports. The Citizen quoted Johannesburg police spokesman Lungelo Dlamini as saying that no arrests had been made in connection with the series of assaults.
Malema and other party leaders face charges of bringing the ANC into disrepute and sowing divisions in its ranks because of belligerent and hard-line statements that contradicted party positions, news reports said. Malema, whose populist rhetoric appeals to the frustrations of poor black South Africans, is locked in a power struggle for the ANC party leadership with President Jacob Zuma, once his ally, news reports said. The youth wing of the ANC has been hostile to the media in response to critical coverage of Malema's activities, CPJ research shows.
Editor's note: The original text of this alert was modified in paragraph five. The original text included quoted material saying that an Agence France-Presse reporter had been threatened. AFP reports that none of its journalists had been targeted with such a threat.