News from the Committee to Protect Journalists, August 2011
Detention of a new suspect in the Politkovskaya murder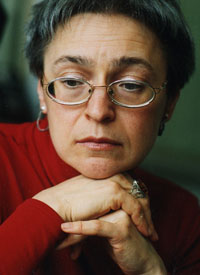 In a significant development in the investigation into the murder of Novaya Gazeta journalist Anna Politkovskaya, the Investigative Committee of the Russian Federation–the agency tasked with solving Politkovskaya's murder–announced on August 16 that it had detained retired Lt. Col. Dmitry Pavlyuchenkov on suspicion of having organized the crime. Pavlyuchenkov had worked as the head of surveillance at Moscow's Main Internal Affairs Directorate, the city's main police force, when Politkovskaya was shot dead in her apartment building in 2006. Investigators allege Pavlyuchenkov received payment for planning the journalist's murder and recruiting assailants to carry it out. The alleged gunman was arrested in late May.
CPJ Europe and Central Asia Program Coordinator Nina Ognianova spent the past three months in Russia researching impunity cases. In September 2010, a CPJ delegation met with the Investigative Committee, which resulted in a pledge by the committee to re-investigate several of the 19 unsolved murders of journalists in Russia, including the case of Politkovskaya.
10 years of helping journalists
Nearly 70 journalists facing violence, imprisonment, and harassment were forced into exile in the past year, according to CPJ's report, "Journalists in Exile 2011." Many received help from CPJ's Journalist Assistance program. This month, the program celebrates 10 years of providing assistance to journalists at risk and their families around the world.
As part of a series on the CPJ Blog marking the program's work, board member Gene Roberts recalled the ideals behind its creation. "We were coming to realize that embattled journalists were more likely to stand up against government threats if they knew our organization would give financial assistance to their families while they were in prison or in exile," he said.
Since then, the program has helped more than 720 journalists around the world and continues to ensure that journalists know CPJ is ready to support press freedom with direct assistance when needed.
Calling for press freedom in Libya
Six Libyan journalists remain missing six months after they disappeared in the first weeks of the Libyan uprising. Four kidnapped Italian journalists were freed after one day in captivity, while 35 international journalists were trapped for five days in the Rixos Hotel in Tripoli. These are just some of the developments involving journalists in Libya as rebel forces fought their way through the streets of Tripoli.
Throughout August, CPJ has intensified the call on all sides of the Libyan conflict to ensure the safety of journalists and respect their status as civilians. On August 4, CPJ sent a letter to NATO Secretary General Anders Fogh Rasmussen requesting additional information about the July 30 strike by NATO warplanes on three government-controlled transmission towers in Libya. In a reply to the letter, NATO stressed that the decision to target the towers was made after extensive monitoring of Libyan TV broadcasts that showed the facilities were being used by the Qaddafi regime to incite acts of violence and call for attacks against civilians. On August 10, CPJ urged the Qaddafi government to immediately extend all rights to imprisoned American journalist Matthew VanDyke, who was identified as missing in March and finally confirmed to be in state custody in the beginning of this month. VanDyke escaped from Abu Salim prison in Tripoli on August 24 after the prison was seized by rebel forces.
Human rights in Iran
As dozens of journalists continue to be imprisoned in Iran, CPJ met with a representative for Ahmed Shaheed, U.N. special rapporteur on human rights in Iran. CPJ emphasized how Iran continues to defy its own laws as well as international legal norms by engaging in systematic neglect and abuse against journalists and the arbitrary denial of basic rights. The meeting took place after CPJ sent a letter to Shaheed saying that the deplorable state of press freedom in Iran should be addressed in his report on human rights, which is scheduled to be presented to the U.N. General Assembly in September.
Two journalists labeled 'terrorism sympathizers,' one forced into exile
Two very different developments highlight the tough conditions facing journalists in Colombia. With the help of several national and international human rights and press freedom organizations, including CPJ, Mary Luz Avendaño, a reporter for the Colombian daily El Espectador, has fled the country for an indefinite period of time. Avendaño received threats in June, a short time after she had written two investigative pieces about drug traffickers and their connections with the local police.
Avendaño's exile happened in the same month that former Colombian President Álvaro Uribe Vélez accused The Washington Post's Andean region correspondent, Juan Forero, and Colombian journalist Claudia Julieta Duque of being accomplices to leftist guerrillas and sympathizers to terrorism. CPJ condemned Uribe's accusations, which came after the August 20 publication of the journalists' stories in The Washington Post, alleging that the former president, with the help of the United States, may have been involved in illegal actions using the national intelligence service.
Upcoming events
Report: "Confrontation, repression in Correa's Ecuador," a CPJ special report assessing the state of free expression in Ecuador, is due to be released on September 1. The full report will be available in English and Spanish on www.cpj.org.
Discussion: In late September, CPJ will host a discussion based on its findings in "After the Black Spring: Cuba's New Repression," a CPJ special report assessing the state of free expression in Cuba. Check out our events section for updates.
Exhibition: CPJ is supporting the Bronx Documentary Center's upcoming exhibition featuring work by the acclaimed photojournalist Tim Hetherington, who was killed in an explosion in Libya in April. To raise money for the exhibition, scheduled to open in October, the BDC is hosting a fundraiser at The Bubble Lounge on 228 West Broadway, New York on September 12 at 6.00 pm. For more information please contact BDC at [email protected]. 


Save the date: CPJ will honor four courageous journalists with its 2011 International Press Freedom Awards and one individual with the Burton Benjamin Memorial Award at an awards dinner in New York on November 22. Click here to watch an overview video of last year's dinner.
Donate
CPJ's Distress Fund provides emergency grants to journalists facing persecution for their work. Support our work and make an online donation today.
Best of the CPJ Blog
Smashing the hand that holds the pen
Legal protection falls short for Zimbabwe's Insider
Assisting journalists in Cuba: Hurdles in prison and beyond
Quantifying the threat to journalists in Pakistan
Easy targets, journalists under direct fire in the UK