Freedom of the press in Uganda hit a new low late last week when the government, in response to a decision by opposition figures to demonstrate against the escalating price of food and fuel by walking to work, banned live coverage of the protests and issued a directive to Internet providers to block two popular social websites for 24 hours.
The ban on live coverage came after television stations showed horrific images of the police force's high-handedness in arresting opposition politicians on the first day of the demonstrations. Footage of the police firing teargas canisters into homes, schools, and hospitals, was also shown.
Security forces prevented journalists reporting from the scene from approaching some opposition figures who had been arrested, and several reporters were roughed up. At least eight reporters were injured during the demonstrations: Ali Mabule and Dismus Buregyeya of the daily New Vision, Francis Mukasa of WBS TV, Ronald Muyinda of Radio One, Michael Kakumirizi and Stuart Iga of The Red Pepper, Yunusu Ntale of CBS Radio FM, and Isa Aliga of Nation TV.
As the police battled peaceful demonstrators, and the army intervened in what was one of the most brutal crackdowns on peaceful protests the country has seen, the state-run Uganda Communication Commission (UCC) blocked Facebook and Twitter for several hours.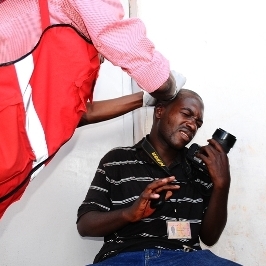 The UCC first denied knowledge of Facebook and Twitter being blocked. However, a letter confirming UCC's directive was later leaked to the public. "We have received a request from the security agencies that there is a need to minimize the use of media that may escalate violence to the public in respect of the ongoing situation due to the demonstration relating to 'walk to work,' mainly by opposition in the country," read an April 14 letter signed by Quinto Ojok, acting executive director of the UCC.
"As a stakeholder that has communication infrastructures that host media such as Facebook and Tweeter, the commission wishes to request for your indulgence in this matter," the letter went on. "You are therefore instructed to block the use of Facebook and Tweeter for 24 hours as of now that is; 14th April, 2011 at 3.30 p.m. to eliminate the connection and sharing of information that incites the public."
Facebook and Twitter were instrumental in relaying news of this year's February general elections. Millions accessed updates regarding violence, vote counts, winners/losers throughout the country, and reporters continue to use these social websites.
In Uganda, the news media has become a soft target for government when the police and army mismanage a situation. In 2009, at the height of the Buganda riots, the country's largest radio broadcaster, CBS, was shut down for more than a year for what the government says was inciting violence. Three other radio stations were also subsequently closed.
The media industry is not one that President Yoweri Museveni has warmed up to. Museveni struggles to see any good in it, and he constantly blames the media for frustrating his investors. In a Sunday press conference in his home village of Rwakitura, west of Uganda's capital, Kampala, Museveni was quick to blame the Walk to Work protests on the news media.
"Why do you give updates on the demonstrations that Besigye is now here, is doing this or that?" Museveni said, referring to opposition leader Kizza Besigye. "If you are balanced, also give updates that Museveni is meeting investors at his home, he's planting potatoes, now he has moved to check on his cattle … "
In many instances, Museveni has threatened to close critical media houses. Already, some laws have been passed that target the media. The Anti Terrorism law has elements that could link journalists to terrorism if they give coverage to rebels.
The Phone Tapping law also allows government to eavesdrop on calls, making it difficult for journalists to hide their sources. If plans to amend the press and journalists statute come to pass, the government will have stringent new rules with which to muzzle the press.
Edward Echwalu is a photojournalist based in Kampala with The Weekly Observer. See photos and story of his reporting on the Walk to Work protests at his blog, http://echwaluphotography.wordpress.com/.