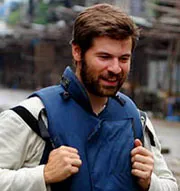 New York, April 20, 2011–Tim Hetherington and Chris Hondros, acclaimed photojournalists who had worked in conflict zones around the world, were killed in an explosion in the western Libyan city of Misurata today. Two other photographers were injured. Hetherington co-directed the Academy Award-nominated documentary "Restrepo," while Hondros was a 2004 Pulitzer Prize finalist for "his powerful and courageous coverage" of unrest in Liberia.
"Our hearts go out to family, friends, and colleagues of Tim Hetherington and Chris Hondros, whose work in some of the world's most dangerous places has had a profound impact on how we understand and perceive war," said Joel Simon, CPJ executive director. "Their deaths are another illustration of war's cruelty and a reminder of how devastatingly difficult coverage of the Libyan conflict has become."
News reports identified the wounded as photographers Guy Martin, a Briton working for the Panos photo agency, and Michael Brown, who was working for Corbis. Martin's injuries were described as severe.
Hetherington's death was reported soon after the explosion. Hondros was taken to a local medical center after suffering grave wounds. Getty Images, for which Hondros was working, disclosed his death in a message to CPJ early this evening.
The blast was believed to have been caused by a mortar round, according to the Los Angeles Times, which cited doctors and colleagues. Misurata is held by rebel forces but has been fiercely contested. The Los Angeles Times, reporting from Misurata, said the journalists had been working near the front lines of local militia.
Hetherington and Hondros had worked with distinction in many of the world's most dangerous spots. Hetherington and American journalist Sebastian Junger co-directed the 2010 film "Restrepo," which documented the year they embedded with U.S. military in Afghanistan. Born in 1970, according to his online biography, Hetherington had won numerous awards, including a 2009 Alfred I. duPont Award for broadcast journalism and a 2007 World Press Photo competition. Hondros, 41, worked in hotspots such as Kosovo, Sierra Leone, Afghanistan, and Liberia, winning the Overseas Press Club's Robert Capa Gold Medal in 2006 for his work in Iraq. Hondros' work appeared on the front page of the Los Angeles Times today, the paper noted.
Two other journalists have been killed this year in the Libyan conflict. An unknown gunman killed Mohammed al-Nabbous, founder of the online Libya Al-Hurra TV, as the journalist was streaming live audio from a battle in Benghazi on March 19. Cameraman Ali Hassan al-Jaber was shot when his Al-Jazeera crew was ambushed near Benghazi on March 13.
CPJ has documented more than 80 attacks on the press since political unrest erupted in Libya in February. They include the fatalities, numerous injuries, 49 detentions, 11 assaults, two attacks on news facilities, the jamming of two international television transmissions, at least four instances of obstruction, the expulsion of two international journalists, and the interruption of Internet service. At least six local journalists are missing amid speculation they are in the custody of security forces. One international journalist and two media support workers are also unaccounted for.
EDITOR"S NOTE: This original version of this alert was extensively updated to reflect the death of Chris Hondros.