News from the Committee to Protect Journalists, December 2010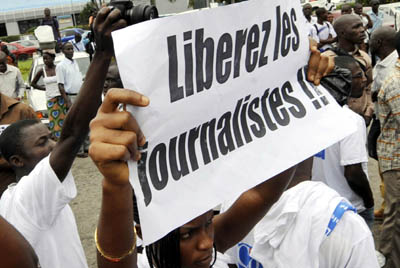 2010: Setting records and strengthening protection of the press
As the Committee to Protect Journalists nears its 30th anniversary in 2011, the organization has made strides in expanding its reach, solidifying concrete assistance to journalists in emergency situations, confronting impunity and advocating for justice around the world so that journalists can report the news without reprisal. In this issue we bring you the highlights of our work in 2010.
Reaching a milestone and providing a lifeline
When CPJ honored four journalists at the forefront of the battle for press freedom at its 20th Annual International Press Freedom Awards benefit dinner in November, a new fundraising record was set: $1.5 million raised for CPJ's work. One special program that provides a lifeline to journalists and their families is the Journalists Assistance distress fund, and it still needs your help. Every dollar raised for this fund goes directly to provide journalists with medical assistance, legal support, and, when they are forced to flee, help with resettlement.
In June 2009, gunmen shot Omar Hashi, news editor of Radio Shabelle, in Somalia as he was walking through Mogadishu's Bakara Market. As we told in this video, CPJ arranged for his evacuation to Uganda and follow-up medical care, including treatment for trauma. CPJ also provided a subsidy for basic living expenses and helped support his claim for resettlement through the U.N. High Commissioner for Refugees. Hashi's is just one of dozens of cases in which CPJ's Journalist Assistance program made a difference this year.
Please give your support to journalists and their families by ensuring that they receive adequate medical, legal, and financial assistance to meet their needs while unjustly behind bars.
Imprisonment of journalists reaches 14-year high
China's brutal suppression of ethnic journalism and Iran's sustained crackdown on critical voices have pushed the number of journalists imprisoned worldwide to its highest level since 1996. In our 2010 census of imprisoned journalists, CPJ identified 145 reporters, editors, and photojournalists behind bars on December 1, an increase of nine from the 2009 tally.
With 34 imprisoned journalists apiece, China and Iran are responsible for nearly half of the worldwide total. Eritrea has 17, Burma 13, and Uzbekistan six, rounding out the five worst jailers from among the 28 nations that imprison journalists. At least 64 freelance journalists were behind bars worldwide. In 2010, CPJ helped to secure the release of at least 46 imprisoned journalists around the world. CPJ has documented the case of each imprisoned journalist with detailed accounts.
To help free International Press Freedom Award winner Mohammad Davari and the other 33 journalists imprisoned in Iran as of December 1, CPJ began a petition at the awards dinner that has now migrated online in an attempt to gather more voices. Please sign and help spread the word. This is part of a broader strategy to build pressure through public support. Earlier this year, as the leading sponsor of "Our Society Will Be a Free Society," a joint campaign with 15 other human rights organizations, CPJ helped gather more than 3,500 signatures on a petition seeking the release of dozens of jailed journalists in Iran.
Deadly countries documented, held to account
As every year since 1992, CPJ has gone beyond prison cells to investigate and document the killing of journalists in the line of duty. Amid a rash of suicide attacks, Pakistan became the world's deadliest country for the press in 2010, with at least eight journalists killed there in connection with their work. At least 42 journalists were killed around the world in 2010, with Iraq, Mexico, and Honduras also ranking high for journalism-related fatalities, CPJ's analysis found. The worldwide toll reflects a notable drop from 2009, when a massacre in the Philippine province of Maguindanao drove the number of work-related deaths to a record 72. CPJ is investigating 28 other deaths in 2010 to determine whether they were work-related.
On the digital frontlines, a battle worth fighting
This year, CPJ took a major step toward defending the soaring numbers of journalists working online by hiring its first dedicated expert on Internet advocacy. CPJ can now provide timely reports on threats to online reporters, ranging from Internet-restricting laws, surveillance, and censorship, to anonymous hacker attacks.
When the staff of the Ethiopian weekly newspaper Addis Neger was forced into exile, the journalists kept in touch with their audience by using a Facebook group of more than 3,000 fans–until Facebook removed their page, citing high levels of user complaints, presumably from government supporters. We worked behind the scenes at Facebook lobbying to reinstate Addis Neger's page. The journalists were able to restore contact with their supporters in time to launch their own independent news site at AddisNegerOnline at the beginning of May.
As WikiLeaks began to release classified diplomatic cables, CPJ reviewed them and found around a dozen instances in which journalists were mentioned. In most of these cases, the journalists' name were exed out. In one case, an Algerian journalist was named. We felt that this could put the journalist in danger and notified WikiLeaks. The journalist's name was redacted within two hours. We continue to monitor for the names of journalists (or other identifying information) as new cables are released. CPJ has also condemned action by governments that have sought to suppress coverage of the cables.
Advocating around the world and at all levels
In 2010, CPJ's advocacy has reached far and wide to seek justice where accountability has been all but abandoned.
We documented a crackdown in Yemen, the emergence of press rights in China, and the hypocrisy of a press freedom violator–Kazakhstan–chairing a European governmental human rights organization.
But the battle against impunity has dominated CPJ's work. In Mexico, where 30 journalists have been killed or have disappeared since President Felipe Calderón came to power in 2006, we met with the president and his top advisors and demanded action. The president agreed to push for legislation to make an attack on a journalist a federal crime and to provide physical protection to journalists under threat.
In Russia, CPJ secured an unprecedented pledge from federal investigators to start probing 19 unresolved cases of journalists' murders anew. They said the new information on the cases provided by CPJ through rigorous reporting led to their decision. The Russian government turned to this same group of investigators when President Dmitry Medvedev denounced the beating of journalist Oleg Kashin in November.
Our campaign for justice also focused on the Philippines. In November, CPJ premiered a video that chronicles our advocacy in relation to the mass 2009 killing in Maguindanao. In this tragedy, 57 people, including 32 journalists and media workers were murdered in the worst slaughter ever documented by CPJ.
In April, CPJ hosted its first-ever Impunity Summit where press freedom advocates gathered from around the world to work to bring the killers of journalists to justice. Representatives from Russia, Mexico, the Philippines, Pakistan, and many other countries attended the summit. The meeting resulted in a common commitment to expanded and coordinated advocacy.
Considering the vast array of challenges on a global scale, it is no coincidence that CPJ's board expanded its international reach with new members in 2009. Rebecca MacKinnon, co-founder of Global Voices; Ahmed Rashid, one of the world's foremost experts on Afghanistan, Pakistan, and the Taliban; and María Teresa Ronderos, editor of Semana, all brought expertise in new media and invaluable regional knowledge.
Institutional and individual victories
A months-long campaign by CPJ and other media and human rights organizations led to UNESCO's suspension of a new prize for life sciences that would have been named in honor of one of Africa's most notorious enemies of press freedom, President Obiang Nguema Mbasogo of Equatorial Guinea. In June, CPJ published a letter opposing the Obiang award signed by winners of the prestigious UNESCO/Guillermo Cano World Press Freedom Prize. Cano laureates, including Lydia Cacho from Mexico, Nizar Nayyouf from Syria, and Geoff Nyarota from Zimbabwe, sent a strong message to UNESCO that an organization whose mandate is to promote freedom of expression cannot give a prize named after one the world's worst abusers. After sustained advocacy efforts, both public and behind the scenes, UNESCO's executive board decided in October to suspend the prize indefinitely.
For the past five years, CPJ has fought tirelessly for the release of the more than 20 journalists swept up in Cuba's 2003 crackdown on dissent. As we aggressively lobbied for the journalists' release, CPJ helped their families by paying for travel expenses and buying food, clothes, and medication that they could give to loved ones during prison visits. This year, the battle for justice was won. A remarkable 17 of the journalists have so far been freed and we hope that the four still in jail will soon follow. Most of them are living in exile in Spain.
Now these journalists are turning the page and CPJ is still chronicling their journeys. A few weeks ago, CPJ began publishing their personal accounts in "After the Black Spring," a series of blog posts. These are riveting accounts of the silence of solitary confinement, the horrors of torture, and, most of all, they offer a rare glimpse into the darkness of the Cuban prison system, the loneliness of exile, and the re-strengthening of these independent voices.
Favorites from the CPJ Blog in 2010:
Mission Journal: Behind bars in Burundi
In Egypt, a deplorable press freedom climate
Playboy Indonesia editor speaks out from jail
Mission Journal: Visiting Mikhail Beketov
As Zenawi speaks, editors are grilled in Ethiopia
'A Somali journalist's life is short anyways'
Denied access, CPJ manages to interview Kazakh prisoner
'Erase it, or be erased': Life on a Japanese mafia hit list
2010 blog series:
After the Black Spring: Cuban stories of prison and freedom
Finding Refuge: An Iraqi journalist in America
Earthquake in Haiti: Reporting in the ruins
The Frontier War: CPJ in Pakistan