Those familiar with Mikhail Beketov's ordeal describe his survival as nothing short of a miracle. The once fit, towering 51-year-old who campaigned on environmental issues and criticized his city government's policies through the pages of his newspaper is now gone. But the former editor of Khimkinskaya Pravda, an independent publication that exposed the blunders of the Khimki administration headed by Mayor Vladimir Strelchenko, has a fierce desire to return to normal life, or at least some semblance of it. He has a long way to go and he needs our help.
More than a year ago, on November 13, 2008, neighbors found Beketov lying unconscious in a pool of blood, in the front garden of his home in Khimki, a Moscow suburb. Attackers had struck to kill—they broke his skull, smashed the fingers of both hands, broke his legs, and left him for dead in the freezing cold. Doctors estimated that the attack had occurred at least a day and a half before Beketov was discovered. He spent three weeks in a coma, had seven surgeries including leg and finger amputations, and underwent treatment in three different hospitals. Last week, doctors with the surgical unit at the Russian Academy of Sciences performed an operation to restore the journalist's trachea; a tube had been inserted in his throat in the months after the near-lethal attack to help his breathing. Now Beketov must re-learn how to speak. More restorative surgeries are to come.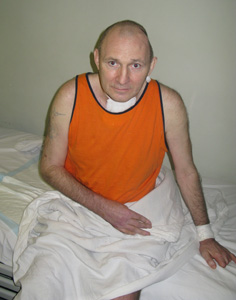 Beketov's rehabilitation will take months, if not years, doctors say.
Meanwhile, his attackers are still at large; moreover, it is unclear whether a serious investigation is under way. Two months after Beketov was beaten, the lawyer representing his interests, Stanislav Markelov, was murdered in downtown Moscow along with a reporter from the independent Moscow-based newspaper Novaya Gazeta. Beketov had received death threats a week before the attack and reported them to law enforcement, and there have been no arrests. Novaya Gazeta, which has covered the attack and its aftermath extensively, undertook its own investigation into the incident. The paper reported that Khimki police ignored key evidence from the crime scene—officers did not examine recordings by security cameras across from Beketov's home that could have captured the attack, for instance. Beketov's neighbors were never questioned in detail, Novaya Gazeta said.
After Khimkinskaya Pravda published an article on excavations at a World War II burial site in 2007, local prosecutors brought defamation charges against Beketov. Most outrageously, while Beketov's attackers roam free, the journalist is banned from traveling outside of Russia because the case against him is still pending.
A previous attack on Beketov is also unsolved. In May 2007, unidentified men set his car on fire. In a separate incident that year, his dog was deliberately killed.
Friends of Beketov have set up a hard currency account in Russia for individuals and organizations abroad who wish to help the editor recover. Here are the details:
Account No. 40703840900490676000—dollar bank account at MOSKOMPRIVATBANK in Moscow
Bank address:
ZAO Moskovsky Kommerchesky Bank "MOSKOMPRIVATBANK"
127299 Moscow
14 Kosmonavta Volkova Street
RUSSIA
Bank phone number: +7 (495) 787 6886
SWIFT: MPRI RU MM
Reuters: MCPB
Telex: 485339 MPRI RU, 485340 MPRI RU