May 2009
News from the Committee to Protect Journalists
Saberi released from Tehran prison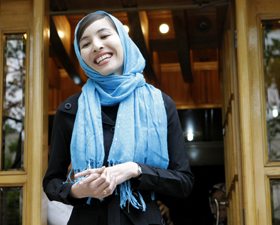 The release of freelance Iranian-American journalist Roxana Saberi on May 11 was an excellent example of the importance of sustained advocacy in press freedom cases. Saberi was arrested in late January for buying alcohol but was soon convicted on charges of spying for the United States.

CPJ advocated on Saberi's behalf by raising awareness of her case and keeping it in the public eye, writing letters to Iranian President Mahmoud Ahmadinejad and to Iran's head of the judiciary, consulting with her family, and releasing a legal background briefing on her case on the eve of her appeal. We also organized a Facebook petition of nearly 11,000 signatures and delivered it to the Iranian Mission in New York City, and we raised the case in meetings with the White House and State Department.

"I am very happy that I have been released and reunited with my father and mother," Saberi told reporters when she left Evin Prison. "I am very grateful to all the people who knew me or didn't know me and helped for my release."
'10 Worst Countries to be a Blogger' released on World Press Freedom Day
CPJ named the "10 Worst Countries to be a Blogger" in a report marking World Press Freedom Day on May 3. Burma, with restricted Internet access and lengthy jail terms for posting material critical of the government, leads the list of countries around the world cracking down on their booming online cultures.

Also topping the list were many Asian and Middle Eastern nations–Iran, Syria, Saudi Arabia, Tunisia, Egypt, China, and Vietnam–that have resorted to aggressive government tactics to censor and repress bloggers where Internet activity is thriving. Cuba and Turkmenistan, nations where Internet access is heavily restricted, complete the list.

"Bloggers are at the vanguard of the information revolution and their numbers are expanding rapidly," said CPJ Executive Director Joel Simon. "But governments are quickly learning how to turn technology against bloggers by censoring and filtering the Internet, restricting online access and mining personal data. When all else fails, the authorities simply jail a few bloggers to intimidate the rest of the online community into silence or self-censorship."

The report generated tremendous response in both the mainstream and online media around the world. You can hear an online interview on the subject with Deputy Director Robert Mahoney.
Obama and Clinton express support for press freedom
CPJ's Washington representative Frank Smyth has been instrumental this month in advancing the cause of press freedom among administration officials and congressional leaders in Washington. President Barack Obama and Secretary of State Hillary Clinton as well as the co-chairs of the Congressional Caucus for Freedom of the Press all made statements on World Press Freedom Day highlighting CPJ statistics and press freedom issues championed by CPJ.

Citing our statistics, President Barack Obama said: "Since this day was first celebrated some sixteen years ago, 692 journalists have been killed. Only a third of those deaths were linked to the dangers of covering war; the majority of victims were local reporters covering topics such as crime, corruption, and national security in their home countries."

Obama noted that "there are journalists in jail or being actively harassed" in places like Azerbaijan, Zimbabwe, Burma, Uzbekistan, Cuba, and Eritrea–all countries CPJ has stressed in its research and reporting. Obama also cited several journalists CPJ has advocated for, including J.S. Tissainayagam, the Sri Lankan journalist currently being tried on trumped-up charges; Shi Tao, the Chinese journalist imprisoned for allegedly "leaking state secrets"; and Hu Jia, another Chinese journalist behind bars for alleged "incitement to subvert state power."

The Foreign Ministry of China reacted to the president's statement, saying the government protects freedom of speech and encourages the development of the media.

Meanwhile, the Senate passed a resolution sponsored by Sen. Russ Feingold (D-WI) to "defend the media from attacks on the independence of the media, and to pay tribute to journalists who have lost their lives in the line of duty."
U.S. senators call for Ebrima Manneh's immediate release
Sen. Richard Durbin of Illinois led a group of six senators to call for the immediate release of the former state Daily Observer newspaper editor "Chief" Ebrima Manneh, who colleagues say was taken away by two plainclothes Gambian National Intelligence Agency officers in July 2006 and has not been heard from since. "The conflicting information and lack of responsiveness further the perception of a disturbing deterioration of human rights in the Gambia, particularly in regards to basic press freedoms," wrote the six senators, which, in addition to Durbin, include Sens. Russ Feingold, Robert Casey, Patty Murray, Joe Lieberman, and Ted Kennedy. Some local journalists have told CPJ that Manneh was arrested for trying to republish a BBC report critical of President Yahya Jammeh; others believe Manneh was targeted for his investigations into the 2005 killing of Ghanaian immigrants in the Gambia. Despite sightings and considerable international pressure, the Gambian government has consistently denied holding Manneh. Last year CPJ published "The Witness," a report on Manneh's disappearance written by Ousman Darboe, a colleague who spent months investigating the disappearance.
Brazil high court strikes down repressive law
In a crucial step forward in the campaign to eliminate criminal defamation laws in the Americas, the Brazilian Supreme Federal Tribunal struck down the 1967 Press Law, which had imposed harsh penalties for libel and slander. CPJ and other groups had long said that the anachronistic law be removed from the books. In November 2005, CPJ had urged the Brazilian federal government to file a petition with the Supreme Federal Tribunal to overturn the law, which was used by powerful plaintiffs to silence journalists.
Ali Hasanov and two others released in Azerbaijan
In April, Azerbaijani authorities pardoned and released three journalists who had been serving jail sentences on trumped-up charges–Sakit Zakhidov, a commentator for the pro-opposition daily Azadlyg; Asif Marzili, editor of the independent Tezadlar weekly; and Ali Hasanov, editor of the pro-government daily Ideal. The release followed a long-term advocacy effort by CPJ and other international press freedom groups. In May 2008, CPJ traveled to the oil-rich, authoritarian country on a fact-finding mission, and produced a special report on its abysmal state of press freedom.
Chinese journalist Jiang Weiping thanks CPJ
Speaking at an April 24 panel organized by the Ford Foundation in Washington, Jiang Weiping, a 2001 CPJ Press Freedom Award winner, expressed his thanks to CPJ and talked about how his IPFA award gave him encouragement:
"In November 2001, almost one year after I had been arrested, I was still in detention and denied family visits–even denied access to reading materials. I knew nothing of what was happening beyond my jail cell. It was the most difficult period in my life. I suffered greatly from stomach disease and did not have access to medical treatment. I felt so helpless. One day, a very kind prison guard came to me and secretly handed me a note. It was a letter from my wife. I was told that the Committee to Protect Journalists had honored me with a Press Freedom Award. "I also learned that many people whom I had never known before showed great interest in my case and were petitioning for my release. This was great encouragement during those dark days! I felt so happy and humbled for this honor, knowing that so many other journalistic colleagues deserve the award more. I no longer felt alone. I believed that, no matter how long and difficult the road ahead, one day I would return home and pick up my pen again. Without your support during those days, I would not be standing here today. Let me say: Thank you, thank you all!"
Jiang will finally be able to accept his International Press Freedom award at CPJ's 2009 benefit on November 24.
On the blog
Nowhere safe for Vietnamese bloggers