December 2008
News from the Committee to Protect Journalists
CPJ releases imprisoned list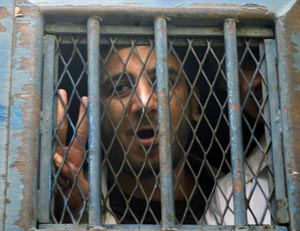 In case you missed it, CPJ released its annual census of journalists in prison on December 4. The report found that there are 125 journalists currently in jail worldwide for their work, and for the first time, the majority of those jailed are Internet journalists. The report has received a lot of coverage, with discussions across blogs and technology-based Web sites, including the tech news hub Slashdot, Geek, the Los Angeles Times' technology blog, and Silicon Alley Insider.

The full report, along with detailed capsules of those currently jailed, is online now.
Video from CPJ's awards dinner now online
Speaking publicly for the first time since his release from U.S. military detention in Iraq, International Press Freedom Award winner Bilal Hussein thanked CPJ for its work on his behalf. The Associated Press photographer spoke via satellite from the Middle East to a crowd of more than 800 at CPJ's annual awards at New York's Waldorf-Astoria on November 25. "If I had to go through this again, I would not hesitate if it is to get the truth out because I know I will not be alone," Hussein said. "What the Committee to Protect Journalists did for me gave me the ability, strength, and determination to forge ahead with my work."

Hussein covered combat in Fallujah and Ramadi. His 2004 photo of Iraqi insurgents during the battle of Fallujah helped AP win a Pulitzer Prize–but it also aroused the suspicions of the U.S. military, which detained him in April 2006 and held him without charge for two years.

Jeff Zucker, president and CEO of NBC Universal, helped raise $1.25 million to support the cause of press freedom around the world. Gwen Ifill, managing editor of PBS's "Washington Week," hosted the program, which highlighted the imprisonment of journalists.

The second award of the evening, presented by CBS News anchor Harry Smith, went to Ugandan editor Andrew Mwenda, founder of The Independent magazine. While in the United States to accept his award, Mwenda learned that police in Uganda had issued him a summons for questioning. He already faces 21 criminal charges for his work. "I want to assure all of you who are here today that there is no amount of torture, no number of detentions, no numbers of raids on our offices, not even the threat of death will ever stop us from seeking to tell the truth without fear of anybody or any authority," said Mwenda. "It is better for us to die on our feet than to live on our knees."

Author and journalist Steve Coll presented another award to Danish Karokhel and Farida Nekzad, director and deputy director of Pajhwok Afghan News. "After the fall of the Taliban, women broke free of their shackles and found a voice in society. It was a good chance for women to join independent media as reporters, photographers, and newscasters," said Nekzad. "But now, unfortunately, the situation for working women is getting worse day by day."

Awardee Héctor Maseda Gutiérrez could not attend because he is imprisoned in Cuba, a victim of the 2003 "Black Spring" crackdown. His award was presented by CPJ board member Christiane Amanpour, who called on those in attendance to sign a CPJ petition seeking his immediate release.

New York Times reporter Barry Bearak, who was freed from a Zimbabwean jail this year, presented CPJ's Burton Benjamin Memorial Award for lifetime achievement to Beatrice Mtetwa, who represented him during his detention.

Videos of the awardees and the year in review are now available on CPJ's Web site.
Tunisia responds to critical CPJ report
In September, CPJ released a special report, "The Smiling Oppressor," that outlined the Tunisian government's repressive press policies and examined the possibilities for reform in the North African country. Our research showed that President Zine El Abidine Ben Ali has employed some of the most restrictive tactics in the Arab world to silence the media. This month, CPJ received an official response to the report, along with a number of press clippings from Tunisian media meant to highlight the openness of its press.
Read more about the Tunisian government's response to "The Smiling Oppressor" on the CPJ Blog now.
Raja Petra released from Jail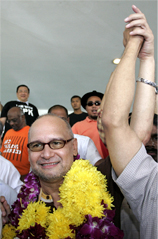 On November 7, Raja Petra Kamarudin, editor and founder of the popular Malaysia Today news and commentary Web site, was released from prison after a high court justice ruled that his detention was illegal and that the Home Minister had acted beyond his authority when he sentenced the blogger to two years in prison. Raja Petra was the subject of a CPJ special report published in October, "Malaysia's Risk Takers," that called for his release. The blogger still faces additional charges for sedition and criminal defamation over articles and commentaries posted to his site.
On the CPJ Blog this month
What's become of the people in this photo?
Journalist Assistance Program and Impunity Campaign Coordinator Elisabeth Witchel traces the lives of a group of Eritrean journalists who have been killed, jailed, and cast into exile since a photo was taken in 2000.

Freed in Iraq, an editor offers thanks
Shwan Dawdi, editor-in-chief of the Kirkuk-based newspaper Hawal, saw his one-month prison sentence and fine overturned by a Kurdish court on November 13. Dawdi had been found guilty of defamation charges earlier in the month. He sent a letter to CPJ thanking us for pursuing his case, and pressuring the Kurdish government to release the journalist who was imprisoned under an out of date law.

From an awardee, behind bars
Jailed Cuban journalist Héctor Maseda Gutiérrez wrote a letter from his cell in the maximum security Agüica Prison in western Matanzas province to accept CPJ's International Press Freedom Award. The letter expresses his gratitude for the award, and says that he works "for all those who suffer the horror that characterizes despotic and oligarchic government models."

Politkovskaya trial re-opened to media
After much back and forth with the trial being opened and closed to the media, it appears that the murder trial of Anna Politkovskaya will indeed be open to the press. Judge Yevgeny Zubov overturned a ban on journalists attending the trial of three men accused in the 2007 murder after initial assertions that jurors feared for their safety was shown to be false.

Read more about media involvement in the trial at www.cpj.org
CPJ people
CPJ board member Andrew Alexander will be become The Washington Post's ombudsman for a two-year term beginning Feb. 2. He was formerly the Washington bureau chief for Cox Newspapers.

Mohamed Abdel Dayem will be joining CPJ on December 15 as the Middle East and North Africa program coordinator. He comes to us from Washington, where he was a research analyst at the Save Darfur Coalition. Prior to that, he was with the Middle East division of Human Rights Watch.