The Torch is a weekly newsletter from the Committee to Protect Journalists that brings you the latest press freedom and journalist safety news from around the world. Subscribe here.
John Otis, CPJ's Andes correspondent, reports on Venezuela's internet blackout and the impact it has had on Venezuelans' ability to access news and information.
Three journalists have been killed in the last week, in Afghanistan, Honduras, and Mexico.
CPJ Asia Program Research Associate Aliya Iftikhar recently returned from a reporting mission to the Maldives, where she spoke with the families of abducted blogger Ahmed Rilwan and murdered blogger Yameen Rasheed about their pursuit of justice, and with authorities about the progress and challenges in the cases.
Global press freedom updates
● CPJ Safety Advisory: Covering the aftermath of Tropical Cyclone Idai in Southern Africa
● Widow of slain Mexican journalist Javier Valdez targeted by spyware
● Mission Journal: In Iraqi Kurdistan, journalists are victim of political tension
● Vietnamese blogger Truong Duy Nhat, who disappeared in Thailand, imprisoned in Vietnam
● Hamas detains at least 3 Palestinian journalists after Gaza cost-of-living protests
● Polish reporter Tomasz Surdel assaulted in Venezuela
● German freelancer Billy Six freed, leaves Venezuela after four months in prison
● Read the latest Turkey Crackdown Chronicle, CPJ's weekly round-up of press freedom violations in the country
● In the U.S., CPJ and others request meeting with Sacramento police over treatment of journalists at protest
Spotlight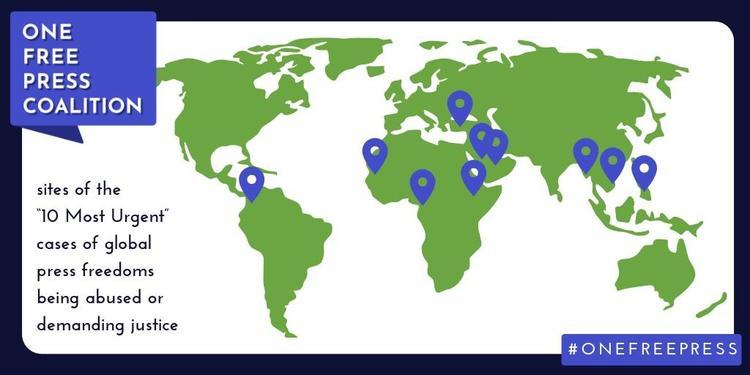 CPJ is part of the new One Free Press Coalition, an initiative bringing together leading news organizations to highlight some of the most pressing cases of journalists under threat around the world. On the first of every month, members of the coalition will publish a "10 Most Urgent" list of journalists across their platforms, compiled by CPJ and the International Women's Media Foundation (IWMF).
Some of the cases highlighted this month include CPJ Gwen Ifill awardee Maria Ressa, slain Saudi journalist Jamal Khashoggi, Mauritanian blogger Mohamed Cheikh Ould Mohamed, Cameroonian reporter Thomas Awah Junior, and Vietnamese blogger Tran Thi Nga.
What we are reading
● Reckless VII: Wife of Journalist Slain in Cartel-Linked Killing Targeted with NSO Group's Spyware — John Scott-Railton, Bill Marczak, Siena Anstis, Bahr Abdul-Razzak, Masashi Crete-Nishihata, and Ron Deibert, Citizen Lab
● This journalist fears death if he's deported — but that's what an immigration court has ordered — Tom Jones, Poynter
● 'They Think They Can Silence Us.' How Nicaragua is Waging a War on Journalists — Ciara Nugent, Time
● Press freedom in Ethiopia has blossomed. Will it last? — The Economist
● Congress must probe government's monitoring of journalists covering the migrant caravan — Alexandra Ellerbeck, CPJ North America Program Coordinator, The Hill
Do you have an Amazon Alexa-enabled device? Enable CPJ's flash briefing skill to stay up to date with the latest press freedom news from around the world.
Do you have an Amazon Alexa-enabled device? Enable CPJ's flash briefing skill to stay up to date with the latest press freedom news from around the world.