Correa's critics disadvantaged online, especially on Twitter
Long before other world leaders took to Twitter, Ecuadoran President Rafael Correa was using social media and other digital tools to air grievances and abuse his adversaries. After joining Twitter in July 2011 (with a tweet about a boring meeting), Correa quickly joined forces with another social media-savvy regional leader, Venezuelan President Hugo Chávez. Both presidents used Twitter to speak directly to their supporters, criticize their opponents, and tout their accomplishments.
More in This Report
In Other Languages
Via his @MashiRafael account, President Correa engaged in online spats with comedian John Oliver, doxxed private citizens who criticized him online, and even fired top military commanders. In 2015, a study by U.S. public relations firm Burson-Marsteller found Correa to be the world's third most conversational responsive national leader on Twitter; his audience had grown to nearly 1.6 million followers, equivalent to about 10 percent of Ecuador's total population—though it is unlikely all of those followers were people. After leaving the presidential palace, Correa has continued to use his favorite medium to launch online attacks on everyone from HBO comedy hosts to his successor, Lenín Moreno.
But while Correa was able to use Twitter to advance his political agenda, his critics found their online expression restricted, both by his administration's digital censorship and by the opaque policies of social media platforms, particularly Twitter.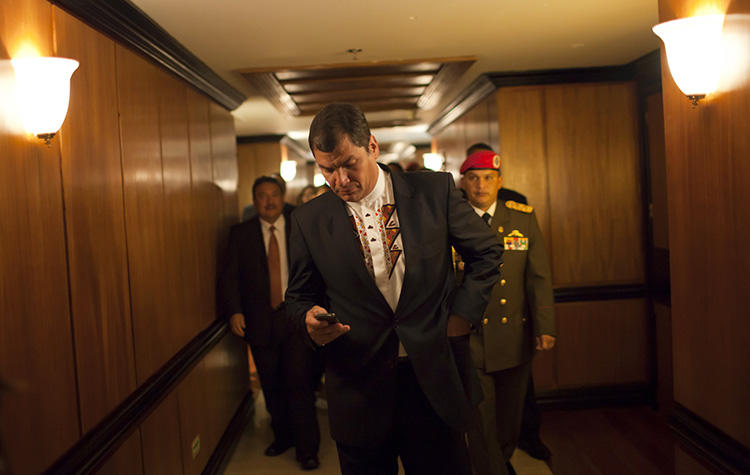 Beginning in 2012 Correa supporters launched a social media campaign, including pro-government propaganda, vicious anti-opposition trolls, and spamming, intended to shut down critics and control the online conversation, according to local analysts. In 2012, former Congressman Fernando Balda, a member of Moreno's (and formerly Correa's) Alianza País party, offered a reward for information about corruption in the Ecuadoran government. In response, an anonymous follower sent Balda a list of social-media accounts allegedly created to defend Correa from private citizens and journalists. In 2013, the government contracted with the private company Ribeney SA, which ran "troll centers" in Quito to overwhelm Twitter with praise for Correa or harass his critics, according to several investigations, including one published by media freedom organization Fundación Mil Hojas.
The government also repeatedly used a company based in Spain, Ares Rights SL, to invoke intellectual property rights under the U.S. Digital Millennium Copyright Act and force critics to take down online content, according to the Guardian. Authorities targeted content including news photos of Correa and a documentary film alleging government repression of indigenous people opposed to mining.
In recent years, "Ecuador has advanced in terms of internet infrastructure, but we've moved backwards on access and transparency," Alfredo Velazco, director of digital rights organization Usuarios Digitales, told CPJ. "People from private citizens to elected officials have been censored online."
In 2014, Twitter repeatedly suspended the accounts of several high-profile opponents of the Correa administration, including filmmaker Carlos Andrés Vera and translator and online political activist Diana Amores. Vera, Fundación Mil Hojas reporters and others accused Juan Carlos Váscones, the chief executive of Ximah Digital, an Ecuadoran company associated with Ribeney SA, of arranging the suspensions. (In response, Váscones accused Vera of defamation, according to El Universo.) Twitter suspended both Vera's and Amores's accounts three times over the course of a year. The suspensions lasted between a day and a week before Twitter reinstated them.
Colin Crowell, Twitter's vice president of global public policy, declined to address individual cases. He told CPJ he was aware that Twitter has suspended accounts in Latin America because users reported copyright or terms-of-service violations, and that the policy team is working to improve its understanding of which incidents are legitimate and which might be retaliatory.
Crowell said users "attempting to act in whistleblower fashion" or sharing the results of investigations and posting personal information might violate Twitter's rules, under which definitions vary according to local law. "I think it's fair to say that we likely have had cases where that [exposing private information] has been cause for enforcement action," he said.
Online threats to critics in Ecuador continued to escalate in 2015, after Correa appeared on his weekly television show on January 31 that year and instructed supporters to wage a social media counterattack targeting his detractors, driving them offline or causing them to lock their accounts. In July, news sites Plan V, Gkillcity, and Fundación Mil Hojas experienced incapacitating distributed denial of service, or DDoS, attacks just minutes after publishing investigations connecting the government to surveillance technology company Hacking Team.
In addition, the inconsistent treatment of the man behind the satirical Facebook page "Crudo Ecuador" exemplifies the lack of transparency Ecuador's Twitter users face. Crudo, who shares photos and memes mocking the government on both Facebook and Twitter, has seen his Twitter account shut down three times—first suspended in 2015, after sharing a photo of the Ximah staff, then deleted permanently in August 2017 for "violating rules." On March 8, 2018, Crudo posted that Twitter had shut down his second account "without any explanation." He has opened a third account and continues to tweet from there, for now.
Several journalists have also run afoul of Twitter's enforcement. Christian Zurita, an investigative reporter for Fundación Mil Hojas, was locked out of his account for several hours in February 2018 for "sharing personal information about third parties," the journalist told Fundamedios. Zurita told CPJ the information he shared was accessible through public records, and that he was not given any way to appeal or communicate with Twitter about the complaint.
"Suspensions might be based on the level of concern about the infraction itself," Crowell said. He added that Twitter should notify users facing short-term suspension or a takedown request of which content violated Twitter's rules. In some cases, he said, Twitter may offer users the opportunity to delete the offending tweet to restore access to their account.
Fernando Villavicencio, an investigative journalist and director of news website Focus Ecuador, has been battling Twitter since returning to the country in September 2017. Villavicencio, who faced seven legal cases under Correa's government, had continued to tweet under the handle @fevillavicencio even from exile in Peru. However, the account was suspended without warning in February 2018, shortly after both Villavicencio and Zurita reported on an investigation into corruption allegations against former ministers: Correa allies and brothers Fernando and Vinicio Alvarado. In a statement shared on his Twitter account, Vinicio Alvarado called the allegations "political persecution" and said the investigation did not reveal any illegal activity.
Nearly a month later, Villavicencio told CPJ he suspected that supporting documents he shared as part of the investigation resulted in a complaint, but he had not received any official communication from Twitter about what he had done wrong or how to reinstate his account. As of June 2018, with his handle still suspended, Villavicencio had to open two new accounts after one of those was also suspended. He has still not heard from Twitter.