The mysterious death of Akshay Singh
By Sumit Galhotra
"After his death, I am left alone with the responsibility of taking care of my family," Pakshi Singh said during a phone call. Nearly a year after losing her brother, the investigative journalist Akshay Singh, she was still unable to speak. She told CPJ that she struggles to sleep, adding: "What more can I say? He was the greatest kind of human being."

More in This Report
Multimedia
In Print
हिंदी में
Since July 4, 2015, when Akshay Singh died unexpectedly while covering one of India's largest corruption scandals, there has been little progress in his case, or answers for his family. Preliminary reports suggested the reporter died of a heart attack, but in July 2015, a chief minister relented to pressure that the case be examined as part of a wider investigation into the Vyapam scandal that Akshay Singh had been reporting on.
Akshay Singh's case was moved to the Central Bureau of Investigation relatively quickly, in part because the death of a high-profile journalist linked to one of India's largest corruption scandals attracted national attention. The handling of his death is in stark contrast to the other cases examined in this report, where the relatives of two small-town journalists killed after reporting on local corruption have struggled to get national oversight.
Tracking a $1 billion scam
Akshay Singh—a special correspondent at Aaj Tak, one of India's most popular Hindi-language news channels with more than 100 million viewers—died while investigating the Vyapam scandal. The scam came to light in 2013 when police arrested more than a dozen people for allegedly impersonating candidates at state entrance examinations for medical school and public sector jobs. Officials estimate it involved kickbacks exceeding 63 billion Indian rupees (US $1 billion). "Nobody thought it was of this magnitude," said Sweta Singh, an executive editor and anchor at the India Today Group.
By June 2015, police had arrested around 2,000 individuals including politicians and bureaucrats, most of whom were later released on bail, according to news reports. Madhya Pradesh's chief minister, Shivraj Singh Chauhan was also implicated, according to reports. He denied involvement. As well as the arrests, reports started to appear of witnesses and suspects allegedly connected to the scam dying in freak accidents, apparent suicides, or after complaining of chest pain. A court-appointed special investigation team found on June 26, 2015 that at least 23 of these deaths were "unnatural," local reports said.
Akshay Singh was investigating the unexplained death of a woman implicated in the scam. The body of Namrata Damor, a 19-year-old medical student who allegedly secured her college admission through the Vyapam scam, was found on railway tracks in Ujjain, Madhya Pradesh, in 2012. An autopsy report found that she died due to "violent asphyxia as a result of smothering" and that scratches on her face suggested a hand had been used to cover her mouth, according to The Guardian and other news outlets. A subsequent forensic report said the case should be ruled a suicide and police stopped investigating in 2014, according to news reports.
With the scandal and unexplained deaths making headlines across India, Akshay Singh traveled to Madhya Pradesh to speak with the dead student's family.
An intrepid journalist
Akshay Singh was no novice reporter. He rose through the ranks to become part of Aaj Tak's special investigation team. "It's not easy making it on to a special investigative team," said Akshay Singh's colleague Punita Verma. The fact that Akshay Singh was part of a special investigative team and that he was researching a major story like Vyapam were "a testament to his journalistic skills," she said. "He knew how to get the job done."
Punita Verma, who now works with the business news channel Economic Times, met Akshay Singh when she started at the privately owned TV channel Zee Business in 2009. "I knew that he was a very smart reporter. He was a street-smart guy … I remember him as someone who was pretty deep into his work. He had a very strong grasp on his work, on his beat, on his people," she said.
As astute as Akshay Singh was when it came to work, Punita Verma remembers him more as a storyteller and charmer. Punita Verma said that when a group of colleagues including Akshay Singh, shared a cab ride home after work one day, he promised to treat them all to ice cream if they dropped him off first. At Akshay Singh's stop, he got out of the car, looked at his colleagues, laughed, and said, "I'll treat you later!"
Akshay Singh and Punita Verma crossed paths again in 2014 at India Today Group, one of India's largest media houses. He was with Aaj Tak and she was a producer at India Today TV. The media house includes 36 magazines, seven radio stations, four television channels, one newspaper, and multiple web and mobile portals.
A final assignment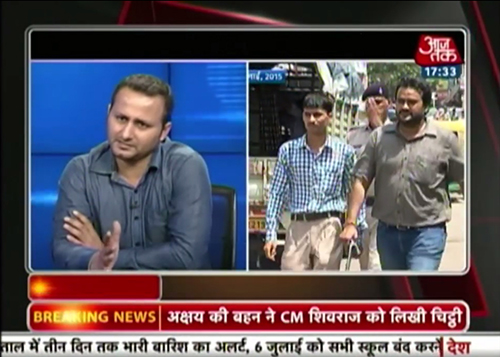 Details of Akshay Singh's last days have been built up from interviews the crew who accompanied him gave to Indian outlets at the time. On June 30, 2015, Akshay Singh and the news crew went to the city of Gwalior to meet with a contact who claimed to have leads into their investigation. They moved on to Indore on July 3 where, on the night before his death, Akshay Singh, his cameraman Kishan Kumar, and fixer Rahul Kariya shared a dinner of buttery black lentils and bread. The following morning, they traveled to the village of Meghnagar in Jhabua district, so Akshay Singh could interview the father of Damor, the medical student, about her death.
Akshay Singh and his crew arrived at the family home around 12:30 p.m. Damor's brother served water and tea in the family's living room. Footage from the interview, which the cameraman shared after Akshay Singh's death, shows the reporter sitting alongside Damor's father, asking him questions, flipping through pages of court documents and forensics files.
About an hour into the interview, Akshay Singh began to breathe heavily and froth at the mouth. His lips began trembling, his left arm contorted, and he collapsed from his seat falling unconscious, Kishan Kumar, the cameraman, said in a televised interview on Aaj Tak. The crew and the son of the man he had been interviewing rushed the journalist to a nearby hospital, where a doctor declared Akshay Singh dead. "We were in disbelief at what the doctor said. How could this happen? Akshay was young," Kishan Kumar said in the interview. The cameraman said that they took the journalist to two other hospitals in the hope that medical staff would revive him. By the third hospital, he said, it was clear that Akshay Singh was dead.
In a phone call with Kishan Kumar he declined to discuss specifics of the case, saying he was not authorized by his employer. CPJ visited the outlet's offices in the city of Noida to try to speak with Akshay Singh's employer. Staff repeatedly referred CPJ to different people within the organizations, but no one was willing to speak. At the group's request, CPJ sent an email giving a detailed description of this report, but no one responded.
Safety fears on Vyapam trail
Other journalists covering the Vyapam story said news of Akshay Singh's death deterred them from investigating the scandal, according to reports. One outlet reported that journalists said they were fearful of being poisoned while covering the story, and that they were taking extra safety precautions. The investigative magazine Tehelka quoted a Right to Information activist saying: "Singh's death is clearly a warning for the media to refrain from reporting the truth." The father of a journalist covering Vyapam was allegedly threatened with disciplinary action if his son continued to report on the scandal, Tehelka and other outlets reported. CPJ was unable to verify his claims.
Around the time that Akshay Singh was following the Vyapam trail in Madhya Pradesh, the TV anchor Sweta Singh was reporting on a different part of the story in the adjoining district of Morena. Sweta Singh was following up on a story about a man named Narendra Singh Tomar who died in a hospital after complaining of chest pain in jail, where he was being held in connection with the scam. She said that his mother believed the police killed him. Madhya Pradesh authorities denied there was any foul play and termed it a natural death.
"India is a society where people who the reporter is reporting against always have more power."
Punita Verma
Sweta Singh said that during her reporting trip, she experienced a series of strange events, including trouble with her new hire car and strangers calling her stringer's cell phone to ask what she was doing, that she first put down to coincidences. After hearing of the unexpected death of a fellow journalist covering the same story, she started to question whether she had been in danger.
She told CPJ that when she visited the grieving family's village, where residents had gathered to pay their condolences, someone handed her a cup of tea. As a female reporter, Sweta Singh said she avoids taking food or drinks from strangers for security reasons. But to avoid insulting the host, she said that she took the cup, gave thanks, and set it aside. Moments later, Sweta Singh and her cameraman were offered a soft drink, which they politely declined. Given India's culture of hospitality, this wasn't a particularly strange occurrence, she said.
The TV anchor told CPJ that after her stringer received calls from unidentified men asking, "Madam kya karne aayein hain? What has madam come here for?" she sent him away and returned to Delhi early.
Why did Akshay Singh die?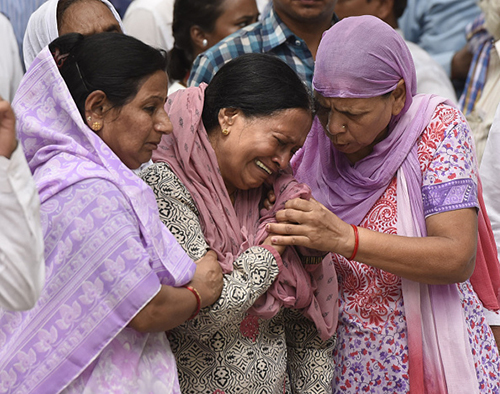 Punita Verma was running errands on her day off when she saw Akshay Singh's photo flash on the television screen. She rushed home. "I switched on the TV and there was Akshay-Akshay-Akshay all over. We were talking just four days ago," she said, her voice faltering.
News coverage of Akshay Singh's cremation in Nigambodh Ghat, east Delhi, showed close friends and family holding his mother, Pushpa, as she stood in a daze. High-ranking dignitaries from across the political spectrum, including Congress Party scion Rahul Gandhi, Delhi Chief Minister Arvind Kejriwal, and officials of the Bharatiya Janata Party were pictured in white outfits that traditionally signify peace and purity, as they paid their respects. The chairman and editor-in-chief of India Today Group, Aroon Purie, also attended.
Doctors said that Akshay Singh died of a heart attack. "The post mortem does not show any foul play. No external wounds were found on the body. To determine the reason behind the death we have sent viscera [internal organs] for histopathology and forensic analysis. After reports come in, we'll be able to give a reason behind death," according to reports quoting Dr. Ashok Bachani of the Dahod Civil Hospital in the adjacent state of Gujarat. A preliminary investigation by local authorities found nothing suspicious, according to Sweta Singh.
In a handwritten letter to Madhya Pradesh's chief minister, Shivraj Singh Chauhan, Akshay Singh's sister asked that her brother's viscera report be handled by the All India Institute of Medical Sciences in Delhi, one of the country's leading medical institutes, to ensure a "free and fair investigation."
In a statement aired on Aaj Tak on July 5, 2015, the India Today Group echoed the family's call, "The circumstances surrounding the untimely death of TV Today journalist Akshay Singh must be thoroughly and impartially investigated. We ask that the Madhya Pradesh government immediately hand Akshay's viscera report outside the state to a credible forensics body." The medical center was later sent the samples.
On July 7, 2015 Chief Minister Chauhan relented to calls for a Central Bureau of Investigation report into Akshay Singh's death along with other suspicious deaths and the scam, according to news reports. "I do not want to leave anybody in doubt over our intention to clean the system and punish the guilty," Chauhan tweeted at the time.
For colleagues like Punita Verma, many questions remain: "If a channel like Aaj Tak is coming, people have reason to be scared. Who knew Akshay was coming? Did someone sense his reporting was inching closer to another major revelation?" she asked.
In a televised interview the day after Akshay Singh's death, his cameraman, Kishan Kumar, said that he didn't suspect foul play. "From our departure in Delhi to the time when he died, I was with him, be it inside the hotel or outside; if he was meeting someone, I would stand in sight; if he ate, we ate together; if we drank water, we shared the same bottle. It's as if he did not stray from my sight."
But reports of mysterious deaths tied to Vyapam in the week of Akshay Singh's death led many, including his family and employers, to question whether this was murder. "Why would someone seemingly healthy and fit suddenly die with no warning signs?" said Punita Verma. "Somewhere I see some kind of foul play."
Left without answers
A year on, there has been little visible progress in Akshay Singh's case. It remains unclear whether Akshay Singh was murdered or died of natural causes. The Central Bureau of Investigation had not disclosed details at the time of writing and did not respond to CPJ's requests for an update on the case or comment. In CPJ's database of killed journalists, his case is classified as unconfirmed because we have not been able to determine if he was killed for his work or died of natural causes. Akshay Singh's case joins a backlog of others linked to the Vyapam scandal that are being investigated by the bureau.
Colleagues of Akshay Singh's told CPJ they are unsure if they will ever learn the truth. "If you're just another person, I have no faith in the system that facts won't be tweaked," Punita Verma said. "But yes, Akshay was a reporter, that too an India Today reporter. Aaj Tak is the number one Hindi channel in the country. Aaj Tak has a lot of power. Whether the group will use its power…to ensure the investigation carried out is credible, [I] can't say."
Akshay Singh had an outlet willing to join the call for a transparent investigation into his death. Media experts and journalists told CPJ this isn't always the case for journalists who are attacked or killed.
"How do you protect a reporter? You can't do it because India is a society where people who the reporter is reporting against always have more power," Punita Verma said. "In India you can mob lynch a guy to death, you can slap a reporter, you can do anything. The only power the journalist would have is to come back to the channel or to the newspaper and say this is what has happened, show the video, and people can say, 'Oh, this politician is a rascal.' And this is all."
She added. "At least Akshay left this world with recognition. People won't forget him easily. He's left his mark."