Almost 30 years after Peruvian war correspondent Hugo Bustíos Saavedra was shot dead, the suspected mastermind is on trial. The man accused in the murder, Daniel Urresti Elera, plans to run for president. A special report by CPJ Andes Correspondent John Otis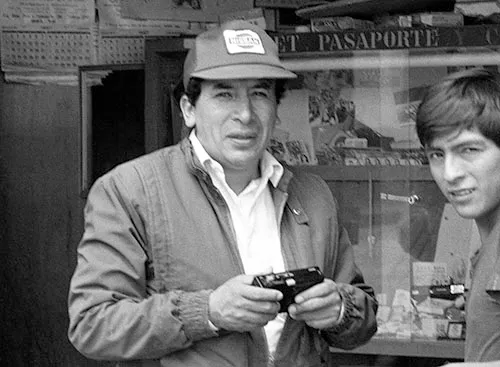 Published September 17, 2015
LIMA
Presidential hopefuls in Peru are scurrying to raise money and secure party nominations ahead of next April's election, but Daniel Urresti Elera bears an additional challenge. A former interior minister and army general who intends to run for president under the banner of Peru's ruling Nationalist Party, Urresti is on trial for the 1988 killing of war correspondent Hugo Bustíos Saavedra.
Bustíos was a reporter for Caretas, Peru's most influential newsmagazine, and president of the National Journalists Association in the war-ravaged Andean Mountain town of Huanta. He often wrote about human rights abuses committed by both sides during the government's counterinsurgency campaign against Shining Path guerrillas. Bustíos, 38, was killed on November 24, 1988, in an ambush on the outskirts of Huanta.
The killing caused a sensation in Peru and abroad because witnesses said that Bustíos and another reporter who was wounded in the attack were deliberately targeted by an army patrol. The Committee to Protect Journalists, Human Rights Watch, and the Center for Justice and International Law (CEJIL) brought the case before the Inter-American Commission on Human Rights, which in 1997 found the Peruvian state responsible for the murder of Bustíos.
But like the majority of lawsuits involving human rights violations during the war, there were no convictions in the Bustíos case, which bounced around for years between military and civilian tribunals.
Finally, in 2007, a Peruvian court found that the commander of the Huanta military base and another officer were guilty of killing Bustíos, a decision that was upheld the following year by the Supreme Court. That seemed to close the case. Then, in 2011, one of the convicted officers implicated Urresti, who was the intelligence chief at the Huanta base in 1988. In February 2015, Urresti was formally charged with murder. If convicted, he could face up to 25 years in prison.
Urresti, 59, insists he is innocent and describes the lawsuit as part of a campaign by human rights groups and rival politicians to snuff out his presidential ambitions.
"We have shown throughout the years, by way of witnesses and facts, that these allegations are false," Urresti told CPJ during a two-hour interview in April in the Peruvian capital of Lima. "I have nothing to hide."
Whether or not Urresti is found guilty, press freedom advocates told CPJ that they are heartened to see the Peruvian judicial system, which has been dogged by allegations of corruption and political favoritism, attempting to uncover the full truth behind the Bustíos killing.
Not only is it the country's most infamous murder case involving a journalist but Urresti is a friend of President Ollanta Humala, a former military officer who also faced allegations of human rights abuses. That sends a strong message to Peruvians that no one is sacred, Ricardo Uceda, executive director of the Lima-based Institute for Press and Society, told CPJ.
"The Bustíos killing is our most important case, and the fact that Urresti is on trial for it shows that the judicial system can work," Uceda told CPJ.
'No human deserves that'
A small green cross on the side of a gravel road connecting Huanta to the village of Erapata marks the spot where Hugo Bustíos died 27 years ago. Nearby sit the crumbling remains of an adobe farm house. Alejandro Coronado, a veteran Huanta reporter who covered the killing, told CPJ that soldiers hid behind this house while waiting to fire on the journalist.
Bustíos did not set out to become a journalistic martyr. As a young man, he studied law in Ayacucho, the same Andean mountain city in southern Peru where Abimael Guzmán taught philosophy before founding the Maoist-inspired Shining Path in 1980. Instead of practicing law, Bustíos settled in nearby Huanta, his hometown, where he got married and sold cochineal, an insect that feeds on cactus and produces a popular crimson dye used to color fabric.
"Hugo was a businessman," said Abilio Arroyo, a Huanta native who covered the guerrilla war for Caretas and other news outlets in the 1980s and '90s. "But he was also a source of information."
That's because even as the war intensified, Bustíos continued to travel deep into rural areas to purchase cochineal from cactus farmers, Margarita Patiño, the journalist's widow, told CPJ. On these trips, he often heard stories of how peasants had been forced to give food and shelter to Shining Path rebels and were, in turn, branded as terrorists and detained and sometimes killed by the Peruvian army.
Much later, Peru's Truth and Reconciliation Commission determined that nearly 70,000 people, mostly civilians, were killed or disappeared—and that both the rebels and government forces were guilty of widespread abuses—during the conflict, which lasted from 1980 to 2000. But at the time, investigating rights violations by the army was difficult and risky because the area in and around Huanta was controlled by the military under a state of emergency.
"The military was extremely violent. They were disappearing everybody," said Arroyo, who was detained three times by government forces in the 1980s while trying to report on atrocities. "They acted that way because they had no idea what kind of enemies they were fighting. They were not prepared for a counterinsurgency war."
Using his legal skills, Bustíos lent a hand to relatives of missing persons by filing writs of habeas corpus to find out if they were being held at Castropampa, a military base on the outskirts of Huanta that housed about 600 soldiers.
"There were only two or three lawyers in town, and no one wanted to get on the army's bad side," Coronado told CPJ. "Hugo tried to help, and the army was very uncomfortable with this. They said he defended terrorists."
In 1984, Bustíos had his own brush with military brutality when he was detained by troops. Patiño spent the next 11 days desperately searching for her husband and pleading with army officers for information. It turned out Bustíos was being held inside the Huanta soccer stadium along with dozens of other political prisoners. He was questioned, tortured, and then released without explanation. Patiño said he stumbled into their house barefoot, in rags, utterly traumatized.
"He had scars on his back and on his backside where they put hot coins to brand him," Hugo Bustíos Patiño, one of the journalist's four children, told La Mula, a Peruvian online magazine. "He was smeared with excrement and full of bug bites."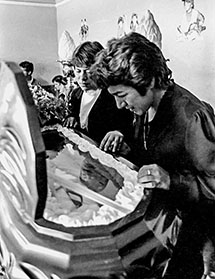 To recover, Patiño said her husband traveled to Lima for psychological treatment. He also met with the editors of Caretas. As the war intensified, they were looking for a correspondent in Huanta and hired Bustíos.
"He returned home extremely happy," Patiño told CPJ. "He said, 'Now I am going to denounce all of these abuses that are destroying my town.'"
Soon, Bustíos developed a professional relationship with the Castropampa base commander, Victor La Vera Hernández, often using him as a source of information. La Vera sometimes dropped by the Bustíos house to play with his four children, Patiño recalled.
But there was always tension between Bustíos and the army. The journalist often wrote about human rights abuses and sometimes photographed mass graves and mutilated corpses. Arroyo said the army came to view Bustíos as a witness to their atrocities and an ally of Shining Path.
Yet Bustíos also covered abuses committed by the rebels. On the day he died, he was investigating the deaths of a peasant woman and her son, who were allegedly killed by Shining Path in the village of Erapata. Troops initially blocked his way, so Bustíos and another Huanta reporter, Eduardo Rojas Arce, rushed to the Castropampa base where La Vera authorized their access to the victims' house, Patiño said.
Bustíos and Rojas then returned to Erapata on a motorcycle. Patiño, Coronado, Arroyo, and witnesses cited in reports at the time all described the following sequence of events: Just before reaching the victims' house, the two reporters were sprayed with bullets. They shouted that they were journalists, but the gunmen kept firing. Bustíos fell face down, unable to move. Despite being shot three times, Rojas dashed away, zig-zagging across fields to escape the gunfire. Then one of the shooters placed an explosive charge on the wounded Bustíos, instantly killing him
"When I went to collect him, he was in pieces," Patiño said. "No human deserves that."
Arroyo, who was then working for Caretas in Lima, immediately flew to Huanta to help lead the magazine's investigation. He told CPJ that it was clear from the beginning that the military was involved. For one thing, he said, there were no spent cartridges in the area where Bustíos was killed. Shining Path rebels, he noted, never stuck around to clean up crime scenes.
Caretas later published the accounts of Rojas and six other eyewitnesses. All of them said the army was responsible for the attack.
"The individual shooting had white skin, curly hair, and a mustache. I know that it is one of the army officials from the Castropampa base," farmer Alejandro Ortiz Serna said in sworn testimony three weeks after the murder. "After shooting at Bustíos, I saw the same man throw a grenade on his body."
But witnesses of the Bustíos killing soon began to receive death threats. Ortiz was murdered. According to Pablo Rojas, president of the Lima-based Human Rights Commission, it was nearly impossible to prosecute army officers in Peru in the 1980s and '90s. Rojas said that military officers adhered to a strict code of silence and used pseudonyms to shield their identities from local residents, journalists, and civilian authorities.
In 1991, La Vera and one of the alleged gunmen, Capt. Amador Vidal Sanbento, were absolved by a military tribunal of any responsibility for the Bustíos killing. The two officers were later shielded from the ordinary justice system under a 1995 amnesty law covering human rights abuses committed by government troops in the previous 15 years.
"They acted with impunity because they thought nothing would happen," Miguel Huerta, a lawyer for the Bustíos family, told CPJ.
However, the door to justice was finally nudged open in the early 2000s as Peru returned to full democracy following the resignation of Alberto Fujimori, the country's scandal-plagued president. In 1992, Fujimori had closed congress, suspended the Constitution, purged the judiciary, and given the military greater powers to pursue Shining Path. But under pressure from the Organization of American States, the Peruvian Supreme Court nullified the amnesty law in 2002 and judges reopened about 200 of the most notorious human rights cases—including Bustíos'.
In 2007, the National Criminal Court in Lima found La Vera guilty of plotting to kill Bustíos, and convicted Vidal of taking part in the murder. They received 17- and 15-year prison sentences, respectively, though both were released for good behavior after only about four years behind bars.
However, the court at the same time ordered that government investigators must determine if others were involved in the crime. Upon his release from jail in 2011, Vidal broke the military's code of silence by implicating a fellow officer whose name had never before been linked to the killing: Daniel Urresti.
An uphill battle for justice
Vidal told investigators that Urresti, who went by the pseudonym "Captain Arturo," was the intelligence chief and second in command at the Castropampa base in 1988. Based on this information as well as testimony from other former soldiers and civilians, Lima public prosecutor Luis Landa Burgos formally charged Urresti in February as one of the masterminds of the operation that killed Bustíos and wounded Rojas.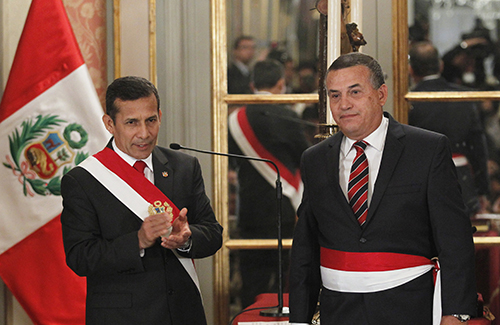 In the indictment, Landa states that shortly before Bustíos was killed, Urresti interrogated a Shining Path member who told him that the journalist was a rebel collaborator. Patiño told CPJ that her husband had nothing to do with the rebel organization. According to Landa, Urresti then passed the Shining Path detainee's information to base commander La Vera who gave the order to execute Bustíos.
"He was part of the top general operations staff at the base, so Urresti had full knowledge of the deplorable assassination of Bustíos," Landa told the Lima newspaper Diario 16 in February. "No military patrol acts without orders from its superiors."
In the April interview with CPJ, Urresti was friendly and animated. But he was clearly exasperated that such a long-ago incident had come back to jeopardize his blossoming political career.
After serving in Huanta, Urresti rose through the military ranks and was promoted to general. He left the army in 2011 to join the administration of President Humala, a former army lieutenant colonel. He was in charge of a special unit to crack down on illegal gold mining and was named interior minister last year even though he was under investigation for the Bustíos killing.
Urresti said the president sympathized with his ordeal as Humala himself faced legal charges dating back to 1992 when soldiers at a base he commanded executed two rebels. He was eventually exonerated. When asked by reporters last year about the Urresti investigation, Humala said, "We believe in the presumption of innocence."
A brash and energetic interior minister, Urresti declared a "war on delinquency," claimed to be "obsessed" with tracking down corrupt politicians, and publicly berated police officers when he thought they weren't getting the job done. Polls indicated that he was the most popular member of the Humala administration. When he resigned in February amid a cabinet shuffle, he joined the ruling Nationalist Party with the goal of becoming its presidential nominee.
"In the army, my dream was to become a general," Urresti told CPJ. "As a politician, my dream is to become president."
Urresti was equally forthright in defending himself in the Bustíos case. He claimed that Peru's judicial branch is filled by appointees loyal to an opposition political party and that the legal charges against him are designed to derail his presidential aspirations. He also claimed that prosecutor Landa went after him to curry favor with human rights organizations.
During his year-long stint in Huanta in 1988, Urresti insisted, he rarely left his desk. On the day Bustíos died, Urresti told CPJ, he was holed up in his office and didn't even learn about the killing until the following day. He described Bustíos as an army informant and speculated that Shining Path rebels gunned him down in revenge.
"Bustíos gave information to the army and openly criticized Shining Path," Urresti said. "So why would the army be angry with him?"
Critics claim Urresti's declarations are rife with contradictions. Glatzer Tuesta of the Legal Defense Institute, a Lima-based human rights group, described Urresti as a "hyperactive" interior minister who often showed up at police raids and drug busts, and was a constant presence on the TV news.
"If he is like that now, what would he have been like in the 1980s?" Tuesta said. "It's hard to imagine him sitting at his desk in Huanta doing nothing."
Carlos Romero, a lawyer for the Legal Defense Institute, pointed out that the Peruvian judicial system has twice ruled that the army killed Bustíos and is unlikely to accept Urresti's version that Shining Path was to blame. The trial is expected to last six to eight months. Whether or not Urresti is convicted, the controversy appears to be eating into his popularity.
An August survey by the Datum polling agency indicates that Urresti faces an uphill fight for the presidency. In the poll, just 5 percent of Peruvians said they would vote for him.
Nationalist Party leaders will nominate their presidential candidate in September, but some are already turning against Urresti. One of them, Congressman Omar Chehade, called Urresti a "spurious candidate" and said that in nominating him "the party would be putting a dagger to its throat."
On the day his trial started in July, a defiant Urresti arrived with a show of force. The defendant was surrounded by a scrum of supporters who chanted "Urresti is innocent" and screamed at Bustíos's widow.
But Patiño, a witness for the prosecution, remains undeterred. After decades of silence, intrigue, and impunity, Patiño told CPJ that the full story about how and why her husband was killed is finally coming to light.
"It was so long ago that a lot of people think we should just turn the page," Patiño said. "But there's never been a deep investigation into what happened. For us, it was a big surprise when Urresti came into the picture."