Introduction
By Joel Simon
For a long time, Brazil has been fighting to overcome its contradictions. The country features a dynamic, modern, and diverse economy—and some of the worst poverty in the hemisphere. It has been led by two successive Socialist governments, and yet retains one of the most skewed income distributions in the world.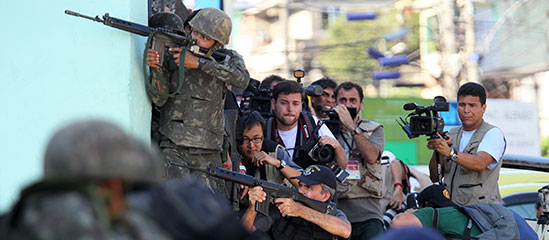 Brazil is also home to a vibrant and robust national media. But journalists are regularly murdered with impunity and critical reporters are subjected to legal harassment and judicial censorship.
When Brazil draws global attention for the 2014 World Cup and the 2016 Olympic Games in Rio de Janeiro, these contradictions will be on vivid display.
But as this report makes clear, Brazilian President Dilma Rousseff is confronting the challenge of creating a more favorable environment for the media. After initially failing to recognize the gravity of the threat posed by unchecked violence against the press, Brazilian authorities have taken steps to bring the killers of journalists to justice. In the past year, authorities obtained an unprecedented four convictions in such cases.
The Rousseff administration has also sought to improve the online environment—understandable since Brazil is rife with what is known as judicial censorship, both online and off-. Hundreds of blog posts and links are taken down each year by court order, according Google.
The Marco Civil da Internet was developed with broad input from civil society, and initially hailed as a landmark piece of legislation that could safeguard freedom of expression online. A troubling amendment that would have imposed a sweeping and onerous data retention requirement on Internet companies operating in Brazil was dropped from the final legislation.
These efforts are to be commended, but the contradictions remain. Despite the convictions, the murder rate for journalists has not declined, and Brazil continues to feature on CPJ's Impunity Index, mired in 11th place on the rankings of countries around the world where the killers of journalists go free. Laws on the books continue to make it possible for powerful figures to bring punitive suits against critical journalists—suits that drain resources from media organizations and bloggers and keep them from pursuing important stories.
The political environment surrounding the World Cup is likely to be volatile. Large street protests fueled by anger over the extravagant expenditures on sport stadiums rather than on unmet social needs are expected to resume once the matches get under way.
By mid-July, several questions will be answered.
Will Brazil be World Cup champion?
How will the government respond to protests or other disturbances?
And will Brazil's leaders show the political maturity and confidence to allow unfettered coverage by the global media?
It will take more time to answer another key question linked to the future of Brazil's democracy.
Does the Rousseff administration have the will and determination to beat back the culture of impunity and end the legal harassment of the media?
If Rousseff succeeds in creating a safe and secure environment for the Brazilian media, then Brazil will have eliminated a key contradiction. It will also have advanced in its efforts to define its political future as a hemispheric and global leader.
Joel Simon is the executive director of the Committee to Protect Journalists. He has written widely on media issues, contributing to Slate, Columbia Journalism Review, The New York Review of Books, World Policy Journal, Asahi Shimbun, and The Times of India. He has led numerous international missions to advance press freedom. Follow him on Twitter @Joelcpj.