The recent regulatory probe into coverage at Globovisión, the only TV broadcaster critical of the Chávez administration, is the latest in a long string of investigations and other harassment. The network is struggling to stay afloat. By Monica Campbell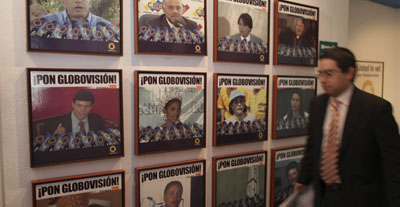 Published August 29, 2012
CARACAS
In Venezuela, there is one television broadcaster critical of the government that is still standing—but just barely. The private network, Globovisión, is contending with regulatory fines, a steady stream of government scorn, and even direct violence against its staff. It is being forced to defend itself in court and still push out coverage during a critical election year.
Nobody expects Globovisión to have an easy ride in a country where state-run media dominate and the licenses of several independent broadcasters have been revoked under the rule of President Hugo Chávez Frías. But the past year has brought unprecedented challenges. In October 2011, following a deadly riot in June at the El Rodeo Prison outside Caracas, Conatel, the national media regulator, imposed a fine of 9.3 million bolívares (US$2.16 million) on Globovisión for its coverage of the crisis.
Although other national and international media covered the riots, interviewing witnesses and worried relatives, regulators singled out Globovisión, claiming it aired excessive footage of weeping relatives and spliced in the sound of gunfire. The broadcaster, regulators concluded, promoted a climate of "hatred and intolerance." Globovisión countered that it had reported the story fully, speaking to families of those involved and working within the limitations placed on the press, which included keeping journalists cordoned off a half-mile away from the prison.
The fine is the latest addition to the government's file on Globovisión. Chávez had previously accused the station of backing a failed 2002 coup attempt against him. In that case, Globovisión met with the same government scrutiny as other private channels, including Radio Caracas Televisión, or RCTV, whose broadcast license was pulled in 2007. In 2010, RCTV was withdrawn from cable and satellite broadcasts after the station refused to air Chávez's lengthy and impromptu speeches.
Conatel also investigated Globovisión in 2009, after the station reported on an earthquake that struck Venezuela before officials had issued a public statement about it. Regulators complained that the station relied on information from U.S. seismological authorities instead of from Venezuelan officials, and that it risked sparking public panic. Globovisión's director said the country's authorities were slow to react to the quake and that reliable information was found elsewhere.
In their many administrative investigations into Globovisión, regulators have accused the network of "inciting rebellion" and creating "panic and anxiety in the population," CPJ research shows. A sanction in any one case could lead to the station's suspension for up to 72 hours; a second sanction could result in the revocation of its broadcast license.
In 2010, Guillermo Zuloaga, Globovisión's president, fled the country to escape a series of charges, including spreading false news and offending Chávez in public remarks, and usury and conspiracy in connection with car dealerships he owns. Zuloaga denied any wrongdoing and said the charges had been fabricated as a way to close the station. He remains in exile in the U.S.
"We are the last independent broadcaster standing, and the government is doing what it can to shut us down," said María Fernanda Flores, Globovisión's vice-president, in an interview from the station's headquarters in Caracas.
The government maintains that Globovisión's story is one of sensationalism and manipulation. "It's a public disservice," said Julio Rafael Chávez Meléndez, a representative of the National Assembly and vice chairman of its Commission on Media and People's Power. "Even still, they are allowed to air their stories, which clearly fulfill the opposition's political goal. But we also can't just let them run wild and trample over our laws without consequence. So while they can defend their right to exist as a supposed news broadcaster, we must defend our right to apply the law. This is not about silencing the opposition."
Carlos Ayala, a constitutional law expert in Caracas and the former president of the Inter-American Commission on Human Rights (IACHR), disagrees. He said people watching Globovisión may get the impression that the Venezuelan media are free to criticize the government, but the station is paying a very high price for airing its views. "We're seeing how far the government can go—threatening the very existence of a broadcaster by imposing huge fines." The US$2.16 million penalty for Globovisión's prison coverage is equivalent to 7.5 percent of its gross income for 2010.
Still, some critics say the station exacerbates polarization of the press and is as guilty of one-sided coverage as its pro-Chávez counterparts. While he is sympathetic to Globovisión's lone standing, Andrés Cañizalez, a professor and media expert at Andrés Bello Catholic University in Caracas, says Globovisión spends "less time on investigative journalism and more resources on pointing out the government's errors."
Lysber Ramos Sol, who heads Globovisión's investigative reporting team, said objective, journalistic probes are part of the station's mission, but that hard-hitting reports are "nearly impossible" to conduct given Venezuela's lack of transparency. Globovisión reporters also say that they are blacklisted. Very often, they say, officials deny their requests for information and government interviews. Entry to government press conferences is also routinely blocked.
"What's typical is to show up at a news conference and be stopped at the door for not being on the 'authorized' reporters list," said Sasha Ackerman, who joined Globovisión's reporting team three years ago. "So we wait outside with the rest of the excluded reporters and get information from colleagues or in some other roundabout way."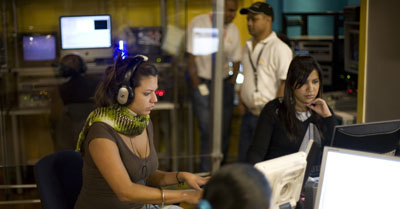 Globovisión reporters also face physical threats and intimidation. In March, a group of unidentified armed men, wearing red, pro-Chávez United Socialist Party T-shirts, attacked and stole footage from Ackerman and a Globovisión cameraman covering a rally for opposition presidential candidate Henrique Capriles Radonski. At home that evening, Ackerman's husband asked whether reporting on this year's presidential elections would be safe. "I've thought hard about it," said Ackerman. "I've never faced direct violence for reporting. But it's also made me more determined to go and report."
Meanwhile, ski-masked members of the pro-government group "La Piedrita" (Little Rock), gathered outside the Globovisión offices in March to hurl insults and wave guns, the station reported. In previous years, the group claimed responsibility for tear gas attacks on journalists and news outlets and threatened to "take up arms" against Globovisión—all while accusing the station of promoting violence against Chávez.
In 2009, the Inter-American Court of Human Rights ruled that Venezuela must provide protection to the station and its reporters, but the government never implemented the court's recommendations. The Venezuelan government, along with that of Ecuador, has proposed restrictions on the power of the court's sister organization, the IACHR, and in particular the special rapporteur for freedom of expression, whose office has issued damning reports of both countries' climate for press freedom.
How long Globovisión will be tolerated is hard to predict. "RCTV's ratings went up when it was about to be closed," said Carlos Correa, director of Espacio Público, a nongovernmental organization that promotes free expression and journalism ethics in Venezuela. "Picking on Globovisión could make it more popular." Globovisión said its advertising rates have remained steady.
In late June, Venezuela's Supreme Court ordered a freeze on Globovisión assets totaling 24.4 million bolívares (US$5.7 million). The network's lawyer, Ricardo Antela, told CPJ that the decision was aimed at forcing Globovisión to pay the fine over its prison coverage. A few days later, the network paid the US$2.16 million fine. A separate appeal to have the fine annulled is pending in administrative court. If that ruling is favorable, Globovisión will apply to have the fine reimbursed, Antela said. In the meantime, the company was forced to take on debt, he said, and the financial impact will be felt throughout the network.
Meanwhile, Antela said the situation is such that government regulators could point to any number of alleged Globovisión violations and shut it down within days.
Monica Campbell is a San Francisco-based freelance journalist and former CPJ consultant.