Chauncey Bailey was a tough local reporter who dug into crime and corruption. The murder of a journalist may seem to be an aberration in the United States, but Bailey's case shows that there is much more to the story.

OAKLAND, California
The newsman was hard to forget. He carried a handheld camera to record interviews. While on the cell phone, he scribbled notes on yellow Post-its, sticking them one by one up his arm. He asked not only the first, but often the toughest question at many press conferences. He invariably wore a collared shirt and tie even when taking a homeless man to breakfast, as he had done the August 2 morning he was gunned down three blocks from his office at the Post Newspaper Group, an African-American-owned consortium of local weeklies focusing on the San Francisco Bay Area's black communities.
"The brazen daylight murder of Chauncey Bailey may seem like an aberration because it happened in the United States. But his case looks a lot like the hundreds of other journalist slayings that have occurred around the world in the past 15 years.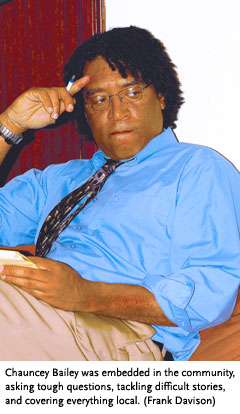 Much like Bailey, most journalists killed on the job are local reporters digging into corruption and crime. Bailey was by all accounts fearless in pursuing such stories.
"Chauncey didn't believe in alluding to anything," his publisher, Paul Cobb, told CPJ in an interview at the offices of the Oakland Post. "He went right to it."
Moreover, the murder of a journalist in the United States, though rare over the past decade, is not as unusual as one might think. (Two U.S. journalists were among those who died while on duty in 2001: one in the World Trade Center attacks and the other in an anthrax attack.) Between 1976 and 1993, 12 journalists were assassinated in the United States. Ten out of the 12 were immigrant journalists reporting in their first language (Vietnamese, French, Chinese, or Spanish) to immigrant communities, and all but a few of those murders remain unsolved.
One murder that was prosecuted was that of Don Bolles, a reporter for the Phoenix-based Arizona Republic who died in a car bomb explosion in 1976. This watershed crime drew other reporters from around the nation to Phoenix, where they reported literally in the murdered journalist's tracks. Not only did their combined coverage help authorities convict a mob-linked contractor in Bolles' murder, but their act of solidarity also led to the formation of the nonprofit advocacy group Investigative Reporters and Editors. Ongoing coverage of the Bailey murder by the late newsman's own Oakland Post (Bailey had just been promoted to editor-in-chief of this and other Post newspapers), along with reporting by The Oakland Tribune, the San Francisco Chronicle, the Chicago Tribune, the Village Voice, and other media outlets, may have already contributed to the Oakland Police Department's investigation. One suspect is in custody, and authorities have said they are investigating possible accomplices. Still, critics such as Cobb maintain that authorities have failed to cover all angles, including interviewing at least one eyewitness.
The suspect in custody, Devaughndre Broussard, helped cook and clean at Your Black Muslim Bakery, a one-time hub of Oakland community activism whose surviving owners and staff have since been tied to various criminal activities–including charges filed after the murder that involve the alleged kidnapping and torture of two women in May. Broussard allegedly confessed to shooting Bailey, although his attorney has since maintained the purported confession was made under duress. Broussard reportedly said he was motivated by Bailey's ongoing investigations of the bakery's finances and other activities, a story of importance to the local community but one that had drawn the attention of few other news outlets.
The slaying–three shots fired from a sawed-off shotgun, across the street from a day care center and next to the parking lot of the main public library–shocked a community in which Bailey, a twice-divorced father of a 13-year-old son, lived and worked. "His ethos was anything and everything black," Cobb said, adding that Bailey was dogged no matter whether he was investigating allegations about a local drug dealer or a pimping policeman.
He was hardest, perhaps, on politicians. "One thing stands out: He was always there," Oakland Mayor Ron Dellums told an overflowing crowd at Bailey's funeral. "Whether he was the lone journalist on a sunny spring Saturday in Oakland, watching several hundred children participate in a track meet, or in a large media event, there he was–camera in one hand, tape recorder in another, listening carefully, asking the first question, setting the tone."
Cobb reminded fellow journalists at a memorial dinner for the slain newsman that there is still work to be done. He urged reporters to keep close tabs on the ongoing police investigation of the murder, and to make individual and collective efforts to continue covering stories of importance to the community. That was Bailey's trademark and the reason he was so widely respected.
Frank Smyth, CPJ's journalist security coordinator, helped create CPJ's database of all journalist deaths since 1992.