By Joel Campagna
Dcember 15, 2001, dawned overcast at Pakistan's Chaman crossing point into Afghanistan, and Al-Jazeera reporter Abdelhaq Sadah and cameraman Sami Muhyideen al-Haj were anxious to get moving. Just across the border, the Taliban had fled Kandahar, their rule effectively ended by a fierce U.S. air and Afghan ground assault. The pair's assignment was to cover the aftermath.
They wouldn't get far, as Sadah recalls today. When they presented their passports, a Pakistani border guard grew angry. Sadah could go through, the officer barked, but there was a problem with al-Haj's passport. The officer produced an English-language notice from Pakistani intelligence instructing border guards to apprehend al-Haj for suspected links to al-Qaeda, Sadah recalled.
Both journalists were puzzled. Several times over two months, al-Haj had crossed Chaman with another Al-Jazeera crew without incident. Just a few days earlier, Sadah and al-Haj had traveled across the border to Spinboldak, where they reported on damage to the main Afghan road from Chaman to Kandahar.
Al-Haj thought there was a misunderstanding. The written order that the border guard produced listed the number of his old Sudanese passport, which he had lost two years earlier. A Pakistani intelligence official identifying himself as Major Nadeem arrived at the border later that day and told the two journalists not to worry. The next morning, Sadah said, the major drove off with al-Haj.
Behind Prison Walls
More than 100 journalists are jailed worldwide, CPJ research shows. In this special report, CPJ also examines secret prisons in Eritrea and how the Internet has led to more imprisonments.
"Since that time, I have not seen Sami," Sadah told CPJ. Neither have al-Haj's colleagues, family, and friends.
Al-Haj thus began an odyssey that would take him from Pakistan to Afghanistan and then on to an 8-by-7-foot detention cell at the U.S. Naval Base in Guantanamo Bay, Cuba, where he remains today with some 450 other detainees the Bush administration has designated "enemy combatants."
Championed as a prisoner of conscience on Al-Jazeera though virtually unknown in U.S. media circles, al-Haj is the only confirmed journalist now imprisoned at Guantanamo. The U.S. military alleges that he worked as a financial courier for Chechen rebels, and that he assisted al-Qaeda and extremist figures. In one taped message, Osama bin Laden purportedly called for his release.
Yet al-Haj has been held for nearly five years on the basis of secret evidence; he has not been convicted or even charged with a crime. Until this year–when an Associated Press lawsuit prompted the Pentagon to identify the detainees–the military would not acknowledge al-Haj was in custody. Al-Haj's lawyer, who has been barred from attending his client's hearings, has called the allegations baseless and the justice system at Guantanamo a sham.
"There is absolutely zero evidence that he has any history in terrorism at all," said Clive Stafford Smith, legal director of Reprieve, a London-based human rights group, who took up al-Haj's case in 2005. Stafford Smith contends that al-Haj's continued detention is political, and the main focus of U.S. interrogators has not been al-Haj's alleged terrorist activities but obtaining intelligence on Al-Jazeera and its staff.
Whatever the truth, al-Haj's detention has raised questions about the U.S. military's treatment of journalists as it pursues a global war on terrorism. In 2005, the U.S. detention of al-Haj and at least four journalists in Iraq placed the United States sixth among countries jailing journalists, just behind Uzbekistan and tied with Burma. In Iraq, each journalist was held for months without charge. Each was eventually freed; no charges were substantiated in any of the cases.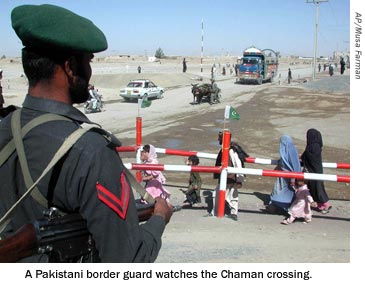 Al-Haj's supporters ask that he be given a fair trial. In June, the U.S. Supreme Court ruled that military tribunals established for Guantanamo detainees were unlawful. The court said the Bush administration must ensure minimal due process as outlined in U.S. military and international law, or it must seek congressional approval for detainee tribunals. By September, Congress approved guidelines that allow detainees the right of counsel and the ability to see evidence against them. But the guidelines still permit indefinite detention, and they allow the use of hearsay evidence and evidence obtained through coercion.
Following his detention at Chaman, Sami al-Haj spent the next 23 days in the custody of Pakistani intelligence officials before being taken to the nearby city of Quetta, where he was handed over to U.S. forces, according to Al-Jazeera.

Al-Haj was soon taken to the newly established U.S. air base at Bagram, outside the Afghan capital Kabul, for 16 days which, by his account, were the "longest days of my life." Al-Haj told Stafford Smith that he was severely beaten by U.S. troops, who accused him of recording videos of Osama bin Laden for Al-Jazeera. Al-Haj denied the accusation, and Stafford Smith said he believes the military confused his client with another, similarly named cameraman. The accusation has not resurfaced publicly.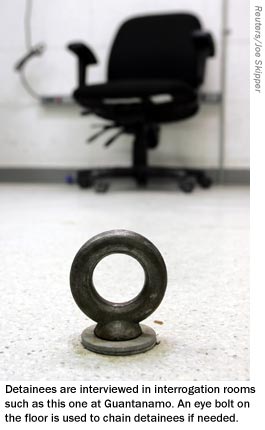 On January 23, 2002, the U.S. military brought al-Haj to Kandahar where he remained until June 13, when he was transported to Guantanamo Bay, bound and gagged, along with dozens of other prisoners. Through his lawyer and in letters he has written from prison, al-Haj has described harsh conditions at Guantanamo and has accused U.S. troops of depriving him of sleep as an interrogation technique. He said he suffers from rheumatism and has been denied medication to prevent a recurrence of throat cancer.
Al-Haj's disappearance wasn't made public until September 18, 2002, when Al-Jazeera announced in a press release that its cameraman was being held at Guantanamo. For months, the station said, it sought to resolve the matter through behind-the-scenes contacts with Pakistani and U.S. officials, fearing that publicity would jeopardize any release. Pakistani intelligence warned one of the station's reporters not to inquire about al-Haj. U.S. officials were silent.
"We have not really received any official detail from the Americans about what exactly the charges are," said Waddah Khanfar, Al-Jazeera's general manager.
To viewers of the Arab world's most watched news channel, al-Haj is a familiar face. Al-Jazeera regularly reports on developments in his case, has devoted a section of its popular Web site to the detained journalist, and, this year, broadcast a 53-minute documentary detailing his story. Yet for all the attention, al-Haj remains an enigma.

Few Al-Jazeera staffers knew him well during his brief stint at the station. By all accounts, he had virtually no experience in journalism before joining one of the world's most influential news organizations.

Born in 1969 and raised in central Sudan, al-Haj showed a keen interest in media, according to his younger brother, Asim, who recalled that he "loved reading and writing, and also photography." Asim and another family member said al-Haj studied English in India.
Discouraged by the lack of journalism opportunities in Sudan, Asim said, he bypassed a career in media and got a job in the United Arab Emirates. In the late 1990s, he worked as an administrative assistant for the Sharjah-based Union Beverages, which makes soft drinks for the Middle East and Asia. His lawyer, Stafford Smith, said al-Haj also worked for an import-export company called Romat International. Public listings show Union Beverages and Romat belong to a group of companies owned by Muhammad Abdullah al-Umran, a UAE national.

At around the same time, al-Haj met his wife, Asma, an Azeri national. They married in 1998, had a son, Muhammad, now 6, and later took up residence in Doha, Qatar.
Asma said her husband started work at Al-Jazeera in April 2000 after responding to an employment ad. He had ambition, knowledge of computers, and a strong command of English, she told CPJ. Al-Haj's lawyer and Al-Jazeera journalists said al-Haj started on a freelance basis as a trainee. Al-Jazeera reported that he was initially assigned to help cover Chechnya but never traveled there.
Fawzi al-Bushra, a long-time Al-Jazeera reporter and fellow Sudanese national, befriended al-Haj and remembers him as quiet and inexperienced but eager to prove himself. "He was a man with no credentials," al-Bushra remembered. Still, al-Bushra and other Al-Jazeera reporters said it wasn't unusual for the station to train novice journalists.

By most accounts, al-Haj's big opportunity came after 9/11 and the subsequent U.S.-led assault to unseat the Taliban in Afghanistan. Al-Jazeera, which prized exclusive images from war zones, signed al-Haj to a contract at a time when it needed cameramen, said former station director Muhammad Jasem Ali. "Sami had some training in camera and we trained him in videophone," Ali said, noting that it was difficult to find anyone willing to go to "hot areas" like Afghanistan.

Al-Haj was eager to demonstrate his worth. Several Al-Jazeera staffers said he volunteered to go to Afghanistan when there were few takers for the assignment. Al-Bushra said he advised his inexperienced colleague against going, but al-Haj insisted. "I remember saying, 'You are going to a war, not a picnic,'" al-Bushra said. "He said, 'OK, but that will give me an opportunity to prove myself.'"
Al-Haj's family was nervous, too. "But after a long discussion Sami said … he couldn't say no because he was new," said his brother, Asim.
In October 2001, new contract with Al-Jazeera in hand, al-Haj joined a crew headed by reporter Youssef al-Shouly in Taliban-controlled southeastern Afghanistan. The men worked together for nearly two months, often putting in 15-hour days, al-Shouly recalled. Using a handheld camera and videophone, al-Haj documented the civilian fallout from U.S. bombs, a common feature of Al-Jazeera's war reporting, and his shots were some of the only images coming from southeastern Afghanistan at the time. Al-Haj could be moved to tears by the bombing, al-Shouly said.
Al-Shouly and al-Haj were briefly detained by Taliban forces for reporting without authorization, according to Al-Jazeera. It was at Chaman, though, that al-Haj's career was put on indefinite hold.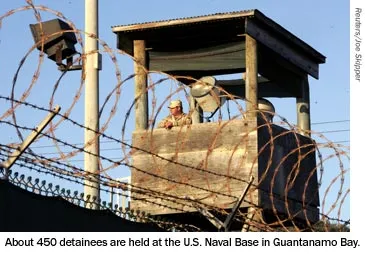 For much of the last five years, the reasons surrounding al-Haj's detention have been secret. In September 2002, CPJ wrote to Secretary of Defense Donald Rumsfeld, calling on the Pentagon to detail the basis for the detention. CPJ received no response. Spokesman Bryan Whitman did not respond to requests for comment for this story.
At CPJ's request, the Pentagon did provide declassified transcripts of hearings involving al-Haj. Those documents, along with information provided by al-Haj's attorney, shed some light on the case.
Military officials have made what appear to be several troubling allegations against al-Haj, according to a summary of his 2004 Combatant Status Review Tribunal, a hearing to determine whether detainees were "enemy combatants," and a transcript of his 2005 Administrative Review Board, a parole-type proceeding.
The military labels the allegations as "evidence." But a review of the public documents shows that they are assertions of wrongdoing without the documentation or testimony normally considered by a court to be evidence. Supporting evidence, if any, is part of the U.S. military's classified file–off-limits to the public, al-Haj, and his lawyer.

One prime allegation is that al-Haj served as a financial courier for Chechen rebels and other armed groups in the Caucuses, delivering large sums of cash from the United Arab Emirates to Azerbaijan on several occasions between 1996 and 2000. Azerbaijan was a known transfer point for arms and materiel in support of Chechen armed groups.
U.S. officials allege that al-Haj made cash deliveries on behalf of his boss at Union Beverages, Abdel Latif al-Umran, to the Baku branch of the Islamic charity Al-Haramain. Al-Umran, son of the company's listed owner, did not respond to several requests for comment. The elder al-Umran also did not respond to messages from CPJ. Al-Haramain was not on a U.S. terrorist watch list at the time, although it was placed there after the September 11 attacks.

Al-Haj is also accused of meeting with and helping secure a visa for reputed al-Qaeda founder Mamdouh Mahmoud Salim, who was extradited to the United States on conspiracy charges stemming from the 1998 bombings of two U.S. embassies in Africa. Salim was convicted in 2004 of maiming a Manhattan corrections officer.
Military officials also say al-Haj falsified Romat International documents as a way to establish a corporation in Azerbaijan. Investigators allege Salim was affiliated with Romat, but provide no details about Salim's role or the intent of the alleged scheme.
On their face, other accusations appear to be an indictment of al-Haj's journalistic work. At his 2005 Administrative Review Board hearing, military officials said al-Haj had "interviewed several Taliban officials" and top al-Qaeda figure Abu Hafs al-Mauritani while in Afghanistan.
The U.S. government's classified file could include other allegations, but such accusations, if any, have not been disclosed to the public, al-Haj, or Stafford Smith.
In a January 2005 report in The Wall Street Journal, U.S. commanders acknowledged that many Guantanamo detainees are not a threat and likely have no valuable intelligence about al-Qaeda or the Taliban.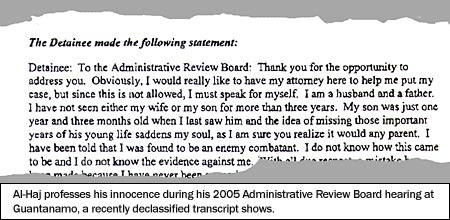 Stafford Smith said his client did nothing wrong and has no involvement with terror groups. He said al-Haj traveled to Azerbaijan for family and business reasons, delivering money for his boss to Islamic charities on one, or possibly two occasions.
"At the time Sami didn't know what it was for," said Stafford Smith, who said his client acted solely on his boss' instructions. "He thought it was going to charity." On one occasion, when he was carrying US$220,000 to Azerbaijan, al-Haj declared the cash to customs officials, the lawyer said.
The defense lawyer said his client picked up Salim at an airport on one occasion, and drove his family around Dubai another time, both at his boss' direction. Stafford Smith said that al-Haj helped secure a visa to the United Arab Emirates, not for Salim, but for Salim's relatives, again at the behest of his employer.
He said that the military has disclosed so little about the corporate document allegation that he can't respond substantively. "I really don't know what they are saying and neither does Sami," Stafford Smith said. "We haven't seen anything on this. Sami has no idea and can't respond."

In all, he said, the accusations are pernicious because–without evidence, witnesses, or even a statement of what crime was committed–they cannot be rebutted. "It is impossible to defend against 'charges' that are not real," he said. "I could charge you with being unpleasant to your mother, and you would have a hard time disproving it."

Most of Stafford Smith's information has come from his eight interviews with al-Haj at Guantanamo, information and documentation al-Haj has provided, and from recently declassified documents.
Stafford Smith cites shifting allegations against his client as evidence of the flawed justice system at Guantanamo. U.S. authorities have dropped at least three original accusations against al-Haj–that he had disseminated terrorist propaganda on the Internet; that he traveled extensively throughout the Middle East and Eastern Europe; and that he had arranged to transport shoulder-fired Stinger missiles from Afghanistan to Chechnya. The missile charge, the lawyer said, appeared to be based on a badly garbled conversation in which another detainee talked about an attempt to sell the weapons.

But for Stafford Smith, the most persuasive evidence that the case is a sham is that al-Haj's interrogators hardly seem interested in the allegations themselves. Virtually all of the roughly 130 interrogations al-Haj has been subjected to have focused on Al-Jazeera, Stafford Smith said. He said military officials have appeared intent on establishing a relationship between Al-Jazeera and al-Qaeda, questioning al-Haj about prominent network journalists, the station's finances, and how it pays for airline tickets.
At one point, U.S. military interrogators allegedly told al-Haj that he would be released if he agreed to inform U.S. intelligence authorities about the satellite news network's activities. Al-Haj refused. Bush administration officials have made no secret of their distaste for Al-Jazeera, repeatedly labeling its programming inflammatory and accusing the station of working with terrorists.
Al-Haj professed his innocence during a 40-minute hearing before the Administrative Review Board on August 12, 2005. Although he refused to answer questions about the accusations on the advice of his lawyer, a transcript of the hearing includes an impassioned plea to the review board. The transcript quotes al-Haj as saying that he misses his family deeply and that he does not understand how he could be considered an enemy combatant.
"With all due respect, a mistake has been made because I have never been a member of any terrorist group and I never took part in any terrorist or violent act," he told the board. "I can say without hesitation that I am not a threat to the United States or to anyone else. I strongly condemn any act that is taken against innocent people, and I strongly condemn the tragic attack on the World Trade Center in New York. Islam properly understood would never allow the killing of innocent people in this way."
U.S. officials have described the detainees at Guantanamo Bay as "the worst of worst," but colleagues and relatives find it difficult to reconcile that description with the shy, unassuming man they knew. Stafford Smith calls him "one of the most cheerful and upbeat people–always smiling–that I have ever met."
"He loved his wife and son–he always spoke about them," said Al-Jazeera's Youssef al-Shouly, who remembers al-Haj as a practicing Muslim not given to extremist statements. "He is a gentle person," said al-Haj's wife, Asma. "He never did anything and the Americans realize that, but the Americans put themselves in a bind and they cannot get out of it."
The review board has singled out al-Haj for very good behavior, and, according to hearing transcripts, he frequently leads prayers in cellblocks and teaches inmates English and the Quran.
Al-Haj's supporters maintain that his case has been hampered by bad publicity–or no publicity at all. Falling squarely in the first category is a purported audiotape from Osama bin Laden in which he called for the release of al-Haj and others by name. Although the authenticity of the May 23, 2006, message has been questioned by some experts, it said Guantanamo detainees "have no connection whatsoever to the events of September 11 and even stranger is that many of them have no connection with al-Qaeda in the first place."
Al-Jazeera staffers also criticize the station's initially meek show of public support for al-Haj, which contrasted with the outpouring for its star reporter, Taysir Allouni, who was jailed in Spain in 2003 on terrorism charges. "The fact it took them so long to intervene harmed him immensely," said Stafford Smith, who added that he didn't want to be "too critical of Al-Jazeera because it is in a difficult position."
Was al-Haj a knowing or unwitting conspirator with terrorist groups? Or is he entirely innocent–a journalist plucked from the field while covering the world's biggest story? What crime has he committed? What is the evidence against him? Only a fair and transparent legal process can provide those answers.
"The rule of law should prevail," said colleague al-Bushra. "He's spent five years now without a trial."
Joel Campagna is senior program coordinator responsible for the Middle East and North Africa at the Committee to Protect Journalists. CPJ Research Associate Ivan Karakashian contributed to this report.