By Mathew Hansen
Hundreds of journalists have been killed over 15 years, many on the orders of government officials. Few cases are ever solved. In the Fall/Winter 2006 edition of Dangerous Assignments

The killers struck along a lonely road south of Ouagadougou, the capital of Burkina Faso, on a Sunday in December 1998, spraying automatic rifle fire into a jeep carrying Norbert Zongo, his brother, and two companions. The gunmen set the vehicle ablaze in a bid to obscure their crime, but they could not erase Zongo's reputation in the West African nation as the uncompromising editor of the weekly L'Independant.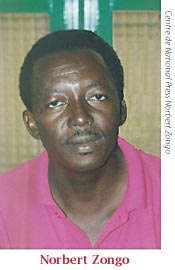 Neither, to many people's eyes, could they conceal whose hands were stained with the killings–officials in President Blaise Compaoré's government whom Zongo had investigated relentlessly for alleged torture and murder.
Zongo, whose death has gone unpunished eight years later, is among the 580 journalists killed for their work since 1992, the year that CPJ began to keep detailed death records. A new analysis of journalist deaths worldwide over 15 years–the most extensive study of its kind ever undertaken–shows that most victims were like Zongo, local beat reporters and editors whose work did not conform to the stories spun by governments, armies, and political opposition groups. More than three times every month, CPJ found, a journalist has been killed for his or her work.
If popular imagination suggests journalists are typically killed by an errant bullet or a mortar bomb in battlefields, CPJ's data show that the majority–seven out of every 10–are targeted in retaliation for their reporting and hunted down to be murdered. Even in war zones, CPJ's analysis shows, murder is the leading cause of death.
Time and again, the very governments that journalists sought to check with their reporting are believed to be behind the slayings. Government and military officials are suspected of plotting, ordering, or carrying out more than a quarter of journalist murders over the past 15 years, CPJ's analysis shows. Paramilitary groups, aligned with government security forces in nations such as Colombia and Rwanda, are suspected in another eight percent of killings.
But retribution can come from all political corners. In 24 percent of murder cases, political groups armed and allied against a government are suspected of killing journalists. Nowhere is that more evident than in Iraq, where insurgent groups are believed to have murdered more than 50 journalists.
And, like Zongo, the vast majority of journalists worldwide have been slain with virtual impunity. About 85 percent of journalists' killers in the last 15 years faced neither investigation nor prosecution for their crimes, CPJ found. Even when murders were more fully investigated and some convictions obtained, the masterminds were brought to justice in just seven percent of cases.
Print reporters faced greater retaliation than any other category of journalist, making up nearly a third of recorded deaths. But in parts of the world reliant on broadcast news radio commentators, as in the Philippines, and television journalists, as in India, bear a heavy burden. Regardless of medium, journalists were typically killed, not on assignment, but in their offices, on their commutes, or in their homes. Nine out of 10 murders, CPJ found, had the hallmarks of premeditation such as careful planning, groups of assailants, and gangland-style execution. Revenge displayed the full spectrum of human cruelty: the handgun and the rifle most commonly, but the knife, the car bomb, and the bludgeon as well.
The killers were brazen enough in a quarter of cases to have threatened the victims before murdering them. Nearly one in five victims were kidnapped as well, taken alive by militants, criminals, guerrillas, or government forces, and then killed. The kidnapping and murder of Wall Street Journal reporter Daniel Pearl in early 2002 highlighted this phenomenon, which continues in Iraq today. In several cases, notably in Algeria and Turkey in the 1990s, journalists simply "disappeared" after being taken into government custody.
Much like the killing of a police officer or a prosecutor, the murder of a journalist threatens a society by undermining one of the primary means of holding people accountable. "A journalist is the voice of his or her community," said Pedro Díaz Romero, former human rights prosecutor for Colombia's attorney general's office. "To take the life of a journalist is to shut down a channel of information for the community. And after one journalist is killed, you may not need to kill another, as a threat or act of physical intimidation may be enough to send the message to the community at large."
Speaking truth to power, a mantra of many who make their living in the press, carries with it the potential to anger and frustrate. More than one in five victims covered a political beat, and a similar number specialized in exposing corruption. They were journalists like Dmitry Kholodov and Manik Saha.
Kholodov, an investigative reporter tracking allegations of corruption in the Russian military, was murdered in 1994 when a briefcase carrying what he thought to be classified documents exploded as it opened. Saha may have been many miles and years apart when he was killed in 2004 in Bangladesh, but he was also an investigative journalist killed by explosives, murdered when a bomb was thrown into his rickshaw as he made his way home. His offense was probing too deeply into extortion and Maoist groups, and a leftist political organization took credit for his death.
Like so many other cases, investigations into their deaths were delayed or halted outright. Nearly a decade after Kholodov's killing, a Russian military tribunal acquitted the military officials accused of the crime. "It's as if our son didn't even exist and that no one ever killed him," Kholodov's mother, Zoya, told CPJ.
In Bangladesh, a judge threw out the case against Saha's accused killers and ordered a "reinvestigation." "That's their strategy," said Mainul Islam Khan, a press advocate for the Bangladesh Center for Development Journalism and Communication. "To delay as long as possible so the drive for justice becomes weaker and people will finally forget about the verdict."
While Kholodov and Saha's deaths have been attributed to governments and political groups, their cases are remarkably similar to those of hundreds of other journalists murdered since 1992. Cases are closed without explanation, evidence is ignored, and witnesses are intimidated or attacked.
Colleagues of Orlando Sierra Hernández know this last fact well. Deputy editor of La Patria in Manizales, Colombia, Sierra was shot twice on a main street as he and his daughter walked back to the newsroom after lunch in January 2002. Sierra had long probed corruption within la coalición, a political cabal that governed his province with absolute authority. In Sierra's case, the hit man and two others were convicted and jailed, but testimony and evidence pointing to the intellectual authors have led nowhere. A judge and at least two prosecutors have beseeched investigators to follow up on witness statements that a local politician ordered the hit. Three of those witnesses have since been killed, but the politician has yet to be formally questioned by investigators.
"It would be a shame for Colombia's judiciary system if this becomes another case closed with only the material authors in prison when everything surrounding this murder–the systematic disappearance of clues and sources, key witnesses gone missing or murdered–points at powerful local political interests behind the crime," said Enrique Santos, editor of Bogotá's El Tiempo, which has investigated the case extensively.
The killings tell much about a country's commitment to the rule of law. In the few cases where justice has been served, police, advocates, and community leaders combined to condemn the killings and to prosecute the killers to the fullest. In the 1996 murder of Irish reporter Veronica Guerin, a near-folk hero due to her groundbreaking investigations into Dublin's criminal underworld, community uproar led to the capture of three criminal leaders said to have ordered the murder.
The Guerin slaying was one of the "defining moments in the debate about law and order in Ireland," said Ian O'Donnell, a professor of criminology at the University of Dublin. "The calculated killing of a journalist indicated that criminal gangs felt they could operate with complete impunity." The Irish government went on to establish a specialized law enforcement bureau dedicated to seizing the assets of criminals, which relies on tracking tax records–the same investigative method pursued by Guerin herself.
The mechanisms of war–mines, artillery, shrapnel, rifle fire–have claimed the lives of 107 journalists since 1992, making crossfire in combat the second-leading cause of journalist deaths. It is the combat arena into which most foreign correspondents plunge, and so, too, where they are most often killed. Of the 89 foreign correspondents killed since 1992, 49 died in combat-related crossfire.
Michael Kelly, the Atlantic Monthly editor and Washington Post columnist, was the first U.S. journalist killed in Iraq. He was embedded with U.S. troops when the Hummer in which he was riding on the outskirts of Baghdad swerved into a canal while attempting to avoid enemy fire in April 2003.
But Kelly's death, coming less than a month after the war began, became the exception in Iraq. More than half of journalist deaths there have been murders, and the majority of the victims have been Iraqis. Common are cases such as that of Nadia Nasrat, an anchor for the Coalition Authority-sponsored Diyala TV, who was killed in 2004 when insurgents targeted a bus transporting the station's employees. Journalists affiliated with U.S. or other Western interests were in the cross-hairs in the war's first two years. As sectarian violence spiraled, some CPJ sources speculate, journalists were also targeted because of their news organizations' real or perceived sectarian affiliations.
Journalists in conflict zones have often been targeted for their supposed affiliations, CPJ's analysis found. In Algeria's Islamist struggle in the early 1990s and Turkey's flare-up of fundamentalism in 1992, political groups declared as enemies media seen as representing secular values. During Rwanda's genocide, journalists were targeted regardless of ethnicity for being seen as supportive of peace and political reform. Murder goes virtually unpunished in conflict-ridden countries, where police and judicial systems are typically dysfunctional.
The parameters are different in combat-related deaths, those in which journalists are killed by shelling, sniper, air attacks, or other acts of war. While journalists are not necessarily targeted in these cases, CPJ has found that their deaths often could have been avoided had an army's own rules of engagement been properly followed. Responsibility is murky in many of these cases, largely because the killings are rarely subjected to a thorough or impartial investigation.
In Iraq, for example, CPJ's analysis found no evidence that U.S. forces deliberately targeted any of the 14 journalists killed by its soldiers–but it also found that the U.S. military failed to fully investigate the killings.
That pattern was replicated worldwide. CPJ found 22 cases in which family or colleagues sought investigations into combat-related journalist deaths. In 14 of those cases, either no action was taken or results were not made public. Investigations exonerated soldiers in the eight other cases.
Take the case of James Miller, a British documentary filmmaker shot in the neck by an Israel Defense Forces officer in the Gaza Strip in May 2003. Crew members, who had just wrapped up a day of filming, said they were wearing jackets and helmets marked "TV" and were holding a white flag illuminated by a flashlight. Israeli officials declined to bring criminal charges or take disciplinary action even as they acknowledged that the officer violated military rules of engagement and gave conflicting accounts of his actions.
"James' family is deeply disappointed and frustrated that, in over three years since his killing, there has never been a proper, open, and transparent investigation by the Israelis into his death," said Liz Sich, a Miller family friend and spokesperson.
Journalist deaths typically spike in times of war, from about 26 in years without major conflict to roughly 46 in years of significant warfare. Several of the deadliest countries for journalists–Iraq, Algeria, Colombia, and Bosnia, for example–reflect the wars that have endangered all citizens.
But CPJ also found that the worst countries include Russia and the Philippines, where war was not the leading factor. In those nations, systemic investigative shortcomings and institutional efforts to gloss over the problem contributed to the toll by creating a climate of impunity.
In the Philippines, where more than 80 percent of the public gets its news from radio, broadcast commentators constitute the majority of victims and local government officials the bulk of suspects. But the rare cases that go to court are sidetracked because witnesses are killed, threatened, or coerced, while corrupt local police and justice officials do little to intervene.
Marlene Garcia-Esperat, a well-regarded Philippine broadcaster and columnist whose anti-graft message earned the ire of local officials, was shot in her Tacurong home in front of her horrified family on Easter weekend in 2005. Garcia-Esperat's case quickly went to court, only to have the judge dismiss indictments against two high-profile officials. Witnesses say they are being threatened, and the case is stalled.
In Russia, the spread of capitalism and private investment fueled business corruption, along with a breed of journalist eager to probe the connections between money, crime, and politics. The ensuing retaliation extended to even high-ranking news executives.
Yet Russian authorities turn a blind eye to work-related motives in journalist deaths. In at least four cases since 2000, CPJ found, Russian authorities classified journalist slayings as "street crimes" despite compelling work-related evidence. Eduard Markevich, a newspaper publisher in the Ural Mountains region, had been threatened and jailed for his paper's coverage–but when he was shot outside his home in October 2002, friends say, there was little indication that investigators considered professional motives.
"Prosecutors deliberately ignored journalism as a motive because Eduard Markevich actively criticized local officials," Maria Istomina, a family friend, told CPJ. Markevich's wife and co-publisher shut down the paper just months after the killing–when a dumbbell was thrown through her window and someone tried to set her house on fire. The murder case was closed without arrests.
If victims and circumstances vary between Russia and the Philippines, authorities in the two nations share one trait: They're quick to consider a case "solved."
In both nations, cases are considered solved if a suspect has been identified and some legal action taken–even in the absence of a conviction. "My long-term experience of communicating with representatives of international organizations, including those defending the rights of journalists, shows that they do not always comprehend many norms of the Russian code of criminal procedure," Natalya Vishnyakova, a spokeswoman for Russia's prosecutor-general, told CPJ in a 2005 letter.
"To us," said Col. Frederick Oconer of the Philippine National Police, "we say a case is solved when we have identified a suspect and filed a case in court." The national force said it considered about half of Philippine journalist murders to be solved, although CPJ's analysis found the country's impunity rate well over 90 percent. CPJ considers a case solved and justice served only when those who ordered the killing are arrested and prosecuted. If the killers are convicted and progress is made toward identifying the masterminds, CPJ considers justice to be partially served.
Over all, CPJ's database includes only those cases in which it is reasonably certain that a death was directly related to a journalist's work. CPJ continues to track–but does not include in this database–another 216 journalist deaths in which the circumstances are not clear. Neither does CPJ include in its database journalists who are killed in accidents–such as car or plane crashes–unless the crash was caused by hostile action. Other press organizations using different criteria cite higher numbers of deaths than CPJ.
Dangerous assignments, such as coverage of riots in domestic situations, account for 10 percent of journalist deaths over all and constitute the third primary cause of death. Such cases are most common in Africa and Latin America, where protesters frequently clash with police and military forces in the streets, and journalists are caught in the center.
Photographers, with a need to position themselves close to the action, are at particular risk in these situations. One example is Ken Oosterbroek, head photographer of Johannesburg's The Star, caught in the crossfire during a struggle between protesters and police on the eve of South Africa's historic elections of 1994. Due to his willingness to pursue the story, Oosterbroek did not live to see Mandela elected 11 days later.
Photographing a protest and reporting on a war bring with them inherent dangers. Yet justice and accountability can be brought to individual cases and those actions, in turn, can help address the overall death rate.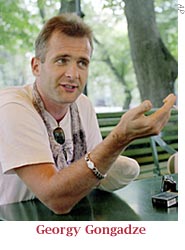 Mobilizing domestic and international public opinion has been crucial in cases where genuine progress has been made, CPJ found. Ukrainian Myroslava Gongadze led an international campaign to draw attention to the politically inspired 2000 killing of her husband, Georgy Gongadze, editor of the news Web site Ukrainska Pravda. Her efforts cast a spotlight on a decade of corrupt, authoritarian rule, eventually spawning the Orange Revolution that ousted President Leonid Kuchma. Under new President Viktor Yushchenko, three former police officials have been charged with the murder.
In other cases, CPJ found, journalists continued to probe the underlying news that drew deadly retaliation–effectively undermining the logic of killing a journalist to quash a story. In Argentina, José Luis Cabezas was kidnapped and killed in 1997 after photographing the reclusive business tycoon and reputed mafia kingpin Alfredo Yabrán. If the intention was to keep Yabrán out of the newspaper, the effect was the opposite: Argentine reporters started digging deeper, exposing the sweetheart government deals that had enriched Yabrán. A police chief and seven others were eventually convicted in the case. Yabrán, the investigative dragnet drawing tighter, committed suicide.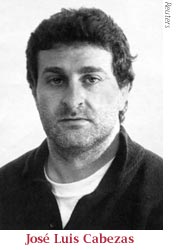 Maintaining a professional distance from politicians and newsmakers can create a more secure climate for journalists. In places such as Brazil and the Philippines, local journalists told CPJ that their own colleagues contribute to the risk by abandoning professional standards. For example, Philippine journalists cite "block-time" broadcasting, in which commentators lease airtime and solicit their own sponsors, as leading to questionable practices such as "AC/DC journalism," or "Attack, collect. Defend, collect." Some block-timers, journalists said, attack and defend reputations based on which politician is paying them at a given time.
War will always be dangerous, but educating military forces about the rights of journalists in conflict zones can make it safer. In 2005, CPJ and Human Rights Watch urged U.S. Defense Secretary Donald Rumsfeld to take basic steps to improve safety at military checkpoints in Iraq. The recommendations, many echoed by rank-and-file military officials, called for the use of non-lethal measures such as spike strips to disable vehicles; the use of international symbols to warn drivers; and the use of sirens and warning lights. Military forces must be willing to investigate journalist killings, even when they are unintentional.
It's vital, too, that lessons be learned. Postwar investigations and "truth commissions" need to include examinations of journalist deaths. Though there have been painfully few of these inquiries, those that have been undertaken have yielded strong results. The United Nations Commission on the Truth in El Salvador, which investigated human rights violations against Salvadoran citizens during the nation's 12-year civil war, also probed instances of journalists caught in crossfire. In the case of four Dutch journalists killed in a 1982 ambush, the commission implicated an Army commander who planned the raid and the Supreme Court judge who helped cover it up.
Norbert Zongo did not set out to become a martyr, but his slaying galvanized a nation fed up with political killings and official brutality. An unprecedented wave of demonstrations stretching over 18 months prompted the government to pursue democratic reforms and spurred President Compaoré to issue an extraordinary public apology in 2001 in which he expressed "deep regret for torture, crimes, injustices, bullying, and other wrongs" committed by the state.
Yet justice is elusive. Charges were dropped in July against the only person ever indicted in Zongo's murder, a former officer in the presidential guard. Burkinabé officials have grown nearly silent about what, if anything, will ever happen in the case. Wait, they say. These things take time, they explain.
That's what the parents of Dimity Kholodov in Russia were told, and they are still waiting. In Colombia, Orlando Sierra's colleagues are being told to wait, too. When the time is right, authorities say, local politicians will be questioned about their role in the brazen daylight murder.
In his work, Norbert Zongo set an example. He saw wrongdoing in a government that should have been doing right by its citizens. He looked where others averted their gaze, and for that, he was gunned down, set ablaze, his body and those of his companions left as debris on a dusty, near-forgotten landscape. Norbert Zongo's legacy is great, but it is incomplete.


CPJ consultant Matthew Hansen compiled the 15-year database of journalists' deaths.
With reporting by Tidiane Sy in Ouagadougou, Burkina Faso, Shawn W. Crispin in Bangkok, Heidi Hoogerbeets and Borja Bergareche in New York, and Frank Smyth in Washington DC.