Politics, money, and the press stir a mysterious case. By Julia Crawford
Before vanishing from the parking lot of an Abidjan supermarket on April 16, 2004, Guy-André Kieffer wrote about the volatile mix of cocoa profits, guns, and politics in Ivory Coast. A freelance journalist of French and Canadian descent–and one of the few foreign reporters left in the conflict-ridden West African nation–Kieffer had a hand in business himself as a consultant and adviser. Just two years into his stay in the former French colony, he had collected a wide network of political and business connections.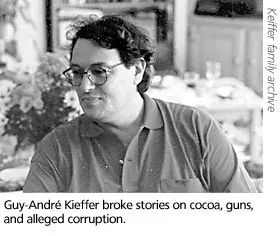 And, by his own account, Kieffer had gathered some enemies. In the days before he disappeared and his normally busy cell phone suddenly went dead, the 54-year-old Kieffer told friends and family he had been getting threats and was concerned about his safety.
The only named suspect in his disappearance is an Ivoirian businessman related by marriage to the country's first family. Michel Legré, in custody since May 2004, claimed in questioning before a French judge that a number of people close to President Laurent Gbagbo were involved, several news organizations reported and an Ivoirian official confirmed for CPJ. Yet no other suspects have been arrested and some witnesses have been hard to find. Legré's reported testimony has ignited speculation that Kieffer's disappearance was a state-sponsored crime, although investigators are also said to be considering a personal money matter or grudge as a possible motive.
With its many unanswered questions, the case has stirred political intrigue and charges of government obstruction on two continents. The investigation has appeared to sputter at times as relations worsened between France and its former colony–leaving Kieffer's family and friends to fight for the truth.
"This case has always been politicized. The fate of Guy- André Kieffer is a nuisance to Franco-Ivoirian relations," his wife, Osange, said from Paris where she lives with the couple's 18-year-old daughter. Although most people believe he is dead, she has not abandoned hope.
"As long as they have not produced his body, I will not say that my husband is dead," Osange Kieffer said. He is one of 20 journalists whose disappearances over more than two decades may have been linked to their work, CPJ research shows.
Cooperation between France and Ivory Coast on the Kieffer case has been complicated by the two countries' long history, as well as their recently strained relations. Ivory Coast was a French colony for more than 60 years, and ties between it and France remained strong even after its independence in 1960. But tensions have risen since the Ivoirian civil war began in 2002. Ivoirian government supporters have accused France of supporting the rebels, and the two countries briefly engaged in hostile actions last year.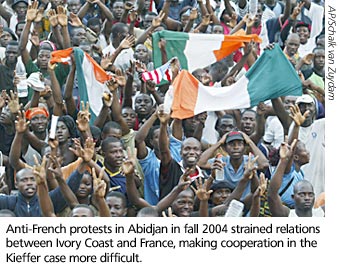 Nevertheless, the nations are still bound by a number of agreements–including one that pledges them to cooperate on certain judicial investigations such as the Kieffer case. In interviews with CPJ, Kieffer's family and friends expressed confidence in the efforts of the French investigating judge, Patrick Ramaël, but accused both the Ivoirian and French governments of obstructing the investigations for political reasons.
French Foreign Ministry spokesman Jean-Baptiste Mattei denied such allegations. "There is absolutely no desire to hamper [Ramaël's] movements in any way," he told CPJ. Ale Yéo, chief of staff for the Ivoirian justice minister, said the two countries were cooperating well on the judicial inquiry. "Each time that Judge Ramaël asked for authorization to come to Abidjan it was granted. And he has been able to carry out investigations without any problems from the Justice Ministry," Yéo said. "But some of the people he wanted to question refused to answer the summons. And some have disappeared."
Aline Richard, Kieffer's friend and colleague for 15 years at the French business newspaper La Tribune, said she believes he was targeted for his investigations into sensitive business issues. Kieffer was considered a specialist in the profitable cocoa and coffee sectors, and worked briefly as a consultant for a company that advised the Ivoirian government on reforming the cocoa trade.
Kieffer had undertaken several investigative stories, notably one that explored the alleged use of cocoa profits for arms purchases, according to the Paris-based business newsletter La Lettre du Continent, to which Kieffer was freelance contributor. His last story concerned a payment to Guinea- Bissau from a frozen bank account belonging to that country's late former dictator Ansumane Mane. Kieffer's story charged that some Ivoirian officials took commissions from the account, according to La Lettre du Continent.
While not ruling out the possibility that such stories led to Kieffer's disappearance, Stephen Smith, Africa editor of the French daily Le Monde, is more circumspect. Smith told CPJ that Kieffer was "walking a borderline" between journalism and business, and that he sometimes used his reporting to influence business deals. In a May 5, 2004 article, Le Monde said that Kieffer "informed some people, advised others and, under transparent pseudonyms, went hammer and tongs for senior personalities, without worrying unduly about the possible dangers."
France opened a judicial inquiry into Kieffer's disappearance
in May 2004, after his wife filed a complaint in a Paris court. Ramaël went to Abidjan that month to begin his probe and questioned Legré, the brother-in-law of Ivory Coast's first lady, Simone Gbagbo, and a regular source for Kieffer. Legré was due to meet Kieffer for lunch the day he disappeared and is the last person known to have seen him.
Legré told Le Monde in May 2004 that Kieffer did not turn up for their lunch appointment but had called to say that he was at the nearby Prima supermarket, where Legré met him in the parking lot. "He was nervous, tense," Legré told Le Monde. "He told me only that he was due to meet a white guy who had owed him money for a long time, and that he planned to go to Ghana for the weekend." Legré told Le Monde that he left without asking further questions.
During 10 hours of questioning before the French judge, Legré identified a number of senior defense, security, and finance officials as being involved in the disappearance, Yéo said. Of those named, each has publicly denied involvement, and none has officially been declared a suspect. Investigators have questioned most of the officials, Yéo said, although they have been unable to find two soldiers named by Legré. Ramaël declined comment when contacted by CPJ, citing judicial confidentiality rules.
Shortly after the French investigation started, Ivoirian authorities launched their own inquiry. They arrested Legré and charged him as an accessory in the kidnapping, confinement, and–though no body has been produced–murder of Kieffer. The French judge has also charged Legré with complicity in Kieffer's kidnap and confinement.
One of Legré's lawyers, Alain Assamoi, told CPJ that Ramaël had pressured his client into linking government officials to the disappearance, and that Legré had later retracted the assertions. He said his client had pleaded not guilty to all charges.
Véhi Étienne, a presidential adviser, said allegations linking senior officials to Kieffer's disappearance were "part of propaganda campaigns seeking to soil the image of the president" and were promoted by "media close to the opposition and to the armed rebellion." He added, "There are several possible trails outside of the investigation pursued by the French judge," including ones implicating "foreign citizens who have nothing to do with the president."
Citing the two countries' judicial cooperation agreement, Ramaël has requested that Legré be transferred to France for two months of questioning. But at the end of February, Ramaël returned from a fourth visit to Abidjan without the suspect. Legré remained in prison in Abidjan when Dangerous Assignments went to press.
Richard said she believes France is unwilling to pressure the Ivoirian authorities for fear of further damaging relations with President Gbagbo, whom it sees as a necessary partner in the fragile peace process.
Such concerns prompted Richard to set up the Truth for Guy-André Kieffer Association. Composed mainly of journalists, the group has launched a petition on its Web site calling on the French and Ivoirian governments to "employ every possible effort to find the truth." The association collects information about the case, lobbies the governments, and encourages media coverage.
Osange Kieffer, who has met with Ramaël, accused the French authorities of trying to stall the judge's investigation and block Legré's transfer. An official from the French Foreign Ministry said that any delays were due to normal procedures and that the transfer request was being processed.
"I know the judges and I believe they are interested in finding the truth," Le Monde editor Smith said. "But I think it embarrasses the two governments and there is extreme tension between the two governments."
The strain was at its worst last November when Ivoirian government air attacks on rebel positions killed nine French peacekeepers. The French retaliated by destroying most of the small Ivoirian air force. This action led to violent anti-French demonstrations in Abidjan that were fueled by state-owned media. Thousands of expatriates fled the country.
Despite a peace agreement brokered by France in early 2003, Ivory Coast remains divided between a rebel-held north and a government-controlled south. Most foreign reporters have left the country for security reasons, especially after the October 2003 murder of Radio France Internationale correspondent Jean Hélène by an Ivoirian police officer. Hélène's murder was widely blamed on anti-French sentiments that were whipped up by local media and progovernment forces.
Richard complains that Kieffer's case has received less attention from the French government and media than those of journalists Florence Aubenas, Christian Chesnot, and Georges Malbrunot, who were abducted in Iraq. Aubenas, who works for the independent daily Libération, was taken in Baghdad with her Iraqi translator on January 5. Chesnot of Radio France Internationale (RFI) and Malbrunot of independent daily Le Figaro were released in December after being held captive for four months by an Iraqi insurgent group.
"I think it's absolutely normal that people mobilize for Aubenas, Chesnot and Malbrunot," Richard told CPJ. "What is not normal is that they don't do the same for Kieffer. … If you are a freelance and you go missing, it's more difficult." The vast majority of the 20 journalists on CPJ's missing list disappeared in conflict zones such as Chechnya, Kosovo, and Iraq; others vanished in remote areas where there is little media attention. Nearly all went missing in places where the rule of law is weak, the judiciary ineffective, and the government indifferent to solving such cases.
Left behind are the journalists' families who, in most cases, have few credible details to help them understand what may have happened. They have little to cling to but the fight itself–the struggle to keep their cases on government agendas and in the headlines.
"It's very, very important," Osange Kieffer said, "because it means the cloak of silence cannot fall."
At least 19 other journalists have gone missing since CPJ began compiling case files more than two decades ago . Detailed reports are available. Here are their stories:
Kazem Akhavan, IRNA, July 4, 1982, Lebanon
Akhavan, a photographer for Iran's official news agency, was seized at a checkpoint near Byblos. Initial theories centered on Phalangist militiamen, but a 1998 story in the Israeli newspaper Ha'aretz raised speculation that Israel could have been holding the journalist.

Mohamed Hassaine, Alger Républicain, March 1, 1994, Algeria
Hassaine, a reporter, was seized by unknown assailants. Four years later, CPJ conducted interviews in the capital, Algiers, but discovered no evidence of his whereabouts.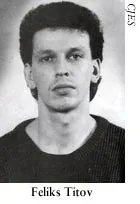 Maksim Shabalin and Feliks Titov,
Nevskoye Vremya,
February 27, 1995, Russia
Shabalin, assistant political editor of the St. Petersburg daily, and Titov, a photographer, were reported missing in Chechnya after leaving Nazran for their fifth trip to the republic.

Sergei Ivanov, Nevskoye Vremya, June 16, 1995, Russia
Ivanov, a correspondent for the paper, went to Chechnya to look for colleagues Shabalin and Titov. He vanished after entering a mountainous region, said Alla Manilova, the editor-in-chief.

Andrew Shumack, freelancer, July 28, 1995, Russia
Shumack, an American working for the St. Petersburg Press, was last seen leaving Grozny. U.S. Embassy officials made repeated trips to the region to no avail.
Manasse Mugabo, United Nations Assistance Mission in Rwanda Radio, Rwanda August 19, 1995,
Mugabo, director of the UNAMIR radio service, left Kigali for Uganda and has not been heard from since.

Vitaly Shevchenko, Andrei Bazvluk, and Yelena Petrova, Lita-M, August 11, 1996, Russia
Shevchenko and Bazvluk, Ukrainian television journalists, were last seen in Grozny during heavy fighting between Russian and Chechen forces. Petrova, a senior executive of Lita-M, was also reported missing after failing to contact her studio.

Emmanuel Munyemanzi, Rwandan National Television, May 2, 1998,Rwanda
Munyemanzi, head of production services, disappeared in Kigali. Two months earlier, the director of the Rwanda Information Office had accused him of sabotage because of a technical problem during the taping of a political debate.

Djuro Slavuj, Radio Pristina, August 21, 1998, Serbia and Montenegro
Slavuj, a reporter at the state-run Radio Pristina, and his driver disappeared on assignment in Kosovo. Having left Orahovac, they were en route to Malisevo.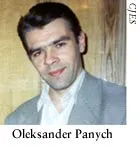 Belmonde Magloire Missinhoun, Le Point Congo, October 3, 1998,
Democratic Republic of Congo
Missinhoun, owner of the independent financial newspaper, has not been seen since his arrest after a traffic accident with a military vehicle in Kinshasa. Missinhoun had ties to the government of Mobutu Sese Seko, which had fallen a year earlier.
Oleksandr Panych, Donetskiye Novosti, November 2002, Ukraine
Panych, a journalist and manager for the daily newspaper, disappeared from the southeastern city of Donetsk. He wrote about drugs and business issues.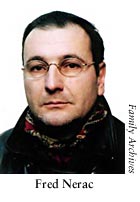 Fred Nerac, ITV News, March 22, 2003, Iraq
Nerac, a cameraman for the British news organization, disappeared when his car came under fire en route to Basra. A security firm hired by the news agency said that Nerac and translator Hussein Othman might have been pulled from their car by Iraqi forces.

Acquitté Kisembo, Agence France-Presse, June 26, 2003, Democratic Republic of Congo
Kisembo, a fixer and reporter, was reported missing in Bunia. Local journalists say militiamen loyal to the rebel Union of Congolese Patriots may have seized Kisembo.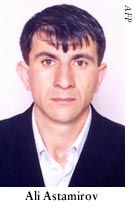 Ali Astamirov, Agence France-Presse, July 4, 2003, Russia
Astamirov, a correspondent, was seized by gunmen when he stopped for gas in Nazran, in the republic of Ingushetia. Astamirov reported on sensitive issues such as the war in Chechnya and had endured months of harassment by police and security forces.
Reda Helal, Al-Ahram, August 11, 2003, Egypt
Helal, an editor with Egypt's semiofficial daily, was last seen entering his home in Cairo. Helal was considered controversial by some because of his support for the U.S.- led war in Iraq.
Isam al-Shumari, Sudost Media, August 15, 2004,Iraq
Al-Shumari, a cameraman for the production company, is believed to disappeared in Fallujah. Relatives said he was traveling with cameraman Mahmoud Abbas, who was killed in heavy fighting.
Julia Crawford is CPJ's Africa program coordinator.