Libertad para Vázquez Portal! [ Read "Spy Games," by Gustavo Gorriti, in
Dangerous Assignments, Fall / Winter 2003, p.8 ]
New York, July 1, 2004–Cuban journalist Manuel Vázquez Portal, who was imprisoned with more than two dozen other journalists in a government crackdown on the independent media more than a year ago, was released on June 23. Initial press reports indicated Vázquez Portal, who suffers from a respiratory ailment, had been granted a medical parole.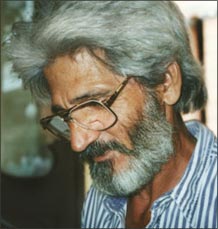 But in an interview with CPJ on June 28, Vázquez Portal said he received no explanation from the government about his release. His 18-year prison sentence has not been annulled, so he fears he could still be sent back to prison at any time. Upon his release, Vázquez Portal said, two state security officers suggested he leave the country.
Fellow journalist Carmelo Díaz Fernández was also freed, but 27 others remain imprisoned. CPJ, which launched a petition drive to free Vázquez Portal in 2003, continues to call for the release of all the journalists.
"We are happy that Vázquez Portal and Díaz Fernández are home with their families, but neither journalist will be truly free until their sentences are annulled and they can continue their work," CPJ Executive Director Ann Cooper said. "We also remain gravely concerned about the 27 other journalists who remain in Cuba's prisons, and we urge the Cuban government to unconditionally release all of them."
The journalists–representing about a third of the island's independent press corps–were arrested, summarily tried, and convicted during three weeks in March and April 2003 while the world's attention was focused on the war in Iraq. The journalists, many of whom were accused of acting as "counterrevolutionaries" at the service of the United States, were given prison sentences ranging from 14 to 27 years.
Background

In November 2003, in recognition of all Cuban independent journalists who attempt to disseminate news in a climate of harsh government repression, the Committee to Protect Journalists honored Vázquez Portal with one of its International Press Freedom Awards.
A writer and poet, Vázquez Portal was born in 1951 in the city of Morón, in Ciego de Ávila province. He worked as a high school teacher, as a literary adviser to the Ministry of Culture, and as a journalist for state-owned media outlets. In 1995, Vázquez Portal began working for the independent news agency Cuba Press. In September 1998, he helped establish the independent news agency Grupo de Trabajo Decoro, where he worked until his arrest in March 2003.
Vázquez Portal's articles, mostly opinion pieces published on the Miami-based news Web site CubaNet.org, offered insightful criticisms of the Cuban political system, as well as commentary about the disillusion of many Cubans during the 13-year economic and social crisis that has rocked his country.
After being sent to prison, Vázquez Portal joined other imprisoned journalists in at least two hunger strikes. Each time he was severely punished. During a prison visit on January 30, 2004, Vázquez Portal told his wife, Yolanda Huerga, that during his most recent hunger strike, he had been kept nearly naked for 21 days in a cold cell with no mattress. He also told Huerga that he had been kept in complete isolation, and that prison authorities had forbidden other prisoners to come close to him.
Vázquez Portal's imprisoned colleagues, who are being held in maximum-security facilities, have denounced their unsanitary prison conditions, inadequate medical care, solitary confinement, and lack of access to the press and television. They have also complained of receiving foul-smelling and rotten food.