Two witnesses have identified a journalist's murderer, but in a city of warlord politics and rampant corruption, the suspect remains at large.
PAGADIAN CITY, Philippines
"Just close the door and lock the gate. Be careful," Edgar Damalerio told his wife, Gemma, by cell phone as he was leaving a press conference. "I'll be home soon." It was 7:30 pm on May 13, and that was the last time they would speak to each other. Thirty minutes later, Damalerio, an award-winning journalist known for his fiery radio and cable television commentary and his stinging investigations into police corruption for the Zamboanga Scribe and the Mindanao Gold Star daily, was dead.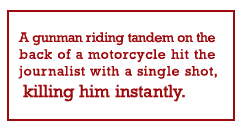 A gunman riding tandem on the back of a motorcycle hit the journalist, 32, with a single gunshot as he was driving his jeep home on a crowded street in this tumbledown port city 490 miles (780 kilometers) south of the Philippines' capital, Manila, on the island of Mindanao. He was killed instantly. Two friends riding with Damalerio recognized the shooter as a local police officer, a man investigators now say has a notorious criminal record. "He circled the block and came back a second time, just to make sure Edgar was dead," says Edgar Amoro, one of the witnesses. "This time, he was riding alone on the same motorcycle. He slowed down and looked carefully. We had a clear view of him."
In another place, this crime might be relatively easy to solve. The victim was well known locally, and two witnesses were eager to come forward and talk to police. Plus, the shooting occurred across the street from the local police station. But Pagadian City isn't your typical town. A dusty trading port surrounded on one side by verdant hills dotted with coconut plantations and on the other by a gentle coastline interspersed with fishing villages, Pagadian City has the slapdash feel of a poor town where a very few people make quick money. While coconuts and rice may be the staple crops, smuggling and corruption, say the locals, are the real source of wealth for a small percentage of the population.
Despite the town's remote location, Damalerio's murder drew condemnation within the country and abroad, and authorities in Manila, a world away from Pagadian City, say they are also trying to move the case along. In the Philippines, however, justice can be elusive. (CLICK HERE FOR MAP) In the countryside, far from the capital, warlord politics, official corruption, and a breakdown in the justice system have contributed to the fact that 39 journalists have been murdered since democracy was restored in 1986–and all those cases remain officially unsolved. Damalerio's murder, number 38 on that grisly list, fits into this familiar pattern. (On August 22, newspaper editor Sonny Alcantara was gunned down in the town of San Pablo, 50 miles [80 kilometers] south of Manila, becoming the 39th journalist in the Philippines to be killed for his work.)
Number 35 on the list was also killed in Pagadian City. Olimpio Jalapit, a radio personality and perhaps the city's best-known journalist, was killed under similar circumstances to Damalerio in November 2000, by a drive-by shooter on a motorcycle. Jalapit frequently criticized one of the most powerful political families in the area.
The Jalapit case, like so many others, languishes. The sole witness went into hiding after a stranger confronted him during the victim's funeral and said, "You're next." Jalapit's family has given up hope of ever finding the killer. "Nothing has happened. Nothing," says Jalapit's brother, Albin. "We are also afraid, and we cannot rely on law enforcement or government to help us."
In Damalerio's case, all fingers point toward the police. Piecing together the incident, it is clear that something was afoul from the outset of the investigation. Within minutes of the crime, local police arrived, cleaned the area thoroughly, removed the body, and impounded Damalerio's jeep. According to the two witnesses, no photographs were taken of the crime scene, and any physical evidence that might have been part of the investigation was destroyed. Even the local coroner refused to order an autopsy, says Damalerio's widow.
Fearing a police cover-up, Damalerio's family and friends turned to the local office of the National Bureau of Investigation (NBI), the Philippines' equivalent to the United States' Federal Bureau of Investigation. Friolo Icao, the lead NBI investigator in Pagadian, says that the witnesses were credible, that they had identified the assailant from a photo array, and that the NBI had recommended that local prosecutors issue an arrest warrant for Officer Guillermo Wapili, the alleged gunman, as far back as May 17.
"He is in my rogue's gallery," says Icao of Wapili, taking a heavily creased, inch-thick folder from a dusty filing cabinet in his cramped office. "Here he is." Icao turns the page to a photograph of Wapili and a record of previous allegations for car theft and kidnapping, all of which the local court dismissed. "He is a notorious character in this place. We do not understand why he is still in uniform as a policeman," says Icao. (Numerous attempts to contact Wapili for comment on this article were unsuccessful.)
At the NBI's recommendation, Wapili was detained, but officials released him a few days later because no charges were filed. Following the allegations against him, Wapili's lawyer–a local politician for whom, according to the NBI, Wapili once served as a bodyguard–claimed that Damalerio's friends, the witnesses to the murder, Amoro and Edgar Ongue, were accomplices to the crime. Meanwhile, local police issued a statement naming Ronnie Kilme, a local criminal, as a suspect in the murder.
Icao, who is familiar with Kilme, says that Kilme couldn't be the murderer because he wasn't in Pagadian at the time of the crime. "All of these other cases are just obstruction," says Icao. "I have every reason to believe that the police are only trying to complicate the case."
The result of the charges and countercharges was predictable: The case stood still. Fearing threats against her and the couple's 5-month-old son, Gemma Damalerio went into hiding in another province with her late husband's family. In a feat of extraordinary courage, the two witnesses, Amoro and Ongue, stood their ground, signing affidavits and insisting they were ready to testify.
When nothing happened to advance the case in the weeks following the murder, Gemma and Amoro traveled to Manila in June to ask national authorities for assistance. They called on a relative of Gemma's, a retired air force officer, who helped them weed through the bureaucracy and convinced the Justice Department to transfer jurisdiction of the case from the local prosecutor to a regional office. Interior Secretary Joey Lina, who also chairs the National Police Commission, says that because of the murder, he personally ordered the reassignment of the Pagadian police chief, Asuri Hawani. "I ordered that fellow relieved," says Lina, sitting in his office above the noise and pollution of downtown Manila, "because he was covering up the crimes of his men."
Behind the scenes, additional pressure was being brought to bear. A senior army general with long experience in Pagadian is now on the personal staff of President Gloria Macapagal Arroyo. He knew Damalerio personally and made phone calls trying to move the case along. He has even provided a uniformed army soldier as a bodyguard for Hernan de la Cruz, editor of the Zamboanga Scribe, a local tabloid to which Damalerio contributed regularly. "Just after the murder, we received four calls at the office warning that I might be the next one," says de la Cruz. A devout Christian and father of three young children, he adds, "I pity my profession in Pagadian. I want to divulge these anomalies in this place, the corruption. But I think to myself what will happen to my family if I do?"
De la Cruz and other Pagadian journalists say that with Damalerio dead, the airwaves no longer resonate with outspoken commentary or probing journalism. Damalerio made a lot of enemies, including the local mayor and former police chief Hawani, but he knew what he was talking about. "Edgar spoke the truth and he was not afraid. He went forward without fear," says Decca Judilla, the general manager of the local electric cooperative, who hired Damalerio to help edit the cooperative's newsletter.
"There are so many killings here," she sighs. "They are done very professionally and they never find the real culprits. The freedom of expression is really at risk here. It is really not safe for the journalists and it curtails our freedoms."
And it isn't getting any safer. On August 10, a possible third witness in the case, a local civilian militia member named Juvy Lovitaño, was killed in an ambush in a village near Pagadian City. Local investigators found a note he was carrying that outlined how a Pagadian City police officer contacted Lovitaño looking to take out a contract on Damalerio's life. In the note, Lovitaño wrote that an officer offered him 50,000 pesos (US$1,000) to kill Damalerio on behalf of then police chief Hawani.
According to NBI's Icao, before Lovitaño was killed, he had turned the information in the note over to NBI authorities in Manila, and the bureau was attempting to locate Lovitaño in order to get him to sign an affidavit. But the NBI was too late. Lovitaño was murdered, and it is now unlikely that any court will introduce the note into evidence. The police officer who allegedly approached Lovitaño was murdered shortly before the Damalerio killing, says the NBI.
Hawani, who has been reassigned to a desk job at local police headquarters, could not be found for comment on the allegations in the note. His immediate superior, Police Chief Superintendent Pedrito Reyes, the police commander for the province, canceled two scheduled interviews in Pagadian and failed to return phone calls.
"It is really difficult ever to know who is the mastermind of these killings," said Icao. "The transaction is between the gunman and the mastermind, so unless someone tells us, how will we know?
The witnesses, Amoro and Ongue, meanwhile, are trying to join the Department of Justice's witness protection program, but that, too, is slow in coming since no one has yet been arrested for the crime.
On August 22, Ricardo Cabaron, the lead prosecutor in the case, from the regional prosecutors office in Zamboanga City, south of Pagadian City, conducted an informal hearing on the matter. During the proceedings, the witnesses confronted Wapili in court, identifying him as the gunman. Cabaron explained, however, that he needed more time to consider the police's countercharges, which named a different gunman.
When asked if there will be an arrest, Cabaron–who openly conceded that he was nervous about his own security in Pagadian and admitted that he "left right after the hearing because it is not safe to stay there"–says maybe some time this fall, maybe longer. Meanwhile, Wapili is living in the local police headquarters camp and moving freely around the city, says the new police chief in Pagadian, Nelson Eucogco. Reyes, the provincial police commander, lifted a temporary suspension order against Wapili because "no case was ever filed in court." Eucogco, who succeeded Hawani, said he was willing to arrest Wapili when and if the government filed a case against him in court.
The congresswoman representing Pagadian, Nenette San Juan, said she is also pursuing the Damalerio case, but that she, too, feels powerless to do much given the system of secret allegiances and hidden pressures that exist in the area. She has brought her concerns to the president and has asked for changes in the local police. "These powerful people have been around for so long and they can file any case. They use any power at their disposal. These journalists were the only ones to challenge them, but we all have to be careful if we are going to survive."
Of course, all of this provides little comfort for Damalerio's widow and his son. When Damalerio died, there was no insurance and no pension–nothing but memories of a young man who believed in what he was doing, says Gemma Damalerio from her new home, where she has been staying to avoid threats back in Pagadian. "Now we just want to know who killed him."

A. Lin Neumann is CPJ's Asia program consultant, based in Bangkok, Thailand. This article is based on a CPJ fact-finding mission to the Philippines.

This article first appeared in
Dangerous Assignments.
You can download the full publication in PDF (Adobe Acrobat) format.
Click here to download PDF file (1 mega).
Please wait a few minutes for download to begin.