Introduction
In July 2001, a CPJ delegation visited the Mozambican capital, Maputo, to learn more about the murder of journalist Carlos Cardoso, who was gunned down in November 2000. The delegation included board member Clarence Page, a columnist with the Chicago Tribune; CPJ deputy director Joel Simon; Africa -program coordinator Yves Sorokobi; South African -journalist Phillip van Niekerk; and Mozambican journalist Fernando Lima. During their visit, members of the -delegation met with dozens of journalists from print and broadcast media, both state-owned and private, as well as with high-ranking Mozambican government officials. The following account is based on information provided to CPJ during its visit, as well as on subsequent interviews.
The delegation found that eight months after Cardoso's murder, journalists in Mozambique remained afraid to cover sensitive stories, particularly those involving corruption, and that an inadequate investigation of the Cardoso case has contributed to this fear. Every person that the CPJ delegation interviewed agreed that the fear engendered by Cardoso's murder has left a serious gap in investigative reporting in the country. CPJ believes that press freedom in Mozambique has been deeply compromised by the Cardoso killing, and that only an exhaustive investigation that aggressively pursues every lead can restore public confidence among journalists there. The findings were especially disappointing given that CPJ and other press freedom organizations have been encouraged by Mozambique's past record; the country is known as a place where both the independent and state-sponsored media have competed freely, without official interference.
Two brothers from a prominent banking family, one of their business partners, and three alleged gunmen are in jail on charges of conspiring to murder Cardoso. Nonetheless, Mozambican journalists, international observers in Maputo, and others consulted by the CPJ delegation expressed serious reservations about the investigation. Several noted that the government's account is full of holes and inconsistencies, and that a number of seemingly routine investigative procedures have not been followed. In particular, it appears that investigators have not examined the possibility that Cardoso's murder is linked in some way to any of the journalistic investigations hewas working on at the time of his death. CPJ agrees with the local critics who have urged further investigation. Based on its research, CPJ presents several specific recommendations for further investigation at the end of this report.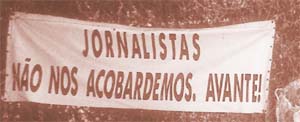 As an advocacy organization dedicated to the defense of press freedom worldwide, CPJ's motivations in conducting this report are to seek justice for Carlos Cardoso and to support Mozambican journalists who have been working in a climate of fear and intimidation. CPJ believes that Mozambican journalists will continue to feel inhibited in their work until they are convinced that justice has been done in the Cardoso case.
Chronicle of a murder

Local businessman Ayob Abdul Satar, his brother Momade Abdul Assife Satar, and former bank manager vincente Ramaya are accused of ordering Cardoso's assassination, according to Mozambique's state news agency, AIM. Three men are accused of carrying out the murder: Anibal Antonio dos Santos Junior (also known as Anibalzinho), Manuel Fernandes, and Carlito Rachid Cassamo. All six men face charges of conspiracy to commit murder, first degree murder, and the attempted murder of Cardoso's driver, Carlos Manjate. They have been in police custody since March 2001.
In early October 2000, Anibalzinho and Rachid began to visit the offices of Metical, the investigative newsletter published by Cardoso. Each day, they bought copies of the paper. On one of his first visits, Anibalzinho asked Metical employees to point out Cardoso.
The staffers later recalled that Anibalzinho and Rachid usually paid for their papers with large-denomination banknotes, which caused problems with change but gave the two men time to look around the office. They often parked their car, a red Volkswagen Citi Golf hatchback, out front. They last visited Metical on November 17, 2000, and then suddenly stopped coming.
Five days later, on the evening of November 22, Cardoso closed that day's edition and faxed Metical to more than 400 subscribers–mostly diplomats, government officials, and businesspeople. He then got into a car with his driver and sped off, hoping to make it home in time to catch the start of a soccer match on television. It was about 6:30 p.m., dusk was falling, and the streets of Maputo buzzed with rush-hour traffic.
Three blocks from Metical's front door, a red Volkswagen Citi Golf and a Volkswagen 1600 sedan with polarized windows cut off Cardoso's car. According to numerous news reports, two men wielding AK-47 assault rifles jumped out of the Citi Golf. They sprayed Cardoso with gunfire, killing him instantly and severely wounding his driver.
The making of an investigative journalist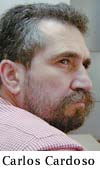 Born in 1951 to a family of Portuguese exiles, Carlos Cardoso came of age during Mozambique's armed struggle for independence from Portugal. He was educated in South Africa, where his outspokenness angered the apartheid regime. In late 1974, the Marxist guerrilla movement FRELIMO overthrew the Portuguese colonial government. Meanwhile, South African authorities deported Cardoso to Portugal's capital, Lisbon. He stayed there only a few months, returning in time to witness FRELIMO's official declaration of independence on July 25, 1975.
In 1976, eager to play his part in building the new socialist Africa, Cardoso joined the staff of a state-run newspaper called Tempo. But his aggressive journalism frequently annoyed the FRELIMO leadership. In 1979, Cardoso was sent to cover music for state-run Radio Mozambique, a humiliating demotion for the rising young political reporter. In 1980, after returning to the good graces of FRELIMO, he was appointed editor of the state news agency, AIM, moving one step closer to the party's inner circle. During the next few years, Cardoso developed close ties with senior party officials, including then-president Samora Machel. He continued to cultivate these sources throughout his career.
In October 1986, President Machel died in a plane crash in South Africa. Many blamed South Africa's apartheid regime, pointing to the fact that under Machel's government, Maputo had become a refuge for exiled African National Congress militants. At the time, South Africa was also backing the Mozambique National Resistance (RENAMO), a guerrilla movement that was originally sponsored by white Rhodesian leader Ian Smith to sabotage black majority rule in Mozambique.
Cardoso, a maverick by nature, eventually butted heads with the new government, led by President Joaquim Chissano. In 1989, Cardoso resigned from AIM. Three years later, he and several other defectors from the state-run media founded Mediafax. The new publication set a high standard for investigative reporting, publishing articles on such diverse topics as the secret negotiations that led to the end of the civil war and the failure of government ministries to pay their electricity bills. A March 1993 article in The New York Times described Mediafax as the "vanguard" of the free press in Africa. In January of 1994, Cardoso and his partners also launched a weekly print newspaper, Savana.
In 1997, Cardoso left Mediafax and launched a rival publication called Metical. True to his socialist roots, he ran Metical as a cooperative, where janitors and editors received the same salary. But while Cardoso clung to his ideals, Mozambique was changing radically. During the next decade, FRELIMO largely abandoned the centrally planned economy introduced at independence in 1975.
After Machel's death, President Chissano took over a country devastated by centuries of colonial rule and wracked by an internal war against RENAMO. Mozambique had been a Soviet client state since independence, but Chissano's rise to power coincided with Mikhail Gorbachev's glasnost reforms, which were followed by the collapse of the Soviet bloc and the end of the Cold War; Mozambique had little choice but to court the victorious Western powers.
Accordingly, FRELIMO embraced capitalism. In 1987, President Chissano approved a World Bank­International Monetary Fund (IMF) Economic Rehabilitation Program and ordered the privatization of more than 1,200 state companies. In 1992, the budding capitalist government created the Commercial Bank of Mozambique (BCM), a decision that would have fateful consequences for Cardoso's career.
Boom years


The RENAMO insurgency ended with a peace agreement signed in October 1992. Mozambique's first multiparty elections were held two years later, in 1994. After that, the economy began to score stunning growth rates. Today, Mozambique has one of the fastest growing economies in the world–a 7 percent GDP growth rate in 1996 and an estimated 10.4 percent growth rate in 2001, according to the World Bank. Agriculture still drives the Mozambican economy, but the country has huge untapped hydroelectric, oil, and natural gas resources. In fact, it has become a poster child for the IMF and the World Bank, which attribute Mozambique's economic success to structural adjustment programs.
Despite the impressive growth, Cardoso remained skeptical that Mozambique's capitalist revolution was actually helping the country's impoverished people. He used his contacts in FRELIMO's socialist old guard to report on widespread corruption and abuses of power. Eventually, Cardoso and other critics of the FRELIMO government began to charge that the size of the legal economy (currently about US$4 billion in a country of 19 million people) could not account for Maputo's banking and real estate boom; they suspected money laundering, drug trafficking, and other illegal pursuits. In 2000, the U.S. Drug Enforcement Administration (DEA), which had opened an office in neighboring South Africa in 1997 to monitor the region's exploding narcotics industry, reported that Mozambique was one of the main ports of entry for illegal drugs coming into the region from Southeast Asia. According to the DEA, much of this traffic is then shipped to Europe.
Cardoso remained a FRELIMO sympathizer until his death, but he became increasingly distrustful of government policies that mainly benefited the wealthy. His outrage only intensified as he broke more and more stories that shed light on how members of a party founded to fight for the rights of poor people were amassing huge personal fortunes. He exposed a number of questionable deals and was not shy about lambasting the government in his editorials.
Since 1998, in addition to his journalistic work, Cardoso had been actively involved in Maputo city politics as a member of the Municipal Council. One week before his death, according to multiple sources in Mozambique, Cardoso stood up at a council meeting and verbally attacked what he described as the "gangster faction" within FRELIMO. He also continued to write Metical articles denouncing senior FRELIMO figures. Everyone CPJ consulted in Maputo–from Cardoso's competitors to senior government officials–agrees that Cardoso was killed because he was the only journalist who had the contacts, skills, and inclination to confront the ruling elite with evidence of its own corruption.

The investigation
Local critics have charged that the investigation into Cardoso's murder was flawed from day one. The CPJ delegation believes that these criticisms are well-founded. Police officers made no attempt to cordon off the crime scene and took no measurements or photographs, according to published accounts. Officers at the crime scene only interviewed one eyewitness, Angelo Nyerere Mavele, who later disappeared without trace. Press reports described a chaotic scene in which a civilian bystander drove Cardoso's car, with Cardoso's body still in it, from the area to the police station. Mozambican police have not explained publicly why they failed to secure the crime scene.
A day after the killing, Metical staff offered to provide police officers from Maputo's Fifth Precinct with oral and written testimony, according to staffers interviewed by CPJ. A spokesman for the Maputo Police Command, Abilio Quive, told Mozambican Television that a special team of detectives and undercover operatives would work "24 hours a day" on the Cardoso case. Yet police did not question the paper's employees until mid-December, according to Metical employees.
Maputo's press corps initially followed the investigators' every move. The private weekly Savana complained that Mozambicans had had "enough of crimes without criminals, thefts without thieves, murders without murderers, corruption without people who are corrupt." Meanwhile, pro-government publications such as Noticias and Domingo became conduits for police leaks, according to journalists in Maputo. Contradictory statements from authorities further undermined public confidence. On January 18, 2001, without explanation, the Maputo Police Command abruptly suspended the entire police team that had been investigating the Cardoso case, according a January 22, 2001, report in the local weekly Mediafax. In a meeting with the CPJ delegation, Deputy Attorney General Rafael Sebastiano Santos said the police were not dismissed but were reassigned at the end of the investigation, which he said was normal procedure.
In mid-January, Mediafax quoted an intelligence officer as saying that an unnamed Angolan citizen was being held in Maputo's maximum-security prison in connection with Cardoso's murder. Mediafax reported that police arrested the Angolan at a Maputo bar after he drunkenly accused "an Indian from a foreign exchange house" of ordering the murder. Police suspicion immediately fell on Ayob Abdul Satar, a Mozambican businessman of Indian origin whose family owns the Unicambios chain of exchange houses, according to local and international news reports. The Angolan whistle-blower was later freed, though his name was never released. Police later claimed that the Angolan was "extremely drunk" when he voiced the accusation, and that he did not even remember being taken into custody.
Cardoso had been following the activities of the Satars since 1996, when Metical covered a state probe into a US$14 million money laundering scheme at the Commercial Bank of Mozambique (BCM). The Mozambican government charged that the scheme involved the Satars and a BCM official named Vincente Ramaya. When the scheme became public, two members of the Satar family fled to Dubai, in the United Arab Emirates.
Public pressure mounts

On February 21, 2001, almost a month after the Satar brothers were publicly accused of masterminding Cardoso's murder, Metical published a story titled "Chronicle of a Non-Investigation," which lambasted the police inquiry. Immediately after the article appeared, the police began to make visible progress in the Cardoso investigation. On March 1, Interior Minister Almerino Manhenje invited reporters from all Maputo newsrooms, with the exception of Cardoso's publication, Metical, to a briefing at his office. The minister announced that some arrests had been made, and that police had seized materials used directly and indirectly in the crime. But as reported by the state news agency, AIM, the press briefing lasted less than five minutes, and the minister declined to take any questions. "Don't engage in speculation," he advised the reporters present. "Let us work. If they say we're silent, it's because we're working."
About a week later, the pro-government weekly Domingo named two of the detainees: Anibalzinho, also known as Anibal Antonio dos Santos Junior, and Manuel Fernandes, who was also a known local criminal. Another suspect, Carlito Rachid, was wrestled out of a bus by two Metical journalists and turned over to police around March 10. The Metical staffers and the Attorney General's Office have identified Rachid as the man who accompanied Anibalzinho to Metical's offices in the weeks before Cardoso's murder; Fernandes' name had never before been linked to the crime.
Domingo reported that Anibalzinho and Fernandes had been deported from neighboring Swaziland after Swazi police charged them with entering the country illegally. Domingo's story, published just days after the interior minister's press briefing, went into great detail, naming Anibalzinho as the leader of a group of three hit men who allegedly murdered Cardoso for US$25,000 each. Domingo said the crime had been "commissioned by others" but did not elaborate. Although the pro-government weekly did not attribute its information to a source, it did publish photocopies of the suspects' passports, which the local press claimed only the police could have given the paper.
Loose ends

On March 13, 2001, some three weeks after Anibalzinho's arrest, police arrested Momade Abdul Satar and Ayob Abdul Satar and charged them with ordering Cardoso's murder. Vincente Ramaya, a former BCM branch manager in the capital who was implicated in the 1996 BCM scandal, was also arrested.
On March 29, according to local news reports, the Public Prosecutor's Office announced that Manuel Fernandes, one of the three detainees, had confessed to the crime. According to Fernandes' confession, he was hired to kill Cardoso by Anibalzinho, who was himself hired by Momade Satar. Fernandes told police that on the day Cardoso was killed, Satar met Anibalzinho about two blocks away from the murder scene and gave him the murder weapons–two AK-47 assault rifles–in a sports bag. This meeting took place 30 minutes before the killing, Fernandes said. He also named Anibalzinho and Carlito Rachid as the two men who opened fire on Cardoso and his driver. Fernandes did not explain his own role in the attack, according to local press reports. Fernandes later tried to withdraw his confession, which he alleged had been coerced by police, according to local media.
The other two alleged hit men, Anibalzinho and Rachid, have consistently denied any involvement. But prosecutors assert that there is solid evidence against both men. At the Attorney General's Office, government prosecutor Rafael Sebastiano Santos told CPJ that in addition to Fernandes' confession, an eyewitness named Angelo Nyerere Mavele had placed both men at the scene of the crime. The prosecutor quoted Mavele–who subsequently vanished–as saying that Momade Satar was in the red Citi Golf with the hit men. Santos claimed to have evidence supporting this contention but refused to provide further details.
While prosecutors say they have a strong case against Momade Satar and the accused hit men, they have not released any evidence that would implicate the other two alleged conspirators, Momade's brother Ayob and former BCM branch man-ager Ramaya. In fact, the only obvious connection between the Satar family and Ramaya is that both were implicated in the 1996 BCM scandal.
Almost from the beginning, Mozambican officials maintained that Cardoso's murder was related to his reporting on the BCM affair. But the official theory remains open to question. Critics point out that Metical did not even break the BCM story, which in any case was no longer news at the time of Cardoso's murder.
Land, money, politics

Since the arrests of the Satars, Ramaya, and their three alleged hired guns, Mozambican authorities have refused to probe the Cardoso murder any further. Authorities have failed to take the seemingly routine step of determining what stories Cardoso was working on at the time he was killed. The CPJ delegation learned that Cardoso was aggressively pursuing leads at the time of his death involving banking and real estate development, and perhaps other stories as well.
One story Cardoso was looking into involved allegations of corruption at Banco Austral, a troubled local bank. Beginning in March 2000, Cardoso used leaked documents to help break the story about alleged corruption at Banco Austral. During this period, Metical also ran several articles linking the BCM and Banco Austral scandals to a larger pattern of wholesale government corruption. In his last published article, Cardoso speculated that drug money was being laundered through BCM and Banco Austral with official complicity.
After Cardoso's death, the central bank seized control of Banco Austral, whose deficits were mounting by the day. A senior central bank auditor named Antonio Siba-Siba Macuacua was assigned to head Banco Austral and prepare for its sale. But Siba-Siba was murdered on August 11, 2001.
President Chissano said that the Siba-Siba murder showed the strength and power of organized crime in Mozambique. The president added that he did not trust in the "impartiality and integrity of the Mozambican police," according to the Maputo weekly Savana.
Real estate boom

Around the same time that Cardoso was pursuing the Banco Austral story, he was also investigating Maputo's real estate boom. Cardoso believed that both scandals were linked to a larger pattern of money laundering. One real estate deal that had attracted his attention was signed in July 1998. Expected to cost US$50 million, the project involved building 2,000 units of middle- and low-cost housing on land owned by the city of Maputo. According to Cardoso's reporting, the main shareholders were two Malaysian investment firms and Mozambique's SIR Investment Group, which has close ties to many senior FRELIMO officials.
In addition to his work as a journalist, Cardoso also served on the Maputo Municipal Council, which oversees public administration in the capital. A few months before his death, Cardoso gave several speeches in the council criticizing the effects of Maputo's startling real estate boom on poverty in the capital. He also raised questions (directed to fellow council member Octávio Muthemba, among others) about several major real estate projects, including some that allegedly had gone forward without the council's authorization.
Irreplaceable

Cardoso was a unique figure in Mozambican journalism. "He was a reference point in our society," former information minister Ruiz de Cabaco said recently. "And not just for the range of issues that he took on, but also for his creativity and the force of his reasoning. Those who killed him have also killed the sense of independence of the press."
The CPJ delegation found that the impact of Cardoso's work, however, extends far beyond Maputo's newsrooms. With its impressive growth rate, Mozambique is one of the IMF and World Bank's few success stories. Officials at these institutions hold Mozambique up as an example to other countries facing the pain of structural adjustment. Cardoso forced Mozambique to consider the possibility that its growth is being driven not by sound economic policy, but by drug trafficking and money laundering, and that the benefits of the growth are largely limited to a tiny elite.
The debate over the future of Mozambique is heating up in anticipation of presidential elections, scheduled for 2004. In May, President Chissano said he would not seek re-election. While he now claims to be reconsidering those plans, Chissano's apparent decision to step down has sparked a power struggle within FRELIMO between the "modernists," who support the economic liberalization program, and the "traditionalists," who say the party has veered too far from its socialist roots. Members of both factions have been accused of corruption. But at a time when Mozambicans desperately need information about their government and society, local journalists are afraid to report what they know.
Epilogue

Trial dates have not been set for any of the suspects in the Cardoso murder, according to the state news agency, AIM. But on April 29, 2002, AIM reported that the Mozambican Supreme Court confirmed last year's ruling by a Maputo investigating magistrate that there is sufficient evident to bring all of them to trial.
Metical, meanwhile, never recovered from Cardoso's death. In February 2001, Nympine Chissano, the son of President Chissano, filed a criminal defamation lawsuit against Cardoso's closest collaborator and Metical's chief reporter, Marcelo Mosse. The president's son is seeking damages worth US$80,000 in connection with a February 21, 2001, Metical article alleging that he had been briefly detained in South Africa around February 15.
Other publications reported that Nympine was arrested for drug smuggling; Metical did not. Nevertheless, Nympine singled out Metical, which had hounded him persistently over his allegedly corrupt business affairs. According to several sources in Maputo, President Chissano himself supported his son's case against Marcelo Mosse and Metical. In March, the president invited several local editors to an informal gathering at the presidential palace, during which he claimed that Mosse's reporting had sullied his family's reputation. Cardoso family lawyer Lucinda Cruz has alleged procedural flaws in the prosecution and has appealed the case to the Maputo City Court, according to AIM.
Cardoso owned Metical, but after his death, the paper became the property of Cardoso's two underage children, Ibo and Milena, who are represented by their mother, Nina Berg. In the worst-case scenario, the court could jail Mosse and order the Cardoso family to pay tens of thousands of dollars.
Under pressure, Metical closed in late December 2001, a year after Cardoso was murdered.
Recommendations

CPJ urges the government of Mozambique to take the following steps to ensure that the investigation into the Cardoso murder continues to move forward:
•Police and prosecutors must make every effort to locate Angelo Nyerere Mavale, the only eyewitness to the murder. Police acknowledge that they interviewed Mavale after the crime but have been unable to locate him since.
• Police and prosecutors should also conduct a thorough investigation into police conduct at the scene of the crime, examining specifically why police failed to secure the crime scene.
• Investigators should attempt to determine the nature of Cardoso's active investigations at the time of his death and should question anyone who may have been involved with or affected by Cardoso's reporting. It is known that Cardoso was conducting one investigation of Banco Austral, another concerning real estate, and possibly others as well.
• On a separate but related matter, CPJ calls on Nympine Chissano, son of the President Chissano, to drop his criminal defamation lawsuit against Metical editor Marcelo Mosse. Cardoso's murder, combined with the lawsuit, has succeeded in putting Metical out of business. This is a grave loss for all Mozambicans. CPJ believes that the suit against Metical is without merit, and that defamation should never be a criminal offense. Rather than supporting his son's lawsuit, as President Chissano did in meeting with Mozambican journalists in March 2001, the president should condemn it.