In his first day in office last July, Mesut Yilmaz, Turkey's prime minister, met with an international delegation led by CPJ and pledged to end the jailing of journalists in his country. Seven months later, representatives of CPJ and the Press Council of Turkey revisited Yilmaz, urging him to fulfill his promise to reform the Turkish press laws, and to review the cases of 12 imprisoned reporters and editors the two groups say have been convicted on the basis of their work as journalists. CPJ executive director William A. Orme, Jr., and Press Council chairman Oktay Eksi asked the Yilmaz government to give the highest priority to the release of these journalists as a sign of its continued commitment to press freedom.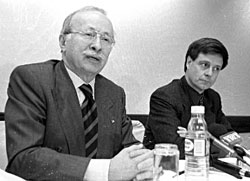 In a private meeting on February 27, Yilmaz agreed to examine the cases of the 12: Ismail Besikçi, Hasan Özgün, Serdar Gelir, Mehmet Çakar, Bülent Öner, Kemal Sahin, Ibrahim Çiçek, Bülent Sümbül, Asaf Sah, Ayten Öztürk, Sadik Çelik, and Haluk Gerger. And he said that a legal reform initiative pending in parliament could result in the release of several imprisoned journalists. He added that he is confident that a major overhaul of Turkey's Penal Code, now underway, would end most criminal prosecutions of journalists. It will take at least six months for the Turkish parliament to conclude debate and pass the proposed legislation, he said.
"Real journalists should not be in prison," said Yilmaz. "I do not consider any of these people security risks."
The Press Council-CPJ initiative was endorsed by the International Press Institute and the World Press Freedom Committee, among other journalists' organizations.
"We are gratified that our collaboration with CPJ is producing important results," said Eksi. "It is clear from our conversations with the prime minister that he shares our goals. It is our hope that within a few months Turkey will no longer be mentioned as a country that imprisons more journalists than any other, but will instead be seen as a model for the strengthening of press freedom."
Said Orme, "We are greatly encouraged by the prime minister's commitment to continuing reform. We hope that he will make the release of these 12 imprisoned journalists a matter of the highest priority, as the court records make it absolutely clear that they were convicted unjustly, with prosecutors citing as evidence of alleged illegality their legally published journalistic work."
CPJ's latest foray into Turkey punctuates an ongoing campaign to call attention to the plight of journalists in a country that still holds more members of the press in prison than any other nation. At the beginning of 1998, CPJ documented that although Turkey had released 40 journalists during 1997, it still held at least 29 in prison. When the CPJ delegation–led by vice chairman Terry Anderson, board members Peter Arnett and Josh Friedman, and Orme–met with the newly installed prime minister and his cabinet last July, they sought an end to the prosecutions of journalists and the release of the then-documented 78 imprisoned journalists, including 1996 CPJ International Press Freedom Award recipient Ocak Isik Yurtçu. That initiative was supported by the Press Council, which also participated in the July meetings.
In addition to the list of 12 jailed journalists jointly presented to Yilmaz by CPJ and the Press Council, CPJ has identified 17 other journalists in Turkish prisons who it believes were convicted because of their work, or because of their affiliation with publications subjected to a pattern of official harassment. Most of these journalists have been accused of membership in or support for banned leftist organizations or illegal armed separatist groups.