Durante más de una década en el poder, el Presidente Hugo Chávez Frías ha supervisado la transformación de casi todos los aspectos de la sociedad venezolana, incluyendo los medios de comunicación. Cuando Chávez asumió por primera vez la presidencia en 1999, contó con el apoyo de los medios privados establecidos. Pero la relación pronto se deterioró y en abril de 2002 fue derrocado por un breve período en un golpe de estado que el presidente alega haberse llevado a cabo con el respaldo de algunos conocidos propietarios de medios. En la actualidad, muchos de los medios más críticos ya no están más o se han llamado al silencio, y una vasta presencia de medios del estado se hace eco de las posiciones del gobierno. Por Joel Simon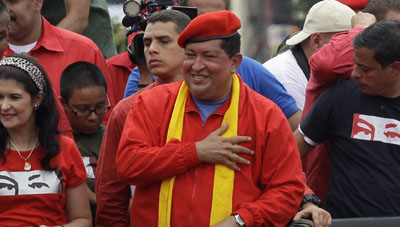 La altamente polarizada campaña presidencial, que ingresa en su fase final, enfrenta a Chávez con el ex gobernador Henrique Capriles Radonski. La polarización se refleja de forma dramática en la prensa, con los medios privados en respaldo de Capriles y aquellos en manos del estado montando un apoyo fervoroso a favor de Chávez. La cacofonía ahoga la posibilidad de debatir temas importantes y en el contexto de la campaña electoral el público es el gran perdedor. A través de su presencia masiva en los medios del estado y el uso de métodos de censura, acoso legal y sanciones administrativas, el gobierno de Chávez fija límites claros sobre el disenso público, como revela este informe.
Este es el cuarto informe especial sobre Venezuela desde Chávez asumió el poder. Al leerlos en secuencia se puede tener una idea acabada de lo dramático que ha sido el deterioro de los medios en este período. El primer informe, "Radio Chávez", publicado en febrero de 2001, describió a un vibrante panorama mediático en el que el presidente, con creciente frecuencia, utilizaba la radio y la televisión para difundir largas diatribas acerca de temas tales como "el placer de tener una novia y el proceso revolucionario en las universidades". El informe concluía poniendo énfasis en una preocupación: "Si es cierto aquello de que toda revolución devora a sus hijos, los periodistas venezolanos deben rezar para que Chávez no se vuelva demasiado hambriento".
El segundo informe, titulado "Carne de Cañón" y publicado luego del fallido intento de golpe de estado en 2002, describió una larga serie de ataques físicos donde los periodistas "atrapados entre la incendiaria retórica del presidente venezolano Hugo Chávez Frías y el activo papel político que los propietarios y directores de los medios han adoptado– se han convertido en blanco de ataques de sectores populares".
El tercer informe del CPJ publicado en 2007 y titulado "Estática en Venezuela", describió en detalle la decisión del gobierno de no renovar la concesión del canal crítico RCTV y demostró como la embestida cada vez más profunda contra los medios estaba provocando mayor autocensura. En los años posteriores a la publicación del informe, RCTV ha sido silenciado junto a decenas de otros medios audiovisuales críticos, periodistas fueron encarcelados supuestamente por haber difamado a funcionarios y los organismos de regulación junto a una justicia íntimamente ligada al ejecutivo han impuesto censura en la cobertura de temas sensibles.
La declinación del periodismo venezolano tiene importantes implicancias no sólo para el país pero también en toda América Latina. Casi todas las estrategias de Chávez para controlar y aislar a los periodistas críticos han sido emuladas por gobiernos que simpatizan con el venezolano en la región, desde Nicaragua a Ecuador. En la actualidad, Venezuela es parte de un bloque de países dentro de la Organización de los Estados Americanos que buscan desmantelar su sistema de protección y promoción de derechos humanos, incluyendo la Comisión Interamericana de Derechos Humanos y su relatoría especial para la libertad de expresión.
En la década del ochenta, a medida que América Latina restauraba sus democracias luego de una década de dictaduras brutales, la política electoral se convirtió en norma en la región. El propio Chávez ganó en las urnas con total legitimidad y asumió con el respaldo generalizado de la sociedad venezolana. Pero ha utilizado su tiempo en la presidencia para socavar antes que desarrollar las instituciones de la democracia participativa.
Mientras Chávez lucha contra el cáncer, tiene que hacer frente a su legado. A medida que se concentra en consolidar la Revolución Bolivariana, el fracaso de Chávez para apoyar y defender a las instituciones independientes, incluyendo a los medios, puede minar la legitimidad de las próximas elecciones presidenciales. No importa quién gane en los comicios, retroceder en el tiempo luego de una década de represión contra los medios y promover un clima más abierto y tolerante será uno de los desafíos claves para el próximo gobierno.
Joel Simon es el director ejecutivo del Comité para la Protección de los Periodistas. Ha escrito numerosos artículos sobre temas de medios, colaborando para Slate, Columbia Journalism Review, The New York Review of Books, World Policy Journal, Asahi Shimbun y The Times of India. Ha liderado numerosas misiones internacionales sobre libertad de prensa.