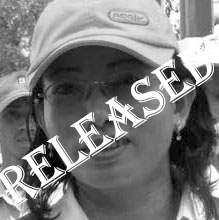 Medium: Internet
Charge: Anti-State
Imprisoned: September 5, 2011
Ta Phong Tan Vietnam
1,476 days in prison
RELEASED
Ta Phong Tan journalist was released on September 19, 2015 after serving three years of a 10-year prison term given to her in September 2012 on anti-state charges in connection with her blog.
Tan, a blogger and former police officer, was arrested in Ho Chi Minh City on anti-state charges related to her online writing. On September 24, 2012, a criminal court sentenced her to 10 years in prison and five years' house arrest under Article 88 of the penal code, which bars "conducting propaganda" against the state. She had been briefly detained and interrogated on several previous occasions.
Tan was one of three founding members of the Free Journalists Club website, which was singled out in the court ruling for posting anti-state materials. Co-founders Phan Thanh Hai and Nguyen Van Hai were tried and convicted at the same time. Tan's blog, Cong Ly v Su That (Justice and Truth), focused on human rights abuses and corruption among police and in the court system.
Court President Nguyen Phi Long said in his verdict that Tan and the other two bloggers had "abused the popularity of the Internet to post articles which undermined and blackened Vietnam's [leaders], criticizing the [Communist] party [and] destroying people's trust in the state," according to Agence France-Presse. An appellate court upheld Tan's sentence on December 28, 2012.
Tan is widely recognized as one of Vietnam's first independent bloggers to write and comment on political news events banned by authorities in the state-controlled media. She was expelled from her job as a police officer and member of the Communist Party over her online writings, according to a Radio Free Asia report.
Tan's mother, Dang Thi Kim Lieng, set herself on fire on July 30, 2012, in front of a government office in Bac Lieu province to protest the official harassment suffered by her family and the handling of her daughter's case, according to news reports. She died on her way to the hospital, while in police custody, the reports said.
Tan was being held at the Ministry of Public Security's Prison No. 5 in Thanh Hoa province's Yen Dinh district. In 2014, Tan faced frequent harassment and assaults from fellow prisoners, according to news reports that quoted her sister, Ta Minh Tu. Tu said that Tan was suffering from ill health caused by poor prison conditions, reports said. Tan was honored with the U.S. State Department's International Women of Courage Award in 2013.