Medium: Print
Charge: No Charge
Imprisoned: August 14, 2013
Mahmoud Abou Zeid, "Shawkan" Egypt
To learn more about the threats facing journalists in Egypt from the journalists themselves watch CPJ's Under Threat:
Abou Zeid, a freelance photographer, was detained while covering clashes between Egyptian security forces and supporters of ousted President Mohamed Morsi during the dispersal of the pro-Morsi sit-in at Rabaa Al-Adawiya in Cairo, according to news reports.
Abou Zeid has contributed to the U.K.-based citizen journalism site and photo agency Demotix and the digital media company Corbis. After his detention, Demotix sent a letter to the Egyptian authorities confirming that Abou Zeid had been covering the clashes for the agency, the photographer's brother, Mohamed Abou Zeid, told CPJ.
Abou Zeid was first detained by police and held in Cairo stadium with other protesters and foreign correspondents who were released the same day.
In September 2013, the Egyptian general prosecutor's office extended the journalist's pre-trial detention, accusing him of weapons possession, illegal assembly, murder, and attempted murder, the journalist's brother, Mohamed Abou Zeid, told CPJ. The same allegations were levied against hundreds of protesters detained during the clashes. As of February 2015, no official charges had been filed against him. Human rights groups said Abou Zeid's health had deteriorated in prison.
After Morsi's ouster on July 3, 2013, the military-supported government detained dozens of local and international journalists. Most have been freed.
Mohamed told CPJ that Abou Zeid's lawyer and the legal team at the Arab Network for Human Rights Information had appealed for his release. The appeal was denied. The journalist is being held at Tora Prison.
In February, CPJ raised Abou Zeid's case with the Minister of Transitional Justice, the Ministry of Justice, the Ministry of Interior, and the National Council for Human Rights during a mission to Egypt.
On May 14, 2015, Abou Zeid appeared before a judge for the first time since his arrest. The judge ordered him to speak about his case and renewed his pretrial detention, according to the Freedom for Shawkan campaign. The journalist, whose lawyer was not in court, told the judge about his arrest and denied the allegations against him.
Abou Zeid has been diagnosed with hepatitis C, and his lawyer and his campaign say that his health is deteriorating in prison. He is scheduled to appear in court on July 21, according to news reports.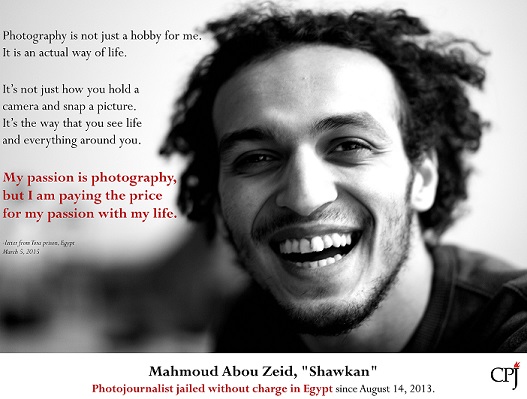 Portrait photo credit Mahmoud Abou Zeid: Facebook/Freedom for Shawkan
Graphic: Samantha Libby, CPJ