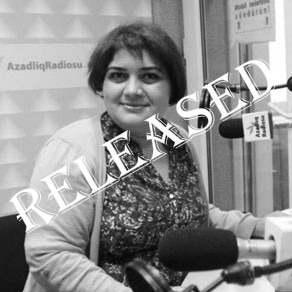 Medium: Broadcast
Charge: Retaliatory
Imprisoned: December 5, 2014
Khadija Ismayilova Azerbaijan
538 days in prison
RELEASED
Khadija was released from prison on May 25. She spoke to CPJ a few hours after her release and thanked CPJ for fighting on her behalf.
Ismayilova, an award-winning investigative reporter and a program host on Radio Azadlyg, the Azeri service of the U.S. government-funded Radio Free Europe/Radio Liberty, was arrested after she was summoned to the prosecutor's office in the capital, Baku, on December 5, 2014.
Authorities charged Ismayilova with inciting a local man to commit suicide and ordered her to be imprisoned for two months pending an investigation into the case, news reports said. While she was in jail, authorities raided the radio station's Baku bureau, detained and interrogated its staff, confiscated reporting and financial equipment, and sealed the newsroom, reports said.
---
Watch a video, courtesy of RFE/RL, of Ismayilova as she is taken from a Baku courthouse to pretrial detention December 5 as supporters chant her name.
---
In January 2015, a Baku court extended Ismayilova's imprisonment for another two months; a few weeks later, the general prosecutor's office amended the charges against her to include separate counts of embezzlement, illegal business, tax evasion, and abuse of power, regional and international press reported. If convicted, she could face up to 12 years in prison, news reports said.
Ismayilova is known for her exposés of high-level government corruption, including her investigation into ties between President Ilham Aliyev's family and some lucrative businesses. For years, Ismayilova also covered Azerbaijan's grave human rights record.
Since her arrest, Ismayilova and her lawyer have denied the allegations against her, which they said were in retaliation for her coverage. In an article published by the local press just two days before her arrest, Ramiz Mehdiyev, head of the presidential administration, accused Ismayilova of treason and espionage, according to news reports.
CPJ and other human rights and press freedom groups have documented the harassment of Ismayilova in recent years, including smear campaigns in state-controlled media; prosecution on fabricated criminal charges of insult and interrogation into alleged leaking of state secrets; and arbitrary travel bans imposed after she traveled to Strasbourg to brief European politicians about Azerbaijan's human rights record.
Ismayilova is being held in the Kurdakhani pre-trial detention facility, according to a letter she wrote from behind bars that was published in February 2015 by The Washington Post.
Photo credit Khadija Ismayilova: RFE/RL