Thank you for all of your support this year, as CPJ confronted grave dangers to journalists and press freedom around the world. With you standing with us, we can continue to defend freedom of expression and your right to know the truth. Here are some highlights of 2021, which were made possible thanks to your support.
We helped free more than 100 imprisoned journalists
This year, CPJ helped win the release of 101 imprisoned journalists, the most we have ever helped free. This includes nearly 40 journalists released from prison in the Middle East and North Africa and 21 freed in Europe and Central Asia—specifically, in Turkey.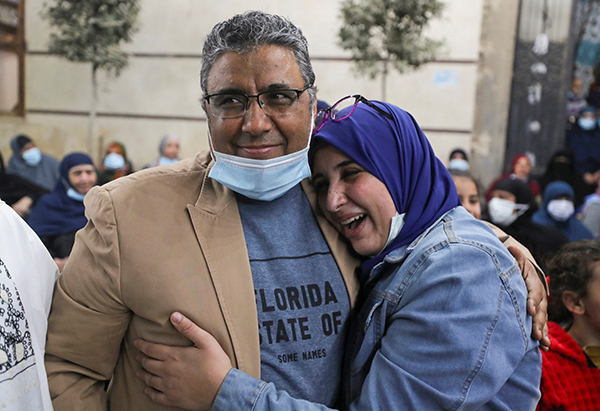 Still, the number of journalists imprisoned for their work remains extremely high—in December, CPJ released our annual census of jailed journalists and found 293 were behind bars, the most we have ever recorded.
As an editorial in the Sunday edition of The New York Times pointed out, "this is the sixth consecutive year that [CPJ] has recorded at least 250 journalists jailed for their reporting, a trend it attributes to 'a growing intolerance of independent reporting' by increasingly arrogant autocrats prepared to flout due process and international norms to stay in power."
We at CPJ continue to do this work because we believe that winning the release of imprisoned journalists is one of the most important things that we can do. So we document each detention and advocate on the journalist's behalf. We carry out "Free the Press" campaigns each year and raise imprisonments in our meetings with government leaders. And each year, we honor an imprisoned journalist at our International Press Freedom Awards ceremony.
Change takes time, but our advocacy works. CPJ will continue to fight for the freedom of all journalists behind bars.
---
We helped win convictions in journalist murders
When a journalist is murdered, we talk to their family and friends, we consult their colleagues, and we speak to local authorities. We conduct advocacy and report on the murder in our work. We call on local and national authorities to ensure the killers are brought to justice. We also publish an Impunity Index each year, which highlights those countries where journalists are killed and their murderers go free.
This year, CPJ advocacy helped win convictions in the murders of 10 journalists, including in the 2017 murder of Javier Valdez Cárdenas, a Mexican reporter who was shot dead on the streets of Culiacán. Valdez was the winner of CPJ's 2011 International Press Freedom Award.
This is why we are committed to fighting for justice. CPJ believes the lack of justice in hundreds of murders of journalists all over the world is one of the greatest threats to press freedom today.
Just this year, we found that at least 24 journalists were killed for their work, a sharp decline from the highs we had documented in 2018 and previously. Of the 2021 total, at least 19 were murdered in retaliation for their work, while three others were killed while reporting on conflict and two were killed covering protests or street clashes.
Click here to check out an interactive map that highlights CPJ's data on killed and imprisoned journalists.
---
We helped protect Afghan journalists
In August, the Taliban seized power in Afghanistan, sparking a crisis for human rights and press freedom in the country. CPJ's Emergencies department, formed in 2016 to offer comprehensive rapid-response support to journalists under threat, quickly sprang into action.
We coordinated support with our partners and with governments to help journalists find safe passage out of the country, and we identified and vetted journalists and their families to prioritize them for evacuations. In just a few weeks, CPJ helped 60 journalists and their families flee Afghanistan. One of them told us that if we hadn't contacted him, he "would have been arrested or killed."
Our new Emergencies director, Lucy Westcott, flew to Doha, the destination for many journalists, where she helped assist in and coordinate logistics for media workers who would be resettled. Throughout, we reported on the threats that journalists faced in the country, including on the attacks, home raids, and detentions by the Taliban. In one feature story, a female journalist told CPJ, "I may not be alive by the time the U.S. can evacuate me."
Today, CPJ continues to get hundreds of emergency requests from journalists in Afghanistan who are still at risk, and we are providing journalists with grants to help keep them safe. We know that our work is not yet over—we have much left to do.
---
Must-reads
In an opinion piece for The Guardian, CPJ Executive Director Joel Simon highlights how the Nobel Peace Prize bestowed upon Philippine journalist Maria Ressa and Russian editor Dmitry Muratov won't be meaningful unless governments ensure the rights of all journalists are protected.
Simon, in an op-ed for the Los Angeles Times, examines how the arrests of reporters in that city send a dangerous message to repressive governments. These arrests, Simon says, undermine "American democracy and provides an awful example globally."
---
CPJ in the news
"A record number of journalists are in prison right now, according to press freedom report," CNN
"2021: A grim year for journalists," Radio Free Europe/Radio Liberty
"How to hold the line: 4 journalism survival tips from 2021 Nobel Peace Prize winner Maria Ressa," The Journalist's Resource
"Bloomberg News China staff Haze Fan still detained one year on," Bloomberg
"Free media essential to independent judiciary, parliament," Dawn
"Tigray rebels executed dozens of civilians, report says," The New York Times
"Media crackdown in Lesotho as radio station banned for a few weeks," News24
---